Sponsored Article
How "She-Sheds" Transformed: The Most Unique Outbuilding From Offices to Tiki Bars
She Sheds has spaces of inspiration, repose, creativity, and privacy.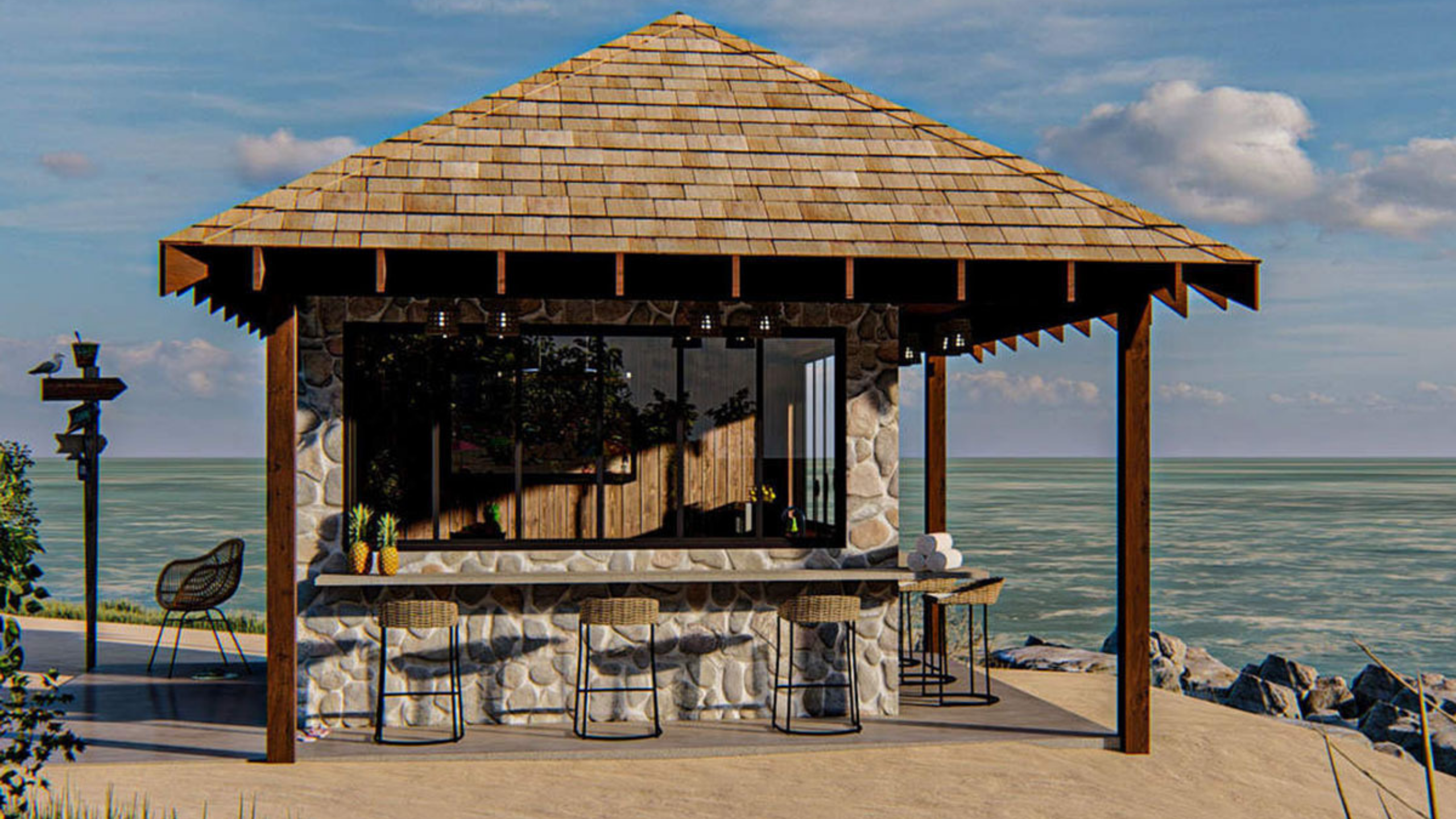 When "she-sheds" became popular last year (with the help of a viral State Farm Insurance commercial), suddenly small outbuildings became not just the cute and cozy backyard hideaways where anyone can relax and rejuvenate, but multi-purpose escapes from home offices to tiki bars. They can be spaces of inspiration, repose, creativity, and privacy—truly a room of one's own.
You can either repurpose an old shed or a barn you already have or use a unique design to build your own little space from scratch. Architectural Designs has a stunning collection of perfectly designed plans for small outdoor structures that will help you build the outbuilding of your dreams.
How you use this space is unique to you. It is an extension of your personality, and once you have your space, your intuition will lead you to decide how exactly you are going to use it. If you are looking for creative ideas to build in your backyard, here are a few practical ways you can enjoy your happy haven.
1. A Modern Farmhouse Backyard Office
Now that working from home has become the new standard, modern office space in your backyard is the perfect way to keep your work-life balance. You can work without distraction, then leave your work there when you go back home. It is a great way to compartmentalize your life during these difficult times, which is quite important to stay sane and productive in all aspects of your life.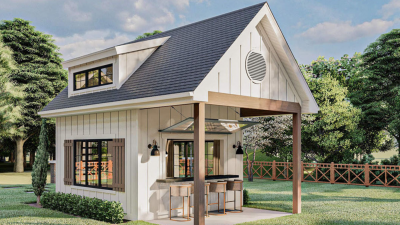 Inspiration: This modern farmhouse work-from-home plan is a wonderful way to add entertainment value to your home. The beautiful exterior features board and batten siding with wood beams and shutters. The covered patio opens up to the bar through a lift-up door. Inside, you will find a sink, dual refrigerators, and a stunning loft area.
Check Out Modern Farmhouse Backyard Home Office Plans by Architectural Designs Here!
2. A Whimsical Cottage House
A cozy cottage house design has a picturesque storybook charm, making you think of freshly baked cookies and curling up on the couch in front of the fireplace with your favorite book on winter evenings. It could be a place to create or even hang out with your thoughts without being disrupted. You could decorate it as extravagantly or as simply as you want. You do not need to worry about anyone else liking or disliking it. It is yours.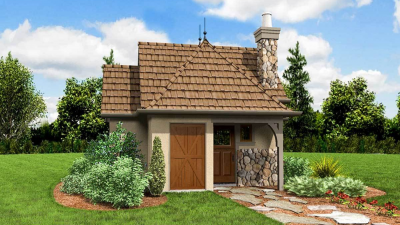 Inspiration: This Whimsical Cottage House Plan works on any property. It's small enough to fit in your backyard and spacious enough to be perfectly cozy and welcoming throughout the year. The cottage has a fireplace in the corner, a small kitchen, and even a full bath with a shower.
Check Out Whimsical Cottage House Plans by Architectural Designs Here!
3. An Art Studio
Art is freeing, transformative, and healing. Humans have had a relationship with art even from the very early days of evolution. We are naturally artistic beings. Even if you don't consider yourself an artist, space entirely dedicated to art can get your creative juices flowing. It allows self-expression and self-awareness, positively impacting your physical, emotional, and mental wellbeing.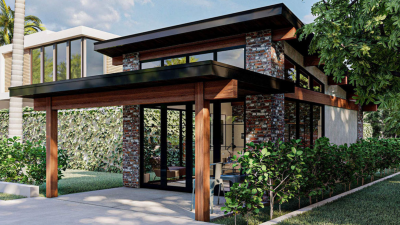 Inspiration: This Flexible Model Backyard Office Plan would make for a fantastic art studio where you can work on your art and display it beautifully. It has a sleek exterior of brick and wood beams. The wooden accents make the entire ambiance feel closer to nature. The sizable folding door in front opens up to a spacious main room with views where you can work. There are also a separate storage area and a bathroom.
Check Out This Flexible Modern Backyard Office - Play - Storage Plan by Architectural Designs Here!
4. A Fun Tiki Bar/Pool House
A fun bar space in your backyard means that you have a dedicated space to wind down after an exhausting day. It could be a place for a solitary sip of wine to wash off the stress of the day or a place for a full-on bbq and drinks with your friends on summer weekends. A tiki bar or a fun pool house can instantly transform your backyard into an exotic bar that serves wines and elaborate cocktails, a great place to socialize and make fun memories.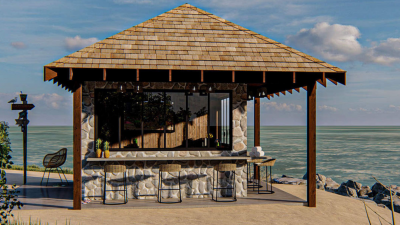 Inspiration: This Tiki Bar plan can be used for hosting outdoor parties just as easily as it could be used as a backyard office plan. Turn your backyard into a tropical paradise with a large outdoor snack bar. The plan includes an indoor cooktop, refrigerator, and a sink for those fun garden parties with your friends and family on Fridays.
Check Out This Fiesta Friday Tiki Bar Lounge by Architectural Designs Here!
5. A Craft Shack
Crafting and DIY projects are an excellent way to relax and reduce stress. They can give a great sense of satisfaction and increase your self-esteem. The more you engage in different crafts, the more you will feel accomplished, which will help balance out many other disappointments and shortcomings your life may throw at you. They help your mind get into a soothing state of flow, which can be highly beneficial in other areas of life.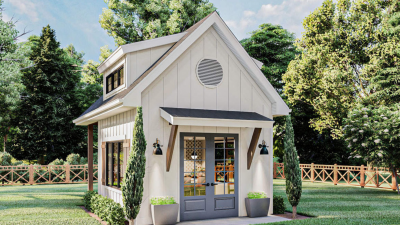 Inspiration: This Modern Farmhouse Backyard Office plan would make for a perfect craft shack for yourself, where you can freely do all of your DIY and craft projects without having to worry about making a mess. It has a stunning loft area for inspiration and even a little kitchen when you want to have a snack or two while you work.
Check Out This Modern Farmhouse Backyard Office Plan with Loft by Architectural Designs Here!
6. A Room of Your Own
Having a space dedicated to yourself is extremely important. It could be a space to create and improve your skills, or it could be a place where you worry about nothing and just be. It is an escape. A sanctuary. A place where you can sit down, breathe calmly, and sit back and enjoy a glass of wine.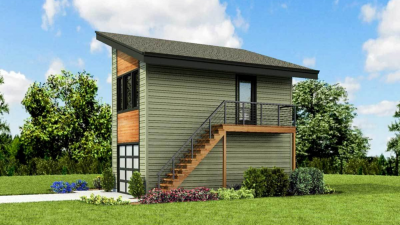 Inspiration: This vaulted studio apartment design is a great way to have your very own escape in your backyard. In this small but uniquely spacious carriage house built in your backyard, you can be detached from the world around you whenever you feel overwhelmed or want to regain your calmness.
Check Out This Versatile Carriage House Plan with Vaulted Studio Apartment by Architectural Designs Here!