Sponsored Article
How to Up Your Instagram Game With These Cute Summer Outfits
Cute dresses that you can easily flaunt on your Instagram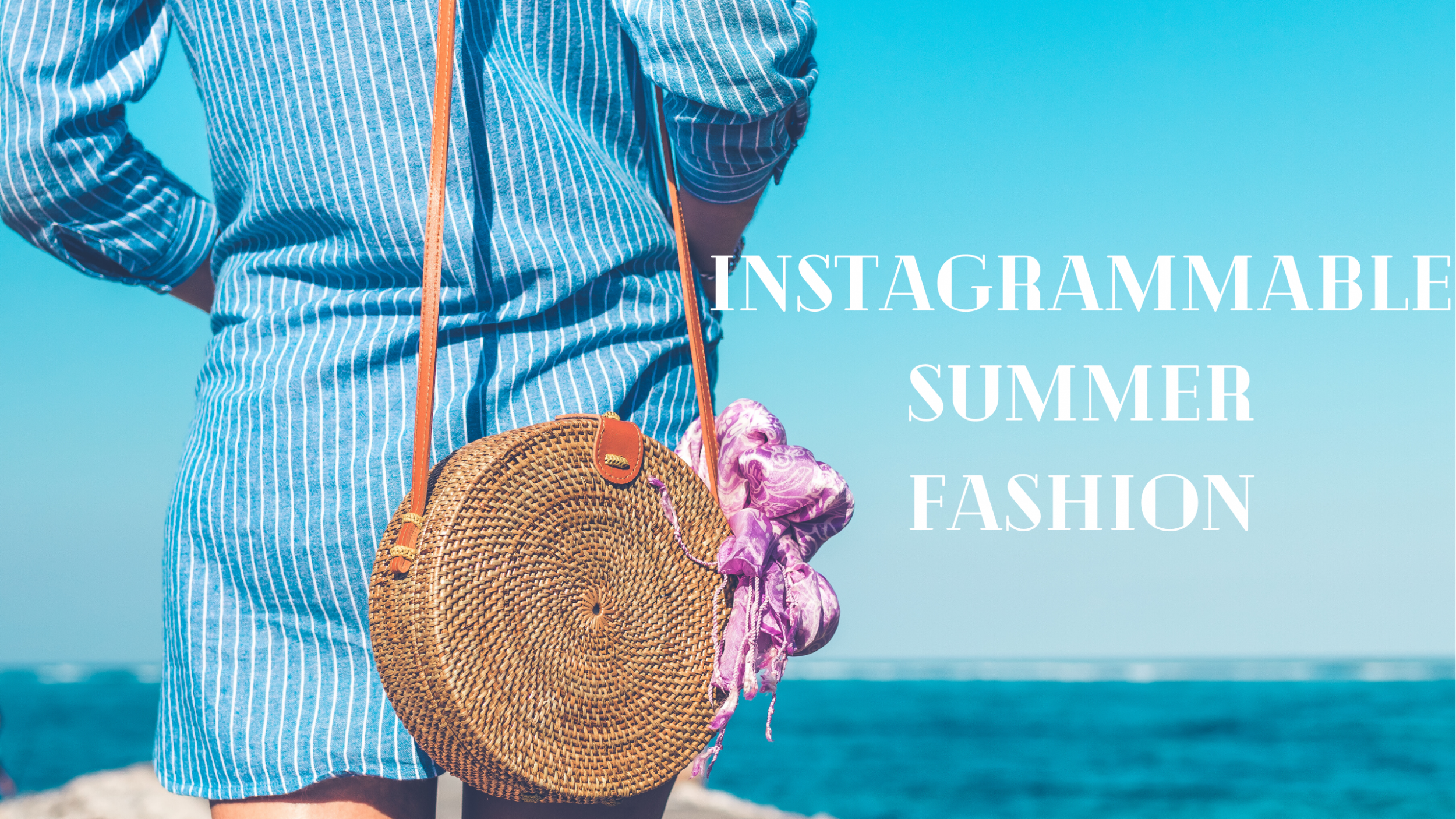 "Instagrammable" is the new summer fashion 2020 trend. Finding your right style and portraying it in a fun and fashionable way may seem a little daunting when it comes to showing your best outfits on Instagram. Outfit selection can seem like a frustrating task due to the insane amount of competition happening on social media.
Influencers and celebrities around the world showcase their talent by curating a picture-perfect life on Instagram, which just goes to tell you how significant it is to have your "own" unique style that tells a story and looks cute and chic.
Summer is around the corner, and with the heat (and popsicles and slushes) comes cute dresses and trendy styling ideas. As the season changes, so do social media trends.
Winters are all about layers, warmth, and coziness, giving off a comfortable and homely vibe, whereas summers are all about going out of your way to style the most basic and chic-est of clothes. You can count on experimenting with spaghetti tops, midis, floral prints, cute braids & tight/messy buns as summer clothing since it is the most significant opportunity to up your Instagram game.
Instagram Tips & Tricks
I know what you must be thinking now, how does this help me gain followers on Instagram and increase my chances of getting more reach?
Well, here's how. Instagram is a picturesque platform. It sorely depends on how you put up a picture, what framing it has, which colors are popping, and whether it is pleasing to the eye. Instagram looks are world-famous. You may get a good picture while lying down on your bed and clicking a selfie, but when it comes to getting a great picture, it gets a little tricky.
When trying items and running on trial and error courses, you often think of investing in items that are pretty, trendy, and, most importantly: affordable. Here's where we found Shein saving us from a struggle of finding cheap clothing and fashionable products without compromising on quality and style.
Tropical Romper Outfit Styling Idea
Your cute summer dresses with eye-popping colors and trendy style will catch the eye of the viewer. Colors and fashionable style will land you a pretty good count of likes and comments on the posts.
Take a look at this beautifully designed Tropical Romper, which instantly takes you to the imagination of having a lovely laid back time at the beach while having fun with your friends.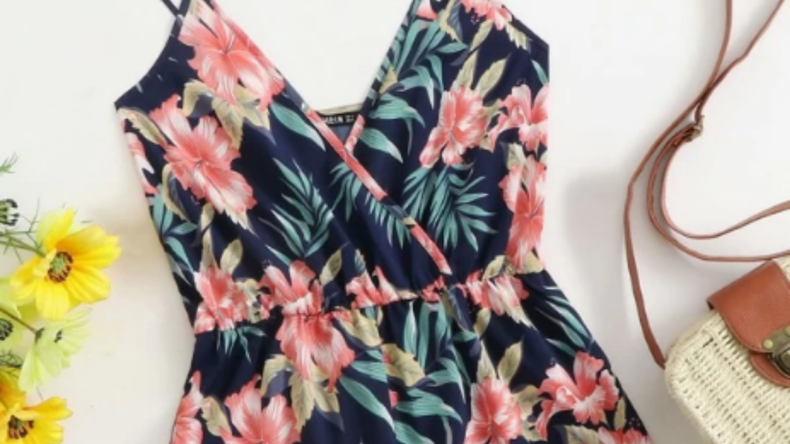 A dress that you can style and modify in numerous ways is always a great wardrobe piece to own. You can easily pair a romper with denim jeans, and use it on your lunch outfit plans. Another way to style a romper is to pair it with a blazer and turn it into a professional outfit by adding stilettos. Adding a touch of accessories can also add a spark to your outfit. A cute pendant choker or a long chain necklace can bring a considerable change from an ordinary outfit to a party outfit.
An additional way to spice up your outfit game is to use a simple piece of clothing in different ways. Getting yourself a simple top can also help you play a small part in protecting the environment as you won't be splurging on luxuries. We are all trying to be a little considerate of the environment. Investing in things that do not hurt our surroundings, and neither does it hurt our pocket is a beneficial way of being considerate of our climate.
Top & Skirt Styling Idea
Here's an example of a Tie Front Top & Skirt, which can quickly get you three different styles of outfit. An affordable outfit is an outfit that works perfectly well with at least three pieces of clothing. Pairing the skirt with a simple white t-shirt can get you an outfit that speaks to the outdoorsy vibes. Partnering the t-shirt and skirt with a cute small bag, sunglasses, and a nude lipstick will give you your next lunch date outfit.A fantastic way to style this cute floral top is pairing it with jeans or straight black pants for a more professional or straightforward look.
You can never go wrong when it comes to a floral skirt because summer is all about showing off your skin and being comfortable with who you are.
Another way you can get a really eye-popping outfit is to get a Floral Shirred Top & Belted Skirt. This is definitely the highlight of the summer trends since shirred tops work significantly in styling your body. A shirred top shows off the right amount of curves of your body and gives a neat look to the outfit.You can pair a floral shirred top with blue denim jeans or shorts and match it with lots of dangling accessories. A great party outfit where you can rock your moves and stay on top of your game. An Instagram post with beautifully curated colors and styling will get you the reach and engagement that you desire!
Jumpsuit With a Hint of Mischief
Many women tend to love jumpsuits since they are your one-way ticket out of the house. It doesn't require much attention, and neither does it need styling. But a jumpsuit is a straightforward clothing material to turn from a date outfit to a professional outfit and back to the party outfit. You can experiment a lot with a jumpsuit if you are interested in using accessories to highlight your styling sense.
Here's a Neck Self Belted Tropical Cami Jumpsuit, which looks impressive as itself, but there is still a lot you can do with it. If you pair this jumpsuit with a white blazer and pumps, it can be your next selection of outfit for your office meetings.If you pair the jumpsuit with a hat, flip flops, and a small bag, it can be your outfit for a picnic day out with friends. A hat will give off the holiday vibes, whereas flip flops will be a perfect ensemble for a free chilling day.
Floral Pants
We rarely hear about the floral pants since floral tops are mostly in fashion. But the most popular trend which is gaining a lot of attention on social media is the Floral Pants.This item of clothing has a unique style that gives off a statement. Floral Pants paired with a blouse or a simple t-shirt tied with a knot can be your next outfit. A great summer and Instagrammable outfit can work wonders for your feed.
Tie-Dye Sweatpants
Who would think a sweatpant could look sexy and chic when all we do with it is sit in these pants and get bored at home, right? But 2020 is changing this theme. add a funky look to your outfit. They enhance the style and bring out the colors in your outfit.
Tie-dye sweatpants can work both ways; gym and loungewear, as well as having a sunny picnic day out. Trying out different styling is your way to achieve the best Instagram look!
A Simple Printed Top
We all need a simple piece of clothing that goes with almost everything. Here's a, which can be matched with almost anything available in your wardrobe.
Got black jeans? Pair it with this top. Got any pastel skirt? Tuck in this shirt and pair it with this top. Got any fitted black straight pants? A brilliant way to look professional and your unique self. Need an outfit for a date, but you don't want to come off as too forceful? Get this top and pair it with ripped jeans.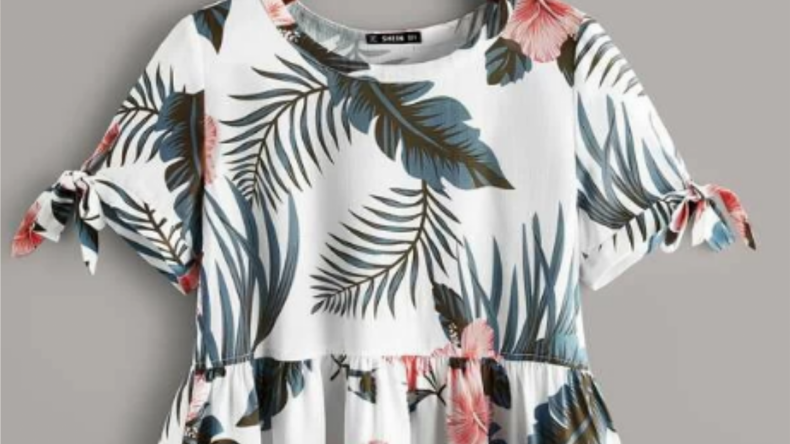 A simple top is the necessity and backbone of your wardrobe. When nothing else works, a simple outfit can be made through a printed top.
Ruffle-Trim Blouse
Even though summer is all about experimenting with different styles, it is still a good idea to get back to the basics and blast out your past inspirations. A is your way to have the 'old is gold' look.
This type of blouse gets a lot of attention due to the detailing and intricate design it goes through. A picture in this blouse may look simpler to the trending style. However, it will still pop out among different variations of the dresses on your Instagram feed.
Keep An Eye Out for Trends
Instagrammable summer fashion is all about following the trends and being in the loop with the current happenings. A hashtag, challenge or story tagging thread is your way of keeping up with the game and not losing sight of the larger picture. The most popular Influencers also started out with the same thought process and kept on experimenting with their style which is why they are one of the top content creators on the platform.
The outfits add a much-needed statement to your Instagram feed. Still, the most important thing is to consider the "you" factor. Your unique style will get you the followers and likes. A mixture of following trends, using the right hashtags, and knowing your style is your ultimate guide to Instagram fame.