Sponsored Article
This Intermittent Fasting Schedule Kept Jennifer Aniston Fit In Her 50s
Here's What You Need To Know About Jennifer Aniston's Intermittent Fasting Routine
Any guesses how old Jennifer Aniston is? None? This timeless beauty is 51 years old this year! Shocker, right? After all, Jennifer Aniston has the body of a 30-something, especially with her lean silhouette and toned arms.
So what exactly is Jennifer Aniston's secret to keeping fit throughout the years? Simple - intermittent fasting. The Friends actor has detailed that if there's one thing that worked for her during her weight loss journey, it was intermittent fasting or I.F.
There are various I.F. programs, but it's the 16:8 fast that this A-lister swears by. So instead of having breakfast in the morning, she opts for some celery juice and a workout. She also shared that planks are her go-to for maintaining her chiseled abs. Apart from that, she also loves the classic sit-ups and V-ups as part of her core regimen.
Are you motivated yet? Let's face it, with all the work-from-home we've been doing this year, everyone is trying to get back in shape. If you're curious about how to achieve the fitness levels of Jennifer's body, here's a guide to help you jumpstart your journey into intermittent fasting.
What Is Intermittent Fasting?
I.F. is a method that involves abstaining from eating for extended periods and limiting food intake to a particular window of time to lose weight and improve overall health.
Research shows that it can have positive effects on your body and brain. It doesn't really limit the food you eat, but rather when you should eat.
How Does the 16/8 Method Work?
The 16/8 fast is also called the Lean Gains Protocol, which requires you to restrict your eating period to 8 hours a day and fast for the remaining 16 hours.
Most people prefer to start fasting at night and skip breakfast. For these people, their first meals might be around lunchtime, which is perfect for them. There aren't any restrictions on the food that is eaten during the feeding window, but it helps to be conscious of calorie intake. For some, it works best to pair their IF program with a Keto diet for faster results.
Here Are 5 Tips Before Starting Your 16:8 Fast:
1. Use the DoFasting App
Intermittent fasting is more than counting down the hours until your next bite. It also involves keeping track of your food intake and engaging in some physical activities. If you're new to intermittent fasting, it will be best that you try it out with an app.
The DoFasting app is exactly what you need when starting. It's a programmable solution for weight loss that will help you determine which fasting method fits you best, and will also guide you on how to adapt I.F. into your lifestyle. From meal prep to simple workouts, the DoFasting app has a library full of resources curated by professionals to help you reduce weight and improve body health.
2. Ease Yourself Into It
We all know how "hanger" is real. So it might be tempting to jump right into I.F. (I mean, who wouldn't look like Jennifer Anniston ASAP?), but doing so can only hinder you from achieving your health goals. Ease yourself into the diet, try the program for two to three days during the first week, and gradually increase over the following weeks.
3. Eat Meals That Will Leave You Fuller For Longer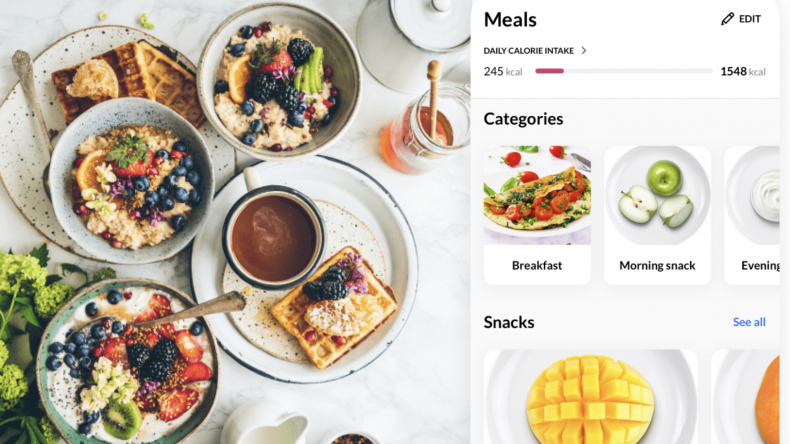 At the end of the day, the food you eat can influence your ability to commit to the 16:8 fast. If you're taking in empty calories, then there's a high chance that you will break your fast. Plan out your meals and make sure you eat a balanced diet. Include more satisfying foods like fruits, vegetables, legumes, oats, and protein (this can include bacon!). Remember that this is an opportunity for you to create a lifestyle that's sustainable over the long-term.
4. Hydrate, Hydrate, Hydrate
When you're fasting, it's even more important that you remember to keep hydrated since your body is working hard to convert fat into energy and detox the body. Filling up on water may help prevent any hunger pangs and cravings you experience when adjusting to the program.
Did you know that the same physiological signal that tells us we are hungry is the same one that tells us we're thirsty? If you struggle with drinking your daily water requirement, the DoFasting app has a tracker to log your water intake. Aim to drink at least 2-3 liters per day.
5. Stay Busy
Just like on any other diet, if you are just sitting and thinking about how hungry you are, you'll struggle with committing to your fasts. Make sure that you keep yourself busy because boredom will beckon you to open up the fridge for a snack. Now that you have less time allocated for eating, you can spend it elsewhere. Get moving, go for a run, do some errands, and start checking them off a list. Before you know it, it will be time for you to eat.
Most likely, it will take your time for your body to get used to fasting, and you may feel hungrier and weaker for a while. However, just because you're feeling frustrated - especially during week 1 - doesn't mean you can't power through it. But if you pair your journey with the DoFasting app, there's a better chance of success! It has everything you need to start on intermittent fasting: a time tracker, a water tracker, motivational reminders, healthy meal recipes, and even exercises!
Instead of struggling with how to go about intermittent fasting correctly and effectively, this 3-in-1 app will surely pave the way to shedding those unwanted pounds.