Sponsored Article
Keto Recipes for the Holidays: Appetizers, Mains, and Dessert
Enjoy a sumptuous feast without worrying about your waistline with these keto-friendly recipes.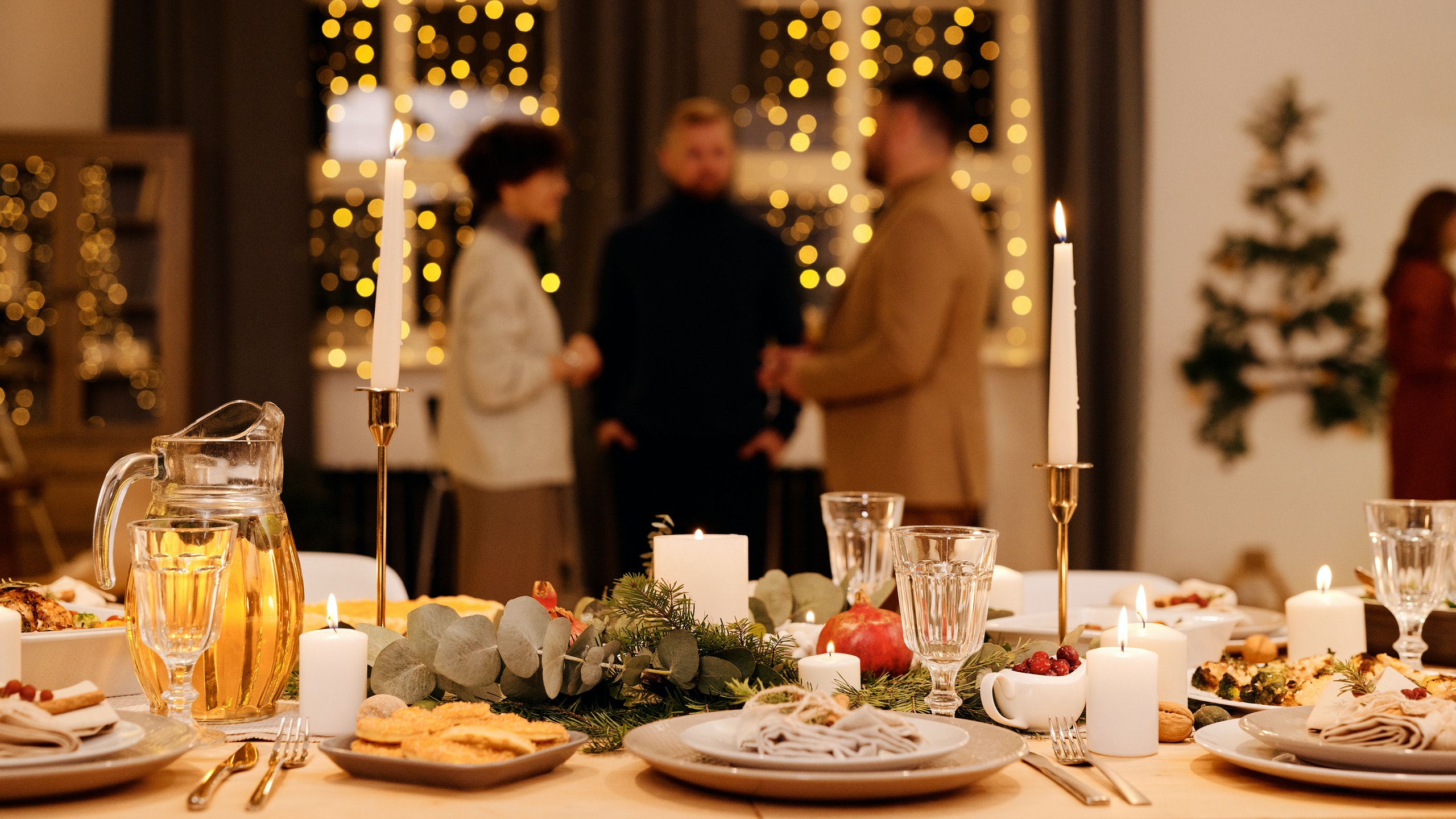 What if you don't have to choose between enjoying a holiday feast and losing weight this Christmas? This year, why not do both! There's no need to add extra cheat days to your diet plan because of the holidays - KetoCycle's got you covered with fantastic alternatives that not only taste just as good but are loads healthier to make you lose weight effectively, compared to your traditional holiday menu.
As a personalized meal planner, KetoCycle suggests delicious recipes you want to eat without halting your ketosis. Each meal has the proper proportions of fat, protein, and carbohydrates to make sure you're still following your keto diet - only this time, with more delicious options! Customize a keto meal plan to your liking and lose weight throughout the holidays: Click Here.
We've had a chance to look through their recipes, and here are our absolute top-picks for keto-fied holiday dishes:
Appetizers
Bacon-Wrapped Scallops
Makes 4 servings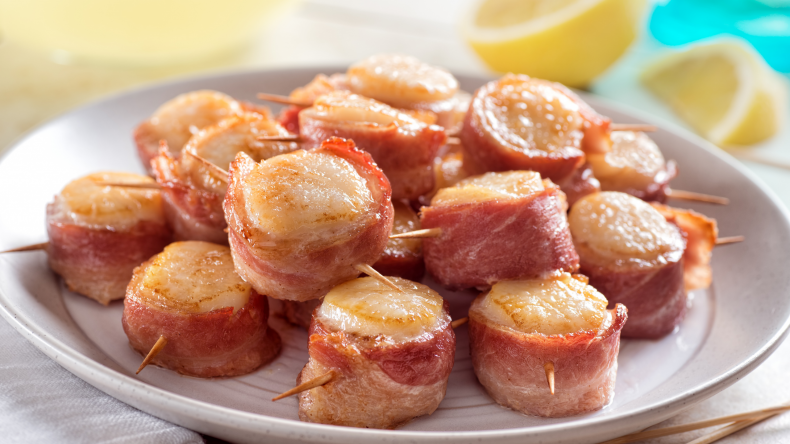 Ingredients:
16 pieces sea scallops
8 slices bacon, cut in half crosswise
16 toothpicks
Olive oil, for drizzling
Freshly ground black pepper, to taste
Kosher salt, to taste
Directions:
Preheat the oven to 425°F or 220°C. Line a baking sheet with parchment paper, then set it aside. Pat the scallops dry with paper towels, removing any side muscles to make the scallops look clean. Once dry, wrap a half slice of bacon around a scallop, then secure it with a toothpick. Repeat the prep with the remaining scallops.
Arrange the scallops on the lined baking sheet, leaving about at least an inch of space between the scallops to allow the bacon to crisp evenly. Drizzle olive oil over the scallops and season with salt and pepper. Bake the scallops in the oven for 12 to 15 minutes until the scallops look tender and opaque and bacon is cooked through. Serve hot.
Serving Size: 4 scallops
Calories: 224 | Carbohydrates: 2g | Fiber: 0g | Sugar: 0 g | Protein: 12 g | Fat: 17g
Smoked Salmon Cucumber Bites
Makes 10 servings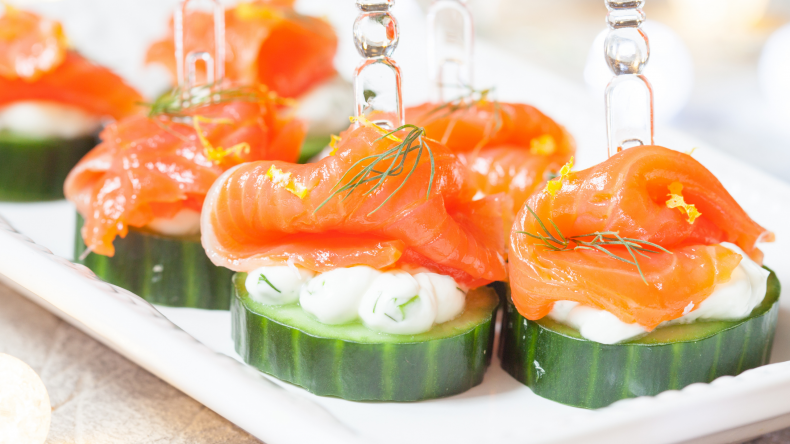 Ingredients:
¾ cup cream cheese (softened)
1/4 cup full-fat Greek yogurt
1/4 teaspoon garlic powder
2 tablespoons fresh dill, chopped (plus more for garnish)
1 large English cucumber, sliced slightly diagonally into 1/4 inch thickness
½ large fillet (110g or 4oz) smoked salmon, thinly sliced and cut into pieces
Directions:
Mash together the cream cheese, Greek yogurt, and garlic powder in a small bowl. Fold in the chopped fresh dill, then transfer the cream cheese mixture into a piping bag (If you don't have a piping bag, make a small snip on a corner of a zip-lock bag and use it as a makeshift piping bag).
Arrange the cucumber slices in a single layer on a platter, then pipe about a half tablespoon of the cream cheese mixture on top of each cucumber slice. Top the cream cheese with a folded piece of smoked salmon. Garnish the cucumber bites with extra dill, if desired.
Serving Size: 4 cucumber bites
Calories: 80 | Carbohydrates: 2g | Fiber: 0g | Sugar: 1g | Protein: 4g | Fat: 6g
Main Entrees
Baked Sirloin Roast with Herb Rub
Makes 9 servings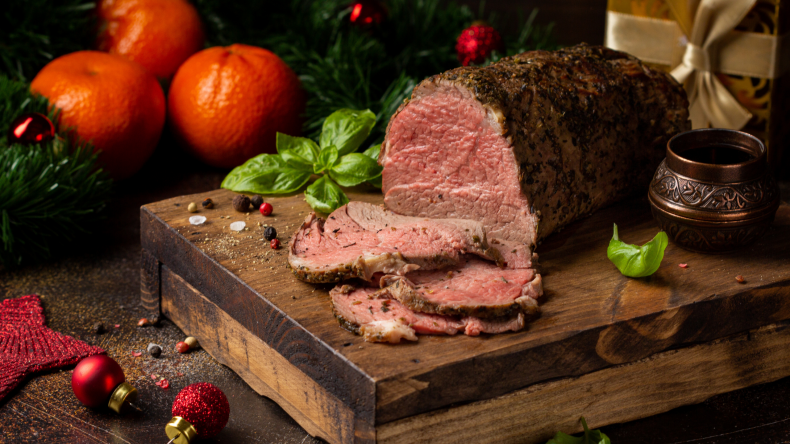 Ingredients:
3 lb or 1.3kg sirloin tip roast
1 tablespoon paprika
1 ½ teaspoon sea salt
½ teaspoon garlic powder
½ teaspoon ground black pepper
½ teaspoon onion powder
⅛ teaspoon ground cayenne pepper
½ teaspoon dried oregano
½ teaspoon dried thyme
2 cloves garlic, minced
2 ½ tablespoons olive oil
Directions:
Combine the paprika, sea salt, garlic powder, black pepper, onion powder, cayenne pepper, oregano, and thyme in a small bowl. Stir in the olive oil and minced garlic until it comes together in a paste. Set aside and let the rub paste rest for about 12 minutes.
Preheat the oven to 350°F or 175°C degrees. Line a baking sheet with aluminum foil, then place the sirloin tip roast on the sheet. Brush the rub paste on all sides of the roast (If you don't have a pastry brush, massage the paste on the roast using your hands). Roast the sirloin in the preheated oven for 1 to 3 hours (depending on size) until the internal temperature reads 135°F to 145°F or 65°C degrees (Use a meat thermometer and insert in the middle of the roast). Let the roast rest for about 14 minutes before slicing. Serve warm.
Serving Size: 0.3 lb or 0.13kg
Calories: 256 | Carbohydrates: 1g | Fiber: 0g | Sugar: 0g | Protein: 31g | Fat: 15g
Shrimp Scampi with Zucchini Noodles
Makes 4 servings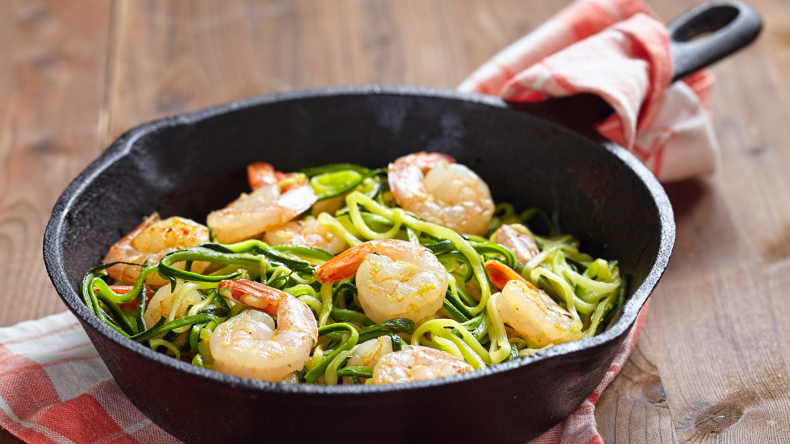 Ingredients:
2 tablespoons unsalted butter
1 pound or 0.45kg medium shrimp, peeled and deveined
3 cloves garlic, minced
1/2 teaspoon red pepper flakes (plus more, to taste)
1/4 cup chicken broth
Juice of 1 lemon
Kosher salt and freshly ground black pepper, to taste
1 1/2 pounds or 0.7kg (4 medium-sized) zucchini, spiralized
2 tablespoons freshly grated Parmesan
2 tablespoons chopped fresh parsley leaves
Directions:
Melt the butter in a hot, large pan over medium-high heat. Add the garlic, followed by the shrimp and red pepper flakes, in the pan. Stir the pan and cook the shrimp until pink, about 2 to 3 minutes. Pour the chicken broth and lemon juice in the pan, then season with Kosher salt and pepper. Bring the scampi to a simmer, then stir in the zucchini noodles into the sauce until well combined, about 1 to 2 minutes. Serve immediately, garnished with parmesan and parsley, if desired.
Serving Size: 1 cup
Calories: 214 | Carbohydrates: 8g | Fiber: 2g | Sugar: 5g | Protein: 27g | Fat: 9g
Dessert
Pecan Pie
Makes 14 servings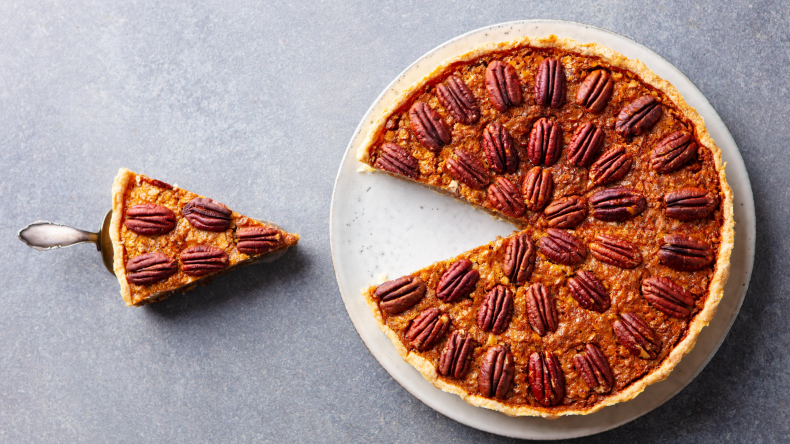 Ingredients:
For the crust:
1 3/4 cups superfine blanched almond flour, plus more as needed
3 tablespoons coconut flour
2 teaspoons powdered monk fruit sweetener (or any other sweetener of your choice)
1/2 teaspoon fine grain sea salt
1/3 cup butter
2 tablespoons coconut oil
1 large egg
For the filling:
1 cup butter
1 cup golden monk fruit sweetener (or any other sweetener of your choice)
2 tablespoons almond butter
1 cup full-fat canned coconut milk
2 teaspoons vanilla extract
1/2 teaspoon fine sea salt
3 large eggs, at room temperature
2 cups roughly chopped pecans
1/2 cup half pecans for the topping
Directions:
For the crust:
Combine the almond flour, coconut flour, powdered monk fruit, salt, butter, and coconut oil in a food processor until the mixture comes together in large, pea-sized crumbs. Add the egg, then pulse again until the mixture comes together to form a dough. Add more almond flour (1 to 2 tablespoons at a time) as needed, if the dough seems too wet. Once the dough looks smooth and firm, then gather it into a ball and wrap it in plastic wrap. Chill dough in the refrigerator for at least 15 minutes or up to 2 days.
Once the dough is ready, roll it between two sheets of parchment paper into a large circle, big enough to cover a regular 9-inch or 23-cm pie dish. Lay the flattened dough over the pie dish and press onto the bottom and sides of the pan. Trim the edges from any excess dough and flute edges (You may use the leftover dough to cut out festive shapes, if desired). Pierce the bottom of the molded dough using a fork to prevent bubbling once it's in the oven. Chill the pie crust in the refrigerator while you preheat the oven and prepare the pecan filling.
For the filling:
Preheat the oven to 325°F or 160°C. Remove the pie pan from the fridge, then par-bake the crust for 15 minutes or until very lightly golden brown around the edges. Set it aside to cool.
Melt the butter in a large, heavy bottomed saucepan over medium heat, whisking constantly. Once the butter starts boiling, continue whisking until you see brown bits starting to form at the bottom of the pan and the browned butter starts to smell nutty. Remove the pan immediately from the heat, then whisk in the golden monk fruit sweetener until combined. Add the almond butter, coconut milk, sea salt, and vanilla. Whisk until smooth, then let the filling cool slightly.
Stir the chopped pecans into the filling mix, then pour it into the par-baked crust. Arrange pecan halves on top of the pie to your liking. Cover the crust edges with a pie shield or aluminum foil to prevent it from burning. Bake the pecan pie in the oven for 40 to 45 minutes or until the center is nearly set (or comes out a bit jiggly) and the crust is deep golden brown. Allow the pie to cool completely at room temperature for at least 1 hour before serving. If making ahead, wrap, and store in the refrigerator for up to 2 days.
Serving Size: 1 slice
Calories: 425 |Carbohydrates: 8g | Fiber: 4g | Sugar: 2g | Protein: 8g | Fat: 46g
Ginger Cookies
Makes 30 servings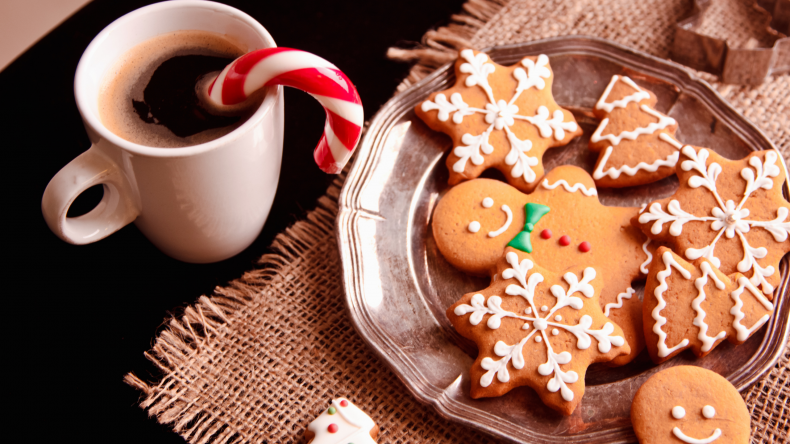 Ingredients:
2 cups almond flour
1/3 cup Lakanto Golden or granulated erythritol
2 1/2 teaspoons ground ginger
1/2 teaspoon ground nutmeg
1/8 teaspoon ground cloves
1/3 cup / 80g butter, softened
1 egg white, beaten
Directions:
Combine the dry ingredients - almond flour, Lakanto Golden (or another "brown sugar" erythritol), and the spices - into a large mixing bowl. Add the softened butter, then blend with an electric mixer until the mix starts to look like crumbs. In a separate bowl, beat the egg white until it forms stiff peaks, then add it with the dough until just combined. Roll out the dough between 2 sheets of parchment paper using a rolling pin, and cool the dough in the freezer for 10 minutes or in the fridge for 20 minutes.
Preheat the oven to 180°C or 350°F degrees. Place the flattened dough on the kitchen. Lift the top parchment sheet and cut out shapes on the dough using cookie cutters. Using a knife or a spatula, transfer the cookies onto a lined baking tray. Bake the cookies for 8 to 10 minutes until the edges are browned. Cool the cookies completely on the tray before handling them.
Serving Size: 1 cookie
Calories: 60 | Carbohydrates: 1g | Fiber: 1g | Sugar: 0g | Protein: 2g | Fat: 2g
If the abovementioned dishes seem like meals you'd truly enjoy, just think of the hundreds of other recipes that'll whet your keto appetite via the KetoCycle app. For a personalized keto diet plan to make for an effective weight loss program, answer the quiz for KetoCycle to get familiar with your health and dietary preferences. Then, if you're up for a challenge, sign up for the 28-day keto diet challenge with KetoCycle.
Find the plan that's right for you by visiting the KetoCycle website here.