Sponsored Article
Looking for a New Home-Based Hobby? Try Quilting!
Whether you're a sewing savant or you've never held a sewing needle before in your life, AccuQuilt makes it easy to get started on your new favorite hobby.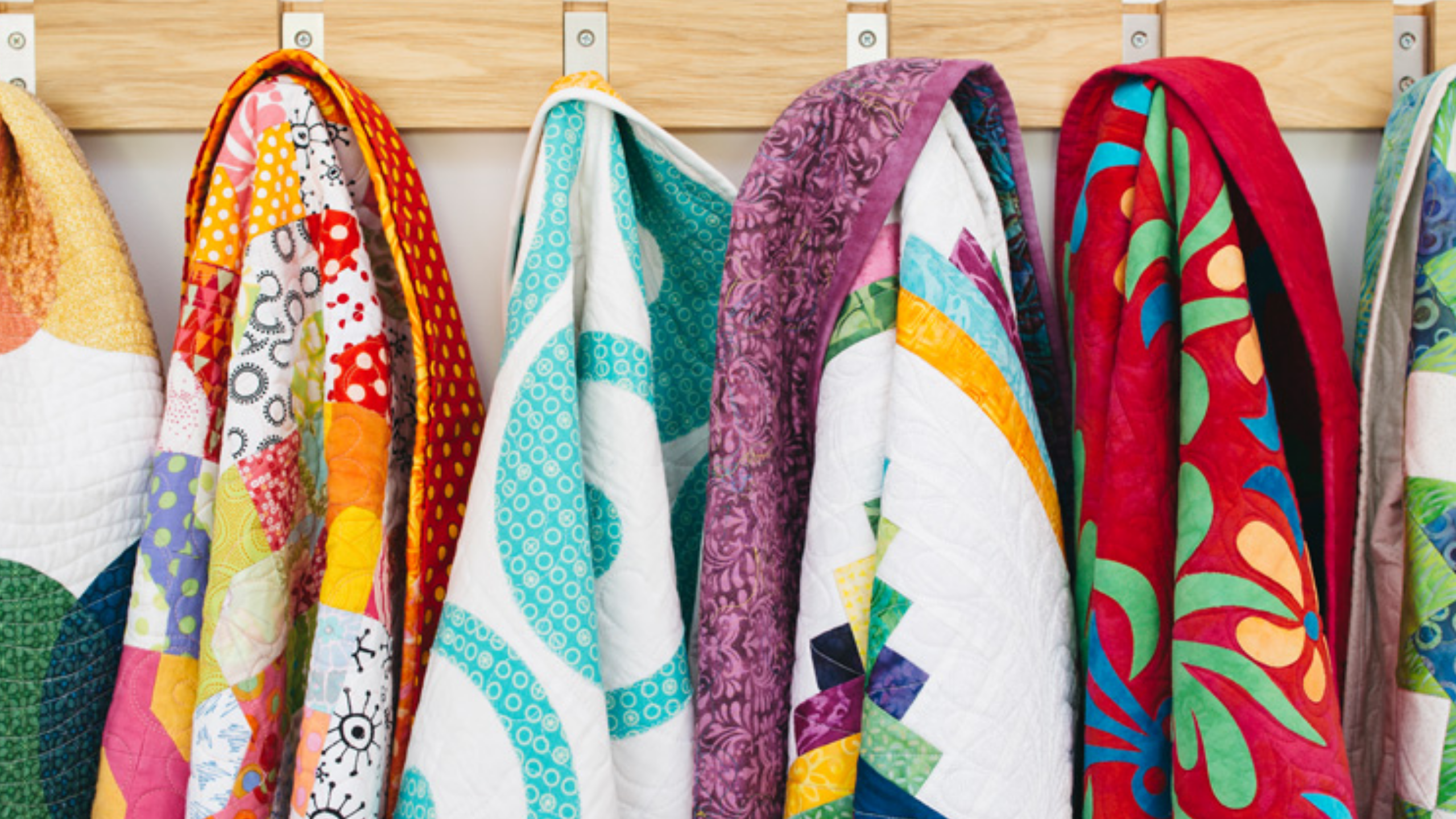 You probably spent more time at home in 2020 than any other year you can remember. After about a week of finishing everything Netflix, Hulu, and Amazon Video had to offer, you were probably looking for something new to occupy your time.
Did you hop on every hobby train your social media feed promoted? From 1,000-piece puzzles to endless loaves of bread, you probably tried your hand at a few new activities in 2020. But 2021 is a new year, and you're most likely tired of the yeasty smell of sourdough starters, burning your hands while candle-making, and killing countless plants as you try to garden. Leave those activities behind and step into the new year with a brand new hobby: quilting.
Yes, you read that right. Arts and crafts can be incredibly therapeutic and stress relieving. This isn't your grandma's hobby. Quilting can be a fantastic way to make heartfelt gifts for loved ones, organize your life, and commemorate important moments. Have you seen that Tik Tok video of the guy who makes stylish hoodies out of quilts? Seriously, quilting has never looked so cool before.
Whether you're a sewing savant or you've never held a sewing needle before in your life, AccuQuilt makes it easy to get started on your new favorite hobby.
What Is AccuQuilt and How Does It Make Quilting Easy?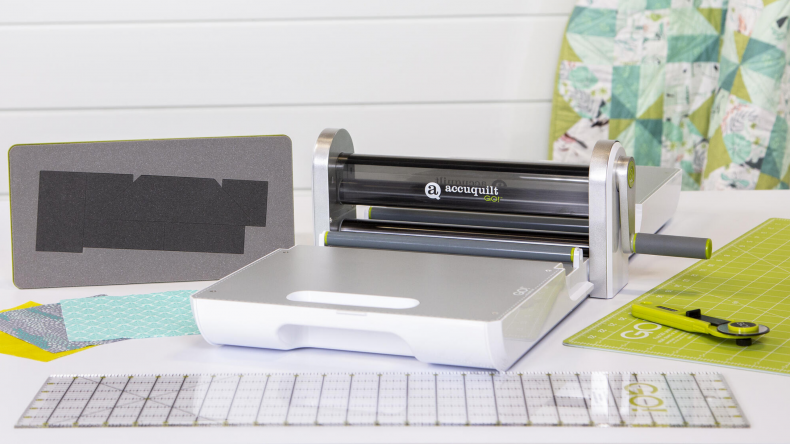 AccuQuilt is a revolutionary fabric-cutting system that gives you perfectly shaped pieces every time, without all the fuss and stress of hand-cutting thousands of shapes.
How?
The AccuQuilt system has three components that get a tedious task done in a flash. The three pieces are the fabric cutter itself, the die, and the corresponding die mat. The die is what has the shape you want to cut. Very sharp steel blades form the desired fabric shape and are surrounded by soft foam to prevent injury.
How does it work exactly?
Once you pick your desired fabric and die shape, lay your fabric on top of the die, foam-side up, then place a mat on top of the fabric. Next, you put the die through the cutter, where the innovative system compresses the foam, forcing the blades to cut through the fabric and into the mat. Voilà! Now you have perfectly cut fabric shapes!
Benefits of Using a Fabric Cutter
People have been making quilts for hundreds of years by hand, so why do you need an AccuQuilt fabric cutter? Some of the benefits of an AccuQuilt system include:
Saves time
Provides more accurate pieces
Lowers risk of injury
Reduces fabric waste
You probably didn't get into quilting because you love cutting shapes out of fabric. It can be super frustrating and time-consuming to plan, trace, and accurately cut potentially hundreds of shapes, all while trying to minimize fabric waste. So many steps when all you really want to do is get behind that sewing machine and make your masterpiece!
Ready to make a drastic cut on your prep time? Using an AccuQuilt fabric cutter is up to 90% faster than rotary cutting. Seriously, who doesn't want to get things done 90% faster? Additionally, the AccuQuilt fabric cutter systems eliminate all of the human error, ensuring your cuts will be accurate and shapes will be perfect. This is a lifesaver if you're new to quilting! This helps shorten the learning curve and gets you to the fun part of quilting faster! If you're an old pro, it allows you to turn out new projects faster and even take on more challenging projects with ease.
GO! Fabric Cutter Starter Set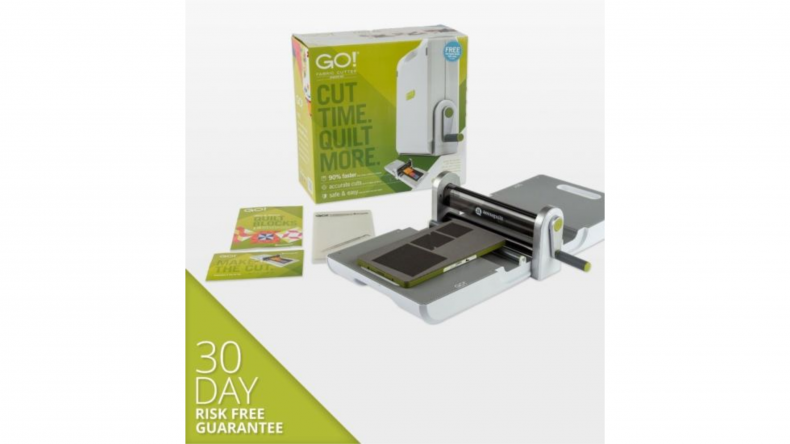 Ready to get started on your quilting journey?
This starter set is your one-stop shop for your foray into the quilting world. It comes with the original GO! Fabric cutter, a manual cutter with a handle to turn. The GO! is capable of cutting up to six layers of 100% cotton fabric at a time, drastically cutting down on your work time. It can cut through a wide variety of fabrics, including cotton, batiks, wool, flannel, fleece, denim, leather, batting, felt, silk and satin. Additionally, it is compatible with more than 200 GO! piecing and applique dies (all die sizes fit the GO! cutter except GO! Big dies). The set also includes a starter set of exclusive GO! Value Die and cutting mat to create four-inch squares, two-inch squares, and half-square/two-inch finished triangles. The set also features a 20- page Pattern Book: GO! Mix & Match Quilt Blocks, Die Pick, Product Registration Card, and a helpful Quick Start Guide to get you started.
Click here to buy for $299.99.
Ready. Set. Go! Ultimate Fabric Cutting System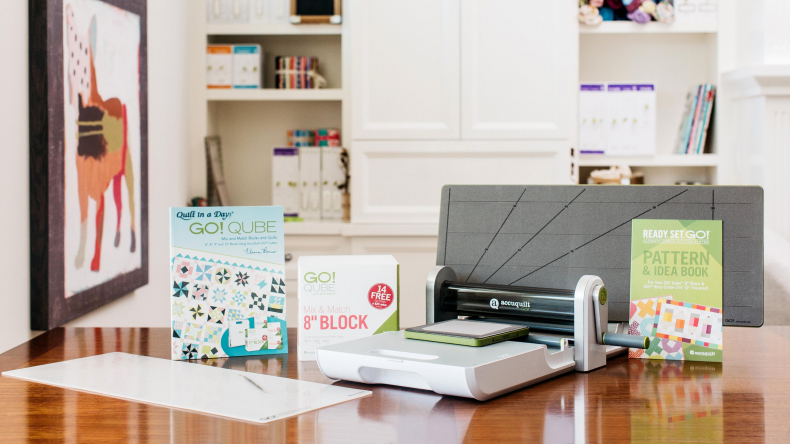 Want to take on any project your imagination can create?
Then this package is for you. It comes with the original GO! Fabric cutter described above, but with more tools and products to help you craft. One of its best features is the GO! Qube 8" Mix & Match Block, which includes eight different shapes, a 6x6" cutting mat, a getting started DVD, a 24-page Pattern Book with nine block patterns and one quilt pattern, and a self-contained storage system. The set also comes with the GO! Strip Cutter that creates two-inch finished strips, a GO! Cutting Mat-10" x 24", Die Pick, Product Registration Card, and a helpful Quick Start Guide to get you started.
What else?
How about the 2nd edition GO! Qube Mix & Match Blocks and Quilts Pattern Book by Eleanor Burns-2nd Edition. This 162-page book is chock full of 46 block patterns and 16 quilt projects to ease you into quilt making. That's not enough? How about another 16-page Pattern & Idea Book with two quilt patterns? Seriously, this is everything you need to start making quilts your family will cherish for generations to come.
Click here to buy for $549.99
In addition to the original GO! Fabric cutter, AccuQuilt has a variety of other fabric cutters with different capabilities. Click here to see a comparison of all their fabric cutters and find out which one is right for your quilting needs. From kids to professionals, they have something for everyone. Already have a specific project in mind? From Gnomes to the Alphabet, AccuQuilt has dies in every shape to help save you time and energy! Click here to see their full collection of dies.
Ready to quilt your heart out? Click here to shop and use code SHIP21 to get free standard shipping on orders of $50 through January 9, 2021.