Sponsored Article
Marijuana May or May Not Be Bad for Your Heart but It Is Really Bad for Journalism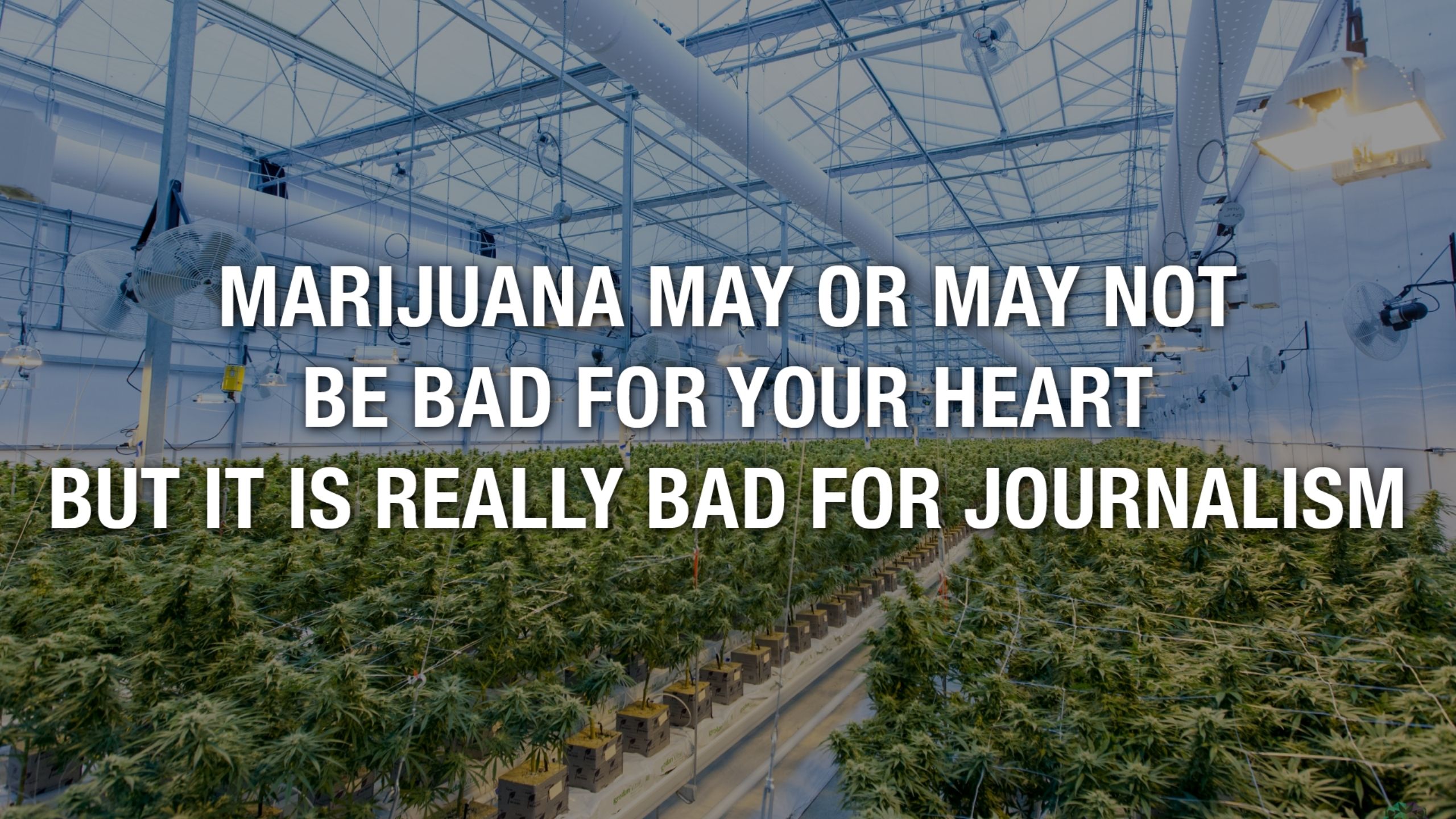 A little over twenty years ago, in March of 2000, the media swamped the National Organization for the Reform of Marijuana Laws (NORML) office with calls, and one network even sent a camera crew promoting a report given at an American Heart Association conference in San Diego.
Obviously, NORML does not base its advocacy of marijuana legalization on the assumption that it is harmless, and they certainly don't claim to be experts on heart disease, so why would the "media" be expecting NORML to respond to a study?
As Reuters reported it, "Aging pot users at risk for heart attack."
"SAN DIEGO, Mar 02 (Reuters Health) — Aging marijuana smokers have almost a five times higher than normal risk of having a heart attack in the first hour after smoking cannabis, according to findings presented at the American Heart Association's 40th Annual Conference on Cardiovascular Disease Epidemiology and Prevention.
"'To my knowledge, this is the first study to document that smoking marijuana can trigger a heart attack,' said researcher Dr. Murray A. Mittleman of Beth Israel-Deaconess Medical Center in Boston, Massachusetts."
Or as the AP reported, "Study: Marijuana Raises Heart Risks; By DANIEL Q. HANEY AP Medical Editor. SAN DIEGO (AP) - Boomers pushing into their 50s probably should add another item to their list of things to worry about: The effect of marijuana on their hearts. A study released Thursday documents for the first time that smoking pot increases the risk of a heart attack."
Now, twenty years later, the AHA has published a new study, "Medical Marijuana, Recreational Cannabis, and Cardiovascular Health: A Scientific Statement From the American Heart Association."
The AHA press release headline is "Heart risks of marijuana use need more research." But here are the media headlines, from CNN, "Weed is not good for your heart, studies say." From Studyfinds.org, "Marijuana Use Linked To Heart Disease Risk, Disruptions In Other Medications." From MarketWatch, "Smoking or vaping cannabis could cause strokes, heart attacks, American Heart Association warns against weed, calls on the government to allow more research."
The AHA study appropriately expresses concerns about possible risks for people who smoke cannabis, but here are its actual conclusions:
"Cumulative lifetime and recent cannabis use did not show an association with incidence of cardiovascular disease, coronary heart disease, or cardiac mortality..."
Now consider this 2018 study which was not the subject of sensationalist headlines:
"Marijuana use and short-term outcomes in patients hospitalized for acute myocardial infarction:
"We compared in-hospital outcomes of AMI patients with reported marijuana use to those with no reported marijuana use. We hypothesized that marijuana use would be associated with increased risk of adverse outcomes in AMI patients....
"In multivariable analysis including age, race and common cardiac risk factors, there was no association between marijuana use and the primary outcome...
"Interestingly, marijuana-using patients were significantly less likely to die... experience shock...than patients with no reported marijuana use.
"These results suggest that, contrary to our hypothesis, marijuana use was not associated with increased risk of adverse short-term outcomes following AMI. Furthermore, marijuana use was associated with decreased in-hospital mortality post-AMI..."
Finally, consider something that did not get a big headline:
The AHA report also said that cannabis "laws should be harmonized in ways that limit confusion and better reflect the existing science behind cannabis, starting in the United States at the federal level with removal of cannabis from Schedule 1 of the US Controlled Substances Act, followed by a proactive approach to labeling that standardizes concentrations of THC and CBD content."
That is only possible with legalization, and wouldn't that be a great headline! Now someone go tell Mr. Trump and Mr. Biden.
Richard Cowan is a former NORML National Director and the founder of

Safe CBD for Me

.