Sponsored Article
Must-Have Men's Summer Performance Wear From Alo Yoga
Flow Through Your Asanas in Alo Yoga's New Summer Pieces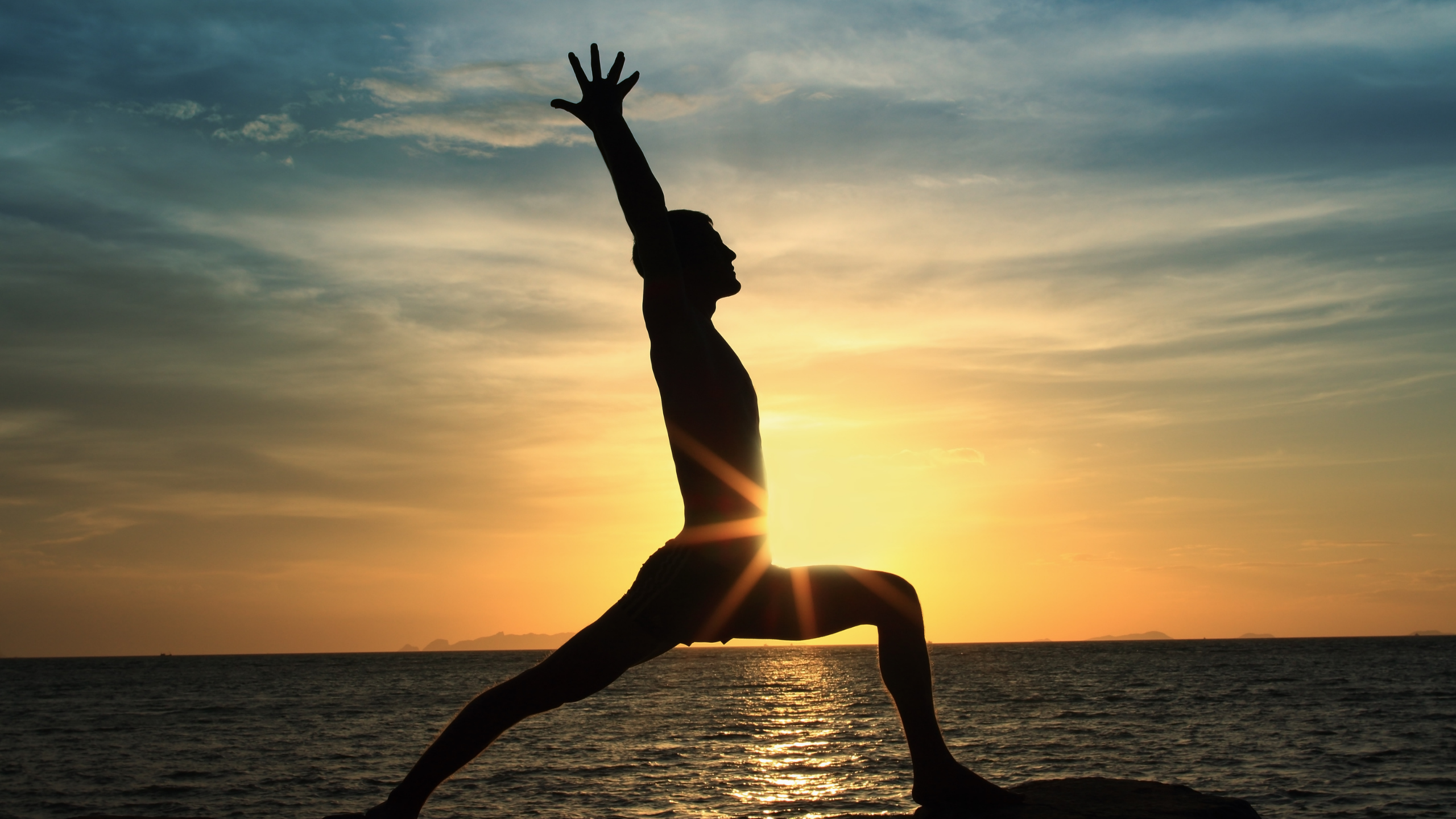 Summer is a good time to explore new activities, and this season, why not try something that aligns your body, mind and spirit? If you'd like to spend these months improving your strength and mental health, yoga is one activity you could turn to. More than just exercise, yoga is also a form of meditation that may bring reported benefits, according to John Hopkins Medicine, like reduced stress, increased energy and mood, on top of its physical effects.
However, as with all forms of physical activity, wearing proper clothing during yoga could help you stay comfortable during the practice and support you through the poses. Alo Yoga is one clothing brand that designs "studio-to-street" activewear for men and women. The brand believes that the transformative power of yoga shouldn't stop on the mat and should flow into all aspects of one's life. The same principle applies to its clothes—Alo Yoga wants to keep creating yoga pieces that are "comfortable, contemporary and decidedly not just for the mat."
Men's Summer Performance Wear
For men who wish to try yoga or deepen their practice this summer, here is new performance wear from Alo Yoga that is not just perfect for the exercise but also for the season.
Triumph Tank and 7-Inch Unity 2-in-1 Short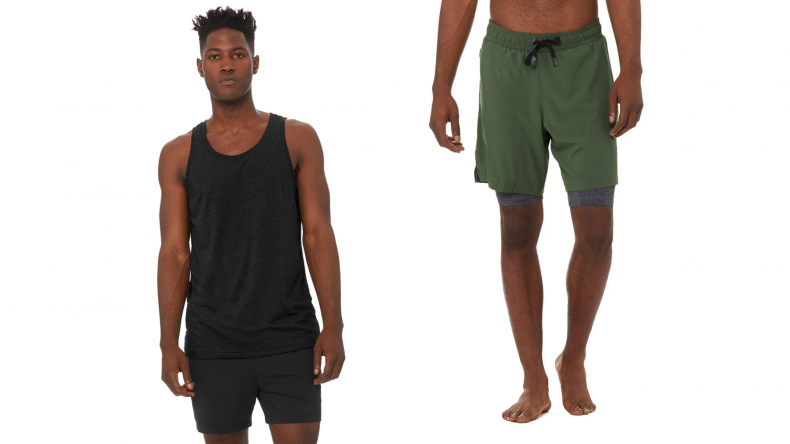 Made of light material, the Triumph Tank is ideal for hot yoga sessions. The cut of this shirt, which includes low armholes, allows mobility for different poses. It comes in the colors black heather and black triblend.
Pair the Triumph Tank with the 7-Inch Unity 2-in-1 Short, which is designed with movement in mind. It's made of two parts: a drawcord outer short and a sewn-in brief. The waistband in this short also helps make sure that its secure while you move. Try it in Alo Yoga's newest color release—a combination of Dark ivy and Dark Grey Marl.
Get the Triumph Tank for $48 here and the 7-Inch Unity 2-in-1 Short for $98 here.
Idol Performance Tank and 9-Inch Repetition Short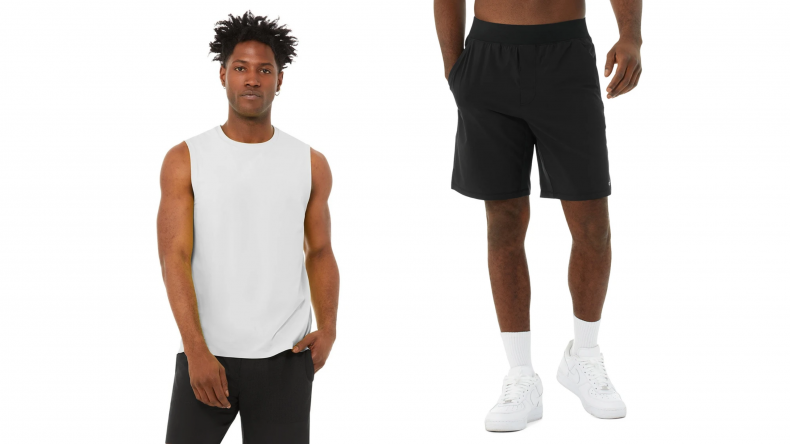 Said to be made with ultralightweight fabric, the Idol Performance Tank is designed to help you stay cool even after a sweaty workout. Its slim and relaxed fit is made for every size, and the material is odor-resistant. The Idol Performance Tank can be bought in different colors: titanium, white, black, dark navy, Alo Blue, Atomic Orange and Mineral Blue.
The Idol Performance Tank could go perfectly with the 9-Inch Repetition Short, which is designed to absorb moisture during your workouts. This short also features an elastic waistband, front faux fly and side-slit styling. It's available in black, titanium, Mineral Blue and, the newest color, Dark Ivy.
Get the Idol Performance Tank for $78 here and the 9-Inch Repetition Short for $68 here.
Idol Long-Sleeve Performance Tee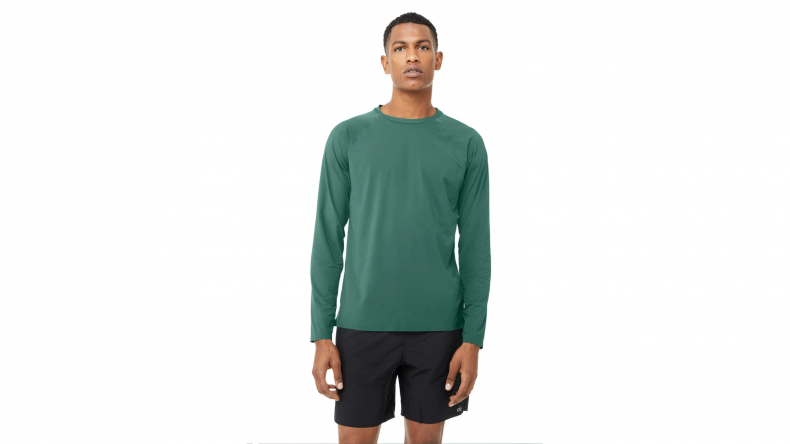 Despite its long sleeves, the Idol Long Sleeve Performance Tee is made of fabric light enough so that you could stay cool in it despite the warm weather. It features a crew neckline and a relaxed, slim fit. This long-sleeve tee is available in the new Dark Ivy, black, titanium, Baltic, Primary Blue, white and dark navy.
Get the Idol Long-Sleeve Performance Tee for $98 here.
Amplify Seamless Muscle Tank and Revitalize Pant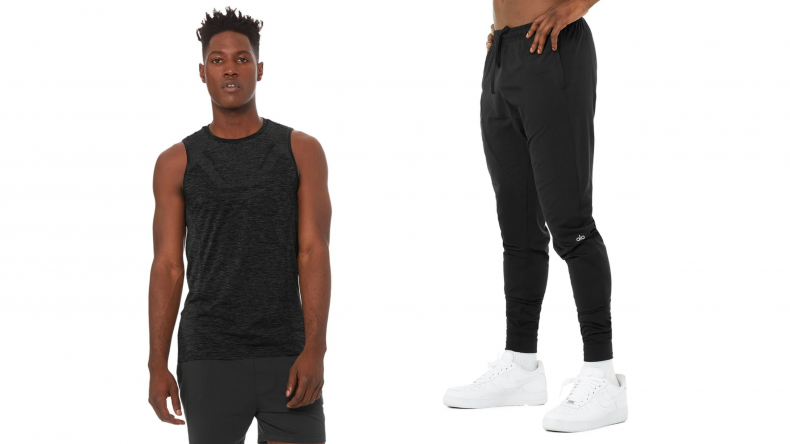 What makes the Amplify Seamless Muscle Tank special is its heathered design, engineered to make it breathable. It's also fashioned to be flexible, with the help of its four-way stretch fabric. This muscle tank is available in seven stylish colors: black heather, hunter heather, black, dark navy, athletic heather gray, Dark Ivy and Alo Blue.
A special top is best matched with a special pair of pants, and that's exactly what the Revitalize Pant is. Its fabric is made of suede performance jersey designed to provide you support through your yoga sessions. Whether worn inside or outside the studio, it's sleek and stylish, whether you get it in black, bone, athletic heather gray, Anthracite or dark navy.
Get the Amplify Seamless Muscle Tank for $68 here and the Revitalize Pant for $118 here.
Talus Tech Pant and Base Sweatshirt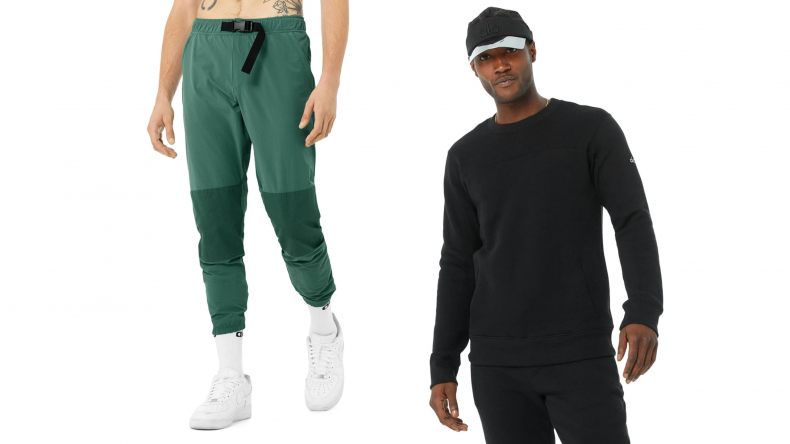 Water-resistant, ripstop panels at the knees and a belt buckle, to boot: the Talus Tech Pant is not only cool to wear on the streets but also a functional piece for the studio. It's also made of recycled plain weave fabric and comes in colors Dark Ivy, Anthracite and black.
Top it off with the Base Sweatshirt, available in black, athletic heather gray, Gravel, dark navy, Eucalyptus, Mineral Blue and bone. This shirt is made of super soft fleece fabric, according to Alo Yoga, and features side pockets for your essentials.
Get the Talus Tech Pant for $168 here and the Base Sweatshirt for $98 here.
Cargo Division Field Pant and Triumph Crew Neck Tee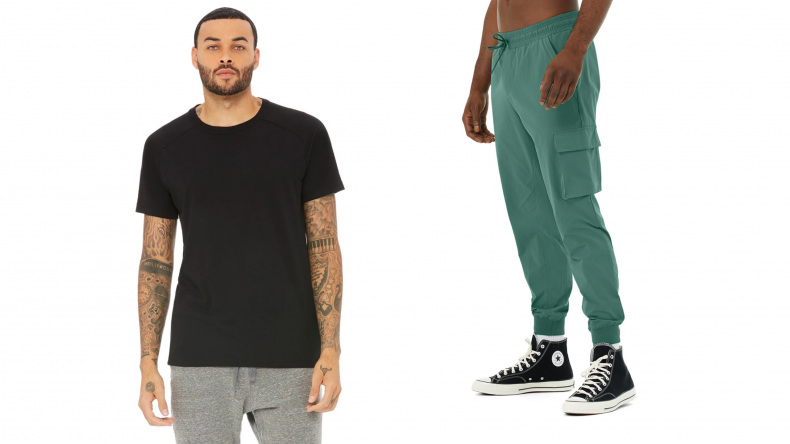 Style and functionality come together in the Cargo Division Field Pant. It's water-repellent and comes with pockets and a relaxed fit. It's available in the colors Anthracite, Gravel, black, dark ivy and Jungle. The versatility of these pants also makes them a perfect match for the Triumph Crew Neck Tee. With its soft and comfortable fabric, you can wear it whether at the yoga studio or out at a park on a sunny day. This shirt comes in Woodrose, solid black triblend, white, Chalk Blue, gray heather, dark navy, Amplify Red, Baltic, Jungle, Eucalyptus, Mineral Blue and Eraser Pink.
Get the Cargo Division Field Pant here for $148 and the Triumph Crew Neck Tee for $54 here.
More Summer Performance Wear to Shop From Alo Yoga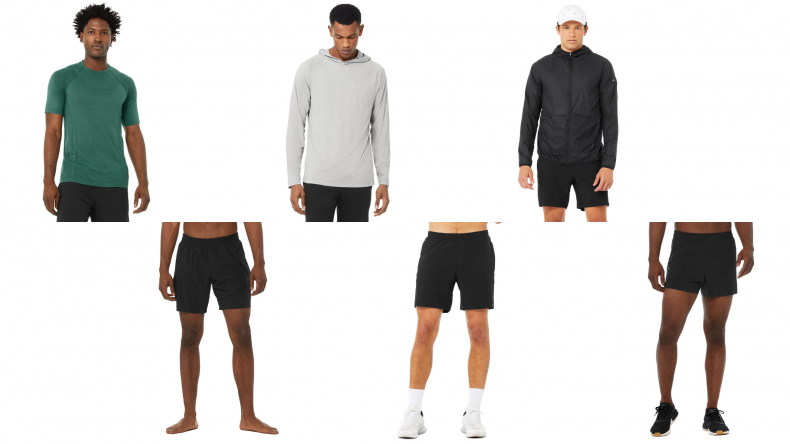 This season's yoga sessions call for a lot of lightweight material, comfortable-fitting shorts and moisture-repellent fabric. Alo Yoga's line of summer performance wear has these features and more. The Repeat Running Jacket ($128), for example, is made of light, cooling ripstop fabric. The 5-Inch Adapt Running Short ($68) is constructed with woven fabric so it's breathable and "light as air." The Core Hooded Runner ($68), designed for intense workouts, is made from sueded, triblend jersey.
Both the 7-Inch Traction Short ($98) and the 7-Inch Advance 2-in-1 Short ($98) make it easy to move during class and are moisture-wicking. You can pair them with the Amplify Seamless Short Sleeve Tee ($78), which is made with a four-way stretch fabric.
Just like with any other workout or sport, wearing proper clothes during a yoga session is important whether you're new to the practice or a longtime yogi. Alo Yoga's line of high-performance activewear is designed to provide you with functional and comfortable pieces you can wear not only in the studio but also on the streets, no matter the season.