Sponsored Article
Mr. Showtime: The Legend of Earvin 'Magic' Johnson
What exactly made Magic Johnson special? Read on to find out.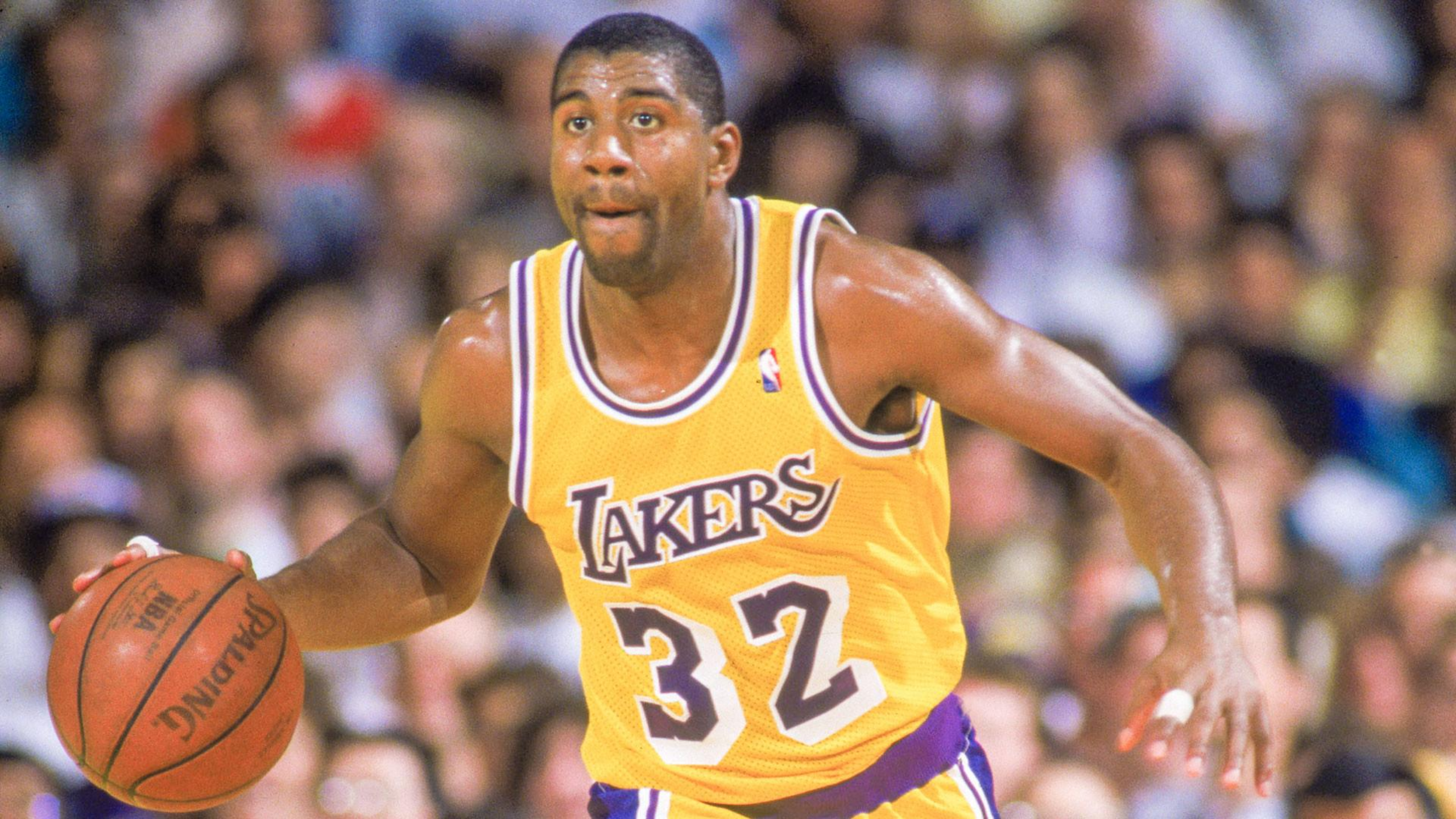 He had the look. He had the aura. He had the makings of a superstar right off the bat.
In many ways, Earvin Johnson lived up to the "Magic" moniker. So much so that for the last four decades, you wouldn't know him by any other name. In his prime, this man would be able to wow you within minutes of stepping inside the basketball court.
So for you youngsters who never got to live through the experience, this article should give you an idea about the legend of Magic Johnson. Hopefully, you'll see why he is regarded as one of the greatest (if not the greatest) players to ever don the purple and gold uniform.
And if that inspires you enough, perhaps you can get yourself a retro Magic Johnson jersey from the NBA Store.
The Young Stud
Johnson began showing glimpses of basketball stardom in his high school years. It all stemmed from his undying love for the game.
I practiced all day. I dribbled to the store with my right hand and back with my left. Then I slept with my basketball.
One of his breakout games happened as a 15-year-old stalwart at Everett High School in his hometown of Lansing, Michigan. Johnson dropped 36 points, 16, assists, and 16 rebounds. It was a performance so stellar, that a local sportswriter took notice and gave him the nickname "Magic."
His college years became the precursor to his rise to iconic status. In 1979, Johnson steered the Michigan State Spartans to a national title against future rival Larry Bird and the Indiana State Sycamores. That matchup between the two teams also turned out to be the most-watched championship game in NCAA history.
The King Laker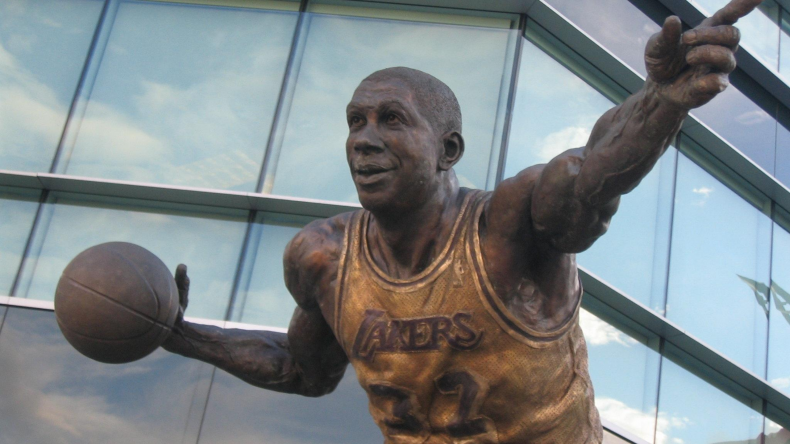 With two seasons left in college, Johnson turned pro in 1979 when the Los Angeles Lakers selected him first overall during that year's NBA Draft. And he made his presence felt as soon as he entered the league.
Magic's court vision was unparalleled. He was able to create openings for teammates from angles no one would expect. His dazzling no-look passes were part of every highlight reel. But as a 6'9" point guard, Johnson knew when it was time to pull the trigger and score baskets.
And like the many phenoms that preceded and succeeded him, Magic knew how to win, no matter what the cost. One moment that stands out was in Game 6 on the 1980 NBA Finals against the Philadelphia 76ers. Starting center and fellow marquee man Kareem Abdul was out due to a sprained ankle.
So what does Magic do? He decides to step in and take on the big man role. It wasn't out of the ordinary, but a point guard playing the post was more than impressive at the time. Johnson dropped 42 points, 15 rebounds, and 7 assists on that night of May 16, leading the Lakers to its seventh NBA title with a final score of 123-115.
That all happened during Johnson's rookie year, which makes this story even more legendary.
The Larry Bird Rivalry
They say "iron sharpens iron," and that couldn't be more true with Magic Johnson and Larry Bird. From 1984 to 1987, their Lakers and Celtics battled it out for supremacy, treating NBA fans to one of the greatest rivalries the sport has ever seen.
Led by Bird, Kevin McHale, and Robert Parish, the boys from Beantown won the 1984 title in a grueling seven-game series. But Magic, Kareem, and the rest of the "Showtime" Lakers immediately got back at the Celtics the following year to bag the franchise's ninth title. They went on to do it again in 1987, capping off a remarkable 65-17 regular season record.
But the rivalry between Bird and Johnson became the ultimate highlight. The two greats pushed each other to the limit and left it all on the court. At the end of it all, Bird gave credit where it was due, deeming Johnson as the "best he's ever seen."
The One and Only Magic Johnson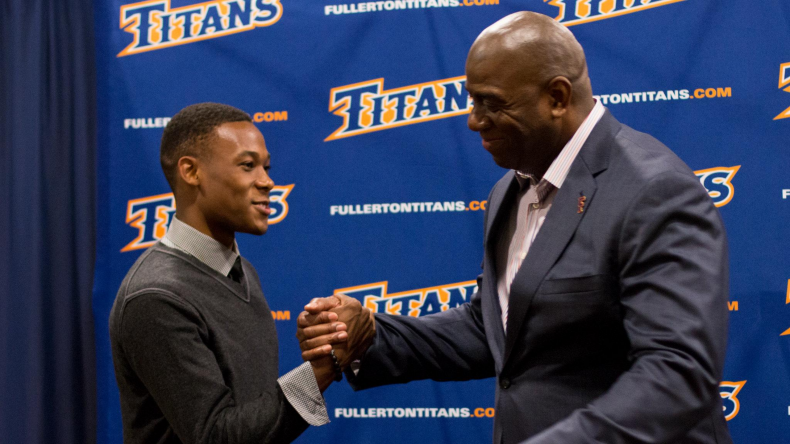 Basketball made Magic Johnson's heart smile, and it ignited his competitive fire at the same time.
That passion resonated with the fans, and they loved him dearly for it. So much so that even after announcing his retirement in 1992, the people voted for his inclusion into the starting line up of the Western Conference All-Star team for that year. And boy, did he deliver.
Magic not only showed up, but he also brought "Showtime" to Orlando. It was a memorable send-off for one of the best players in history, and for some, the greatest to ever do it.
Five NBA titles. Six MVP honors. 12 NBA All-Star appearances. There is definitely only one Earvin "Magic" Johnson.
Check Out the NBA Store's Latest Magic Johnson Collection
Those of you reading this have likely binged-watched Magic Johnson's games, highlights, and interviews while in quarantine. Nostalgia must've kicked in hard at this point.
Worry not, dear reader. The NBA Store has you covered. With its Hardwood Classics collection, you can get yourself one of Magic's replica jerseys from the 1984 and 1985 seasons, and his All-Star appearances in 1983 and 1988.
You better hurry, though, because these bad boys are selling out fast.