Sponsored Article
Did Michael Jordan Lose His Touch When He Wore Number 45?
Today, we look at a brief yet historic moment in Chicago Bulls history.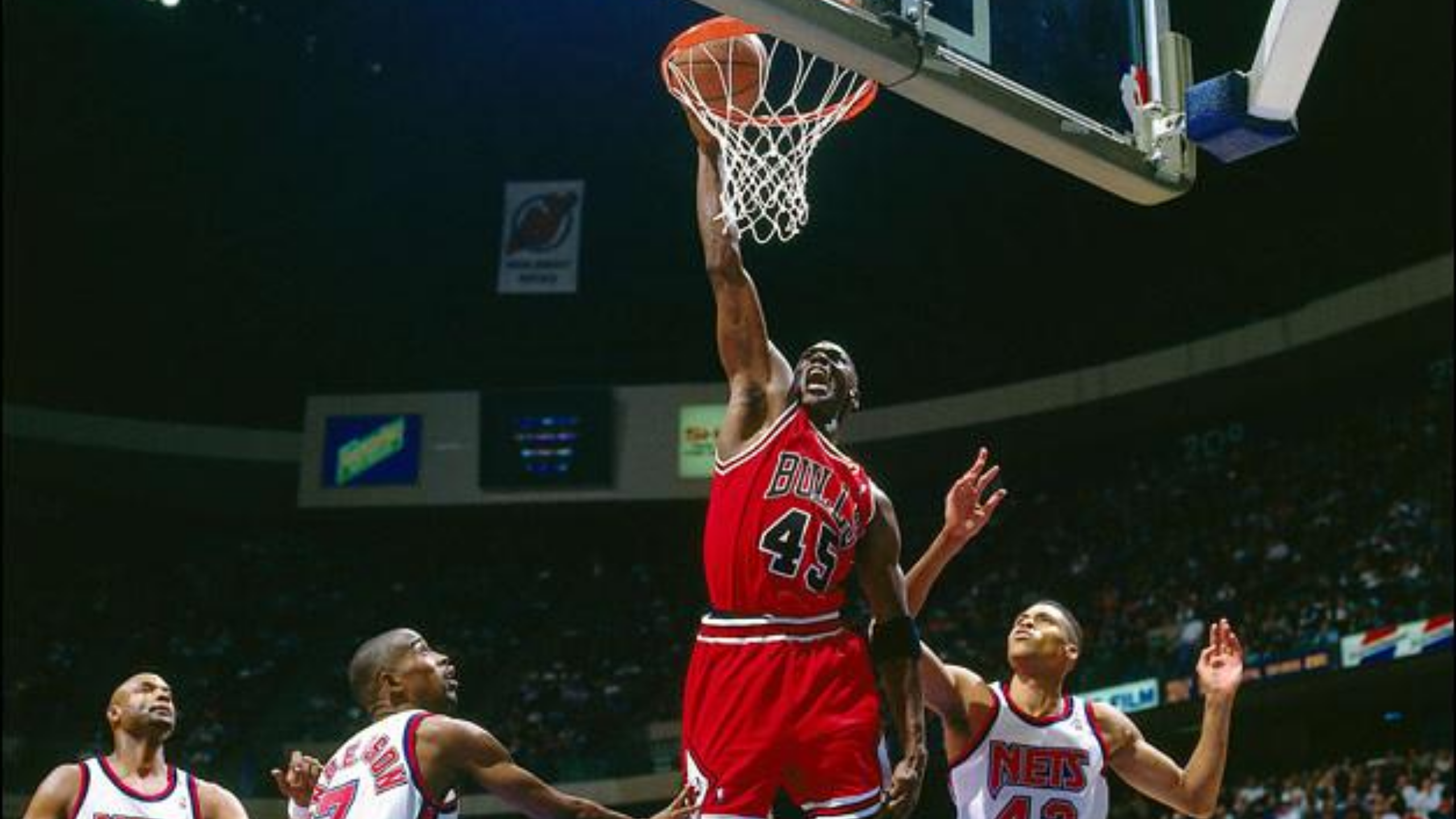 You were probably as baffled as the rest of the world when Michael Jordan came into the court with the number 45 on his jersey upon his return in 1995. If you didn't catch up with current events at the time, you were probably thinking to yourself, "What's happening here?"
Jordan stuck to his old baseball jersey number for 22 games before he decided to switch back to the digits that made him the 'GOAT.' Legend has it that it was because of certain comments made by the Orlando Magic's Nick Anderson. And according to the man himself, 45 "wasn't natural."
From a casual fan's point of view, Michael Jordan with the number 45 isn't the same. Some would go as far as saying that "His Airness" may have lost his touch during that short time. But did he really?
Today, we're looking at a historic period of 90's basketball. Not only was the great Michael Jordan back in the NBA, but he also had a rare, different look to him.
"I'm Back"
From October 1993 to March 1994, Michael Jordan was all about baseball. He was dead set on becoming the best player he could be just like how he was in the NBA, and he was very well on his way. But in an unlikely turn of events, the Major League went on strike in August 1994, a lockout that would last for eight months.
It was as if fate wasn't letting MJ excel at the sport his father wanted him to pursue. And at the end of it all, he was led back to the one that made him who he was.
So when MJ began practicing quite a lot with the Bulls again, people raised questions. The buzz was loud enough to create a legitimate hype. Even teammates and coaches kept mum and gave showbiz answers when hounded by reporters.
On March 18, 1995, Jordan's agent David Falk crafted an official statement to send by fax. It turned out to be one of the pivotal moments of this entire story. As Falk recalls:
I wrote five or six different versions, maybe six or seven paragraphs apiece. He read them all. He didn't like any of them. And finally, he says, 'give me that paper.' I figured he would take 10 to 15 minutes, he was gonna put something together based on the different paragraphs...

He just takes out the pen and writes, 'I'm back.' And it was majestic in its simplicity. There are certain times you don't have to explain it.
March 19, 1995, the Market Square Arena in Indianapolis, Indiana. It all happened. The greatest basketball player to grace the NBA courts was suited back up. The crowd erupted in a mix of boos in cheers. It was a show of rabid support for their home team while expressing much-warranted reverence for the one and only Michael Jordan.
Ring Rust is Real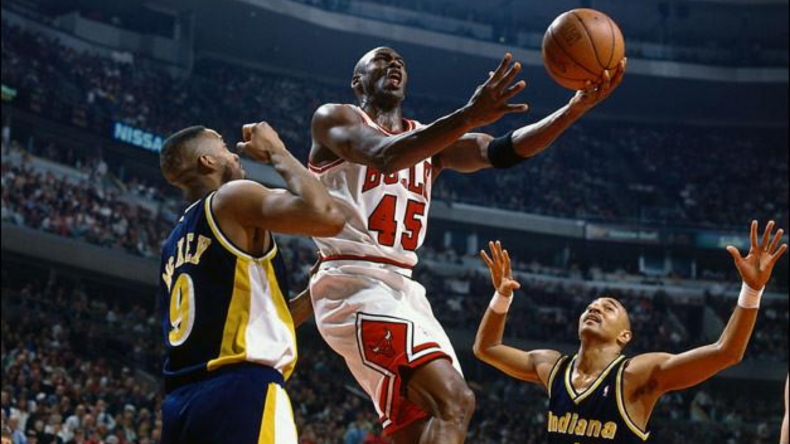 For 23 months, Michael Jordan didn't set foot inside a professional basketball court. During that entire period, he focused on conditioning himself for a much slower-paced sport.
So when he went back to sprinting up and down a 90-foot long hardwood floor, banging bodies with equally athletic individuals, the ring rust (or court rust, in this case) became evident. MJ threw one brick after another, going scoreless for an entire quarter and a half.
The aura of invincibility he showed for more than a decade was simply not there. "Black Jesus" was human, after all. And even with co-pilot Scottie Pippen's valiant efforts down the stretch, the Bulls ended up folding to the Pacers in overtime.
Right after the game, MJ admitted to NBC's Ahmad Rashad that his timing was "a little off."
I don't know if it was a good game for me to come back. Reggie seemed very energized. It's my first game back, and I know it's not gonna happen in one game, it's gonna take a little bit to get my timing back.

But hey, I'm back. That's all that matters.
"45 Isn't 23"
If you were a diehard Michael Jordan fan, seeing your hero clad in a different suit didn't make sense.
MJ did get back into the groove of things sooner than later. Nine days after he made his NBA return, Jordan went on to play his highest-scoring game at the Madison Square Garden. Dubbed as his "double-nickel game," he dropped 55 points to lead the Bulls to a 113-111 victory.
Jordan went onto play the remainder of the season and the first round of the Eastern Conference Playoffs against the Charlotte Hornets. Then came the Orlando Magic in the semis.
The boys in blue and white bannered a beefed-up lineup. It comprised versatile court general Anfernee "Penny" Hardaway, deadly shooters Dennis Scott and Nick Anderson, and Shaquille O'Neal, who at 23 years old was already well on his way to becoming the most dominant big man the league will ever see. Orlando was undoubtedly the team to beat.
Game One of the series happened on May 7th, with the first-seeded Magic hosting. Just like in his return game with the Pacers, it was a bad night of basketball for Michael Jordan. Orlando was firing on all cylinders.
But the highlight of this game was Nick Anderson's sneaky steal on Jordan.
Orlando's confidence was at an all-time high. And as legend had it, Anderson allegedly uttered three words that made an impact within the series: "45 isn't 23."
MJ switched back to his old jersey number the next game, and it came with a $25,000 fine. But his return late in the season wasn't enough to swing things around. The Bulls were eliminated within six games, ending their title bid for the 1994-95 season.
The Second Coming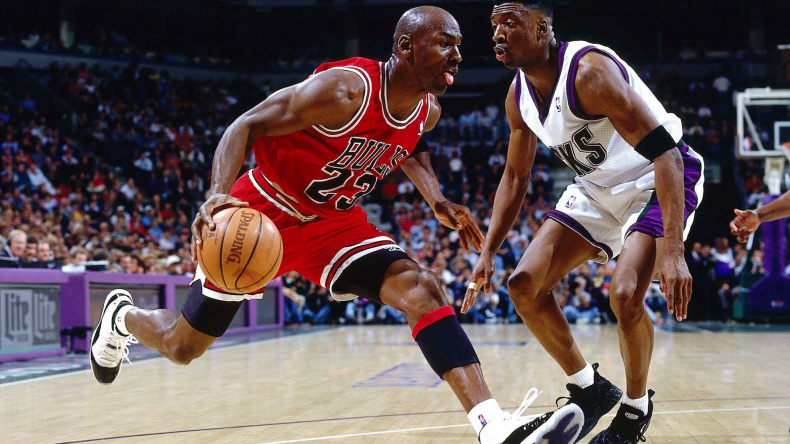 Those who saw all ten episodes of The Last Dance on Netflix were well acquainted with Michael Jordan's insanely competitive nature. Detractors only fueled him to do a hundred times better than he previously did.
The Bulls entered the 1995-96 season with much more drive to reclaim their title. They even added another key player to handle the dirty work and add a legitimate threat to their post presence.
Most importantly, it was a year that saw the second coming of more determined Michael Jordan than ever. If you're anyone of his opponents, that is a scary individual to deal with.
And true enough, MJ and the Bulls barreled through the competition en route to a 72-10 regular-season record, an all-time best at the time.
They got back at Orlando during that year's Eastern Conference Finals series and swept them to get back in the Finals after a three-year absence. Facing the Seattle Supersonics for the championship wasn't a walk in the park, but the title heading back to Chicago was pretty much set in stone.
MJ and company put up their second three-peat before parting ways in 1999. But number 23 lived on to be a bigger legend to the city of Chicago and to the game, as a whole.
The Legend of 23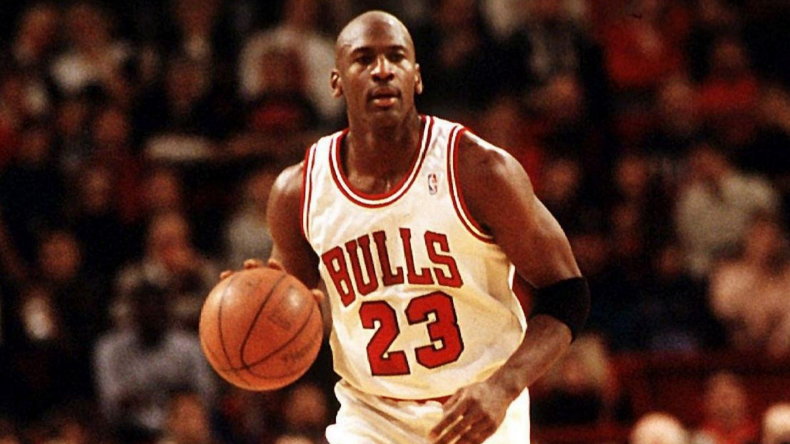 No matter who you are or where you are in the world, you know who wears the number 23 for the Chicago Bulls. Those who supported opposing teams hated seeing that jersey. But now that he's 17 years into retirement, the respect and reverence for the man are all mutual.
These days, the NBA Store offers rare Michael Jordan memorabilia. Like his 1984-85 rookie jerseys. Home or away, your pick. Or, you can get both.
You'll find them alongside other exclusive retro merchandise. Like this autographed photo of Dennis Rodman and Isiah Thomas celebrating their NBA championship.