Sponsored Article
Look 10 Years Younger With These Superfoods
How To Get GLOWing Skin At 50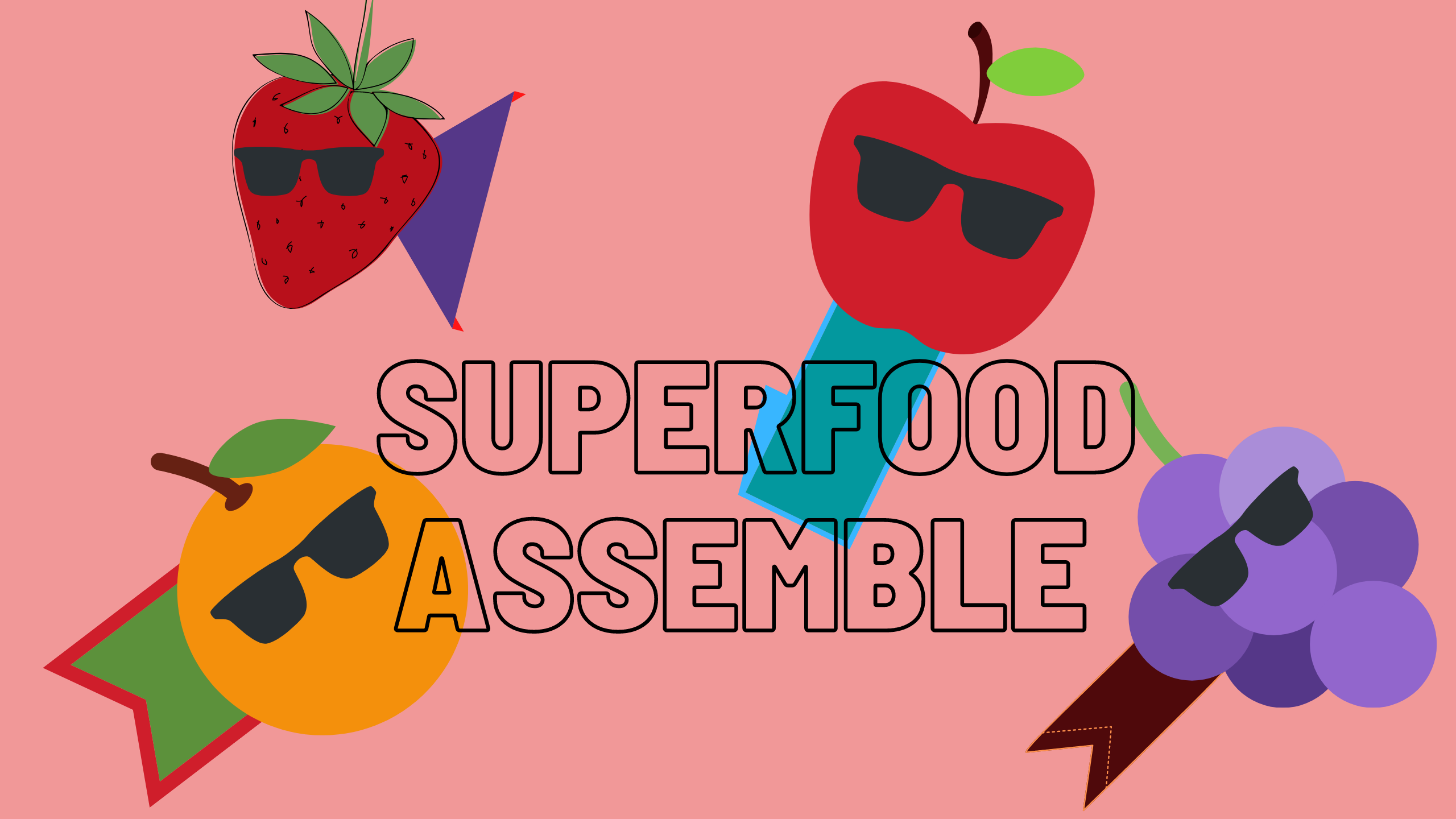 It's important to consult your doctors with any medical concerns, and before making any changes or adding supplements to your health plan.
Becky is a professional make-up artist in her thirties. She's knowledgeable with the right beauty products to use for her skin and frequently gets compliments from her friends on her glowy, dewy skin.
What boggles her mind, however, is how her mom gets double the compliments and gets mistaken as her older sister by strangers often even though she doesn't follow any skincare routine or put on much make-up.
Becky's mom turns 52 this year and still looks like she's in her early thirties. What's her secret? Becky can tell you it's definitely not Maybelline, nor botox.
The Secret: SUPERFOODS
What makes a food super? Well, it's the same thing that sets superheroes apart from the common folk, seemingly magical abilities that are used for the greater good.
A superfood remains in its original form (unprocessed) and is insanely packed (has high nutrient density). Superfoods are food rich in beneficial compounds (such as antioxidants, fiber, or fatty acids). These food provide intense nutrients that are the key to promoting one's overall wellness and prevent the body's susceptibility to disease.
How Can They Make Me Look Younger?
You may have heard of collagen before when it was linked to that expensive injectable filler used to plump lips and soften lines, but collagen is actually already in your skin. In fact, collagen makes up about 75% of the dry weight of your skin! It's the one responsible for the volume that keeps your skin looking plump line-free.
Collagen is also rich in proline and glycine, the amino acids that help you maintain and mend your tendons, bones, and joints to be restored to their strongest state.
Injecting collagen and putting them on your skin has become an outdated medical practice as it has been observed that the collagen doesn't absorb well using these methods. However, as humans get older, their internal collagen breaks down faster than the body can replace naturally. In fact, women in their mid-20s begin to lose about 1% of their collagen per year and lose as much as 30% when they hit the first 5 years of menopause.
Ingestible collagen has become a modern-day solution. A 2014 study of 69 women ages 35 to 55 found that those who took 2.5 or 5 grams of collagen orally, daily for 8 weeks showed significant improvement in skin elasticity, compared with the control group.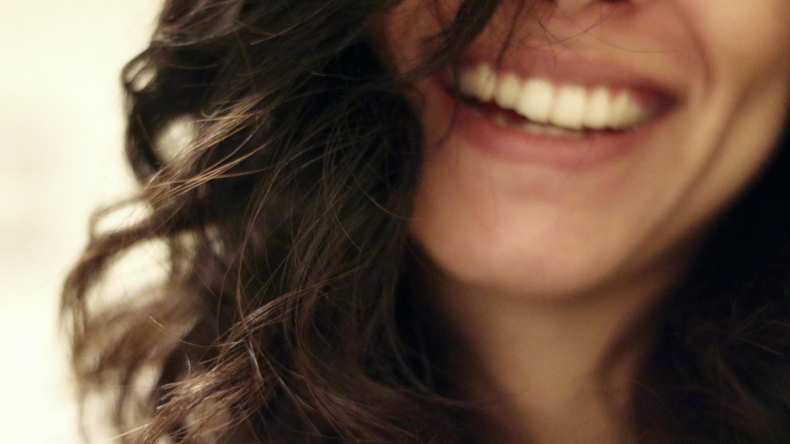 Now, what better way to build your collagen naturally than through nature's most potent superfoods? Here is a comprehensive list of the 10 most powerful superfoods for hydrating and repairing skin cells.
Aloe Vera
Aloe vera is often called the "plant of immortality" due to its ability to bloom without soil and its nickname is also apt for the many wonders it can do to your skin. Aloe vera is incredibly rich in nutrients with more than 75 active compounds, including vitamins, minerals, enzymes, amino acids, fatty acids, and polysaccharides.
Although commonly applied topically, when consumed, aloe vera has an influential hydrating effect on the skin. It stimulates fibroblasts to enhance the absorption and moisture of other essential nutrients.
Rosehip
The fruiting body of the rose is a potent antioxidant that is rich in Vitamin C (contains more than an orange!) and has been proven to boost natural collagen synthesis. They also taste delicious-—slightly sweet, very tart.
In addition to vitamin C, rosehips contain vanillin as well as sugars, that make them prime additions to jams, jellies, syrups, and other sweet treats.
Tremella Mushroom
In Ancient China, this rare mushroom was reserved only for royalty. Today, the Tremella mushroom is proven to support skin elasticity and hydration. In fact, this unique mushroom has five times the hydrating power of Hyaluronic Acid!
Tremella has been a much sought-after staple of Chinese cuisine for centuries, it is rich in dietary fibers, protein, minerals, antioxidants, and high in vitamin D. It has been used in a variety of dishes from anti-aging soups to desserts.
Bamboo Silica
Because silica is necessary for the formation of collagen, it serves to increase collagen production and synthesis which improves your skin's strength and elasticity. You will definitely feel tighter and firmer skin after consistent use.
Bamboo leaves also have anti-inflammatory properties that protect skin cells against irritation and inflammation. Silica can help control breakouts made by toxins and excess sebum. Bamboo silica restores your skin's shielding barrier by securing in moisture.
Camu Camu
Camu camu, or Myrciaria dubia, is a sour berry, similar to the cherry in color but is packed with 60 times more Vitamin C than oranges. This Amazonian superfruit is a potent antioxidant that increases natural collagen.
Amla
This translucent green fruit derives its name from the Sanskrit word 'Amlaki' meaning "nectar of life". It surely deserves its superfood status as it boasts of having eight times more vitamin C than an orange, twice the antioxidant power of acai berry, and around 17 times that of a pomegranate.
This powerful fruit may be better known to some as the humble Indian gooseberry. It is an extremely potent antioxidant that has been proven to repair DNA and build collagen, helping rebuild damaged skin even after decades of sun exposure.
Drinking amla juice with honey every morning is the secret of many Ayurveda practitioners' blemish-free, healthy and glowing skin.
Raspberry
Raspberries are low in calories but abundant in but high in vitamins, minerals, and anti-aging antioxidants. The beauty of this superfood is its accessibility; you can get them fresh, frozen, or freeze-dried in most major supermarkets.
This well-known fruit is also abundant in ellagic acid that greatly helps in reducing the appearance of wrinkles.
Coconut Water
Drinking coconut water has been a trendy practice these days, and for good reason. It is high in potassium, cuts sodium, and helps transport all of these ingredients throughout the bloodstream.
Coconut has cytokinins in it, which is a well-known anti-aging agent. Consistent hydration via coconut water will hydrate your skin to make it more radiant and firm.
Baobab
This iconic tree from Antoine de Saint-Exupéry's The Little Prince is referred to as the African Tree of Life. The baobab is a large fruit that is commonly appreciated for its tasty citrus-like flavor.
The baobab is a sun-ripened fruit that contains many hard-working vitamins and minerals necessary for collagen synthesis which supports DNA repair. It is also packed with antioxidants and polyphenols, compounds that defend your cells from oxidative damage, and lessen inflammation in the body.
Monk Fruit
Monk fruit, or lo han guo, is a small green melon that is native to southern China. It takes its name from the monks who first planted them many centuries ago. The fruit is said to be anti-inflammatory and may help inhibit cancer cells while keeping blood sugar levels stable.
This tasty superfood is perfect for anyone wanting to avoid the skin-damaging effects of sugar. The monk fruit is insanely sweet- 160 times sweeter than sugar in fact but has ZERO calories! They're perfect for indulging your sweet tooth without the nasty skin aging side effects.
*Lemon
Another special often overlooked superfood is here to make an appearance! You may even be growing this on a tree in your backyard! This fruit is often seen in slices in water and it's not only to enhance the water's flavor. It cools and alkalizes the body, helping to support a healthy response to inflammation.
Vitamin C found in lemons has also been found to reduce skin wrinkling, and revive dry skin from aging and damage from the sun. A 2016 laboratory study showed that a lemon-based drink helped prevent the development of wrinkles in hairless mice.
With these many different superfoods, you may be having trouble thinking of how to introduce them and seamlessly incorporate each one into your daily meal plan. What if I told you that you can easily have all these superfoods' benefits to achieve that radiant skin you've been dreaming of? In fact, preparation time will last barely more than a couple of minutes!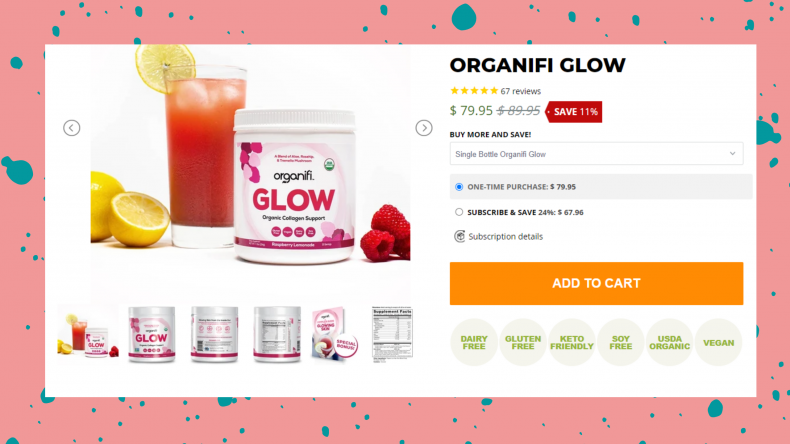 Organifi's GLOW is vegan, gluten-free, dairy-free, and soy-free. It is also certified to be USDA organic and keto-friendly. Each bottle is an amazing investment as it comes with a skin-enhancing eating plan and instructions on how to create a simple skincare routine tailored to your specific needs.
Each bottle comes with 30 servings of a great raspberry lemonade flavor that you just need to mix with a glass of water. Get that coveted youthful-looking skin when you invest in this superfood blend.