Sponsored Article
Pethonesty: The Pet Wellness Brand by Pet Lovers, for Pet Lovers
These Daily Treats Could Help With Specific Canine Health Issues
It's important to consult your veterinarian with any medical concerns, and before making any changes or adding supplements to your pet's health plan.
As responsible, caring pet parents, we are always on the lookout for products that could help our four-legged family members be the healthiest version of themselves. We seek vitamins, organic treats, and effective treatments to help solve any health issues our pets may be experiencing.
PetHonesty, a company created by a team of pet lovers, knows how important it is to provide our furry loved ones with dietary supplements formulated with powerful, natural ingredients.
PetHonesty has been working for more than 75 years to provide natural, effective canine supplements like the Keep Grass Green Chews. These supplements are delectable treats that help resolve pets' health issues all over the U.S. Additionally, all health and wellness supplements by PetHonesty are prepared with a unique no-heat cook method. This means that the original nutritional value of key ingredients like probiotics and glucosamine stays intact.
In an interview with WebMD, Veterinary nutritionist Susan Wynn states that most dogs receive a complete and balanced diet from commercially processed dog food. However, PetHonesty is also aware that dogs have unique dietary supplement needs. The brand believes that regular dog food doesn't usually come with the ingredients that could help with allergies, digestion, immune health, joint health, or dental health. With this in mind, PetHonesty has formulated dietary supplements designed to cater to specific health issues.
PetHonesty Dietary Supplements for Specific Health Issues
Allergies: Allergy Support Chews
Just like us, some dogs may also be prone to occasional or seasonal allergies. According to VCA Hospitals, some dogs may be allergic to pollens, mold spores, dust mites, and other environmental allergens. The most common signs of seasonal allergies are itchy skin, ear infections, swollen eyes, runny nose, and sneezing fits.
Allergy Support Chews are specially formulated to help improve the reaction of dogs against occasional and seasonal allergies. They contain natural ingredients like colostrum organic mushrooms, probiotics, and turmeric to support the growth of good bacteria in your dog's gastrointestinal tract. In effect, dogs could develop an improved reaction to seasonal allergies. With continued use, Allergy Support Chews could also help soothe skin-related issues associated with seasonal allergies.
Calming: Calming Hemp
Veterinary Practice reports that some pet owners have successfully used hemp to treat pain, arthritis, seizures, and anxiety. According to the American Kennel Club, dogs experiencing epileptic seizures or osteoarthritis may also benefit from hemp because this natural ingredient could help maintain balance in the body.
Calming Hemp uses a lower dose of organic hemp, valerian root, and chamomile to help calm a dog's demeanor temporarily. Whether they are anxious, restless from slight pain, or aggressively barking and chewing furniture, PetHonesty's Calming Hemp could help create a sense of calm in your pet.
Joint Health: Senior HempMobility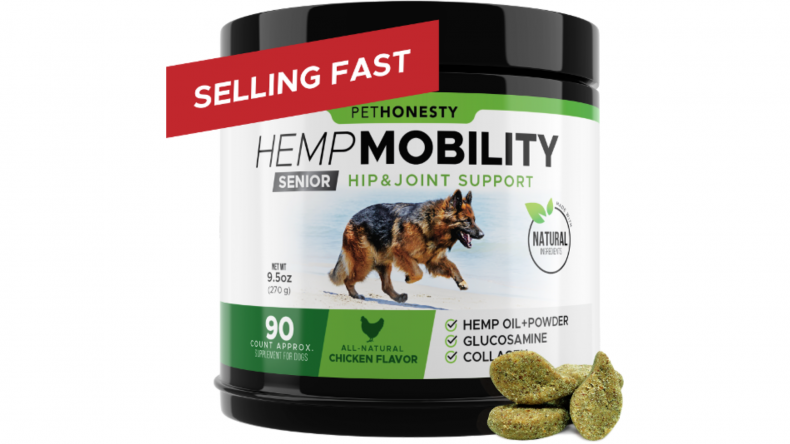 According to the American Kennel Club, osteoarthritis is a common problem in senior dogs and large breeds. Dogs' joints go through immense wear and tear from running after tennis balls and jumping in play, so joint cartilage may begin to break down over time.
Senior HempMobility is comprised of natural hemp oil and powder to help support hip and joints in senior dogs 7 years old and above. It also contains green-lipped mussels, which could help bolster the health of synovial fluid, cartilage, and connective tissues. Senior HempMobility is also packed with Balanced Kollagen, which is designed to lubricate joints and promote mobility.
Digestion: Digestive Probiotics Chews
As pet parents, we take pride and joy in seeing our dogs enjoying their food and treats. Sometimes, we may also be tempted to give a piece of human food that may not necessarily be the best for them. Some dogs would not have any issues eating a small piece of bacon, but many have far more sensitive digestive tracts and don't handle many types of food well.
Digestive Probiotics Chews contain 6 billion good bacteria to help enhance dogs' digestive health. These tasty digestive chews, which dogs can eat as part of their daily healthy treats, are formulated with canine-specific probiotic strains to support our dogs' daily digestion. PetHonesty also designed these delectable dietary chews to be safe for dogs with sensitive stomachs.
Bladder and Bowel Movement: Keep Grass Green Chews
Maybe you're wondering why yellow patches seem to appear on your lawn despite your best efforts to keep your grass healthy. If your dog is free to play and use this area as their personal toilet, yellowing and dying grass might be due to canine urine. McGill's Office for Science and Society states that dog urine contains a variety of nitrogen compounds that could burn the grass and create yellow patches. The amount of nitrogen in dog urine depends on the breed, sex, and diet of your pet. Some dogs naturally have more nitrogen in their urine than others.
Michelle, a proud parent of an adopted dog, was having issues with her canine's extremely foul-smelling pee, more so as it was killing the grass wherever he peed. With regular intake of Keep Grass Green Chews, Michelle found that her grass stays green while letting her furry family member enjoy the outdoors.
Keep Grass Green Chews could be given to dogs as a daily treat. This supplement is formulated to help balance nitrogen in dog urine, which could help reduce the appearance of yellow spots, keeping grass green and healthy-looking. Additionally, these delectable canine treats contain natural ingredients designed to encourage regular and healthy bowel movements.
PetHonesty's delicious dietary supplements are specially formulated to help improve dog's health and wellbeing. Check out the rest of PetHonesty's bestsellers

here

.