Sponsored Article
Planning to Explore Europe? Book Your Trains, Buses, Ferries and Flights With Omio
Let Omio Take the Headaches Out of Your Next Travel Adventure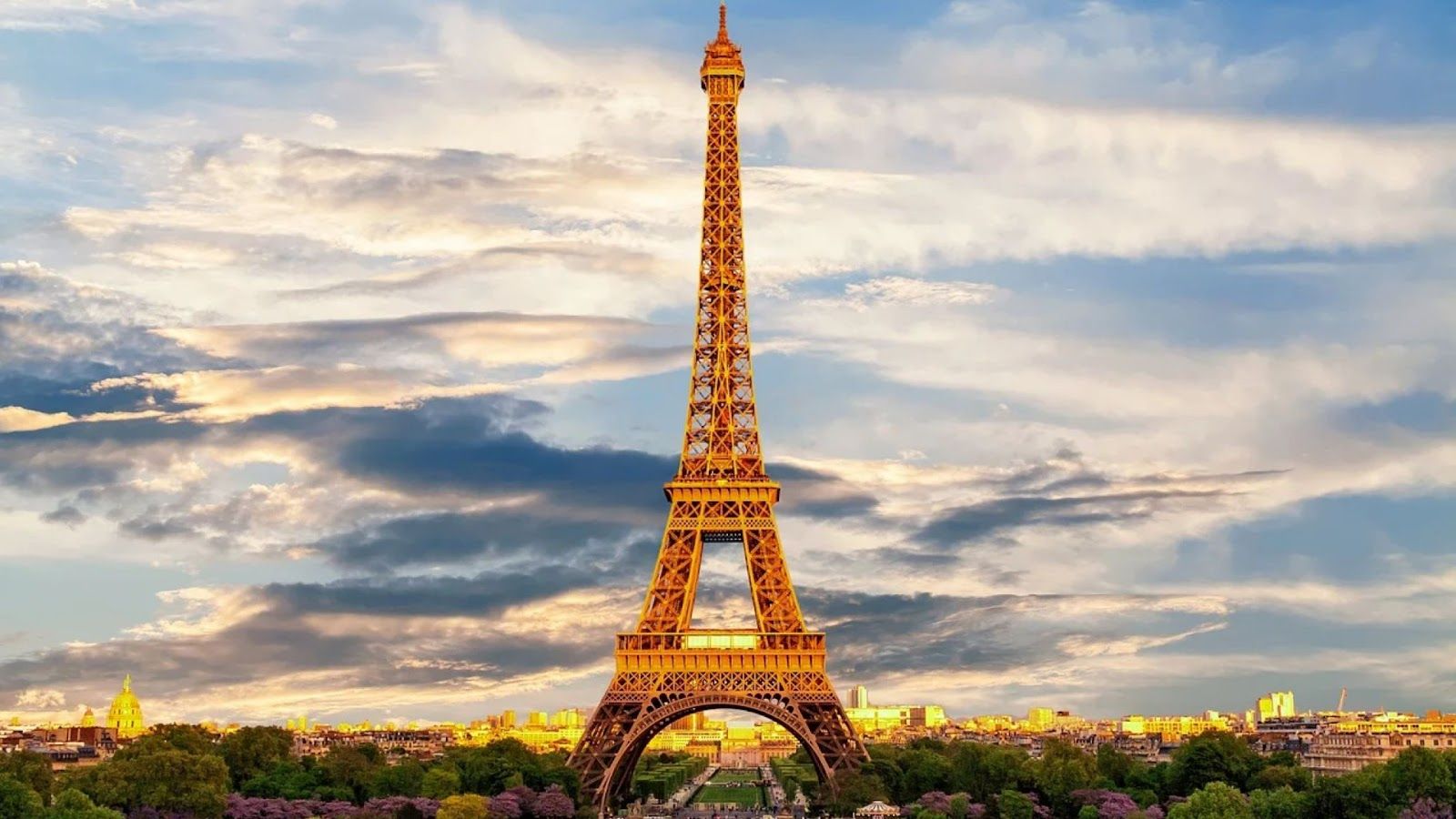 It's no secret that people everywhere are desperate to get out of the house and do some traveling after the events of the last year. And while many of us are delaying travel plans yet again due to the Delta variant of COVID-19, that doesn't mean you can't start planning your next adventure right now.
According to a recent article by Forbes, people throughout the United States and Europe are itching to take a trip, with Istanbul and Ireland being two of the top destinations.
Even while restrictions remain tight as the Delta variant of COVID-19 spreads, many travelers are continuing to plan their trips for when travel opens up again. However, the entire process can be quite tricky as you try to navigate travel regulations, prices and cancellation policies, and how to get to your destination of choice.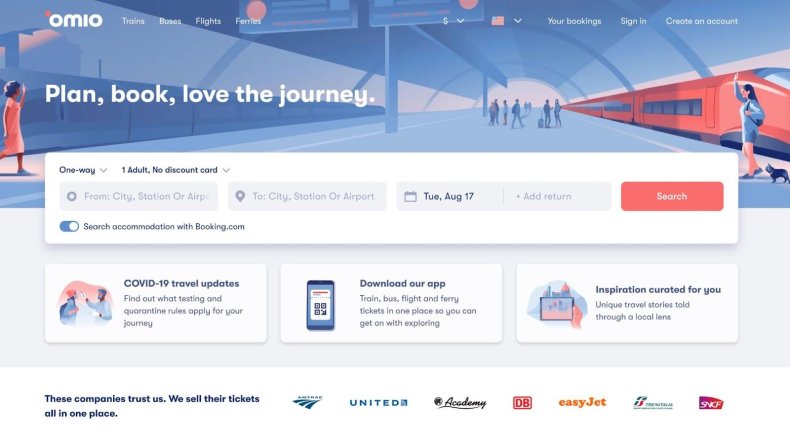 If you're ready to plan a trip to Europe, consider booking it with Omio, a helpful all-in-one service for all your transportation and reservation needs.
What Is Omio?
Launched in 2013, Omio helps people compare rates and book trains, buses, flights and ferries across Europe, the United States and Canada to take "journeys that move them," as the company shares on its website.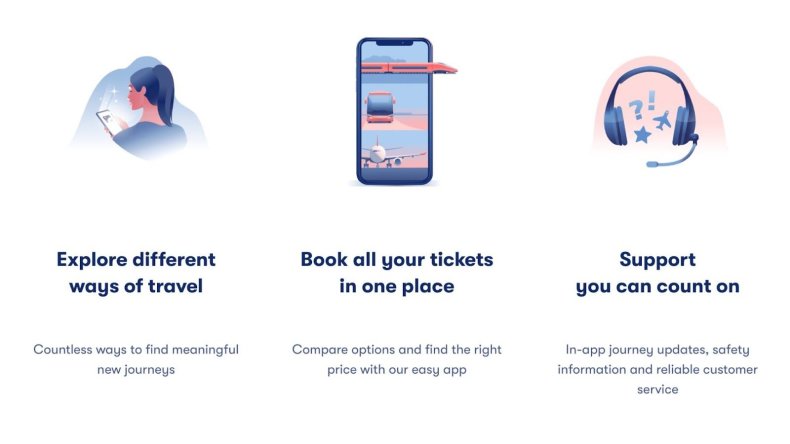 Omio is unique because it offers more than 1,000 different transportation providers from buses, trains, flights, ferries and even cars, all on one easy-to-use website or mobile app. That way, travelers can sit back, relax and enjoy the journey without having to search for and compare these options themselves. As a result, Omio may help you save time and money, allowing you to stay longer and do more in your travel destination.
The travel company prides itself on offering plenty of ways to travel, letting customers book everything on a single site, all while delivering excellent customer support. This includes trip updates, safety information and even recommendations.
How to Book With Omio
Europe is a wonderfully connected region, full of intercity travel options. This can be a lot to decipher on your own, especially for first-time travelers.
Omio could help make this process easier. Enter your destination, add some filters based on your personal preferences and hit Search. From here, Omio automatically searches through an expansive database and finds the best, easiest and most affordable routes.
So if you want to book a flight from Las Vegas to Geneva or head to Dublin, the entire process is a breeze. Then, halfway through your vacation, you could quickly book a train to Galway, Ireland, to indulge in some Irish stew or Scúp ice cream. Traveling by train is a great way to see the countryside from the ground.
Safely Travel Through Europe
Once you schedule everything, Omio will find the best prices, check for any conflicts and even has the latest COVID-19 travel information. Omio's service disruption and hub restrictions page has all the latest up-to-date information on travel restrictions displayed on an easy-to-read map.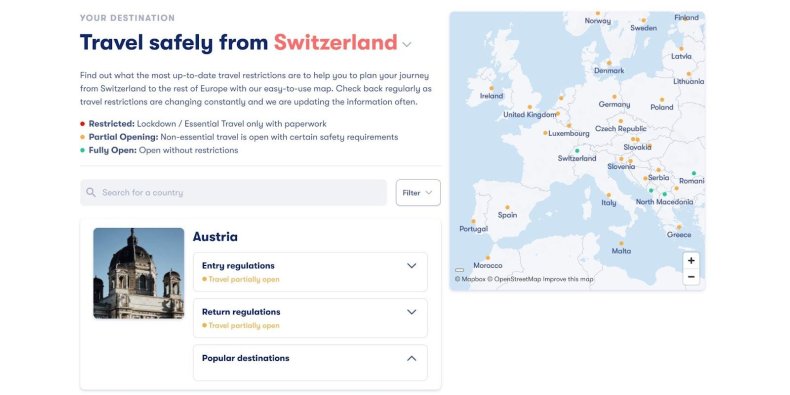 The map shows areas with green, orange or red dots that indicate if a specific destination is fully open without restrictions, partially open depending on your documentation, or closed to anyone without proper paperwork.
With Omio, you can click a dropdown menu on each destination to see if there are any COVID-19 test requirements, quarantine protocols or even find out how to bypass all of that if you have a certificate of vaccination.
These days traveling can be more difficult, time-consuming and stressful than ever before. Omio makes it as hassle-free as possible.
Latest CDC Advice for Traveling
Although the European Union has loosened travel restrictions in some areas, the U.S. Centers for Disease Control and Prevention still advises Americans not to "travel internationally until you are fully vaccinated."
The CDC's latest guidelines state: "Fully vaccinated travelers are less likely to get and spread COVID-19. However, international travel poses additional risks, and even fully vaccinated travelers might be at increased risk for getting and possibly spreading some COVID-19 variants. The COVID-19 situation, including the spread of new or concerning variants, differs from country to country. All travelers need to pay close attention to the conditions at their destination before traveling."
The recommendations will be updated "as more people get vaccinated, as rates of COVID-19 change, and as additional scientific evidence becomes available."
Please refer to the CDC website for the most up-to-date info for both vaccinated and unvaccinated Americans looking to travel abroad.