Sponsored Article
The Purashield Mini Is The Best Air Scrubber You've Been Looking For - Here's Why
Look No Further - The Purashield Mini + UV Light Is Here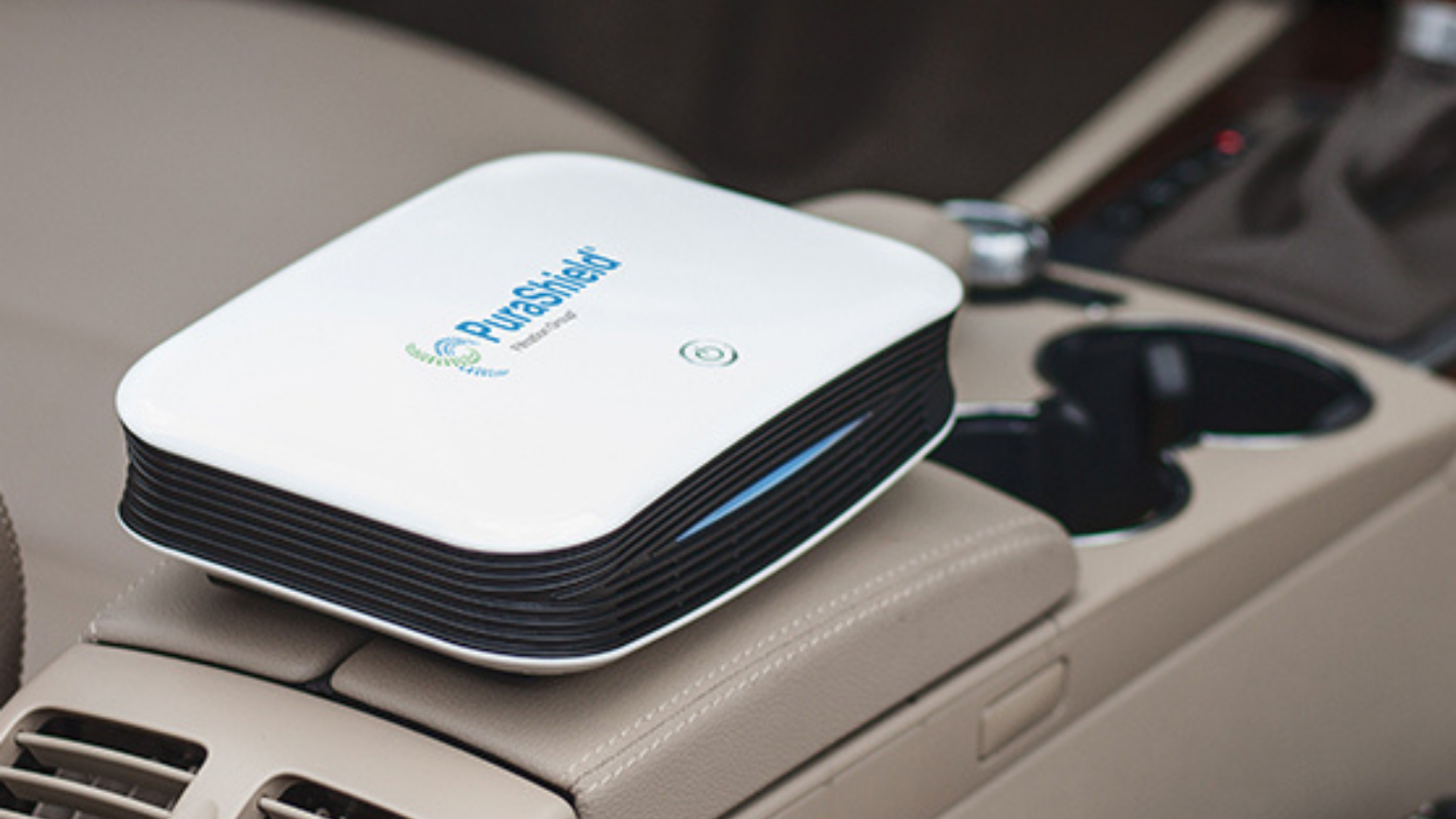 One thing everyone has learned in 2020 is the importance of things in the air that we can't see with the naked eye. As a global community, we went through the stages of denial, shock, fear, and now we're all slowly coming to terms with how to protect ourselves and our families in this new normal. We've become accustomed to masks, sanitizer, and social distancing, but we can do more to be proactive and protect the people we love.
A high-performance air scrubber can do wonders for your health. It cleans the air of harmful allergens and traps microparticles that are carrying deadly diseases, including particles that may carry COVID19.
However, not all air scrubbers are powerful enough to do all this for you. The Purashield Mini + UV Light is.
If you've been looking for the best air scrubber that is both portable and powerful enough to protect you from 99.9% of viruses and bacteria*, take a look at the top 5 reasons why the Purashield Mini + UV Light is a sound investment not just for you, but for your family too.
Top 5 Reasons Why Purashield Mini + UV Light Is The Best Air Scrubber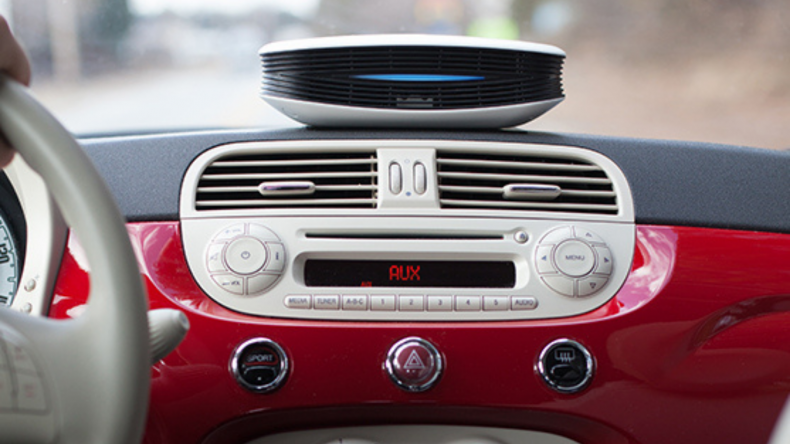 1. The Purashield Mini + UV Light assists with bacteria and virus prevention
The Purashield Mini + UV Light uses a disposable 4-layer filter with a layer protected by PuraWard technology, which uses copper and silver ions PLUS the powerful effects of UV light on many viruses and bacteria. This small but ultra-powerful air scrubber also includes a layer of Purafil's patented molecular filtration media** which removes aerosols carrying viruses from the air. This filter helps to captures airborne viruses and bacteria from coughs and sneezes.
2. It's perfect for families with respiratory issues
The Purashield Mini + UV Light removes harmful allergens, odors, and smoke from enclosed spaces like vehicles, bedrooms, and locker rooms. Pet dander, dust mites, pollen, dust, and lint are also filtered from the air. This is great for family members prone to harmful allergens or family members with respiratory issues like asthma. Exposure to smoke can irritate anyone's lungs at high levels, especially for an asthmatic who is more susceptible to lung and airway inflammation. Microparticles can trigger allergies and asthma attacks, but the disposable 4-layer filter** of Purashield Mini + UV Lights captures 99.9% of these microparticles* so that you and your family can breathe in cleaner, healthier air.
3. Get a portable, high-performance air scrubber like no other
Some people believe that an air scrubber needs to be big to capture as many microparticles as possible. This may be true up to a point because other air scrubbers do not use a multi-stage filtration like the Purashield Mini + UV Light does. Get a portable air scrubber without compromising high performance with the Purashield Mini + UV Light – small, light, and durable to keep with you wherever you go. This portable air scrubber is perfect for vehicles, airplanes, hospital rooms, locker rooms, and other enclosed spaces. Use in the car is made easier as each
Purashield Mini comes with a non-slip mat and a seat strap. The non-slip mat may be used to prop up the Purashield Mini on top of the dashboard, while the seat strap can be used to secure the air scrubber behind the headrest safely.
4. Filters are easily replaced(and are affordable too!)
Each purchase of Purashield Mini + UV Light comes with a disposable 4-layer high-efficiency filter** that is the heart and soul of this air scrubber. These four layers do wonders for the surrounding air by capturing 99.99% of all harmful microparticles*, including bacteria, viruses, allergens, mold, and smoke. Over time, the four layers accumulate all the particles filtered from the air, making its air-purifying effectivity lower. Fortunately, it's not hard to change these filters.
All four filters that you need to stay protected from 99.9% of viruses and bacteria* are already packaged together in one disc. This means that you don't have to go through the pains of replacing each layer. Simply get a multi-stage filtration layer from Air Filters Delivered, remove the old disc in your portable air scrubber, and replaced it with a new one. The filter lasts up to 6 months of regular use.
5. The Purashield Mini + UV Light is certified
If you must purchase a device to benefit your health, look for one with multiple certifications. The Purashield Mini + UV Light hold CCC and CE certifications, which means that each product undergoes rigorous testing to ensure that the purpose they are claiming to offer is really what the consumer will get. The molecular filtration that Purashield Mini + UV Light uses is developed and manufactured in the USA. It is also protected by an EPA-registered antimicrobial additive, making it totally useful in environments as sensitive as NASA laboratories, the Sistine Chapel, hospitals, and airports.
How The Purashield Mini + UV Light Works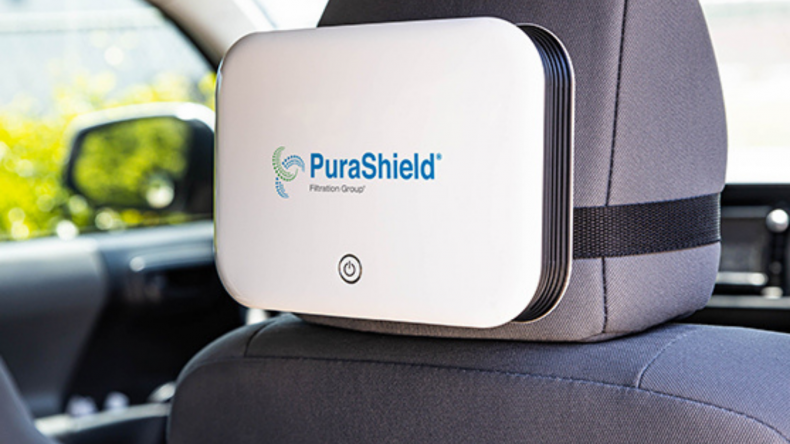 The Purashield Mini + UV Light is a portable air scrubber that is ideal for both public and personal spaces because it is highly effective and easy to use. It has a power cord (12V USB) with high and low fan speeds so you can balance sound and performance. Simply mount your air scrubber on any surface, safely secured by the non-slip mat the comes with the package. You may also secure it tightly around your vehicle headrest with the mounting strap, also included in each purchase. There is only one button to click, which lets you control the air scrubber's intensity level. The Purashield Mini + UV Light quietly does its job either in high or low fan speed.
*Laboratory testing demonstrated 99.99% reduction of aerosols carrying MS2. Copies of the full test reports are available upon request.
**Filter protected by an EPA-registered antimicrobial additive.
§ Patent number US 9,370,763 B2