Sponsored Article
Bite Into These 3 Easy and Spook-tacular Halloween Dessert Recipes
Treat your guests to a spook-tacular feast and get into their sweet tooth with these recipes.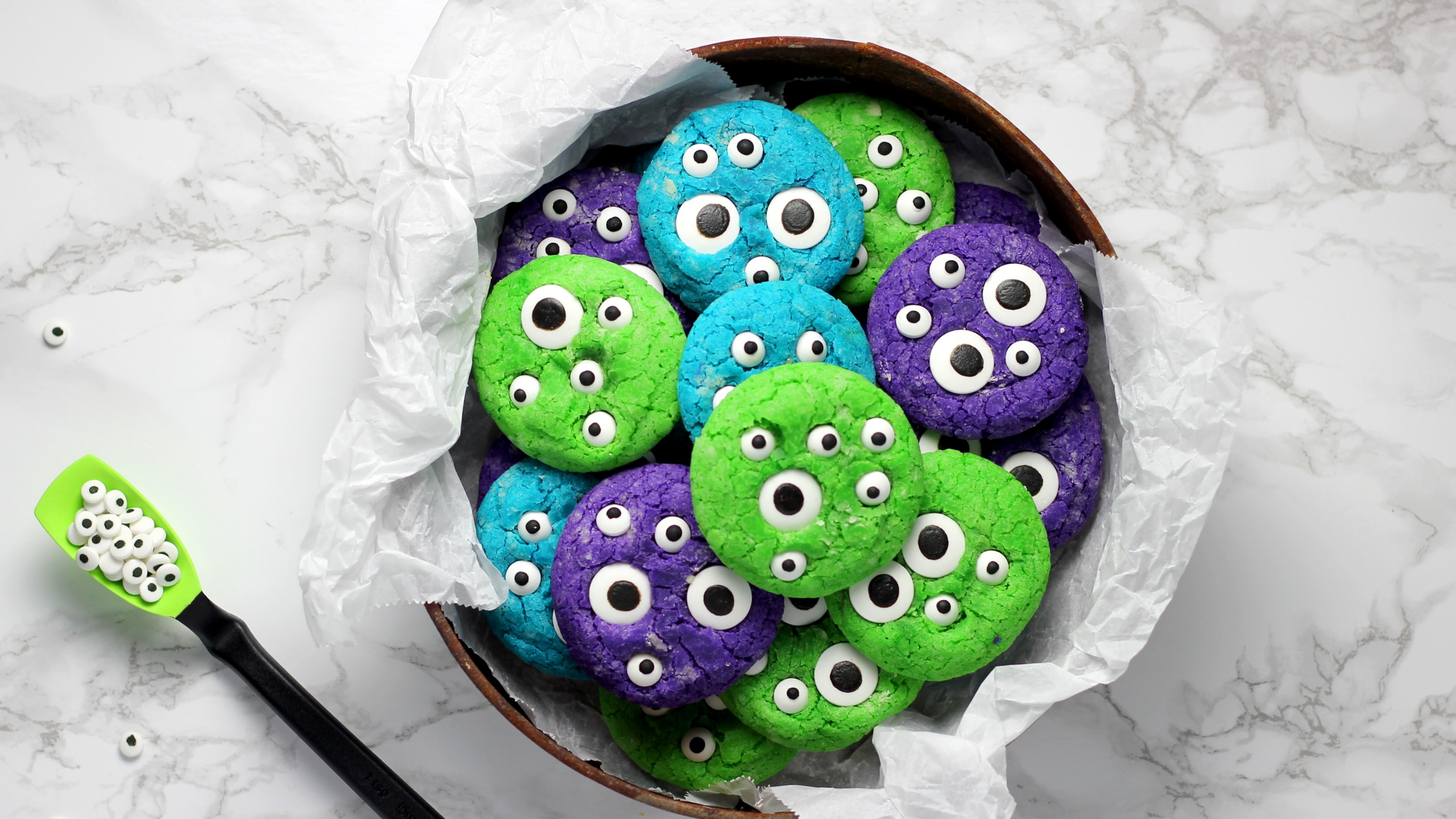 Boo! Black cats are in and the witches are out for a good time. You know what that means––Halloween is almost here! Halloween is a holiday like no other. It's the perfect time to get scary creative while spending a much-needed quality time with friends and family after staying indoors for quite a long time.
If you're hosting a Halloween party for the kids and the kids-at-heart, we know just the right menu for you. Here are easy Halloween recipes for you to try out. (Tip: Make sure you have lots of candy eyeballs for this!)
Ghost-topped Cupcakes
Cupcakes bring out the fun in any event. But here's a quick trick: You don't need to make your own cupcakes for this one. You can buy ready-made cupcakes from your local bake store, especially if you do not have much time for prep. The buttercream is the star of this recipe.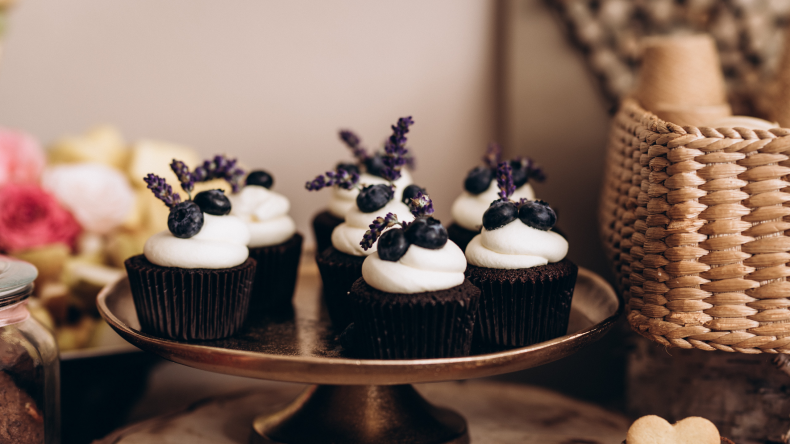 Buttercream Ingredients:
3 cups granulated sugar
3 tablespoons heavy whipping cream
1 cup unsalted butter
450g confectioner's sugar
3 teaspoons vanilla extract
Ghirardelli chocolate chips (for the spooky eye effect)
Directions:
Whip the butter for 5 minutes using a mixer.
Add the confectioner's sugar with care.
Add heavy cream and vanilla and beat until you reach a fluffy consistency.
Assemble the cupcake by piping a spiral buttercream on top of your chocolate cupcake. Top off the design with chocolate chips.
We recommend using Ghirardelli chocolate chips for the yummy, spooky eyes of your ghost buttercream.
Monster Crinkle Halloween Cookies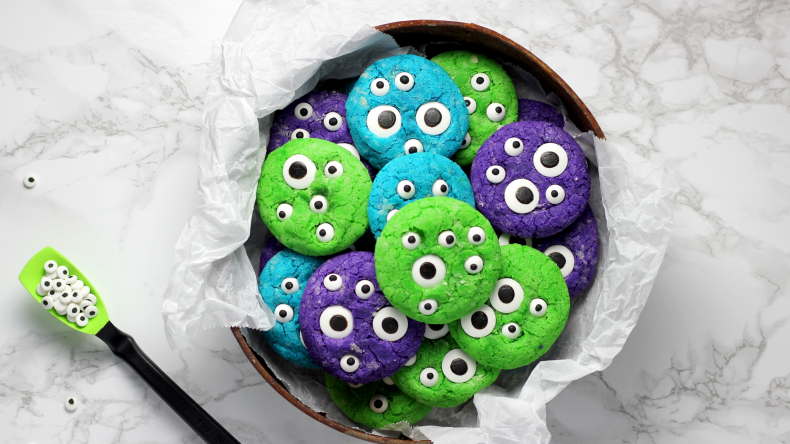 These Monster Crinkle Halloween Cookies will bring chewy and gooey fun to your party. This recipe is really easy to make, even the kids can help with baking preparations. The cake mix is a lifesaver and will help you magically create a hit dessert in no time.
Ingredients:
1 box of cake mix
2 large eggs
⅓ cup powdered sugar
½ cup granulated sugar
1 teaspoon vanilla extract
6 tablespoons melted butter
Food-grade dye (any color will do)
Candy eyeballs
Directions:
Put two large baking sheets and parchment paper. Using a large bowl, mix together your cake mix, melted butter, powdered sugar, eggs, and vanilla extract.
Divide your crinkle cookie dough into different bowls for color. Mix the dough and the food dye until the desired color is achieved. Roll colored dough into small balls, then roll the balls in granulated sugar. Chill for 30 minutes.
Place your balls on the baking sheet and bake in your preheated oven with a temperature of 300 to 325°F for about 8 to 10 minutes or until the cracks show and the tops are set. While cookies are warm, stick candy eyeballs as needed. Let the cookie crinkles cool before plating.
Need a new oven for your bake fest? Check out Kitchenaid's Single Wall Oven with Even-Heat™ Thermal Bake/Broil here.
Caramel Apples
Classic shiny caramel apples are a Halloween party staple. These crispy, fruity treats will have Snow White thank the Evil Witch. This recipe is good to serve three to six guests. You will need a candy thermometer, a baking sheet and parchment paper, and large lollipop sticks for this.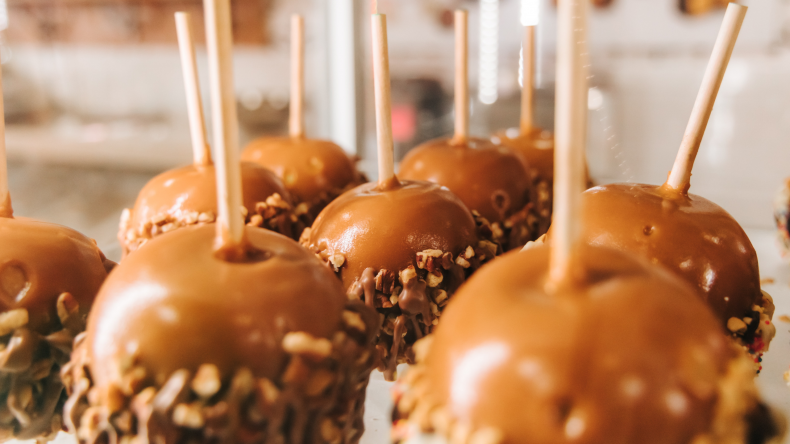 Ingredients:
2 cups of sugar
½ cup heavy cream
2 tablespoons unsalted butter
¼ light corn syrup
½ teaspoon vanilla extract
Salt
6 crisp apples (preferably Honeycrisp or Granny Smith)
Toppings (shredded coconut, cocoa nibs, chopped nuts)
Directions:
Put the corn syrup, sugar, and ½ cup water in a small saucepan over medium heat. Stir the mixture before the sugar boils. Have your candy thermometer inside the pan and wait for the syrup to boil. Cook until the syrup turns amber and swirl until the color is evenly distributed. Cook the syrup in the fire until the thermometer reads 380 degrees F. Remove from the heat after but keep the thermometer in place.
Pour in the cream and whisk the mixture to combine. Add butter, vanilla, and a pinch of salt and stir until smooth.
Pierce the apples through its stem ends halfway with the lollipop sticks. Place apples on a baking sheet with parchment paper and prep it with nonstick cooking spray.
Check if the caramel has cooled to 190 degrees F before dipping an apple. Swirl the apple to coat completely and allow excess caramel sauce to drip off the bottom. Use a spatula to remove excess caramel from the baking sheet. If you are adding toppings to your caramel apples, make sure to dip them immediately after coating them in caramel.
Gently heat the caramel over low heat if it gets thick for dipping the other apples.
Let the caramel set for an hour before serving.
Give your caramel apples a tasty kick with For the Gourmet's Chocovic Cocoa Nibs, made from actual cocoa beans. Add these to other desserts, too!