Sponsored Article
ScalpMED Claims Guaranteed Hair Growth for Men, or You Get Your Money Back
Hair Loss Doesn't Have to Be a Life Sentence
They may not always know it, but most men depend on their hair to define the way they look—after all, it also plays a significant role in attracting a partner. A full head of hair, the ability to grow facial hair (and even chest hair) are all visible signs of masculinity and virility. Unfortunately, not all men are created equal when it comes to hair growth. For over 50 percent of all men over the age of 50, male-pattern baldness is a condition they can't escape.
Causes of Hair Loss in Men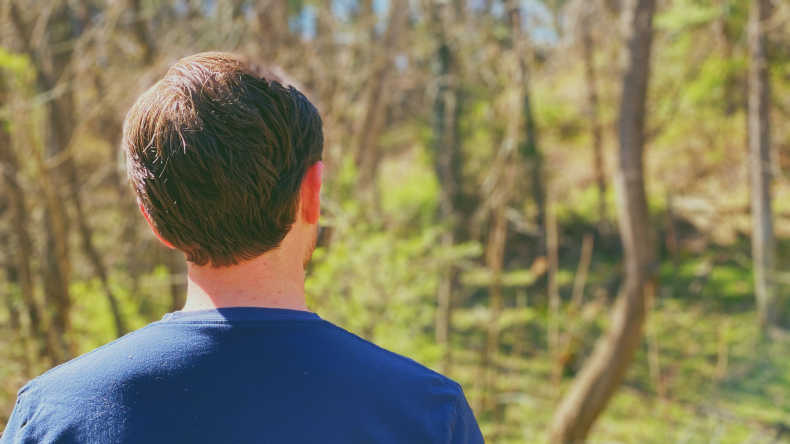 While male-pattern baldness is the prevailing condition behind hair loss in men, it is not the only factor that can cause hair to thin out. Find out if any of these hair loss causes apply to you:
Androgenic Alopecia
Otherwise known as male-pattern baldness, androgenic alopecia is the most common cause of hair loss in the world. For women, androgenic alopecia is commonly known as female-pattern baldness. This type of hair loss occurs when you inherit the genetic trait that shrinks your hair follicles, reducing hair growth. The first sign of thinning hair that men should look out for is a receding hairline or bald spot, usually located on the top of the head.
Age
Many bodily functions slow down as you get older: collagen production, bone tissue regeneration, cognitive abilities, and yes, even your hair growth cycle. Compared to male-pattern baldness, age-related hair loss is a more naturally occurring process in which your hair follicles lose their ability to grow new hair at the start of a new growth cycle. Due to this natural slowing cycle, your hair can start to thin out and lose its pigment.
Alopecia Areata
When your immune system attacks a part of your body, this is known as an autoimmune disease. Alopecia areata is an autoimmune disease that attacks your hair follicles, causing your hair to fall out. This disease can affect your scalp and also the insides of your nostrils and ear canals. Some people can also lose hair on their eyelashes or eyebrows. While alopecia areata sounds like a scary condition, it rarely damages hair follicles, so hair can eventually grow back.
Telogen Effluvium
Stress can not only accelerate the aging process of your cells, but it can also stunt the growth cycle of your hair through a condition called telogen effluvium. Hair follicles undergo four stages of hair growth, but when the body encounters an extreme amount of stress—like after giving birth or dealing with the death of a loved one—this can force your hair follicles into an extended resting phase. When this happens, all it takes is a comb, brush, or shower to cause your hair to fall out. Telogen effluvium is a temporary condition, so when the stressful circumstances abate, your hair can eventually grow back.
The Psychological Toll of Hair Loss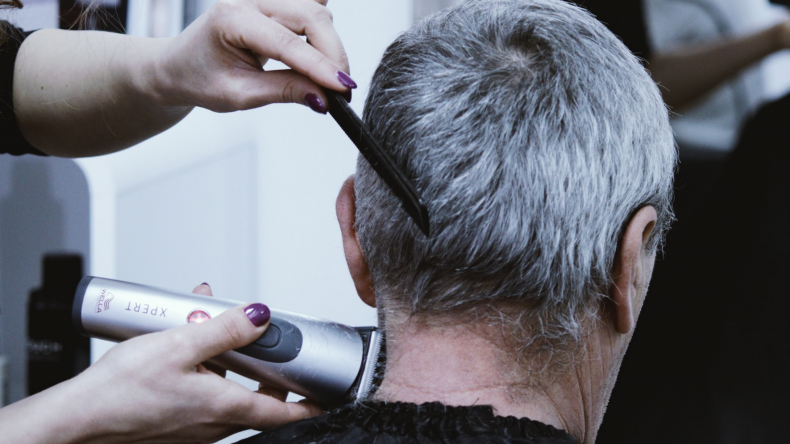 It's hard to imagine how losing your hair can impact your state of mind, but the more one thinks about how your tresses can alter your appearance and affect confidence, the more one might empathize with those dealing with male-pattern baldness.
For some men, hair is more than decoration. To some men, a full head of hair is tantamount to a testament to their youth, virility, and ultimately, masculinity. To lose that badge of honor prematurely or due to old age might feel as if a rug were pulled from under them, thrusting them into the reality that they no longer have control over their lives. This train of thought can spiral even further into deeper levels of despair and even hopelessness.
While some men can accept baldness as easy as saying, "It is what it is," others can develop insecurities regarding their appearance, deeming themselves undesirable and unattractive. This disposition can even lead to social avoidance, wherein men will intentionally exclude themselves from social gatherings to avoid drawing attention to their balding appearance.
However, no matter the cause of hair loss, scientific advancements can help prevent baldness from feeling like a life sentence.
The ScalpMED Method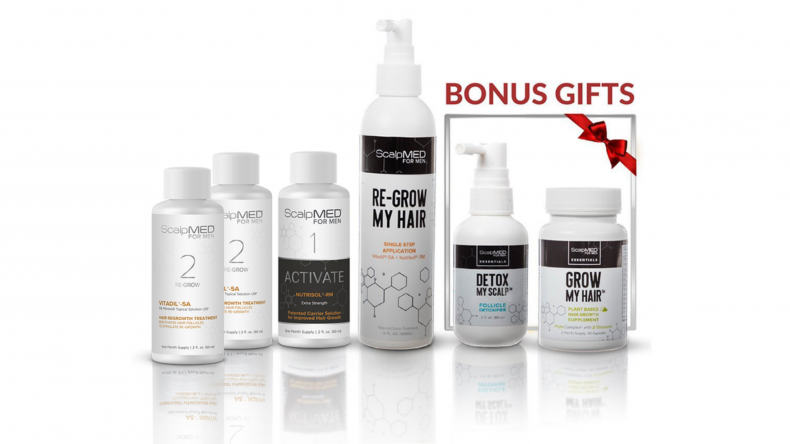 An increasingly popular solution to men's hair loss is a multi-patented, proven-effective hair regrowth formula called ScalpMED. The hair regeneration process with ScalpMED involves the application of two main components, Vitadil® and NutriSOl®.
Vitadil® has an FDA-approved formula that uses the active ingredient minoxidil to help slow the rate of hair loss. This medication is to be applied directly to the scalp.
NutriSOl® is a different exclusive, multi-patented formula under ScalpMED® that increases the chances of hair regrowth. It also helps thicken existing hair and nourish your scalp with emollients to keep your scalp from getting dry and itchy, symptoms commonly experienced when taking hair-restoration products.
When these regenerative components are used frequently, these can help stimulate follicles to increase blood flow, promoting hair regrowth over time. With regular use, ScalpMed can help you regain hair in patchy areas on your scalp and give you a full head of hair. In fact, ScalpMED believes in its formula and effectiveness so much that if you don't see any change in your thinning hair, they've promised you your money back.
ScalpMED Success Stories
Check out some of ScalpMED's satisfied clients after using the hair-regrowing formula to regenerate their hair: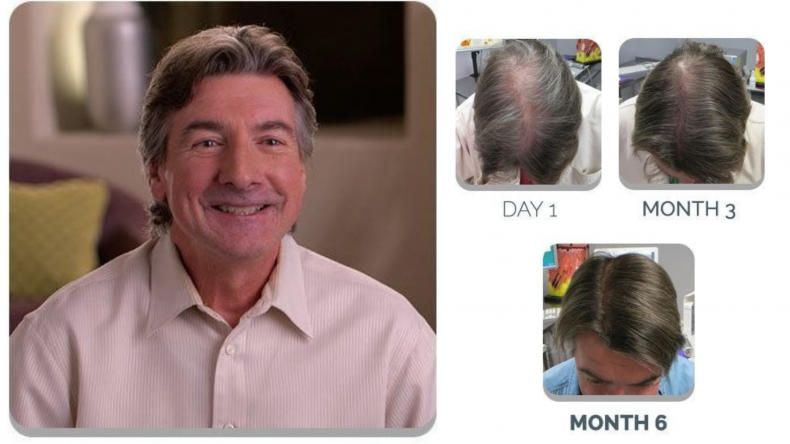 "I was, in fact, beginning to have thinning hair, and it was an issue for me because I've always had a great head of hair. Women have always loved my hair. Hairstylists loved my hair. I love my hair. I didn't want to lose my hair, so I wanted to do something about that, and ScalpMED was the answer for me. ScalpMED not only maintains the hair you have—it's regrowing, regenerating hair, which I think is pretty remarkable. It's so easy. It's painless, and it works. It's my own hair that has been growing back with ScalpMED." - Kelly McCracken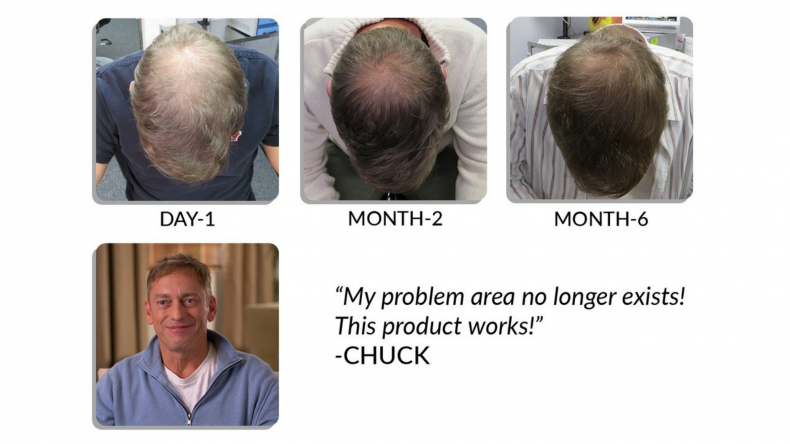 "I really didn't think I could find something that would help with hair loss, and when I started using ScalpMED, you could see the results so dramatically, so quickly, that I was compelled to keep using it every day—because it was working so well...I just can't believe that over the course of six months, I went from being almost bald, really, at the back of my head, to having a completely thick, full head of hair. If regrowing hair took a lot of effort, I wouldn't do it, and that is one of the keys because it takes no effort. Not only did I think I couldn't find a product that would help [with hair loss], I actually didn't think I could find a product that could halt it." - Chuck Edger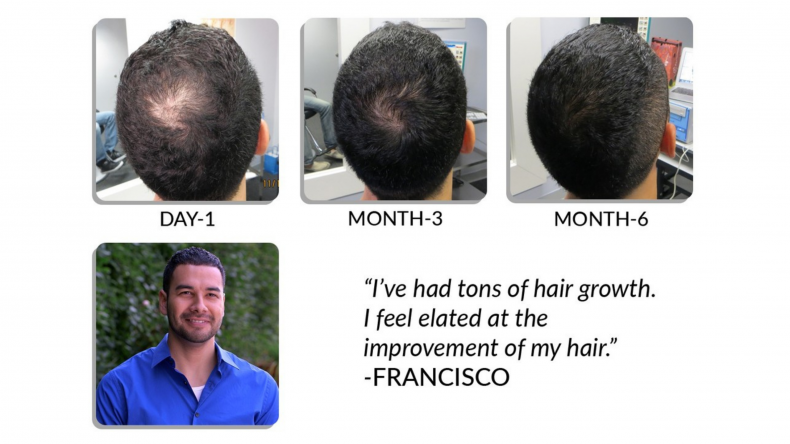 "I'm 6'3, so a lot of people don't see the top of my head. When I first saw those pictures of the back of my head, it was like, wow, I didn't know I had such a big [hair] gap there. I was dumbfounded that I was losing hair like that. When I first heard about ScalpMED, I figured I didn't have anything to lose. Within three months, I had so much more hair. If you just look at the before and after pictures, it was so much more. ScalpMED is very easy to use. There's no pain, there's no burning, there's no itchiness. It's like you're just putting product in your hair. ScalpMED has been great for me. Hair loss is one less thing to worry about." - Francisco Montano
Hair loss doesn't have to feel like a life sentence. Regain control of your physical appearance when you use ScalpMED® to help stimulate hair regrowth—and if it doesn't work, you get your money back! Check out ScalpMED's hair-regenerating products here.
Disclaimer: Consult your doctor if you have any underlying medical conditions or counteracting medications prior to using ScalpMED® to treat hair loss.