Sponsored Article
Shop Kevin Hart's Favorite Electric Toothbrush—Brüush
Show Your Brightest, Healthiest Smile With Kevin Hart's Most Trusted Oral Care Brand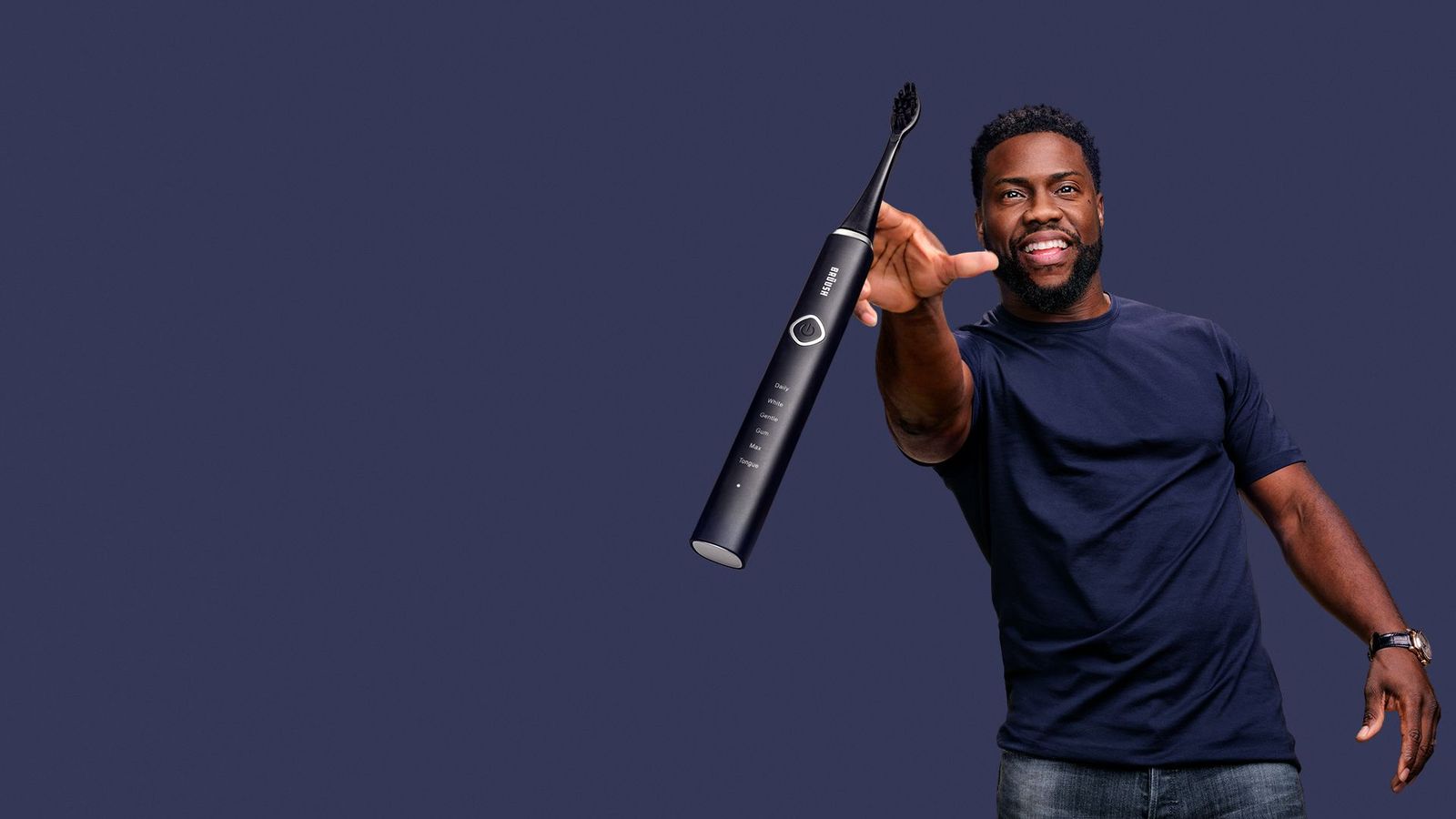 If you've been following Kevin Hart's Twitter account recently, you might have heard about his collaboration with Brüush, an oral care brand on a mission to shake up this all-too-often humorless category and give you your cleanest, whitest teeth, and the healthiest mouth you could possibly have.
Brüush believes that its story is best told through smiles, and who better than Hart to make others smile with his energetic humor and electric grin, which can be seen through his ongoing hilarious campaign series. Now, the Vancouver-based oral care brand is re-introducing its top-selling toothbrush in three new limited-edition colors with the same revolutionary technology and features to elevate your bathroom ritual.
Brüush Electric Toothbrush in Six Colors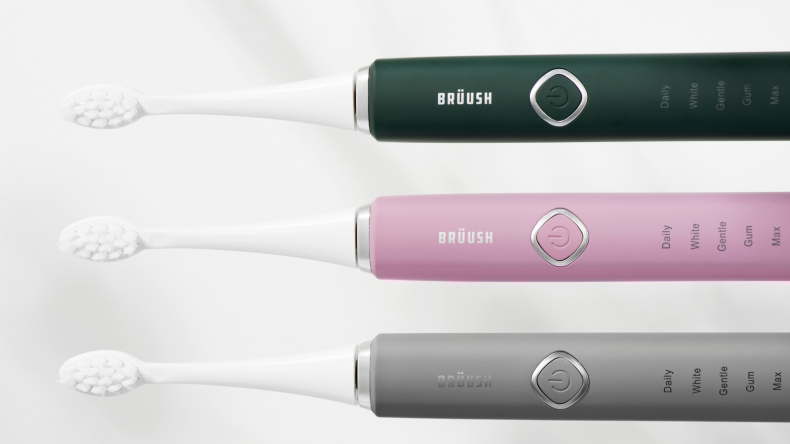 In addition to its built-in 2-minute timer and extrasoft bristles, the Brüush Electric Toothbrush has six unique cleaning modes and a four-week battery life (if used twice a day). Each toothbrush comes with three brush heads, a USB power adapter and charger, and a compact travel case. The company's signature toothbrush has so far been offered in three iconic colors—pink, white, and black—but now, for a limited time only, customers can opt for mauve, gray, or green.
Dental Experts Encourage the Switch to an Electric Toothbrush
In 2016, the Journal of Clinical Dentistry released findings of a small study that compared electric toothbrushes to manual toothbrushes. The study suggested that people who use an electric toothbrush have healthier gums, less tooth decay, and also tend to keep their teeth for longer, compared to those who used a manual toothbrush. It shared that "a powered brush produced a statistically significantly greater plaque reduction than the manual brush."
This study by the Journal of Clinical Dentistry is just one of many that indicate electric toothbrushes could be better for maximizing oral health. The 2014 issue of The Cochrane Library, a U.K.-based health behavior news service that focuses on healthcare research, provides a review of 56 studies, including over 5,000 adults and children. The study concluded that, in general, when an electric toothbrush is regularly used for three months, it removed plaque 11 percent more effectively than manual toothbrushes. It also reduced gingivitis by 6 percent and bleeding of the gums by 17 percent.
Two other reasons why the Brüush Electric Toothbrush may be great for you are its 2-minute timer and soft bristles. These features have been designed in line with the American Dental Association's recommendation that people brush their teeth for two minutes, twice a day, with a toothbrush that has soft bristles.
Six Different Cleaning Modes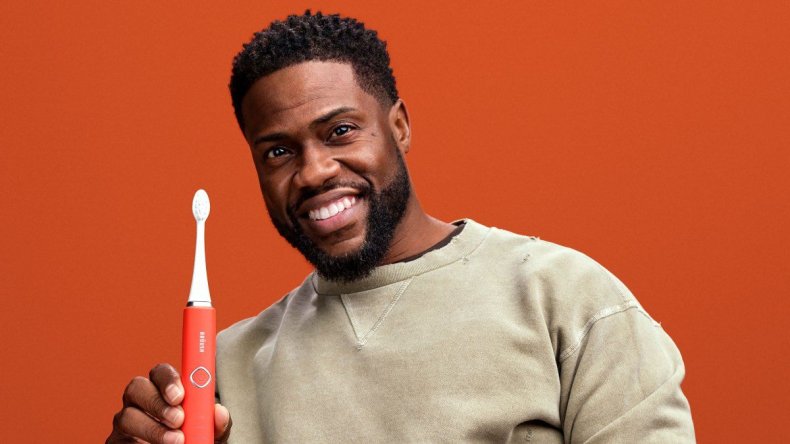 True to its mission to make brushing your teeth an activity to look forward to rather than a chore, the Brüush Electric Toothbrush is jam-packed with functional features, including the well-loved and well-reviewed six unique cleaning modes to help you maintain a cleaner, healthier mouth:
Daily Mode

Utilizes 31,000 brush strokes per minute to efficiently remove plaque and ensure thoroughly cleaned teeth every day.
White Mode

If you need to remove tough surface stains from caffeine and other food stains, use this mode to experience stronger vibrations to help achieve a brilliant polish.
Gentle Mode

True to its name, gentle is a mode specially designed for people with sensitive gums and teeth. Enjoy subtler sonic pulses while still ensuring thoroughly clean teeth.
Gum Mode

Include your gums in your oral care routine with this cleaning mode. Its vibration pattern gently massages the gum line and could help promote blood circulation.
Max Mode

Brüush makes sure that you don't miss brushing those hard-to-reach teeth areas by including the max mode. Enjoy a unique pattern or sonic vibrations for a full 3 minutes and feel extra clean with thoroughly refreshed teeth.
Tongue Mode

An extra but equally necessary feature, the tongue cleaner is located on the back of each electric toothbrush head. Gently massage the tongue cleaner up and down the tongue's surface to help prevent bad breath.
What People Are Saying About Brüush Electric Toothbrush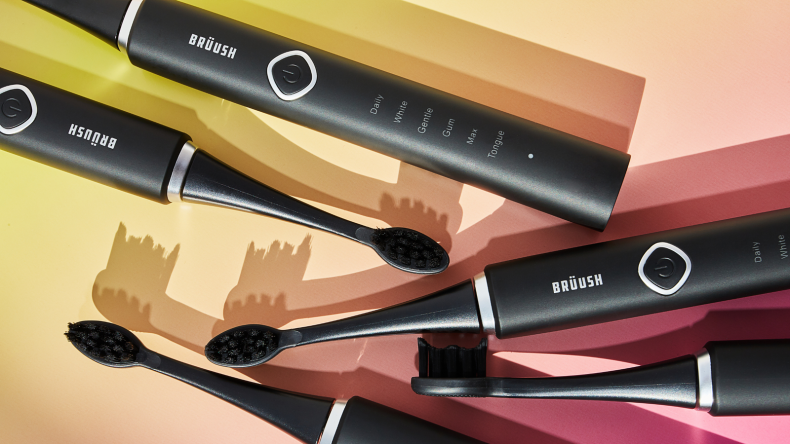 Since it hit the market, consumers have been raving about the Brüush Electric Toothbrush, resulting in over 1,793 reviews with a 4.9 out of five star rating on the brand's website. Users have shared how their teeth feel "incredibly clean," and many claim that it is "a million times better" than other toothbrushes they have tried.
"I am so impressed by this product. My teeth are so shiny and clean! People have commented on how good my teeth look!!!! Definitely worth the money :) :)"—Jaelynn S.
"Using the Brüush has made my teeth feel cleaner than any standard or electric toothbrush I've ever used! Brüush is like Michael Jordan, and my old toothbrush is like Isaiah Thomas"—lan E.
"I hate the dentist and this brush makes me want to go and show off my teeth! No comparison."—Nicole M.