Sponsored Article
Slow Down Signs of Aging With These Hair and Skin Products for Women
Here Are Products Designed to Address the Signs of Aging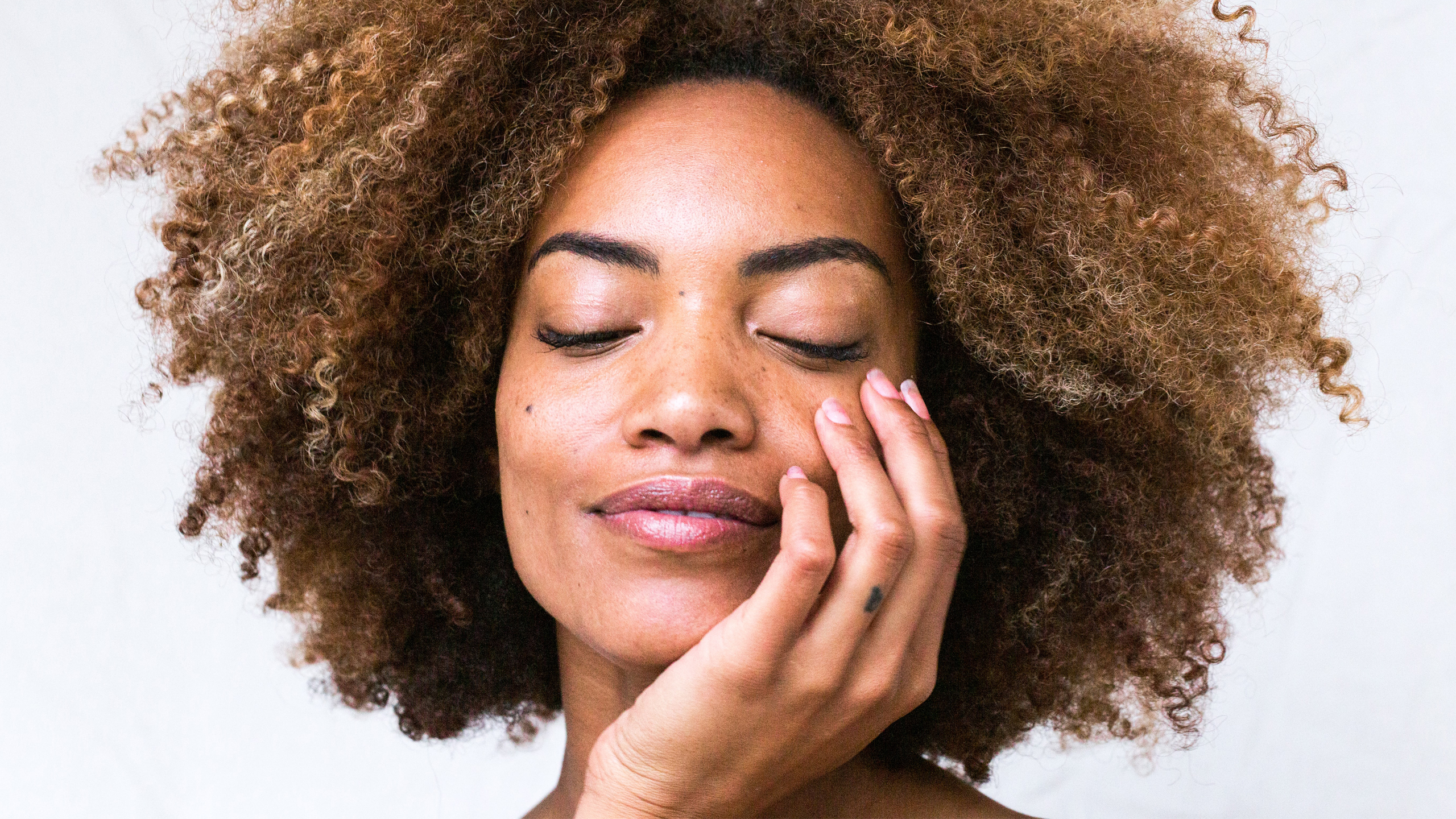 It's important to consult your doctors with any medical concerns, and before making any changes or adding supplements to your health plan.
As people age, their bodies and physical appearance change, as well. And while aging is inevitable, some studies, like this article published by the American Academy of Dermatology Association (AAD), suggest that there may be ways to slow down the signs of aging by making an effort to take preventive measures.
The AAD shared that there are two types of aging: intrinsic and extrinsic. According to the article, intrinsic aging is the "natural aging process," in which the person's genes are usually the major contributors. On the other hand, extrinsic aging is reportedly caused by lifestyle habits such as smoking and frequent sun exposure which, if avoided, could help slow down the appearance of aging.
How to Slow Down the Signs of Aging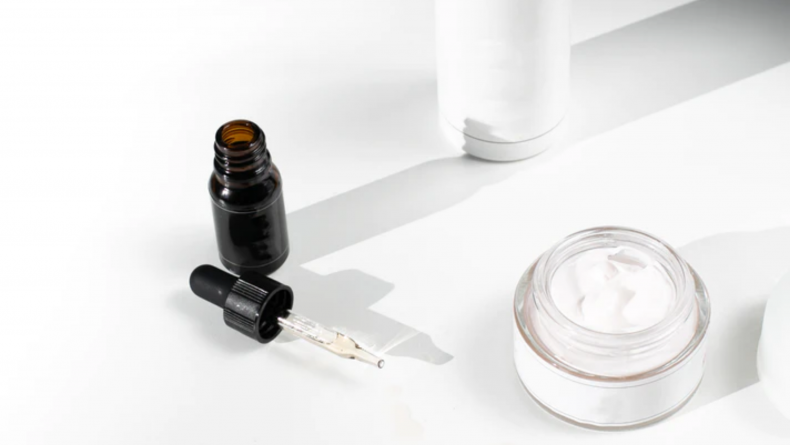 Dr. Ivona Percec, medical director of the Skin Care Program and assistant professor of surgery at Penn Medicine, said in an article published by the institution that starting an anti-aging routine early in life could be beneficial. According to Percec, aging begins during your 20s or 30s and could start showing on your skin before affecting the body's deeper tissues.
Hers, a company that provides convenient and affordable access to prescription and nonprescription health and wellness products, shared some remedies that could help delay the appearance of aging.
Sunscreen
One of the common causes of extrinsic aging, according to Hers, is ultraviolet (UV) radiation emitted by the sun. This type of damage on the skin is called photoaging, which the Skin Cancer Foundation reported is "responsible for 90 percent of visible changes to the skin." One study published in Dermatologic Surgery, the official publication of the American Society for Dermatologic Surgery, suggested that frequent use of sunscreen could help improve affected skin due to photoaging and reduce the risk of further damage.
Moisturizer
Moisturizing could also help slow down the signs of aging, according to Hers. An inexpensive way to help maintain your skin's hydration, moisturizers may help reduce the visibility of fine lines and wrinkles. Additionally, the American Academy of Dermatology Association (AAD) wrote that aside from trapping moisture to retain your skin's suppleness, using a moisturizer could also help give you a more radiant complexion.
Retinoids
Retinoids are vitamin A-derived topical medications that Hers noted may hasten cell regeneration, which could help replace old and dead skin cells with new ones. A report published by Harvard Health also shared that retinoids could help reduce the signs of aging by increasing collagen production. The article, however, took note of precautionary measures when using retinoids, recommending the daily use of sunscreen as well, as retinoids may make your skin sensitive to sunlight.
Women's Anti-Aging Products to Shop at Hers
Hers is a company that provides "convenient, more affordable access to prescription products and medical advice." It's all done online, helping you save time and money. Before purchasing a prescription product, however, Hers will connect you with a licensed health care provider in your state who can provide you with a prescription based on your diagnosis. The brand doesn't stop there, though. It also offers non-prescription products that could help treat and manage various health issues. Once you've placed an order on a product, all you have to do is wait for it to be shipped to you.
Want to get ahead of the signs of aging? Here are some products from Hers to consider adding to your regimen. Aside from battling fine lines and wrinkles, Hers offers ways to manage hair loss, too, so that you could maintain not just youthful and glowing skin but a healthy mane ,as well.
Anti-Aging Cream
Price: From $10 per month with Hers' introductory offer
Hers describes their Anti-Aging Cream as a "prescription-strength vitamin A derivative scientifically proven to improve the texture and quality of the skin and the appearance of fine lines." The brand also claims this cream may help treat uneven skin texture, reduce the appearance of dark spots, smooth fine lines and increase collagen production. Hers Anti-Aging Cream contains tretinoin, a type of prescription retinoid that Harvard Health said may help fade spots and pigmentation and support the regeneration of superficial skin cells.
Book an online consultation to purchase Hers Anti-Aging Cream here.
The Weekender Kit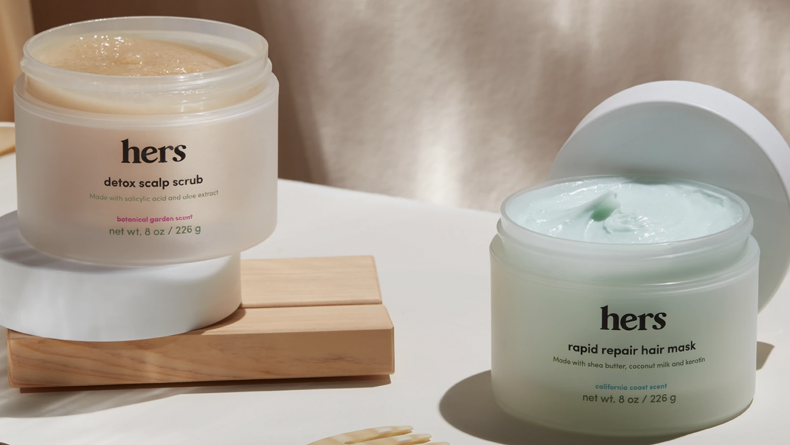 Price: $40 for a one-time purchase, or subscribe for as low as $34 per kit
This kit, which Hers developed in partnership with actress and performer Jennifer Lopez, is designed to help improve the hair's condition from root to tip. The Rapid Repair Hair Mask is said to be created with shea butter, coconut milk and keratin, which work together to help leave you with hair that's smoother, shinier and more hydrated. Complementing the hair mask is the Detox Scalp Scrub, which could help improve your hair's roots, and soothe and exfoliate the scalp to eliminate unwanted buildup.
The Starter Hair Kit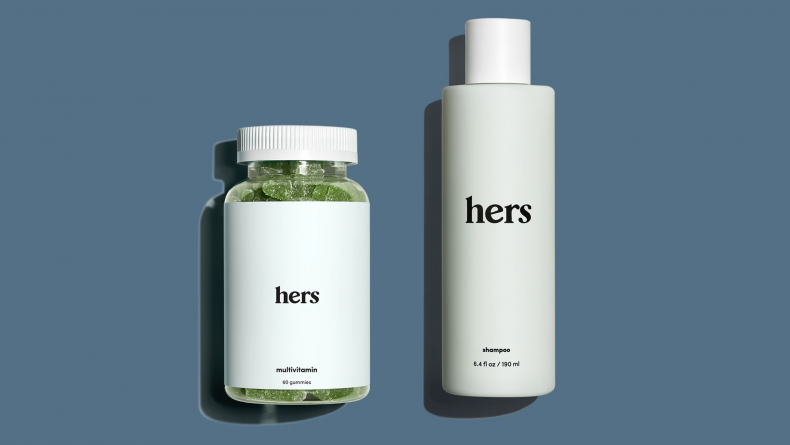 Price: $40
The Starter Hair Kit, which includes Hers' biotin gummies and shampoo, is said to help address thinning and shedding hair. The shampoo is formulated to assist in eliminating excess sebum, unclogging the pores on the scalp and cleansing hair follicles. Hers claims its biotin gummies are made from high-quality biotin that could aid in strengthening your hair.
Get The Starter Hair Kit here.
The Complete Hair Kit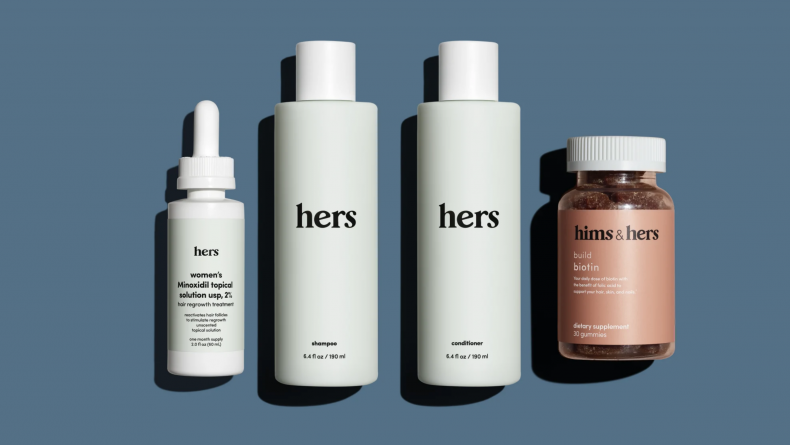 Price: $55 for a one-time purchase, or subscribe for as low as $38.17 per kit
The Complete Hair Kit contains Hers' topical minoxidil treatment, shampoo, conditioner and biotin gummies. According to the brand, this treatment system is designed to help "regrow your hair, decrease shedding and strengthen" it. The minoxidil drops are said to be formulated for women by assisting hair regrowth through replacing the strands shed. Meanwhile, the shampoo and the conditioner may help cleanse the follicles, moisturize and strengthen the hair to prevent excessive hair loss. Finally, the gummies, which are made with biotin, are formulated to help keep the hair, skin and nails healthy and strong.
Get The Complete Hair Kit here.
The Salon Strength System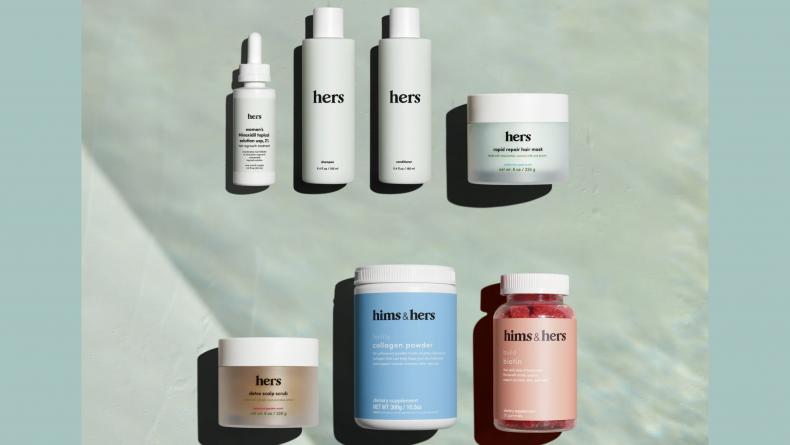 Price: $94 for a one-time purchase, or subscribe for as low as $79.83 per kit
The Salon Strength System combines The Weekender Kit and The Complete Hair Kit with Hers' Collagen Powder. According to the brand, the Collagen Powder is derived from grass-fed bovine collagen, which could help keep the skin supple, as well as serve as a post-workout supplement for muscle recovery.
Get The Salon Strength System here.
Putting in a conscious effort to take care of your skin could help you keep your youthful glow for a bit longer. While aging is a part of life, keep the early signs of aging at bay by making some lifestyle changes, combined with these anti-aging skin and hair products from Hers.