Sponsored Article
Smart Weighing Scales With Over 30,000 Reviews for Your Fitness Journey
Here Are Some Smart Weighing Scales With the Most Reviews on Amazon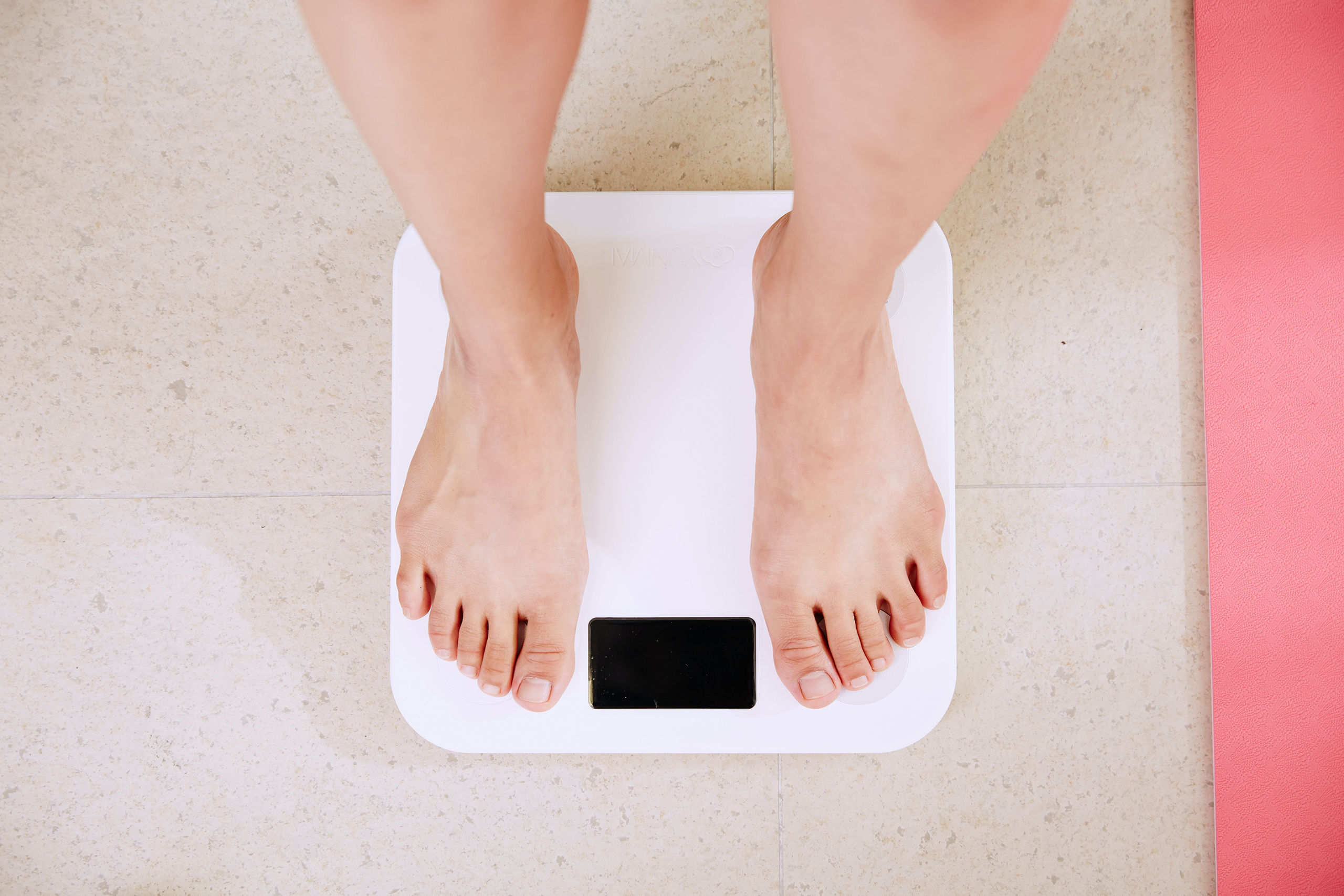 It's important to consult your doctors with any medical concerns, and before making changes or adding supplements to your health plan.
Many of us vow to lose some weight every year for various reasons, including fitness and good health. But how often is progress checked?
If you only step on the scale every time you see a doctor, it might be time to get your own scale. After all, your weight is more than just a number. It helps you monitor your overall health. It's especially helpful to monitor how much you weigh if you're trying to maintain or achieve a specific weight. If you rarely hop on a weighing scale, you'll never know how much of your fitness and health goals you've achieved, or how much more you need to work to hit them.
If you plan to stay on top of your fitness goals this year, right now is the time to start. We've rounded up some of the best smart weight scales with the most reviews on Amazon so you can keep track of your progress.
ALSO READ: The Easiest Way to Do Intermittent Fasting for Beginners
Renpho Body Fat Scale (Over 162,000 Reviews)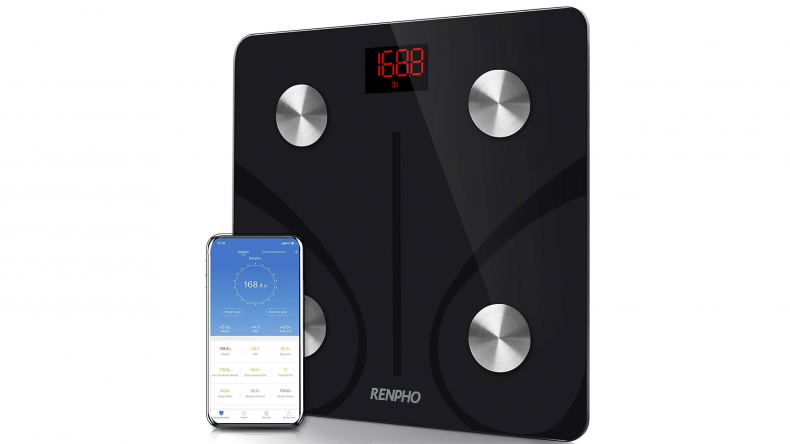 Aside from body weight, the Renpho Body Fat Scale can also measure your body mass index (BMI) and body fat percentage. It works with other fitness apps like Fitbit, Samsung Health, Apple Health, and Google Fit.
Its product description boasts of an autocalibration feature, high-precision sensors, and a 180-kilogram weighing capacity. This scale also allows you to monitor your progress by saving data and tracking your daily, weekly or monthly progress.
Customer Review:
"I am a student of an accredited Human Nutrition degree, and we use various professional equipment for body composition readings at the university. I have tested this scale against our very expensive bio-impedance scale, and they both have pretty similar readings, which only shows that this is a good quality personal body composition scale! This scale is very easy to use and the fact that you can connect it to your phone is pretty awesome! The value is also great. I can only recommend!" —M
Click here to order the Renpho Body Fat Scale.
Etekcity Digital Body Weight Bathroom Scale With Step-On Technology (Over 86,000 Reviews)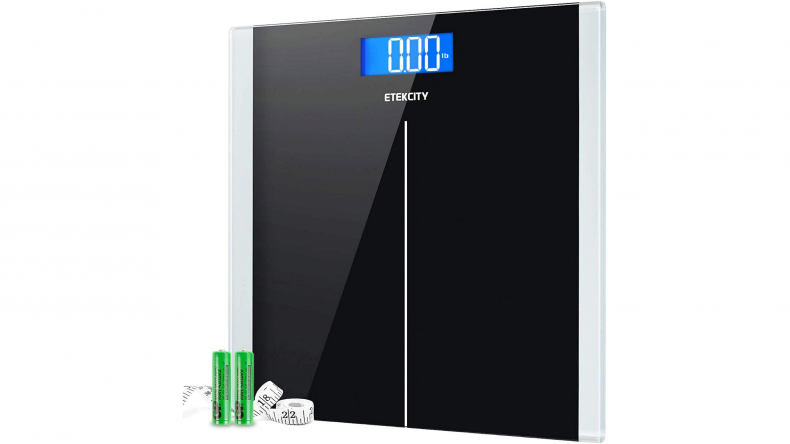 What users appreciate is the simplicity and durability of this weighing scale. It's effortless to use and turns on automatically when you step on it, so you don't have to press any buttons or wait for it to calibrate before you can weigh in. It also gives measurements on an easy-to-read display.
Customer Review:
"This is a very nice scale! We tried a different brand before getting this one and we have not been disappointed by the Etekcity scale. When you step onto it, the display lights up and gives you the weight, and then turns off about ten seconds later.
The day we received ours, I had to go to the doctor, so I weighed myself before leaving home, and my weight was only .2 pounds different from the doctor's scale. I'd say that's pretty accurate! It does not save your weight from your previous weigh-in, but I actually prefer that. I can remember (or write it down), and it's just simpler to use without that feature to me. The scale itself is very nice to look at—sleek and modern. I wouldn't hesitate to purchase!" —B. Williamson
Click here to order the Etekcity Digital Body Weight Bathroom Scale With Step-On Technology.
Etekcity Digital Body Weight Bathroom Scale (Over 69,000 Reviews)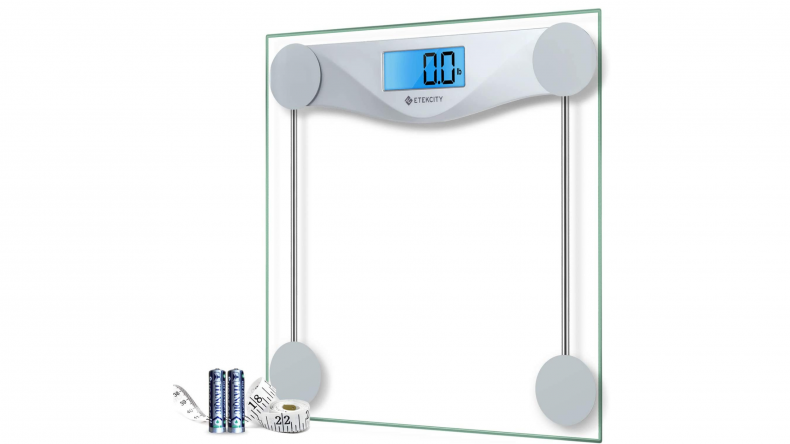 Another one from Etekcity, this Digital Body Weight Bathroom Scale is ideal for anyone who wants a straightforward scale. It's built with four high-precision sensors for accuracy, a durable design thanks to its tempered glass platform, and versatile features like a self-operating on and off function, autocalibration and a backlit LCD. The brand claims this scale is thick and durable enough to provide years of fitness tracking.
Customer Review:
"I finally have a scale that isn't annoying—I've had several scales from various stores, and they all invariably give a different weight almost every time I step on. I could step on and off four or five times in a row and get three or four different weights—and not just by a fraction but by a pound or more.
This one is different! It weighs consistently every time. It came with little extra pads to level it, which seems like an indication that it is well made and, so, likely to be more accurate. I like the look, and it's a bit bigger than the chain store ones. And it did not cost any more than I've paid in those stores. Overall, I have to say this is the best scale, by far, that I've ever owned. I highly recommend it." —Farm Wife
Click here to order the Etekcity Digital Body Weight Bathroom Scale.
Fitindex Bluetooth Body Fat Scale (Over 50,000 Reviews)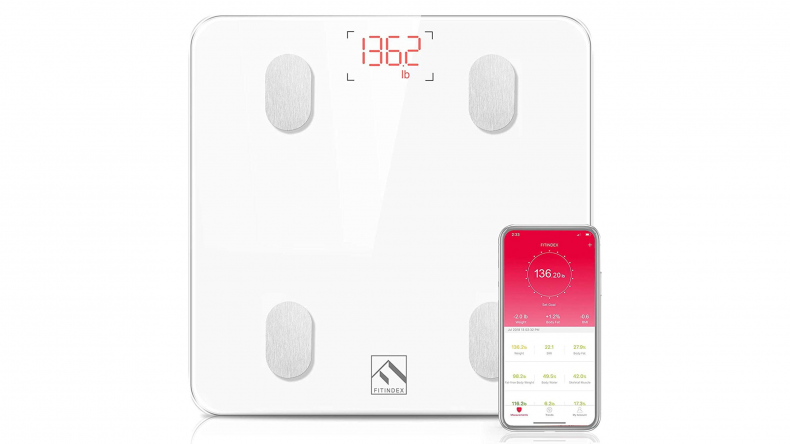 Aside from body weight, the Fitindex Bluetooth Body Fat Scale measures 12 other body compositions, including body fat, water, basal metabolic rate (BMR), BMI, muscle mass, protein, bone mass and skeletal muscle. With these features, this weighing scale can be useful for athletes and gymgoers who want to keep a tab on their progress. Knowing your body water percentage, for example, can help you maintain adequate hydration levels, which is vital for those who are physically active.
Customer Review:
"This is an amazing digital weighing scale! It's compact and light and can be slid under almost anywhere. Set up and connecting it to the app was super easy. All the info calculated and shown on the app is pretty accurate. I love this scale and I'm looking forward to shedding those extra pounds." —Vegito_Blue
Click here to order the Fitindex Bluetooth Body Fat Scale.
Letsfit Digital Body Weight Scale (Over 45,000 Reviews)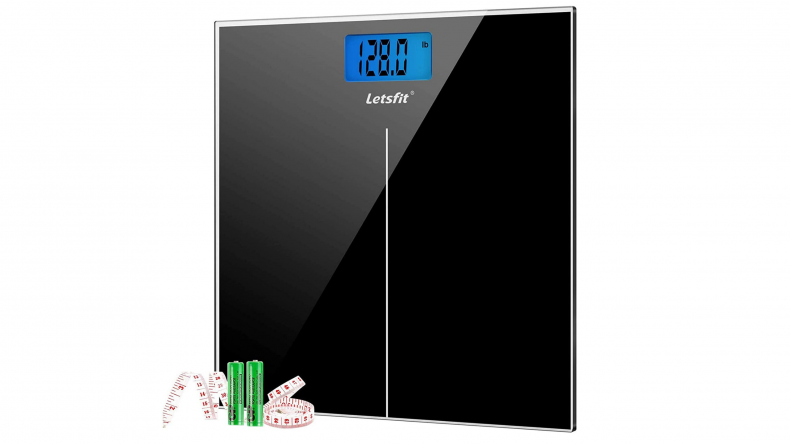 You can use this sleek and stylish weight scale right out of the box. It includes two 1.5 volt AAA batteries and even a tape measure. It's made of tempered glass, but if you think it's fragile because of its build, it's not. Letsfit Digital Body Weight Scale is said to have the strength to handle up to 400 pounds of weight. Its LCD is easy to read and allows you to switch easily between kilos and pounds by adjusting a switch at the back of the scale.
To get the most accurate results, always place it on a hard and flat surface when weighing yourself.
Customer Review:
"I used to own a scale with a meter that would often be inaccurate. This scale is good because it's fast and reliable. I tested it with a 10-pound weight, and it was right to the dime. My family and I are really happy with the purchase." —Victor L.
Click here to order the Letsfit Digital Body Weight Scale.
EatSmart Products Digital Bathroom Scale (Over 34,000 Reviews)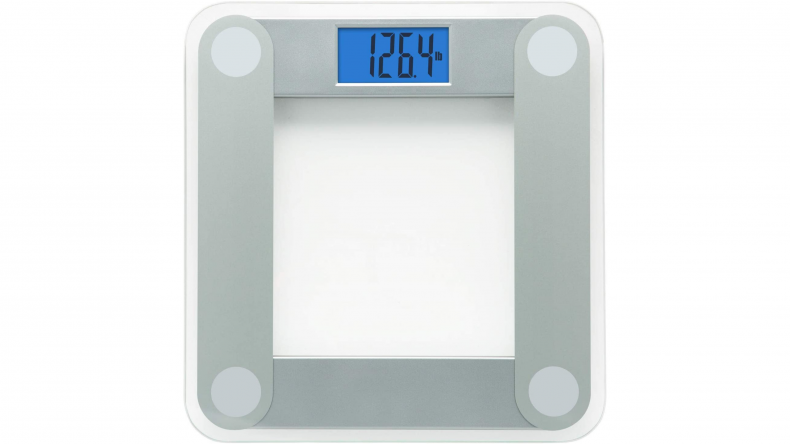 More than just a bathroom scale, the EatSmart Products Digital Bathroom Scale will not only measure your body weight but your body measurements, as well. It's simple to set up and has a large LCD for easy data readings. You only need to calibrate it on first use, too. Insert the batteries it comes with, place it on a hard surface (avoid carpeted floors), press the scale to turn on and allow it to turn off by itself. Follow the same steps whenever the scale is moved.
Customer Review:
"I was skeptical about a scale going through the mail and not having electrical problems (after getting heavily handled and thrown around). However, this scale is great so far. It is accurate as the professional electrical scale at the doctor's office! I used it every day for about two weeks to make sure it was not going to break. Now I use it every three or four days...Good buy!" —Nic
Click here to order the EatSmart Products Digital Bathroom Scale.
How Often Do You Need to Weigh Yourself?
While it's not necessary, knowing how much you weigh could help motivate you further in reaching your fitness goals. In fact, the American Heart Association states that daily weigh-ins might be beneficial. This was concluded after it tracked over 1,000 adults over a year and discovered that people who weighed themselves almost every day lost weight at an average of 1.7 percent, while those who weighed themselves only once a week or less didn't lose any weight at all.
Weighing scales can help you catch small weight gains and help get you back on track, and having your own at home gives you the convenience of weighing yourself whenever is the best time for you.