Sponsored Article
Some Dogs Have Seasonal Allergies Just Like Us. Here's How to Help
Your furry friend needs help to get through seasonal allergies too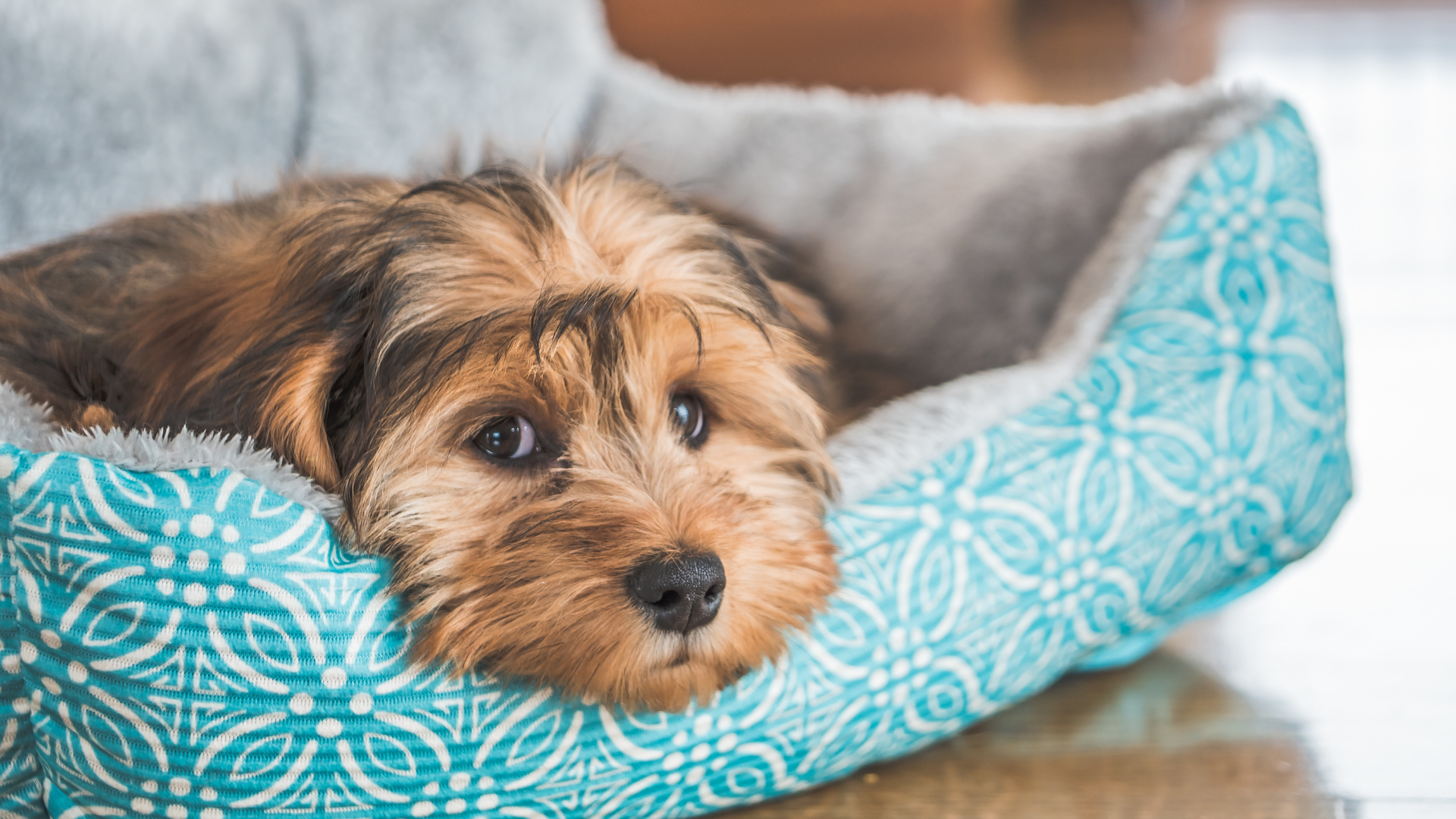 It's important to consult your veterinarian with any medical concerns, and before making any changes or adding supplements to your pet's health plan.
It's that time of year when sniffles seem to come around. Flowers bloom, pollen fills the air, and hay fever sets in, for approximately 8 percent of adults, according to the CDC. For us, hay fever and seasonal allergies are usually manageable. We can take medication, go to a doctor, or sometimes even remove allergens from our environment. For our dogs, it's not that simple. Because dogs experience the world with their noses far more than we do, seasonal allergies can affect them more intensely. Imagine how much worse your own hay fever might be if you lived your life at flower height. Our dogs rely on us to keep them safe.
Science Focus, a BBC Science-focused magazine, shares that there are three main kinds of seasonal allergies in animals—food, flea bites, and environmental allergies.
Environmental allergies include sensitivity to dust, dust mites, pollen, mold spores, and fungi. Whether lounging indoors and playing outside, dogs are most likely to absorb environmental or seasonal allergies through their paws and skin. This could be one reason why some dogs can exhibit allergy symptoms after rolling around in the grass. A few minutes of playing around outside could mean that grass pollen has already clung to a dog's skin and possibly entered their nasal passages. The Centers for Disease Control and Prevention shares that mold spores in the air outside could also attach themselves to your pet, potentially triggering an immune response.
Allergy Symptoms in Dogs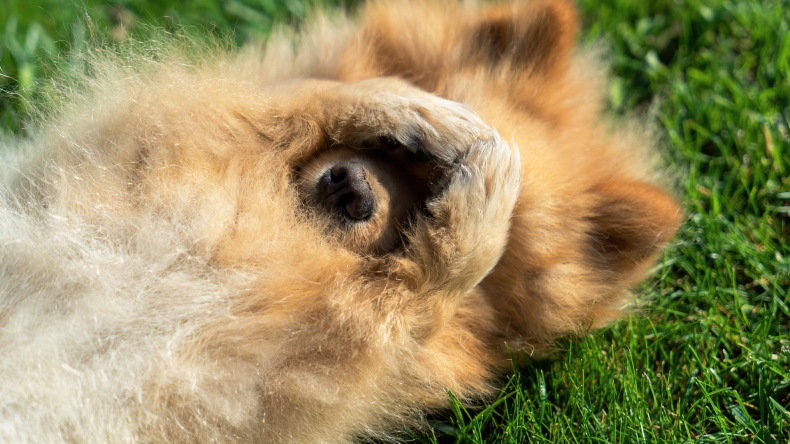 Dogs are part of the family, and often we tend to treat them like people. Just as we can get congestion, watery eyes, and skin issues when hay fever kicks in, your dog's symptoms might not be that different. Your furry friend is also a lot closer to the ground than you are and probably loves running around in the grass far more than you do. Seasonal allergy symptoms you might observe in your dog may include:
Watery eyes
Runny nose
Congestion/breathing issues
Itchy, flaky skin
Excessive shedding
Scratching their ears
Licking their paws
Flaky or itchy skin might seem benign, but if this leads to repeated scratching, your dog can develop a raw patch, which may result in infection.
What You Can Do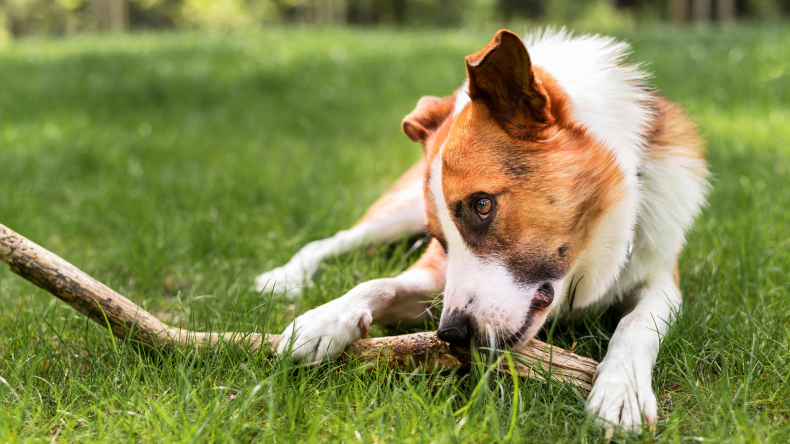 Animals typically get more allergic as they get older, most likely because their immune systems naturally get weaker with age. Unlike food allergies, there is no surefire method to prevent seasonal allergies for dogs. We can always avoid feeding them food that includes ingredients they might be allergic to, but we can't prevent seasonal allergies in the same way.
Pet owners may consider vet-formulated seasonal allergy treatments as a possible solution to seasonal allergy symptoms. Nutritional supplements from PetHonesty could help strengthen your dog's immune system and assist with relieving specific allergy symptoms when taken daily.
Detailed below are six allergy supplements that could help to strengthen dogs' immune systems all year long.
Dog Allergy Treatments to Combat Seasonal Allergies
Allergy Support Chews—$25.99
These salmon-flavored chews could be great for your dog, with over 760 five-star reviews. They are formulated with a range of natural ingredients selected to help support your dog's histamine response. Bolstered by this treat including turmeric, vitamin C, bovine colostrum, and other goodies, your dog could find relief this allergy season.
View the complete list of ingredients included in the Allergy Support Chews here.
Allergy Skinhealth Chews—$25.99
These Allergy SkinHealth Chews are specifically designed for dogs that are more prone to allergic skin issues. They contain powerful natural ingredients to help support your dog's histamine response when they might be exposed to environmental or seasonal allergens. Featuring beetroot, kelp, and flaxseed, this powerful combination could give your dog's immune system the support it needs when their allergies flare up.
View the complete list of ingredients included in the Allergy SkinHealth Chews here.
Allergy Support+ Chews—$39.99
What sets the Allergy Support+ Chews apart from other dog allergy supplements are its patented natural ingredients: WELLMUNE for Pets®, ALLTECH Nvgen®, and PreforPro®. Combined, these three ingredients could help address the underlying cause of seasonal allergies by strengthening dogs' gut health and enhancing a healthy inflammatory and histamine response. PetHonesty designed these soft chews as tasty treats for dogs of any age, especially for those struggling with seasonal allergies, allergy-related skin issues, and weaker immune systems.
View the complete list of ingredients included in the Allergy Support+ Chews here.
Advanced Allergy SkinHealth Chews—$34.99
These Advanced Allergy SkinHealth Chews are a more robust version of PetHonesty's Allergy SkinHealth Chews formula. They contain premium ingredients that help support the immune system, which is important because domesticated dogs that mostly live indoors can be more prone to developing allergic reactions. By consuming these chew daily, dogs' immune systems are equipped with pre-, pro-, and post-biotics for effective allergy support. Should symptoms appear, these soft chews may also soothe allergy-related skin issues and promote healthy skin.
View the complete list of ingredients included in the Advanced Allergy SkinHealth Chews here.
Wild Alaskan Salmon Oil—$29.99
Here's a delicious, liquid solution to help with itchiness, shedding, red skin, and stiff joints. The Wild Alaskan Salmon Oil contains levels of EPA, DHA, and total Omega-3s that could help promote a healthy coat, skin, and enhance your dog's joint flexibility. This could be particularly helpful for dogs who experience seasonal allergies because allergic reactions can often be damaging to their skin and coat health.
See more on PetHonesty's Wild Alaskan Salmon Oil here.
Allergy Itch Relief Shampoo—$24.99
PetHonesty also offers topical solutions for itchiness, to help relieve some of the irritation caused by seasonal allergens. The Allergy Itch Relief Shampoo is designed to help relieve suffering from wounds, skin infections, rashes, hot spots, and itchiness. It contains pet-safe aloe, which could help soothe your dog's skin. When applied, the shampoo also acts to reduce odor by lessening bacteria and fungus-related skin issues. PetHonesty suggests using four to six pumps of this veterinary-strength formula per washing to maximize effectiveness.
Check out the Allergy Itch Relief Shampoo here.
PetHonesty Subscription for Dogs with Seasonal Allergies
The allergy supplements listed above are offered at their regular, one-time purchase price. However, pet owners may save as much as 20 percent on each order through PetHonesty's subscription program. With a subscription to any of PetHonesty's dog allergy supplements, pet owners can enjoy great discounts and will no longer have to worry about forgetting to re-order a new stock. The product you choose could be automatically delivered on your preferred schedule, so your dog is always equipped with the nutrients, minerals, and vitamins they need to fight seasonal allergies.