Sponsored Article
This $9.99 Silk Eye Mask Has Over 10K 5-Star Reviews and Promises a Good Night's Sleep
Get ready for the best sleep of your life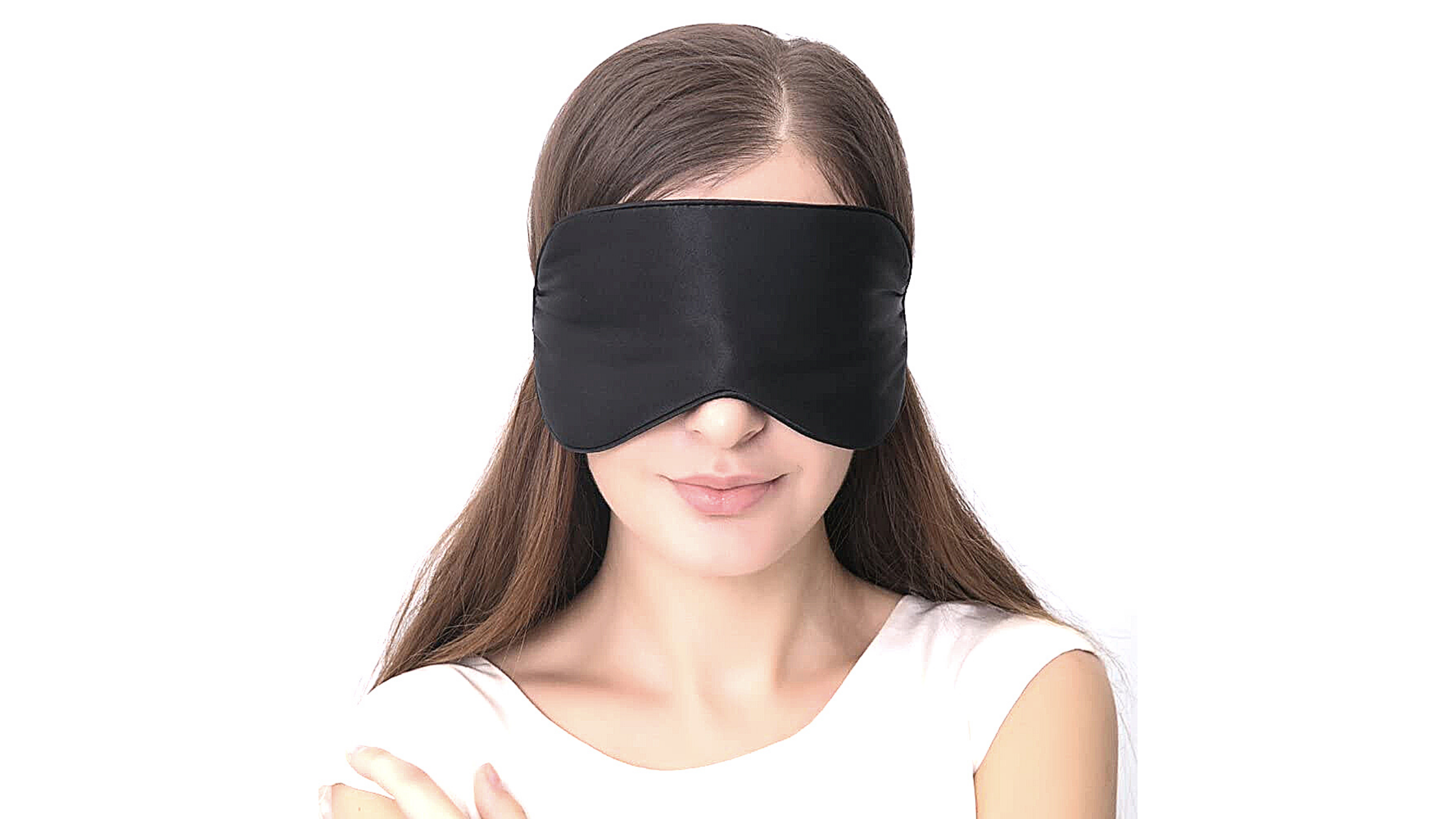 It's about time you get the quality sleep you deserve. According to the U.S. Centers for Disease Control and Prevention, one out of three American adults is not getting the recommended seven to eight hours of sleep each day.
This might be the last thing you'd think to turn to, but did you know that wearing a sleep mask could help you achieve a good night's sleep? A study on the effects of eye masks on nocturnal sleep published in the National Center for Biotechnology Information found that eye masks may improve sleep quality and help increase the amount of REM sleep, which promotes hormone balance and healthy sleep patterns.
A mask blocks out ambient light, which may play havoc on your body and prevent you from having a restorative sleep. As explained by the Division of Sleep Medicine at Harvard Medical School, light influences the body clock through light-sensitive cells in the retina of the eyes. They tell the brain whether it's daytime or nighttime, affecting sleep patterns. Exposure to light may delay our internal clock and make it difficult to sleep.
One of the best-rated sleep masks online right now is this $9.99 silk eye mask from Alaska Bear. It has over 10,000 reviews on Amazon, and users share that this sleep mask is effective in blocking out light, helping you get a good night's sleep. We've also looked at other best-selling masks on Amazon right now, so read on to learn more if you think sleep masks might help you get the good sleep you've been craving.
Alaska Bear Natural Silk Sleep Mask (24,752 Reviews)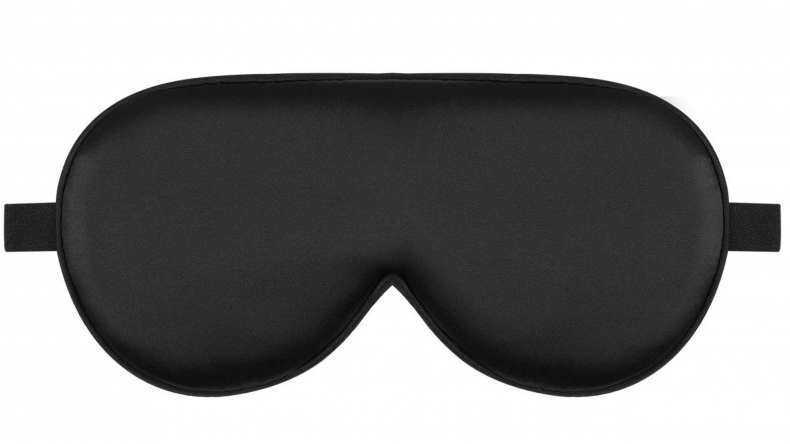 Crafted from 100 percent mulberry silk, this Alaska Bear Natural Silk Sleep Mask looks very stylish and sleek. It's comfortable to wear, too, with a light, breathable feeling that doesn't apply pressure even while it's over your eyes. Their light-blocking ability is excellent, according to reviews: It fits snugly and doesn't let any light in. It also has anti-aging features that protect the delicate skin around the eyes and help prevent any bedding imprints that can cause wrinkles.
You'll love the design of this mask, as its other users have. It's reversible, too. Fully adjustable and suitable for women, men, and children, the Alaska Bear Natural Silk Sleep Mask can be easily worn through a headband that glides smoothly and doesn't snag the hair. It's ideal even for side sleepers: Its buckle sits at the back of the head and not at the temples.
Using this mask, you'll be sleeping in total darkness, which paves the way for a more blissful night's sleep. Those who suffer from dry eyes can benefit, too, because of this mask's cool silk fibers, which allow healthy oxygen to flow and keep dry air and other particles out.
Alaska Bear provides high-quality products worldwide, such as silk sleep masks, silk pillowcases, silk nightcaps, silk liner gloves, fitted sheets, and duvet covers. All of their items are made from 100 percent natural mulberry silk.
Silk is often the fabric of choice for masks because of its smooth surface, which doesn't pull on the eyelashes or irritate the skin. Perfect for those with sensitive eyes and skin, Alaska Bear's Natural Silk Sleep Mask is hypoallergenic and is a great choice for those with skin conditions like eczema. You won't easily come by a stylish, comfortable mask at this $10 price.
Click here to order the Alaska Bear Natural Silk Sleep Mask.
Other Highly Reviewed Masks on Amazon
Here are other best-selling sleep masks on Amazon right now:
MZOO Sleep Eye Mask for Men and Women (36,278 Reviews)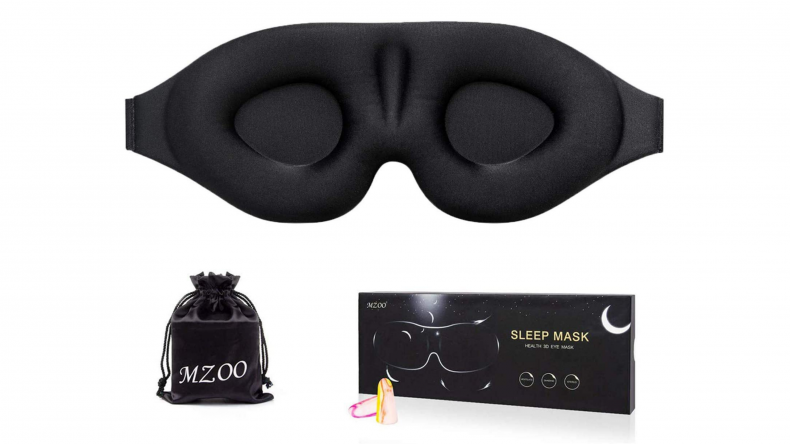 Another highly rated sleep mask is this MZOO Sleep Eye Mask for Men and Women. It has contoured eyecups that arch over the eyes to give it more space to rest and move. It may not be the prettiest design you'll see in a sleep mask, but it will be one of the most comfortable. Shaped like goggles, it has deep eyecups and a structured nose gap for a better fit for a wide variety of face shapes. It also blocks light effectively to help you drift your way to dreamland in no time.
Click here to order the MZOO Sleep Eye Mask for Men and Women.
Jersey Slumber 100% Silk Sleep Mask (16,506 Reviews)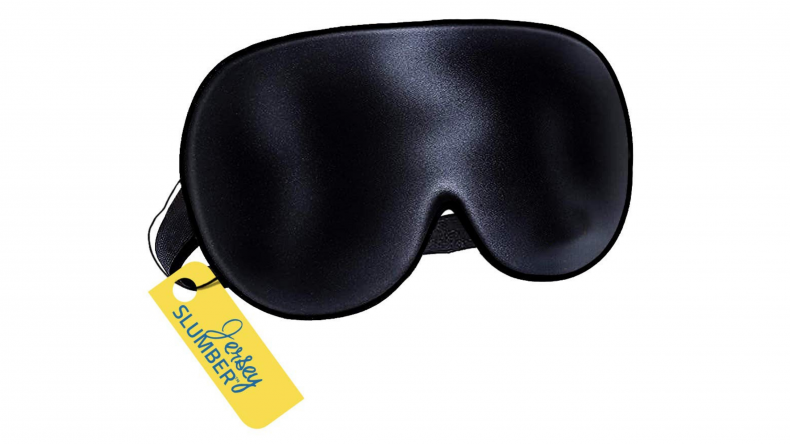 This Jersey Slumber 100% Silk Sleep Mask gets top marks for fit, comfort, style, and adjustability. It's impressively smooth to touch, and you can blink comfortably with it in any sleeping position. This relaxation mask also blocks light effectively and can fit most face shapes.
Click here to order the Jersey Slumber 100% Silk Sleep Mask.
Things to Consider When Buying a Sleep Mask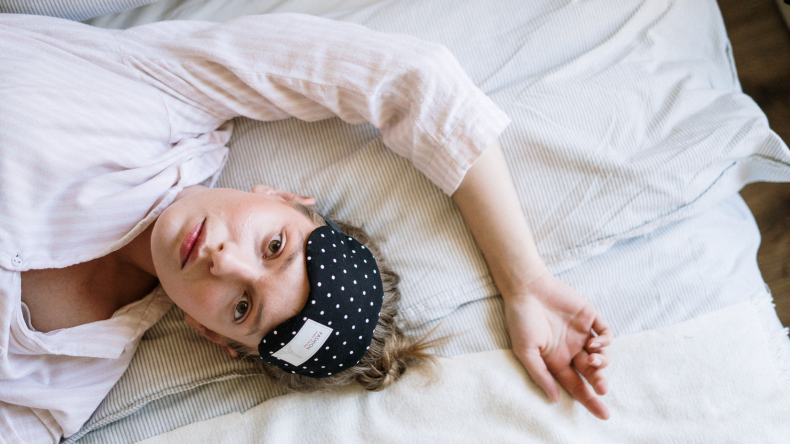 A sleep mask is designed to help you fall asleep, even when you're traveling or in a brightly lit room. However, with thousands of masks to choose from, finding the perfect one can be a challenge. Narrow the options down by knowing what to look for. Here are some of the things to consider when shopping for a sleep mask:
1. Material
Go for the material you are most comfortable with. Sleep masks are usually made from silk, cotton, polyester, or foam. Cotton is breathable and cool—perfect during the summer or for snoozing on the beach. Silk is soft and lightweight. It does not stretch well, though, so you have to make sure you get one with a good fit. Polyester is not as breathable as silk, but it's more durable and lightweight. And lastly masks made with foam, especially memory foam, can provide excellent comfort.
2. Fit
Find a mask with a good fit for the best sleep mask experience. Too tight and it can be uncomfortable, especially if the mask presses down on your eyes, while a mask that's too loose will let too much light in, defeating its purpose. For the best fit, choose a sleep mask with an adjustable strap.
3. Sleeping Position
When choosing a mask, you should also consider your sleeping position. Are you a side sleeper, back sleeper, or stomach sleeper? Side sleepers will want to avoid bulky designs that can feel uncomfortable when turning over. Back sleepers need a mask that will block the light from every angle, while stomach sleepers will be more comfortable with a thin design that prevents creases and imprints on the face.
Falling asleep can be a challenge for some people, especially with the stress sometimes brought about by work and the rush of daily life. Or sometimes, the room is just too bright and busy (for example, on planes) so you'll need a little help sneaking in a snooze. While a mask can't lighten your workload or shush the whole flight, it can help you fall asleep faster and get the quality of sleep you desire to face the day ahead.