Sponsored Article
This Deeply Hydrating, Lightweight Hand Cream is a Must-Have for Winter Hands
Say Goodbye To Dry, Winter Hands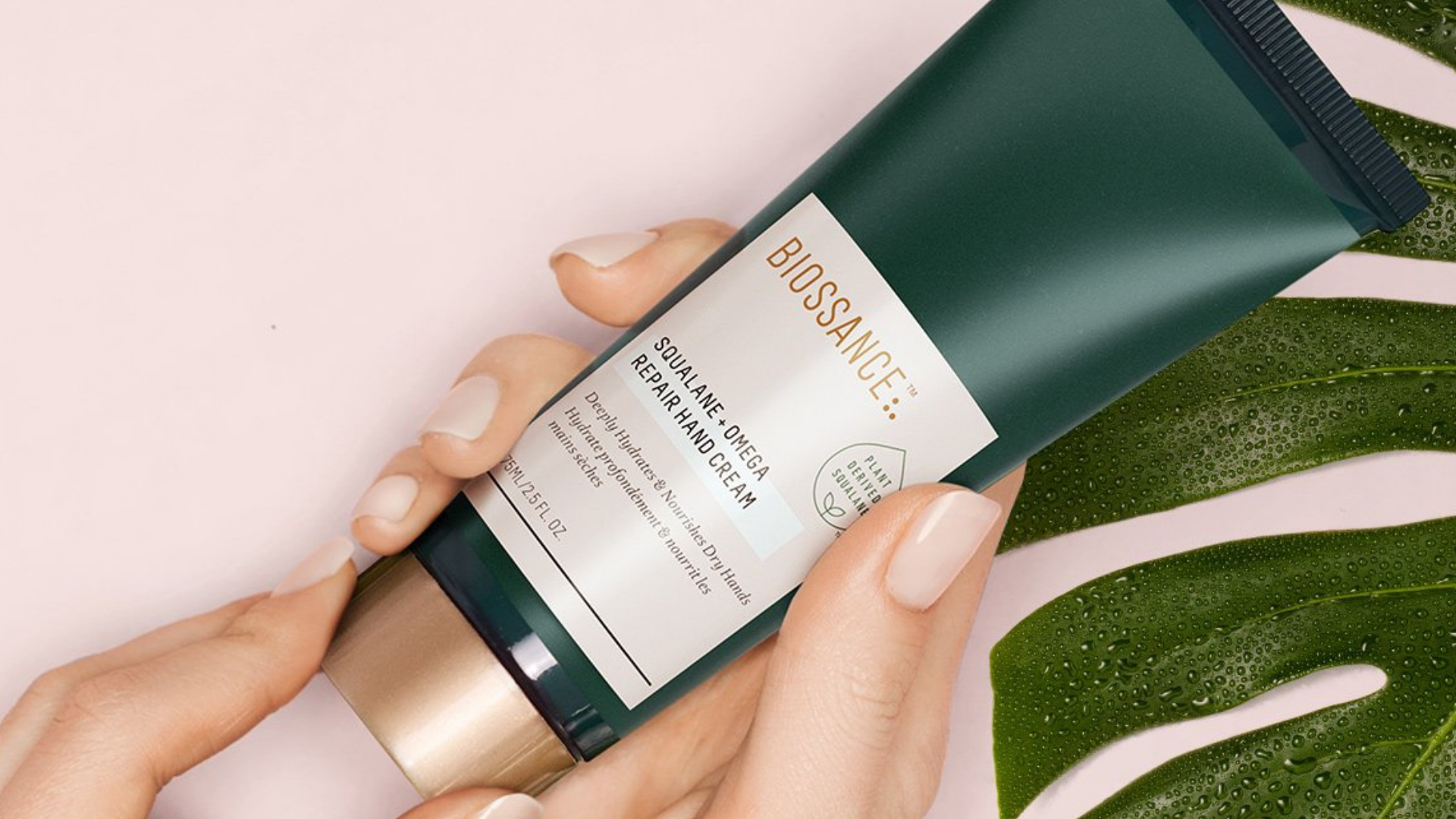 You may have noticed that no matter what season of the year it is, your hands can't seem to recuperate from being so dry. Day after day, your hands look as if they've seen better days, often itchy and peeling, some cracks even bleeding at times. You've probably tried out other hydrating creams and lotions but to no avail.
Why Do I Get Dry Hands?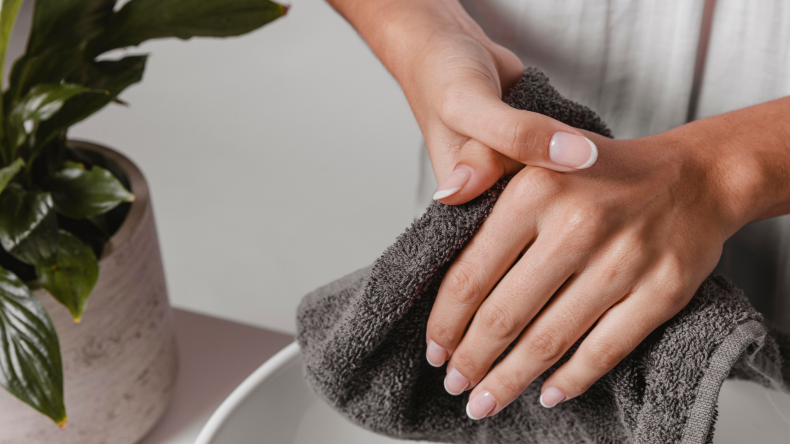 Dry hands are mostly caused by these factors: dry and cold weather, frequent handwashing, getting soaked in hot water, and exposure to chemicals.
Some professions require washing of hands more often than others, especially for those working in the healthcare industry. Frequent handwashing, as well as exposure to rubbing alcohol and hand sanitizer, leads to dry hands.
Dry skin is also especially common in the winter months because the water in your skin evaporates more quickly while the humidity level outside drops. Drinking lots of water at this time helps, along with applying moisturizing hand cream to protect your skin from drying out too much. Showering in hot water may be comfortable during winter, but this can also dry out the surface of your skin even more.
The good news is that you don't have to give up on finding the right hand cream just yet because we've found a deeply hydrating, lightweight hand cream that is about to heal your winter hands for good.
Squalane + Omega Repair Hand Cream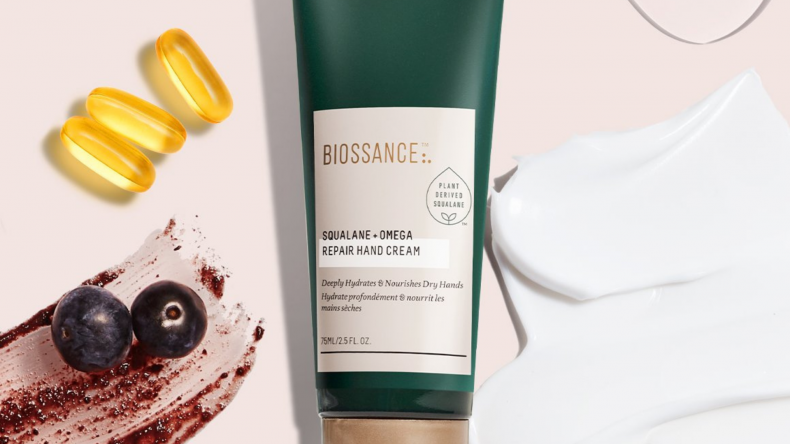 Some moisturizing hand creams are so saturated that they feel sticky instead of making your skin more comfortable. Squalane + Omega Repair Hand Cream from Biossance takes care of that because your skin can easily absorb its formula! After application, you won't feel anything else other than the immediate softness of your skin. Squalane + Omega Repair Hand Cream is so absorbent and lightweight because of its not-so-secret ingredient – squalane.
Squalane is a natural skincare ingredient that mimics the body's natural hydrating oils to provide an instant moisturizing effect. The skin quickly absorbs this groundbreaking skincare ingredient because it is similar to our body's naturally occurring oils – squalene with an "E". However, squalene production in the body varies from person to person, and as we age, squalene production likewise declines.
The production of squalene (with an "E"), the body's naturally occurring oils, may not keep up with the intense effects of daily handwashing and hand sanitizing frequencies, especially during these times. In these cases, Squalane + Omega Repair Hand Cream does wonders and helps you maintain soft, smooth hands all day without giving you that unbearable sticky or greasy feeling.
When Squalane + Omega Repair Hand Cream is applied, it is easily absorbed into the skin because your body recognizes squalane as naturally as it would recognize squalene (with an "E"). As a result, you get an ultra-hydrating moisturizer that doesn't feel sticky on the surface of your hands! If hot showers cannot be avoided, you can apply Squalane + Omega Repair Hand Cream immediately after showering to reduce the possibilities of skin inflammation and give your skin the moisturizing ingredients it needs to balance hydration.
Biossance's Squalane + Omega Repair Hand Cream works wonders for dry hands because it combines squalane, omega fatty acids, and vitamin E as a single ultra-moisturizing formula. Vitamin E oil alone is already an excellent moisturizer for dry, patchy skin. However, vitamin E oil can also be so thick that the skin finds it challenging to absorb. When mixed with squalane, any absorbance issues are resolved as squalane allows all these moisturizing ingredients to seep into your hands flawlessly.
Like Vitamin E, the omega fatty acids used in this hydrating hand cream also prove essential in healing dry hands for good. Omegas - 3, 6, and 9 – all included in the Biossance Squalane + Omega Repair Hand Cream – work to soothe irritation from dry hands and dermatitis. Omega fatty acids can do this by regulating the skin's oil production so that your skin can produce the oil that it needs to stay soft and smooth no matter the season.
A combination of vitamin E, omega fatty acids, and squalane might seem like an excessive formula for dry skin, which might have some people worrying about having extra oily palms. Squalane, however, ensures that this never happens. Because squalane is similar to the body's naturally occurring oil squalene (with an "E"), it can also identify whether your skin needs more or less oil. Because squalane is paired with the oil-regulating abilities of omega fatty acids, you always get just the right amount of hydration that your hand needs – never more, never less.
Our Number One Choice For Dry Hands Repair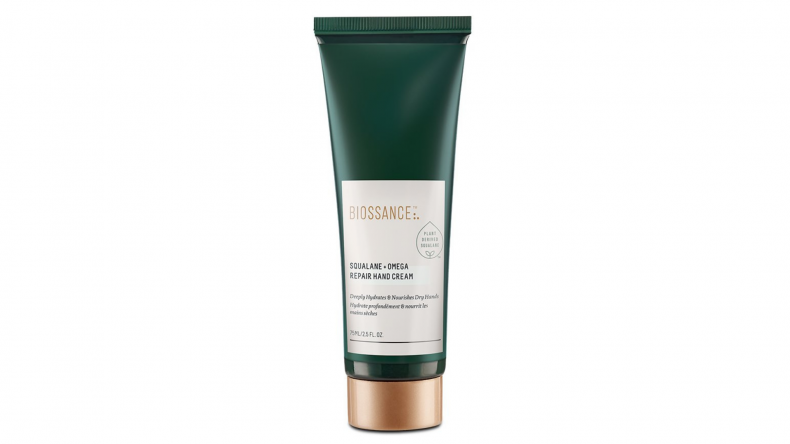 After checking out the ingredients used to make Biossance's Squalane + Omega Repair Hand Cream, we can honestly say it can't get better than this.
Biossance exclusively offers Squalane + Omega Repair Hand Cream for only $16 right here. Apply this moisturizing hand cream liberally without worrying about stickiness. Any time you need a hand moisturizing booster throughout the day - or even for your overnight, restorative treatment - the Biossance Squalane + Omega Repair Hand Cream has got you covered.