Sponsored Article
This Diet Lets You Eat Bacon
You Don't Have To Give Up Joy To Go On A Diet. This Is A Bacon-Positive Diet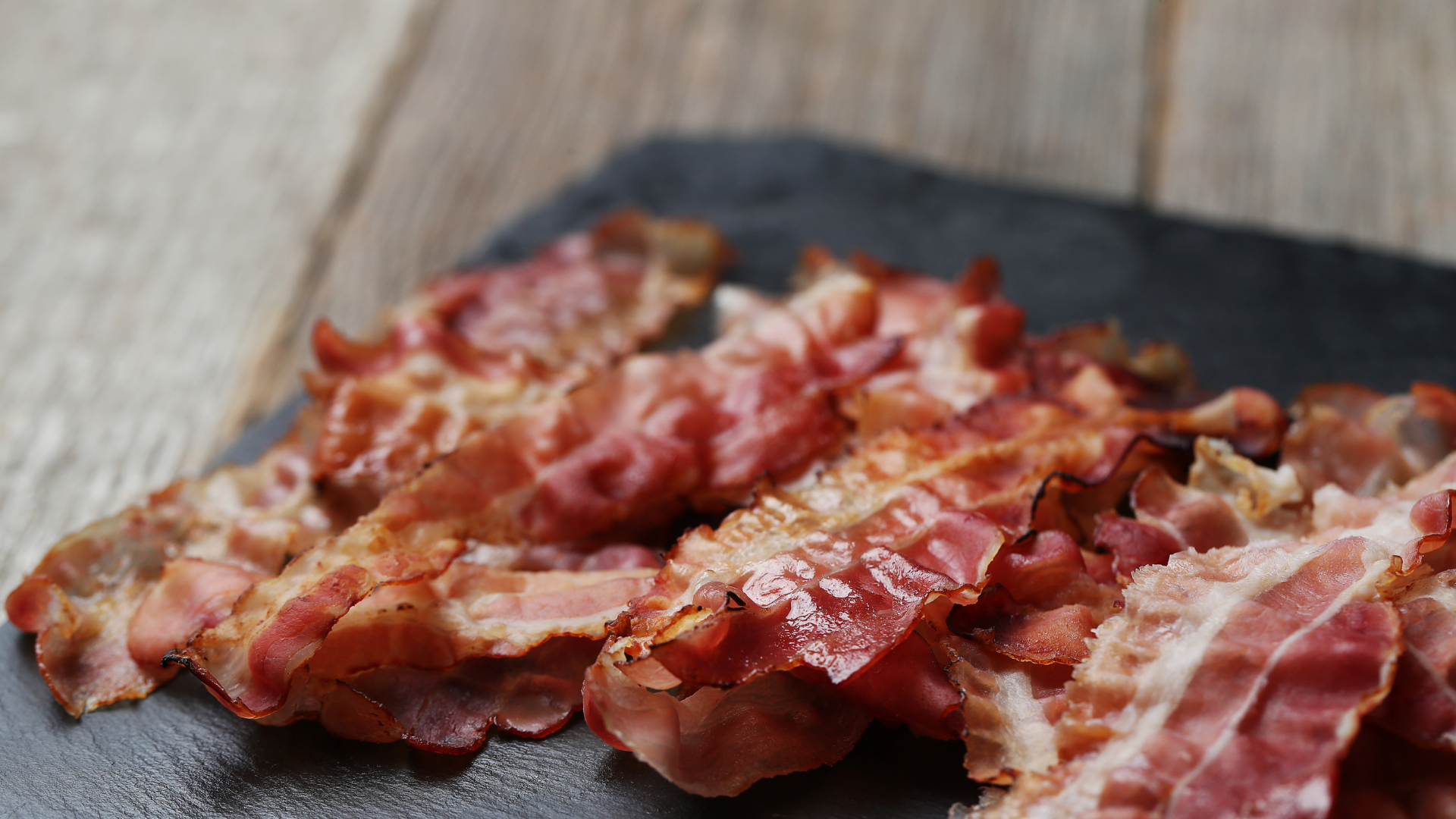 It's important to consult your doctors with any medical concerns, and before making any changes or adding supplements to your health plan.
The rumors are true: You can eat bacon on a keto diet!
One of the reasons it gets challenging to stick to a diet plan as the days go by is because the program is unrealistic for a long-term commitment. Everybody craves, slips, and indulges on a cheat day now and then. Some diets make you feel ashamed whenever food temptations win you over, but this does not have to be the case. You CAN be on a healthy weight loss plan while still eating the food you love.
KetoCycle, your very own source for a personalized Keto diet plan, encourages healthy eating on your journey to healthy body weight.
That includes bacon. This is a bacon-positive diet.
Keto Diet 101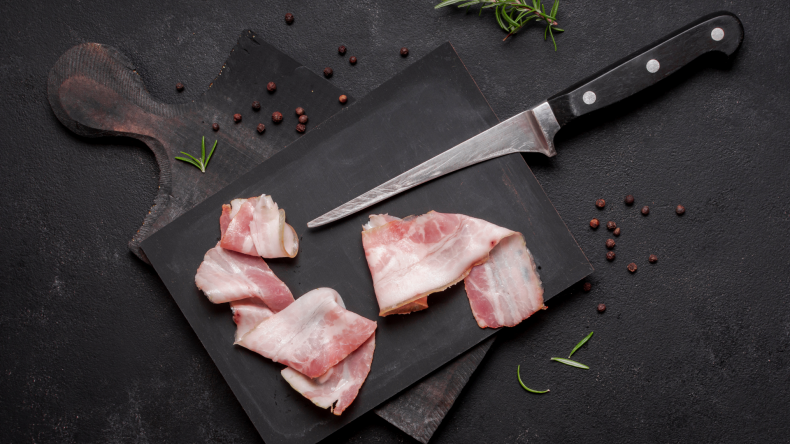 A keto diet is a low-carb, high-fat diet that aims to shift the body's metabolism away from carbs and towards fat and ketones. Instead of relying on sugar that comes from carbohydrates, a keto diet trains your digestive system to rely on ketone bodies, a type of fuel that the liver produces from stored fat. The very change of reliance from carbs to ketone bodies puts your body into a metabolic state called ketosis.
Ketosis is a process that happens inside your body when it does not have enough carbohydrates to use up as an energy source. From that state, your body starts to look for another source of energy, another source of fuel to burn. Since you are consuming food that is high in fats, the fats will then get burned for fuel or energy, also called ketones. When this happens, your body becomes incredibly efficient at burning fat for energy.
Unlike other diets that may make you feel sluggish because you are not eating enough just so that you can lose weight, a keto diet allows you to thrive with maximum energy throughout the day while you shed off extra pounds.
The Right Keto Diet For You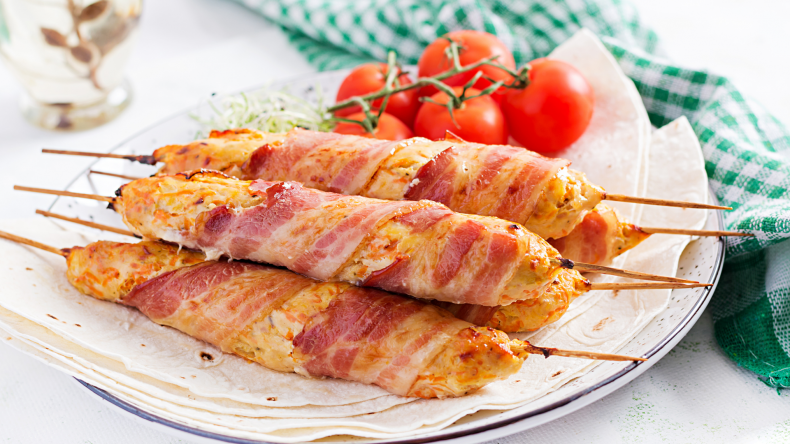 Each body type requires a different weight management regime. Like exercises, diet plans also depend on individual lifestyle factors and the kind of body type you have. So how do you know if a keto diet plan is right for you?
It is more realistic to give up high-carb foods than high-fat ones for most people, which makes a keto diet the right weight loss program for those of us concerned about our waistlines. A keto diet doesn't ask you to give up bacon, as it usually contains low carbohydrate content. KetoCycle plans all your meals for you just the way you NEED it and PREFER it, which means that you can expect an interval of bacon and other high-fat meals each day.
All-Time Favorite Keto Bacon Meal Plans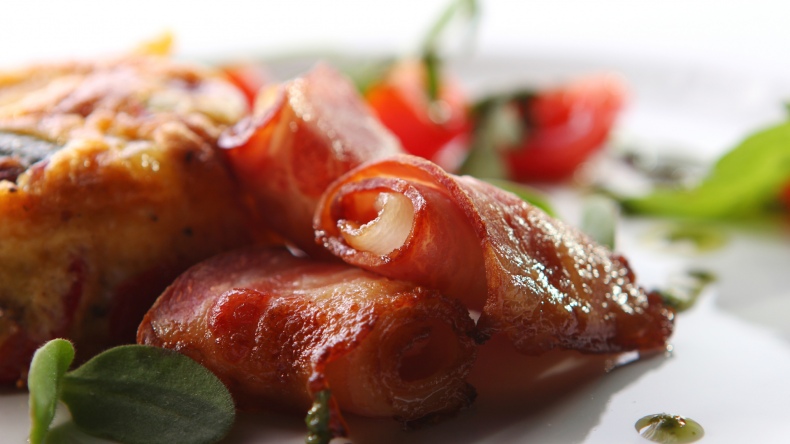 Classic Bacon And Egg
Ingredients:
8 eggs
9 oz. bacon slices
Cherry tomatoes (options)
Thyme (optional)
Instructions:
1. Fry the bacon in a pan on medium-high heat until crispy. Put aside on a plate. Leave the rendered fat in the pan.
2. Use the same pan to fry the eggs. Place it over medium heat and crack your eggs into the bacon grease.
3. Cook the eggs any way you like them (sunny side up, hard-boiled, scrambled). Cut the cherry tomatoes in half and fry them at the same time.
4. Once done, top eggs and bacon with thyme.
Bacon And Egg Fat Bombs
Ingredients:
2 large eggs
¼ cup butter or ghee softened at room temperature
2 tbsp paleo mayonnaise
Freshly ground black pepper
¼ tsp sea salt (or to taste)
4 large slices of bacon (120 g)
Instructions:
1. Preheat the oven to 190 °C/ 375 °F (fan assisted), or 210 °C/ 410 °F (conventional). Line a baking tray with baking paper. Lay the bacon strips out flat on the baking paper, leaving space so they don't overlap. Place the tray in the oven and cook for about 10-15 minutes until golden brown. When done, remove from the oven and set aside to cool down.
2. Boil the eggs and add a good pinch of salt to prevent the eggs from cracking. When done, remove from the heat and place in a bowl filled with cold water. Peel off the shells once chilled.
3. Cut the butter into small pieces and add the peeled and quartered eggs. Mash with a fork.
4. Add the mayonnaise, season with salt and pepper, and mix well. Pour in the bacon grease and combine well. Place in the fridge for 20-30 minutes or until it's solid and easy to form fat bombs.
5. Crumble the bacon into small pieces and prepare for "breading." Remove the egg mixture from the fridge and start shaping them into balls. Roll each ball in the bacon crumbles.
6. Enjoy!
Chicken Bacon Ranch Casserole
Ingredients:
2 lb Cubed chicken breast or shredded chicken
8 slices bacon (cooked until crispy)
3 Minced garlic cloves
¾ cup Ranch dressing
4 cups fresh broccoli or cauliflower
1 cup shredded mozzarella cheese
1 cup shredded cheddar cheese
Instructions:
1. Preheat the oven to 375 degrees F (191 degrees C).
2. Place the broccoli into a pot of water and bring to a boil. Simmer for 1-2 minutes until bright green.
3. Combine the chicken, bacon, drained broccoli, ranch dressing, and half of the shredded cheeses in a large bowl. Stir until well blended, then transfer to a casserole dish.
4. Top with remaining shredded mozzarella and cheddar cheeses.
5. Bake for about 15 minutes, until hot and bubbly.
Your Very Own Personalized Keto Diet Plan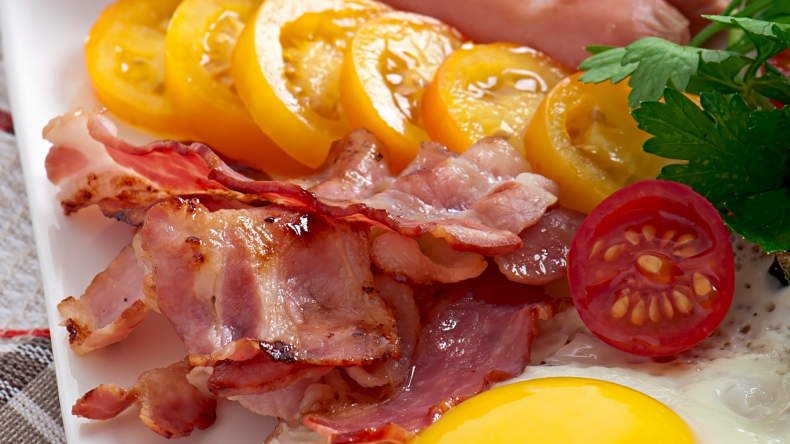 A keto diet is one of the most realistic, long-term weight management diet plans that are genuinely effective. The diet does not require you to starve yourself or stop eating the food you love (bacon). Instead, a personalized keto diet plan works with your preferences to make sure that you still get the energy you need for the day while you lose excess weight.
Preparing meals that work for your lifestyle and nutrition requirements can be easy, more so with KetoCycle. Just fill up a couple of fitness and lifestyle questions real quick so nutrition experts can cook up the perfect meals and ingredients for your keto journey.