Sponsored Article
This Gadget Kills 99.9% of Viruses and Bacteria* - Get 20% off on Black Friday
This device is ideal for cars, desks, airplane seats, and other personal spaces that accumulate bacteria quickly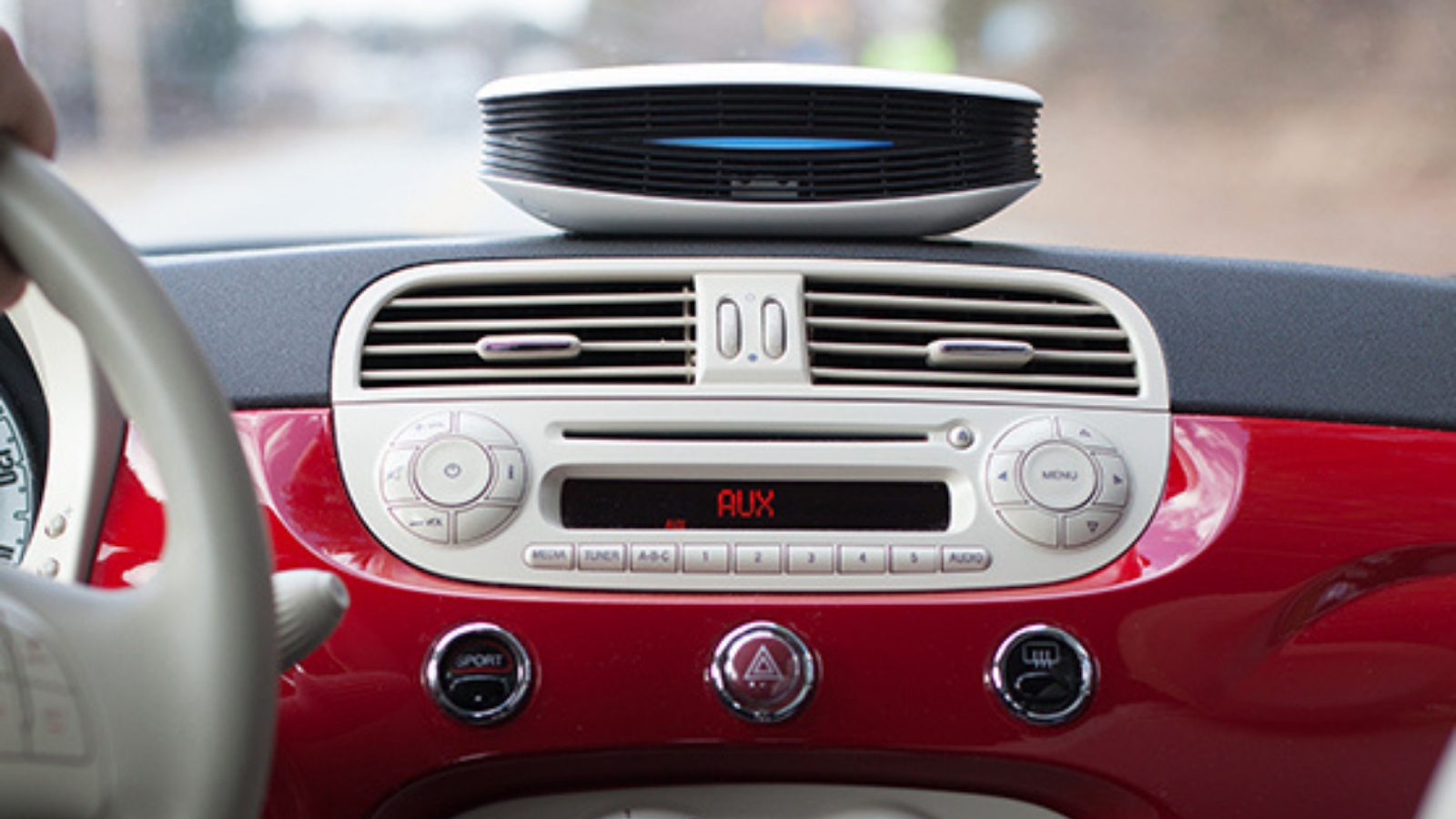 Just how dirty is the inside of your car?
There are approximately 700 different kinds of bacteria living in an average car. Each nook and cranny is a haven for dust mites, mold, and germs. The worst part is that all the germs and bacteria don't stay in your car – they get on your hands too. Whenever you touch the console buttons, the gear shift, the wheels, or any other part of the car, germs and bacteria hitch a ride on your hands, potentially transferring to the areas where you touch your face and developing into something that can affect your health.
Sure, you could sanitize your hands at every opportunity - and you probably should - but what if you could remove these microbes before they have a chance to get on the hands and faces of your loved ones?
The Purashield Mini + UV Light is a portable device that keeps you safe from 99.9% of target viruses and bacteria. This device is ideal for cars, desks, airplane seats, and other personal spaces that accumulate bacteria quickly. Read on for a Black Friday sale offer that you don't want to miss.
What is the Purashield Mini + UV Light?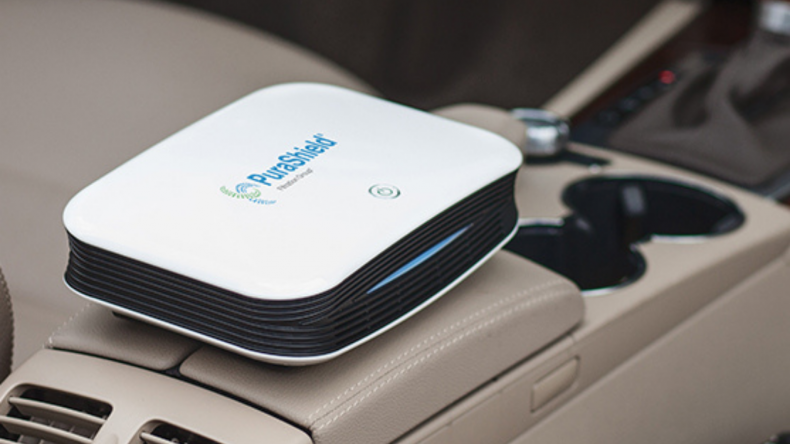 If you've been looking for a portable device that protects against viruses and bacteria wherever you go, then look no further. The Purashield Mini + UV Light is a special gadget specifically designed to protect you from targeted viruses and bacteria, be it in the car, on a plane, or in your home.
This gadget, offered by Air Filters Delivered, is laboratory tested and proven to reduce aerosols carrying 99.9% of MS2 microbials*. MS2 microbials are single-stranded RNA viruses that can cause sickness and disease.
The Purashield Mini + UV Light is an air scrubber. This device uses a disposable 4-layer filter patented by PuraWard technology - an embedded micro-technology (EPA registered antimicrobial additive) - that combats bacteria and viruses✝. If you are inside your car or in a closed space such as the cabin of a plane or in the bedroom, viruses cling to air and moisture particles around you. This means that every breath carries a risk that airborne viruses can be inhaled. However, with Purashield Mini + UV Light, airborne viruses and bacteria don't have a chance of getting into your system.
What makes the Purashield Mini + UV Light effective?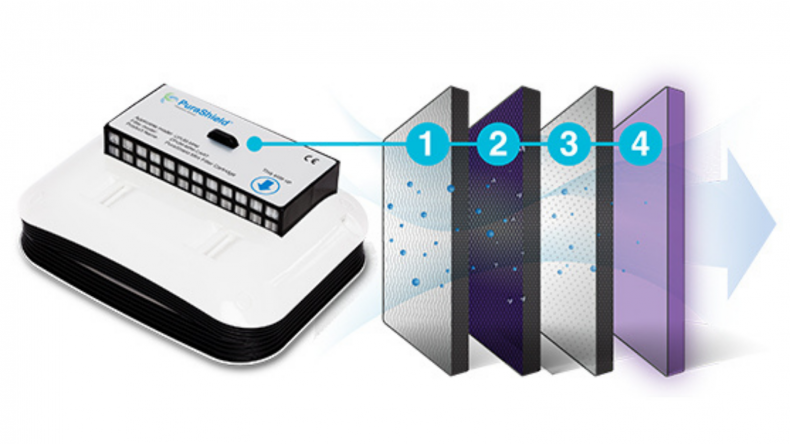 The Purashield Mini + UV Light combines the power of UV light and its patented molecular filtration layers to remove airborne viruses and bacteria✝. The secret lies in Purashield's multi-stage filtration:
Purashield Mini + UV Light multi-stage filtration
1. Pre-filter
Traps dust, pollen, and other large particulate matter.
2. Molecular Filtration
Developed and manufactured in the US, this patented molecular filtration media removes aerosols carrying viruses from the air, safely oxidizing the molecules, while removing toxic and harmful gases✝.
3. PuraWard HEPA Filter
The PuraWard HEPA filter is designed to protect from many viruses, bacteria, and mold by using copper and silver ions. PuraWard filter has been tested to remove microbes such as H1N1 influenza A, MS2 microbials, and staph albus, all showing effectiveness rates of 99.9% or more✝.
4. UV
Ultraviolet light is known for its destroying the molecular bonds that hold together the DNA of viruses and bacteria without using toxic chemicals. UV lights have been used as cleaning tools in hospitals and clinics for years, so this fourth filtration stage ensures that any viruses or bacteria that might escape the Purashield Mini's 4-layer filter don't stand a chance✝.
The Purashield Mini + UV Light also comes with multiple certifications to support its efficacy. This portable device is certified by China Compulsory Certification (CCC) and CE Certification (European Union's mandatory goods accreditation).
How do I use the Purashield Mini + UV Light?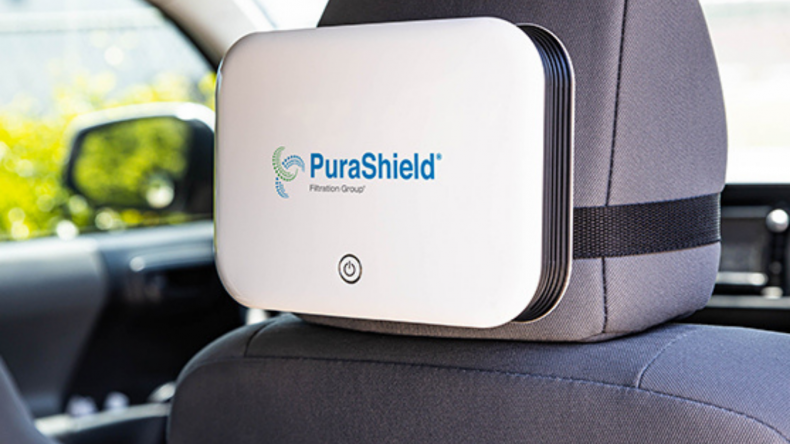 Each purchase includes a disposable 4-in-1 filter, a non-slip mat, a seat strap, and a 12V USB power cord with maximum energy use of 3.9 watts.
Upon purchase, the Purashield Mini + UV Light is already assembled. Determine where you want to place the device. If in the car, the device can rest on top of any surface since it is only 7.9 inches long and 5.6 inches thick. It is exceptionally light, so it will stay secure on its own non-slip mat. Others place the Purashield Mini behind the headrest by using the seat strap included in the package.
Once secured in its location, the Purashield Mini + UV Light may be switched on with the button on top of the device. When switched on, the 4-in-1 filter and the UV light quickly and effectively remove surrounding aerosols that carry harmful viruses, bacteria, mold, and smoke from the air✝.
The Purashield Mini Replacement Filter may also be purchased when it needs to be replaced.
Air Filters Delivered - Black Friday Sale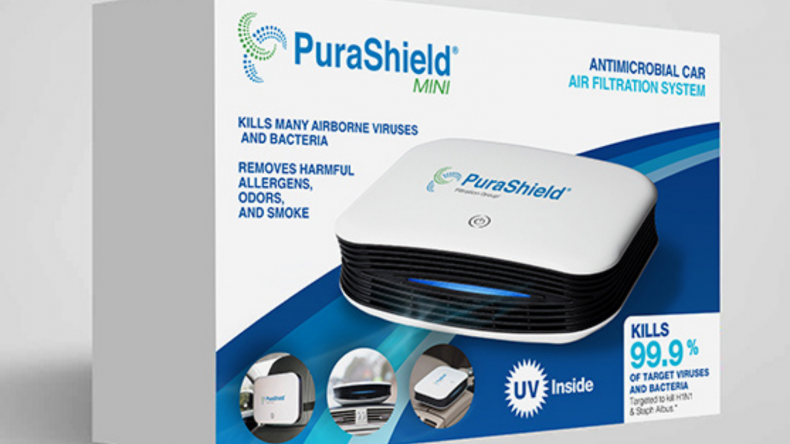 Nothing beats getting a high-quality purchase at a discounted rate. This coming Black Friday, Air Filters Delivered has a surprise for you!
From November 27 until December 1, enjoy 20% off all Purashield machines, including the Purashield Mini + UV Light, ordinarily at $119.99. In this Black Friday sale, get your very own Purashield Mini machine for only $95.99 – inclusive of disposable 4-in-1 filter, non-slip mat, seat strap, and a 12V USB power cord.
The magic word (coupon code) you need to apply at checkout: CYBER20.
Stay protected from 99.9% of airborne viruses and bacteria✝. Use CYBER20 upon purchase of your very own Purashield Mini + UV Light.
*Laboratory testing demonstrated 99.99% reduction of aerosols carrying MS2. Copies of the full test reports are available upon request
✝ Filter protected by an EPA-registered antimicrobial additive.
§ Patent number US 9,370,763 B2