Sponsored Article
Top 13 Hugo Boss Gifts for Her This Valentine's Day
Hugo Boss has all the chicest choices for your Valentine, we picked 13 products sure to wow her on the 14th!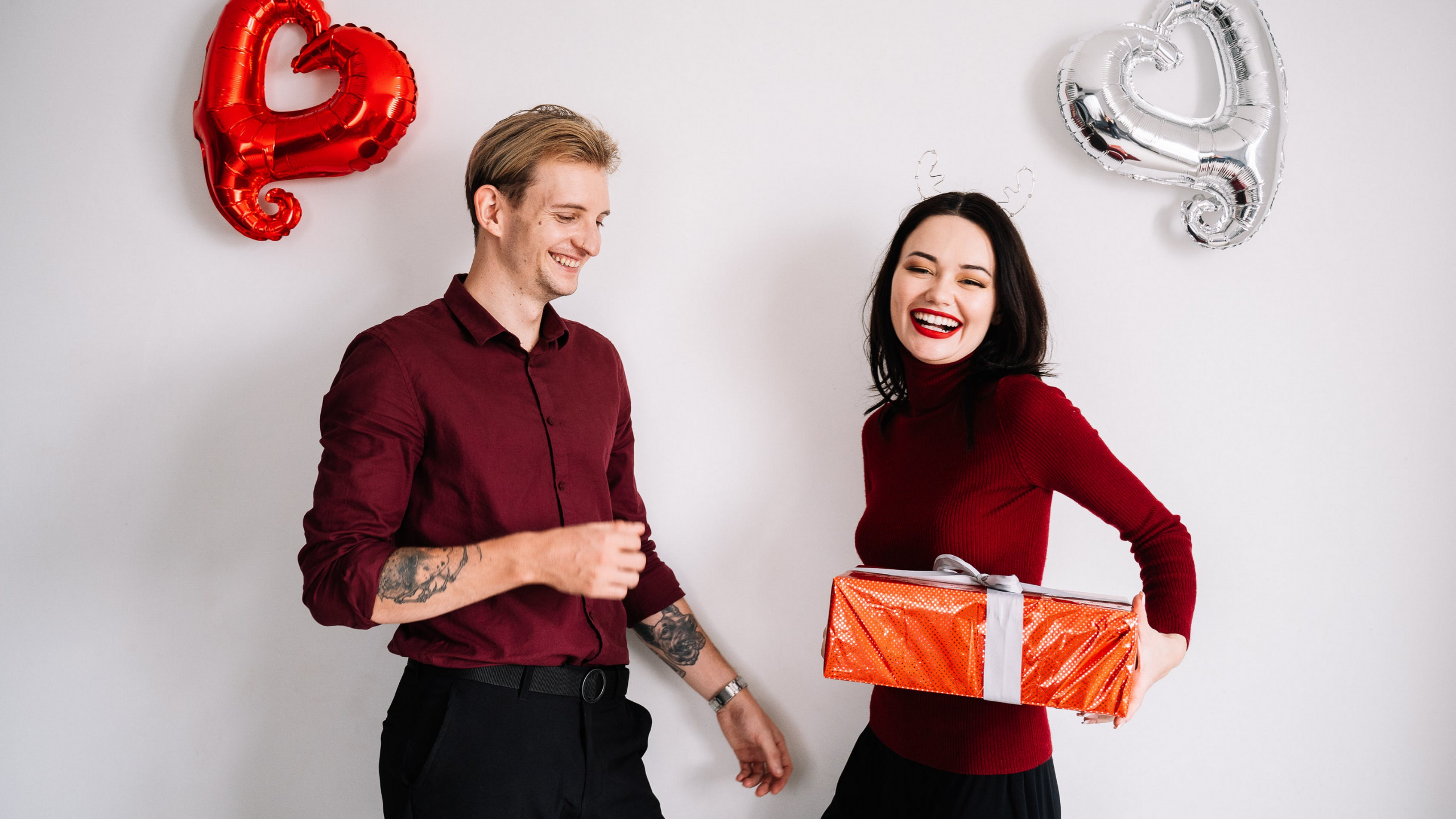 Valentine's Day is probably going to look a little bit different this year. Maybe you'll opt for a socially distanced picnic in the park instead of a table at a packed restaurant. Or curl up on the couch watching French films instead of a weekend away in Paris. But no matter what, you have to wow your significant other with a gift that shows how much you care.
Are you at a loss on what to get for the one you love? Flowers and chocolates are clichés at best. After such a crazy couple of months, you have to upgrade your gifts above basic. Lucky for you, Hugo Boss has all the chicest choices for your Valentine. Click here to see everything they have online, or keep scrolling to see our picks of 13 products that will wow her on the 14th:
1. Swarovski® Crystal-Encrusted Watch With Silver Finish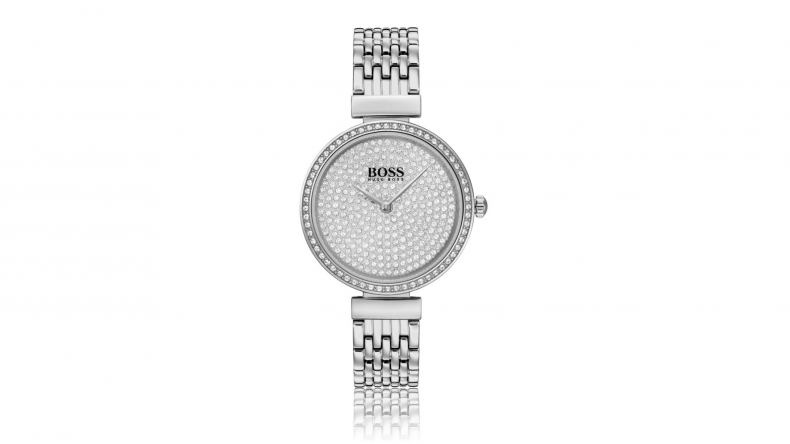 Show her that all the time you spend together is a gift with this beautifully crafted watch by BOSS, designed in polished stainless steel with a silver-tone finish and a coordinating link bracelet. Add glamour to your everyday look or perfectly accessorize your evening ensemble with this chic timepiece. It features a round dial and bezel encrusted with Swarovski® crystals in concentric circles for luxurious sparkle.
Click here to buy for $295.00
2. Pointed-Toe Ankle Boots in Italian Calf Leather, Black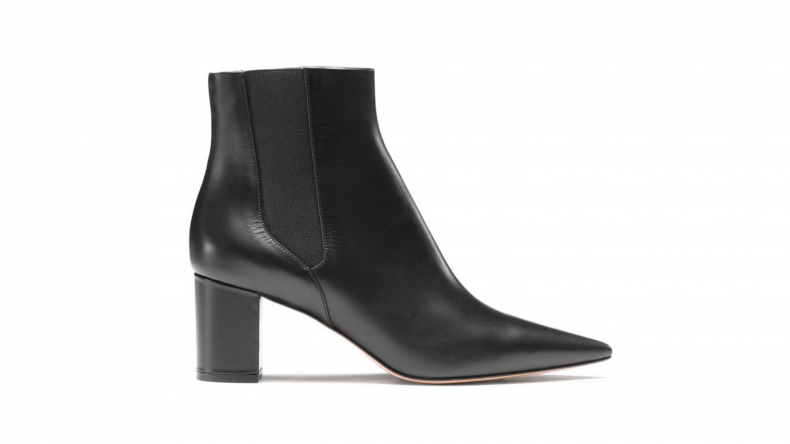 Black ankle boots have been a staple of any stylish women's closet forever, but that doesn't mean they don't deserve an upgrade. This pair is crafted of the softest Italian calf leather with a smooth grain and has stretch-fabric insets at the sides to make these boots effortless to pull on and off. This sleek look is finished with a sharp pointed toe and chunky 60mm leather-covered heel.
Click here to buy for $398.00
3. One-Shoulder Relaxed-Fit Jumpsuit in Satin-Back Crepe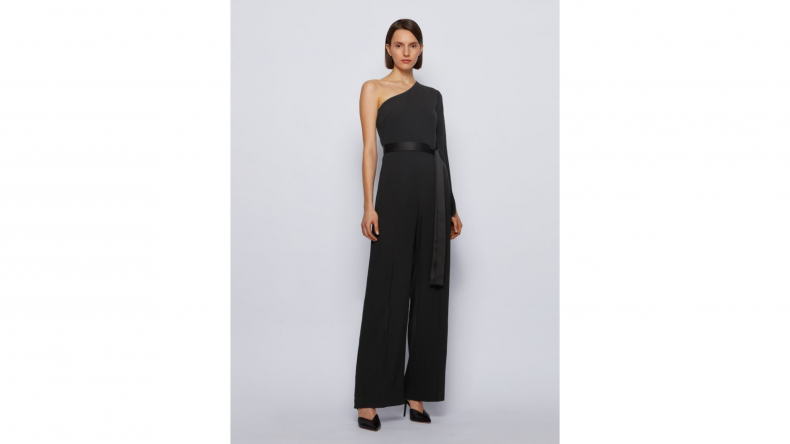 The gifts you get her are a reflection of how you see her, right? Getting her an outfit like this is like saying you see her as a Bond Girl. This elegantly styled jumpsuit is designed with a wide leg and relaxed fit. The one-shoulder gives you a peek of skin while the sleeve features a cool high slit. It is crafted in Italian satin-back crepe with a matte surface and finished with a satin belt that defines the waist for an effortlessly feminine silhouette.
Click here to buy for $645.00
4. Regular-Fit Biker Jacket in Lambskin With Stand Collar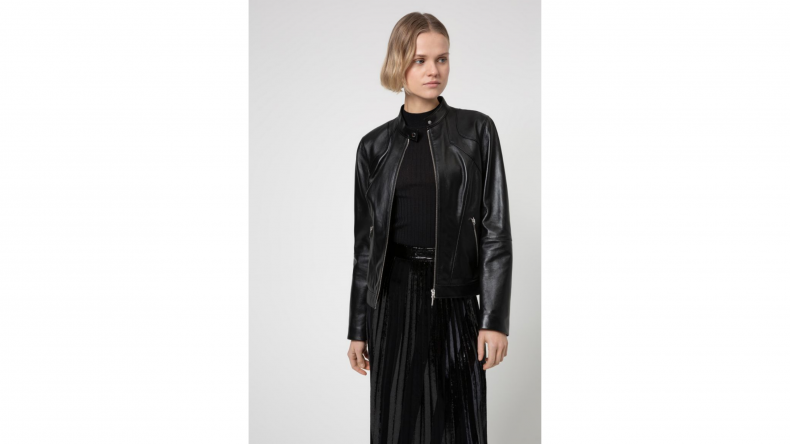 First step: buy her a leather jacket, so she looks like a chic biker. Second step: buy a motorcycle and take off on an epic road trip with your favorite girl. Okay, we can just stick to the first step for now with this sleek jacket crafted in buttery soft lambskin. Created with a regular fit that nips in flatteringly at the waist, this biker-style jacket features a snap-close stand collar, a two-way zip through the center front, and side pockets with exposed zips. The jacket is fully lined and has cotton pocketing for finishing and comfort.
Click here to buy for $595.00
5. Chunky-Knit Sweater With Shoulder Zips in Organic Cotton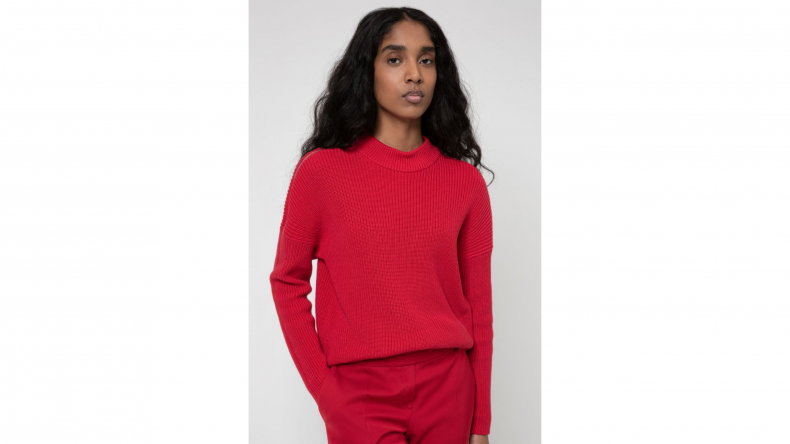 If red is the color of love, then a red chunky knit is the sweater of love. This one is created in 100% certified organic cotton for a reduced impact on the environment, so your environmentally conscious love can still feel good about it. The dropped shoulders are trimmed with functional zips for a little bit of attitude.
Click here to buy for $248.00
6. Oversized-Fit Hoodie in French Terry With Logo Detailing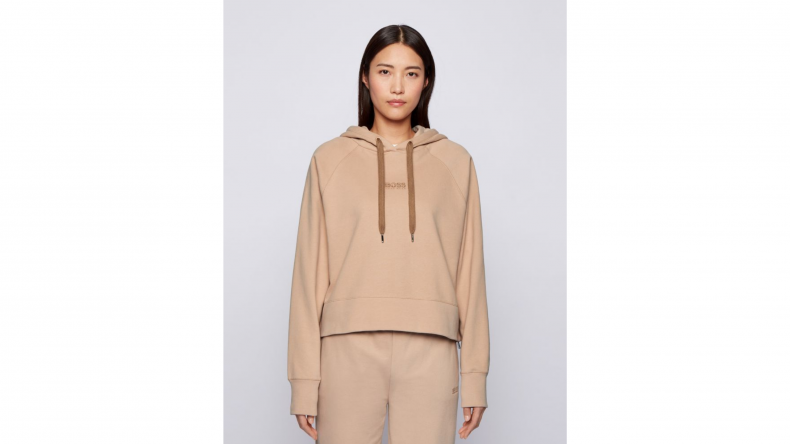 Her old college sweatshirt has gotten a lot of love these past few months. But as we start to venture out into public a bit more, give her the gift of cool sweats. That's right, you can make your sweatpants look cool and stylish, especially with this casual hoodie by BOSS Womenswear, offered in an oversize fit for laid-back style. This cozy sweatshirt is crafted in cotton-rich French terry, finished with a garment wash for a super-soft feel. It is available in light brown (pictured), white, silver, and black, all with Boss branding at the center chest.
Click hereto buy for $198.00
7. Cotton-Blend Tracksuit Bottoms With Logo Print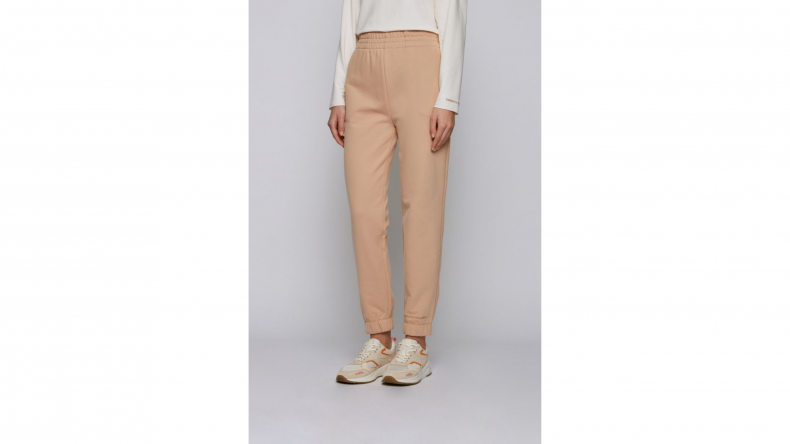 Complete her athleisure look with coordinating sporty tracksuit bottoms by BOSS Womenswear, cut to a regular fit for casual styling. If you picked up the sweatshirt above, she definitely needs these matching cuffed sweatpants for a cool monochrome look. They are crafted in French terry that's rich in organic cotton for a super-soft and cozy feel.
Click here to buy for $158.00
8. BOSS Alive Eau de Parfum 50ml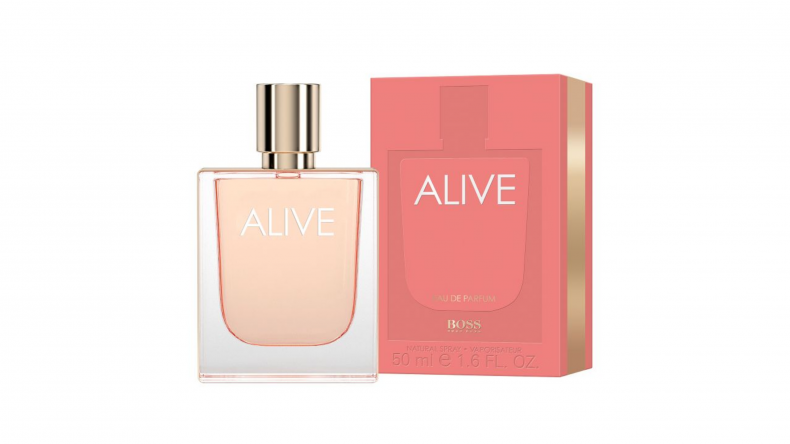 Give your beautiful flower a gift that smells as good as she does: a 50ml bottle of BOSS Alive Eau de Parfum. This scent is described as "contemporary and empowering; BOSS Alive is an invitation to live life to its fullest, featuring notes of plum, vanilla, jasmine, and apple."
Click here to buy for $98.00
9. Square Scarf in Pure Silk With Collection Print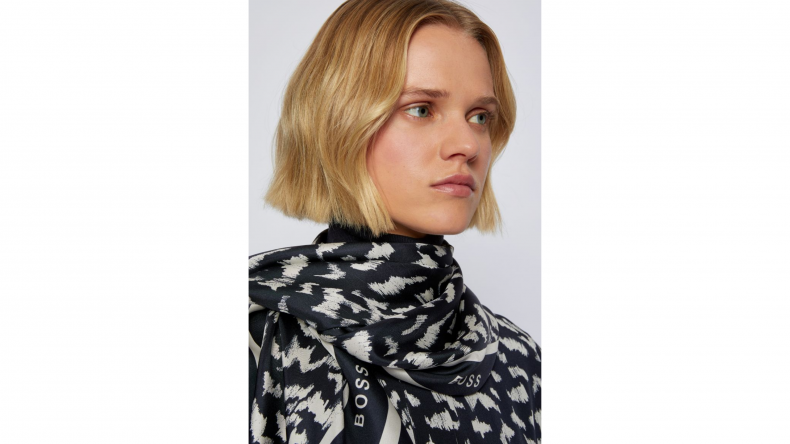 This chic BOSS scarf is made from pure silk and has a fluid feel.
Its square shape measures 120 x 120 cm and is the ideal contemporary accessory gift for her. Underline her feminine style by gifting her this versatile scarf with a high-impact motif print and repeat logos at the border.
Click here to buy on sale for $278 $111.
10. Dark-Havana Sunglasses in Acetate With Hardware Detail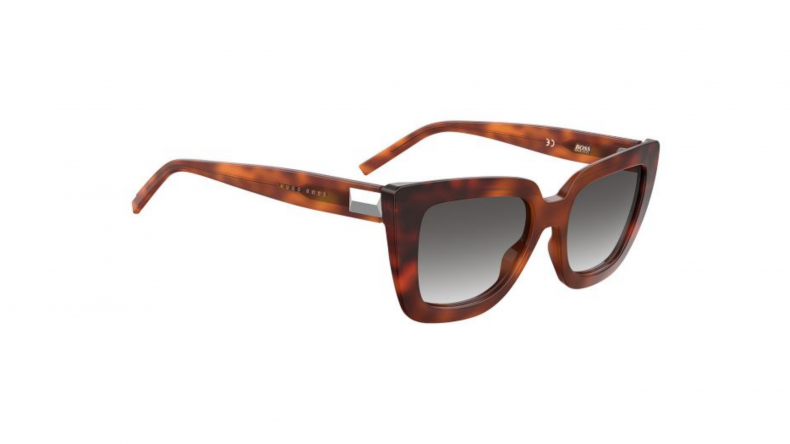 Marilyn Monroe would surely don these statement sunglasses with gradient lenses, by BOSS. Designed in dark-Havana acetate, she will thank you for gifting her these iconic shades to complete her stylishly feminine look.
Click hereto buy for $200.00
11. Tie-up belt in leather with feature buckle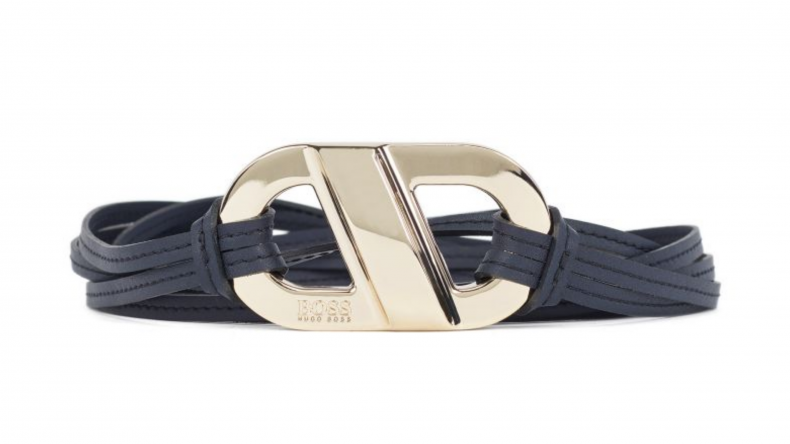 Made from 100% cow leather, this contemporary, dark blue BOSS belt is designed with twin strands and secures around the waist with a simple knot. Its gold-effect buckle comes in a statement shape and has subtle logo detailing. The ideal accessory to add definition to a dress.
Click here to buy for $198.00
12. Cap-Sleeve Dress in Stretch Jersey With Houndstooth Pattern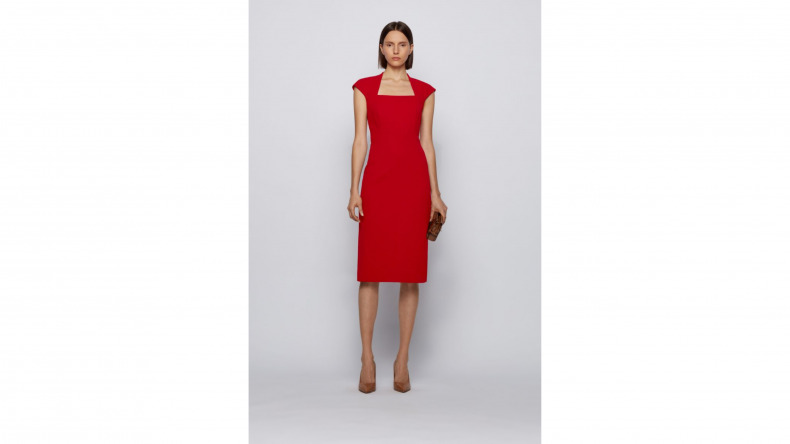 Compliment her beauty by underlining it with this stunning dress by BOSS Womenswear, which is available either in sexy red or elegant black. The houndstooth patterned stretch jersey allows for comfortable wear and creates a feminine silhouette. It features cap sleeves and a square neckline. She can wear this versatile dress to work, an event, or your Valentine's Day dinner date!
Click here to buy on sale for $445 $178
13. Snap-Close Billfold in Leather With Pyramid-Shaped Hardware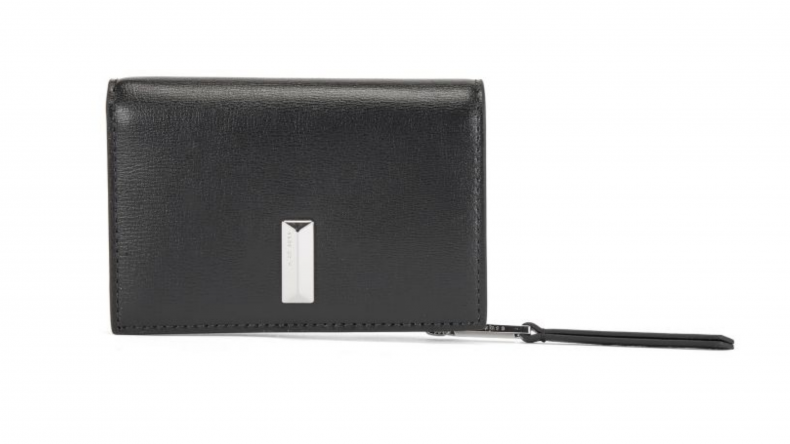 You can't go wrong with a classic Valentine's Day gift for her: a leather billfold that is functional and elegant at the same time. This billfold's compact dimensions and snap closure keep its contents safe. It also comes with a zipped coin pocket, note compartment, and eight card slots. The soft leather and fine structure are complemented with logo-engraved hardware details that complete this signature accessory.
Click here to buy for $178.00
Want to check out all the other products Hugo Boss has to offer? Click here to shop their women's Valentine's Day gift guide!