Sponsored Article
Top 6 Ways To Fight Thinning Hair During Menopause: Best Supplements and Products Online
Suffering from hair loss? Here are 6 ways you can get thicker and stronger hair when in menopause.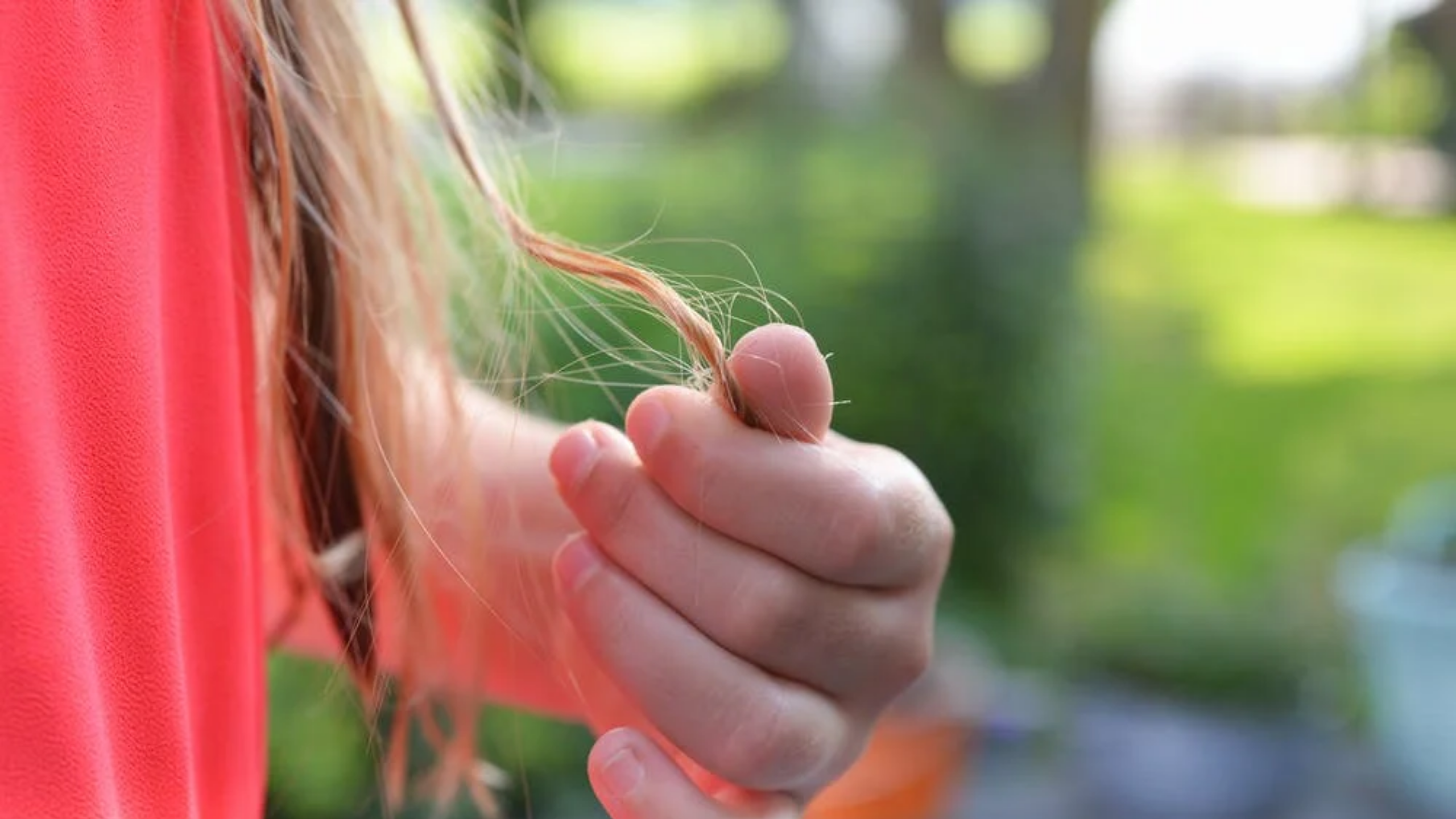 Hair loss during menopause is a frustrating yet inevitable biological process that many women will go through. It doesn't mean that it can't be delayed or prevented, though, especially if you make specific lifestyle changes and take the proper supplements. This is considering that your hair loss is caused by hormonal imbalances and is not due to genetics.
Perimenopause usually occurs four years before your final period, so you may begin to notice symptoms in your 40s. As soon as you do, it's best to check your hormone levels. The lower your hormone level drops, the more your hair begins to grow slowly and becomes thinner.
Read More: Women Who Have More Intercourse, Oral Sex and Masturbate Can Delay Menopause, Study
What Is the Best Supplement for Thinning Hair?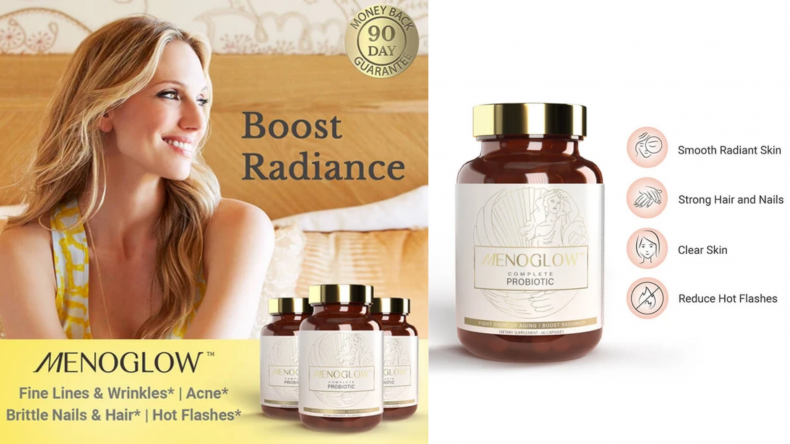 Suppose your hair loss is due to hormonal imbalance. In that case, the good news is that your hair can grow back - provided that you make a few lifestyle changes and take supplements that have the necessary vitamins and minerals for healthier hair. A great example of this would be MenoGlow, which not only fights thinning hair, but it helps with fine lines and wrinkles, too.
MenoGlow is a probiotic supplement that can help nourish your hair as probiotics attack pathogens in your body to keep your blood healthy. This is important because each strand of hair is surrounded by blood vessels, so if your blood is healthy, you have nourished hair, which can promote hair growth.
MenoGlow also has Lactobacilli bacteria, which helps with hair loss due to stress. When stressed, your gastrointestinal tract alters, and unhealthy bacteria build up. This leads to inflammations that exacerbate skin or health conditions. Lactobacilli prevents toxins' absorption into your body, which can interfere with its ability to rid itself of waste and stay healthy.
Buy MenoGlow to fight thinning hair
Supplements And Products To Fight Thinning Hair
1. ScalpMED Patented Hair Regrowth System for Women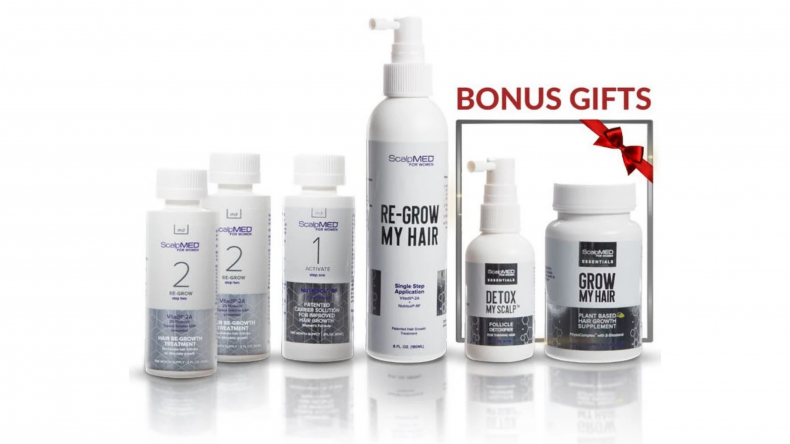 If you're struggling with thinning hair, and are tired of seeing your hair go down the drain or clumps of it on your brush, then this system is for you. This is the #1 patented and clinically proven hair solution that expedites hair growth, stops thinning, and that provides your hair with all the nutrients it needs to grow back thicker and more robust.
The formula was specially made for women with horsetail extract, green tea, bamboo extract, turmeric extract, linolenic acid, and more. All you have to do is apply the formula onto your scalp in as little as 15 seconds so that it cleans, conditions, and provides your scalp with the moisture that it needs.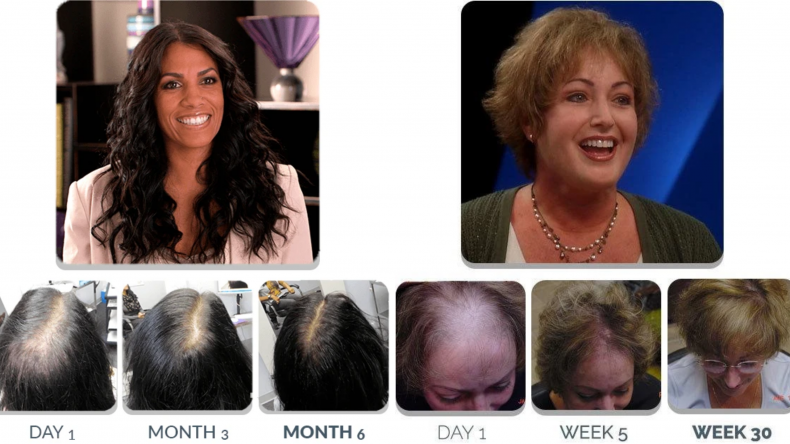 According to consumers, 96% say that ScalpMED has helped grow their hair back, has helped prevent further hair loss, and is better than other hair treatments that they've used.
Buy ScalpMED for $99.95 instead of $251.90 (Get a 60% discount)
2. Lipogaine for Women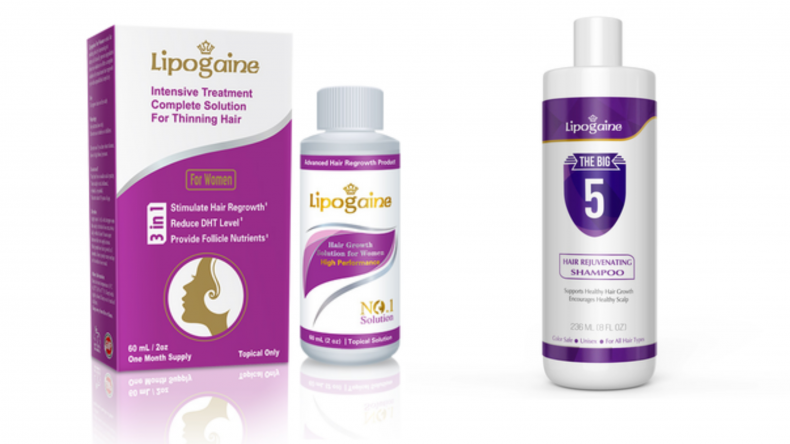 This intensive treatment solution for thinning hair provides follicle nutrients, reduces DHT levels, and stimulates hair regrowth. This is the first hair growth formula with FDA-approved minoxidil (hair regrowth stimulator), biotin, azetinol, niacin, and several other vitamins that help deliver the necessary nutrients deep into the scalp so that the formula is more effective.
To supplement this, you should use the Lipogaine Hair Rejuvenating Big 5 Shampoo. This hair thickening shampoo is made up of all-natural ingredients that will help nourish hair follicles and support healthy and strong hair. It has biotin, caffeine, argan oil, castor oil, and 17 other hair stimulating ingredients for healthy hair growth.
Buy Lipogaine for Women for $25.00 and the Rejuvenating Shampoo for $29.95
3. Kiierr Laser Cap System for Hair Growth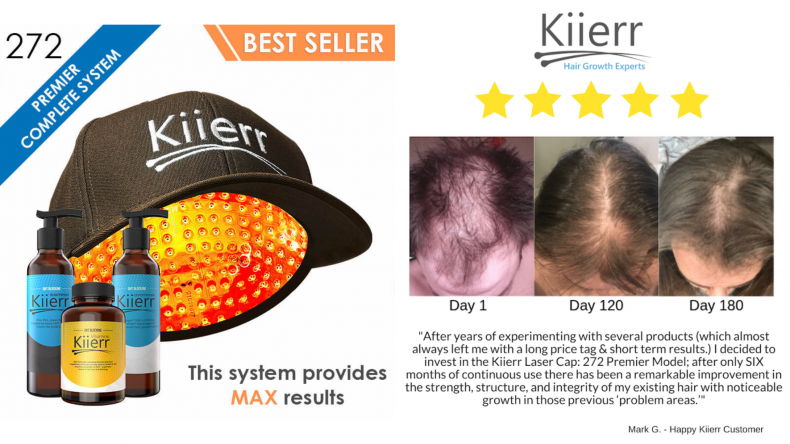 This FDA-approved cap has been proven to grow hair in as little as 30 minutes effectively. Wear the hat daily while watching TV, taking a walk, reading a book, or whatever else you do during the day, and you're guaranteed to get a full, beautiful head of hair in seven months, or else you get your money back, guaranteed.
This sleek, black baseball cap treats thinning and balding hair, reverses hair loss, promotes healthier, thicker hair follicles, and safely treats hair loss. It is comfortable to wear and is discreet to use. This 148 or 272 Diode laser helmet has hundreds of 5-star reviews and comes with a wall charger power plug, USB cord, a portable power pack, and a user's manual.
This bundle entails the complete system and has the premier laser cap system and Kiierr hair growth supplements. You can buy it for a discounted price with a seven-month guarantee and free U.S. shipping if you buy now. This product is perfect for both men and women.
Buy Kiierr Laser Cap System for $925.00 instead of $1,295.00
4. Kiierr Hair Growth Products Bundle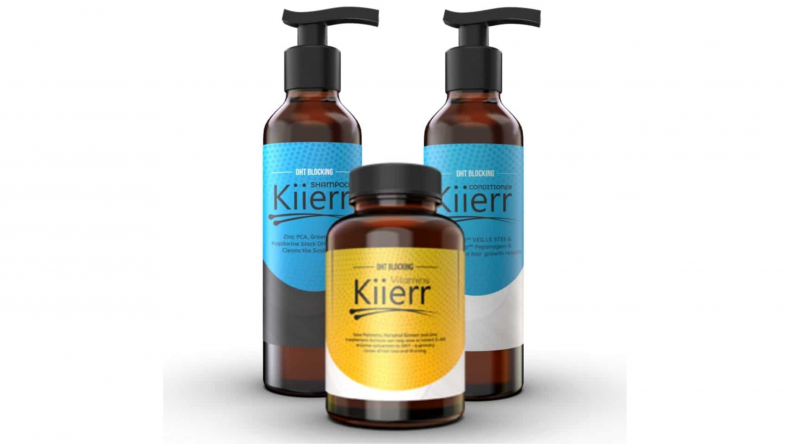 This hair growth bundle is made up of all-natural ingredients and is enhanced with vitamin b-6, biotin, and folic acid. It also contains soy and shellfish. These products are best used with the Kiierr laser cap or with any other hair loss or thinning hair regimen that you have. The bundle has Kiierr DHT Blocking Hair Growth Vitamins, Kiierr DHT Blocking Shampoo for Hair Growth, and Kiierr Conditioner for Hair Growth.
The products are focused on blocking DHT (dihydrotestosterone), which is the hormone that causes female pattern hair loss. The vitamins have Saw Palmetto, Horsetail Extract, and Zinc that help block DHT from building up in your hair follicles. The Shampoo has nutrients like vitamin 3, jojoba oil, collagen, green tea, and more so that your hair regains its luster and strength. Lastly, the conditioner has two active ingredients that promote new hair growth.
Buy Kiierr Hair Growth Products Bundle for $99.00 to $199.00
5. Kiierr Biotin Gummies for Hair Growth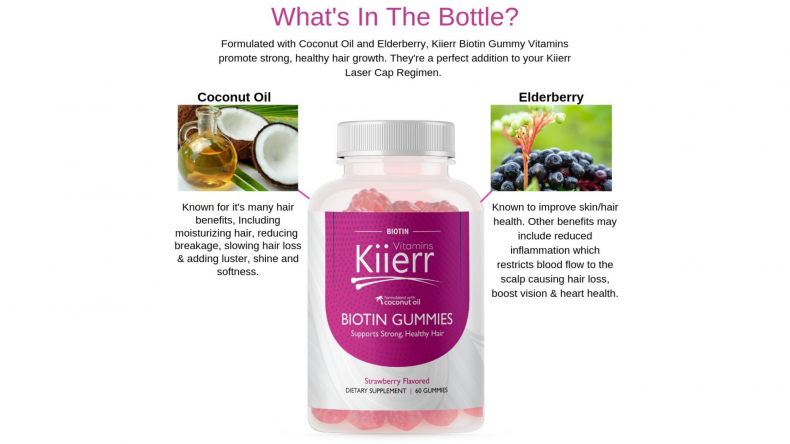 These best-selling biotin gummies have coconut oil and elderberry, which promote strong, healthy hair growth. Biotin, also known as vitamin H, improves keratin infrastructure, essential in your hair follicle health and strength. These gummies are so good that you won't think that you're taking it as a part of your hair strengthening regime.
Biotin is not only meant for hair growth but can also help strengthen your skin and nails as well. A natural way of ingesting biotin is by eating organ meats such as kidneys or livers, but this isn't as appealing as merely eating gummies. The FDA recommends that you get 30 to 100mg biotin per day while pregnant may need more.
Buy Kiierr Biotin Gummies for Hair Growth for $34.95 to $84.95
Hair loss is a natural aging process, but it doesn't mean we can't delay or prevent it. Fight thinning hair with these supplements and products perfect for menopausal women.