Sponsored Article
Top Tips To Get "Glass Skin" Naturally (With A Little Help)
"Glass skin" describes skin so luminous and glowing it puts babies to shame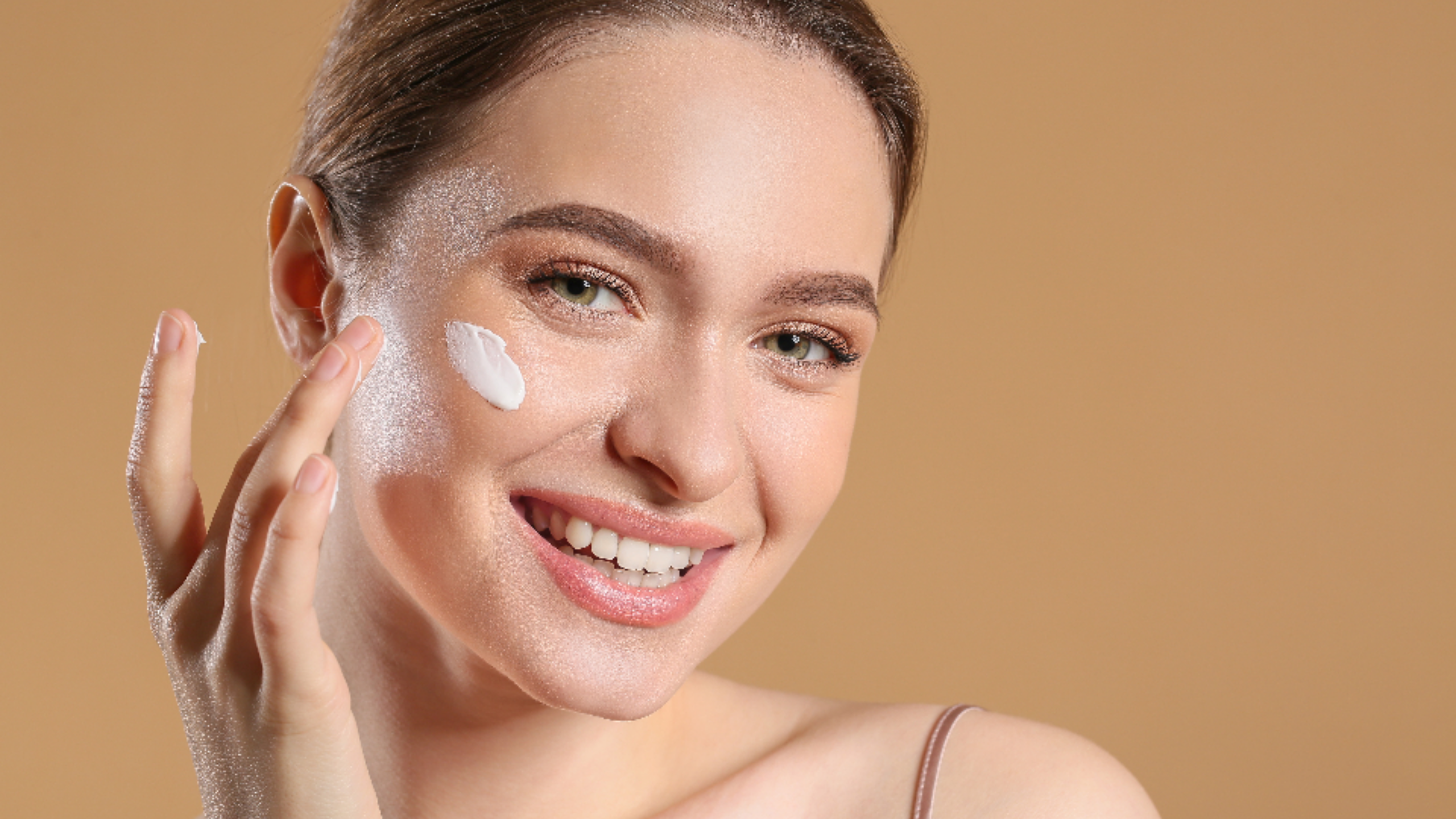 Are you tired of piling on foundation and highlighter to make your skin seem poreless and dewy? Don't you wish your skin actually looked like it does in your filtered Snapchat selfies? It sounds like you want the highly sought-after "glass skin" complexion: skin so luminous and glowing it puts babies to shame.
"Glass skin is when your skin is at its very healthiest," explains Alicia Yoon, founder of skincare company Peach & Lily. "In order for skin to appear poreless, luminous, and translucent, so many things have to happen. You can't just be hydrated and look that way. Your skin really needs to be its healthiest in all aspects. Babies have 'see-through skin' and that's because their skin is still so healthy."
"What's actually funny is 'glass skin' wasn't really a thing in the U.S. and in Korea, where English isn't the primary language, the term 'glass' wasn't being used by Koreans," explains Yoon. "What they say are a lot of words that describe glass. They'll say 'see-through.' They'll say 'bouncy skin,' 'clear skin,' or 'luminous skin.' There are just so many different ways to describe it."
Yoon explains that while the term "glass skin" isn't universal, it is the best way to explain this almost airbrushed look. "It just clicked for me. All this time when I was trying to explain to people what your skin at its healthiest looks like, glass skin was the way to describe it the fastest."
The quest for "glass skin" originated in Korea and first hit the U.S. a few years ago. It really took off when L.A.-based makeup artist Ellie Choi shared an Instagram selfie where you literally cannot see a single pore on her face. Understandably, that post went viral, and every beauty blogger and makeup fanatic in the U.S. demanded to know how to achieve this glowing look for themselves.
Achieving this level of luminosity is not a simple task. Yoon explains that it requires dedication to a healthy lifestyle, as well as a thoughtful skincare routine.
How To Get That "Glass Skin" Look From The Inside Out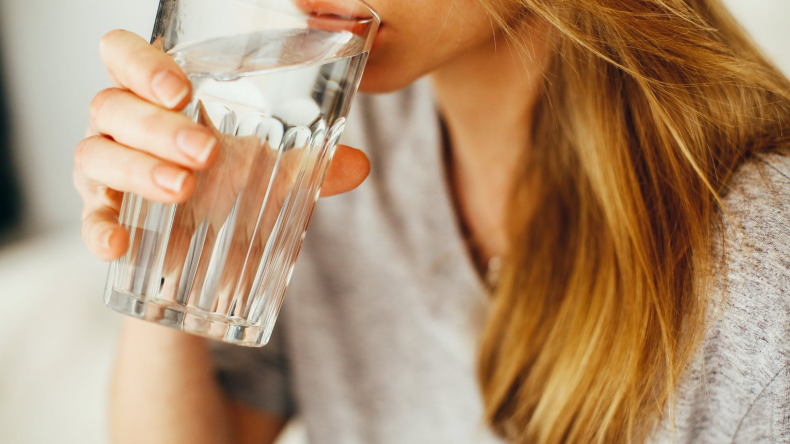 What you put inside your body is just as important as what you put on your skin. Essentially, if you want healthy skin you have to adopt healthy habits.
1. Hydrate
We've all heard this one before - drink eight glasses of water a day for optimal hydration. Now, research also suggests that staying hydrated can help prevent acne. A 2011 study found that dry skin may encourage your body to produce more sebum, an oil that can worsen acne breakouts. So start hydrating those zits away!
2. Eat Healthy Fats
Healthy fats are your skin's best friend, and certain foods, like cold-water fish, are full of them. These fatty fish, such as salmon, mackerel, and herring, are excellent foods for healthy skin. That's due to their high levels of omega-3 fatty acids, which reduce inflammation. They are also great sources of the antioxidant vitamin E, which may protect your skin from damaging free radicals.
3. More Fruits And Veggies!
You should be eating multiple servings of fruits and vegetables every day for a healthy diet anyway, but did you know certain produce have more skin benefits than others? Take blueberries, for example. They are very high in anthocyanidins, a type of flavonoid that boosts your body's ability to battle free radicals.
4. Sleep On It
Getting enough sleep is one of the most foundational aspects of a healthy lifestyle. Insufficient sleep can even age your skin! A 2015 study found that "chronic poor sleep quality is associated with increased signs of intrinsic aging, diminished skin barrier function, and lower satisfaction with appearance." To promote better sleep, you'll want to adopt a healthy nighttime routine. One of the best places to start is with a skincare routine that will calm you down and be the basis of your nighttime ritual.
What Products Will You Need?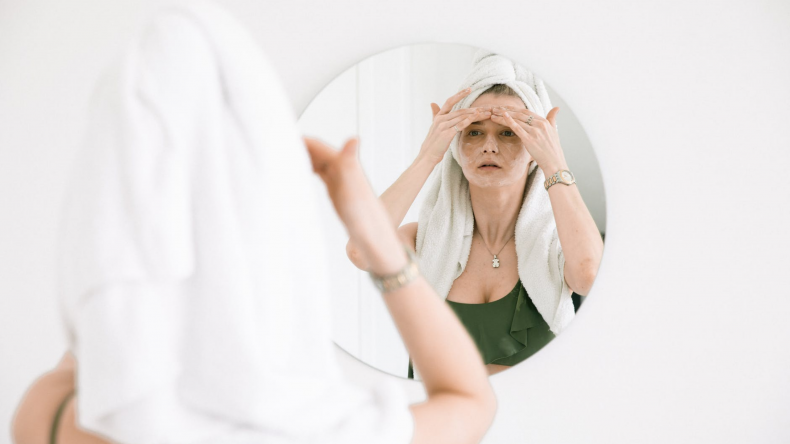 Are you ready to get shopping? The "glass skin" care look is achieved through a multi-step process. Before you start your new skincare journey, you're going to want to stock up on some not-so-basic supplies:
An oil cleanser and gentle foam cleanser for double cleansing
An exfoliator
A toner
An essence
A serum or face oil
A moisturizer
Sunscreen
A face mask
Keep reading to learn each stage of the "glass skin" care routine and see our product recommendations for each step!
Your Step-by-Step "Glass Skin" Care Regimen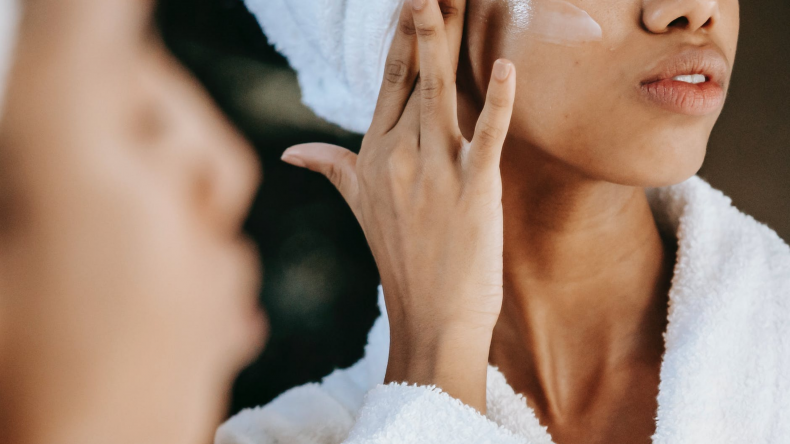 Eating veggies and drinking water will do wonders for your skin, but "glass skin" didn't go viral because of blueberries. It takes a multi-step process to achieve that dewy glow, but we broke down every step and the products that will take you there.
1. Double Cleanse
Yoon advises you to start by removing makeup and grime with an oil cleanser that won't clog pores or strip skin of its natural oils, like the Marie Veronique Pure + E.O. Free Oil Cleanser.
Then, she suggests you follow it up with another cleanse, this time using a gentle foaming cleanser like the Zyderma Gentle Foaming Cleanser.
2. Exfoliate
"Exfoliation helps to remove excess dead skin cells and removes blackheads on the skin," says Belif's Brand Education Specialist Grace Lee.
However, if you have sensitive skin, you may want to limit this step to just once or twice a week and try a gentle chemical exfoliator like the Goldfaden M.D. Doctor's Scrub Exfoliator.
3. Toner
"Toners help reset the pH of the skin and allow the next steps in your routine to absorb better into the skin," says Erica Cox, licensed aesthetician and cosmetologist with Savor Beauty.
She suggests avoiding products with alcohol or witch hazel, which can dry out your skin. Instead, try this Indie Lee Co Q10 Toner for sensitive skin or this INNBEAUTY PROJECT Down to Tone Life Changing Toner for normal skin.
4. Add An Essence
This will probably be a new step for many skincare rookies, but an old favorite of veterans. According to Lee, an essence can help increase moisture retention in the skin and thus supports the absorption of other skincare products. "Not only does it moisturize the skin, providing a natural glow," she says, "but a functional essence heightens the benefits of any skincare routine."
If this is a new type of product for you, start simple with the Tower 28 SOS Daily Rescue Facial Spray. This is an easy three-ingredient product great for soothing stressed-out skin and reducing redness and irritation.
5. Serum Or Face Oil
This stage is one of the hallmarks of "glass skin" care: treating your skin to lightweight but powerful serums that are loaded with antioxidants, to fight off free radicals that cause aging. "For glass skin, choose serums with vitamins or hyaluronic acid," suggests Lee.
Try this Squalane + Vitamin C Rose Oil by Biossance for regular skin or Squalane + Tea Tree Balancing Oil if you have acne-prone skin.
Do you prefer serums? The Ursa Major Brighten Up Vitamin C Serum is always a classic and works for any skin type.
If you have blemish-prone skin, you're not alone, but serums can help. Try a serum or exfoliant that has salicylic acid like Juice Beauty Blemish-Clearing Serum.
6. Moisturize
To achieve that glowing look, you have to moisturize properly. Get an instant boost of hydration with a product like the Weleda Skin Food Original or the Alpyn Beauty PlantGenius Melt Moisturizer.
7. Sunscreen
You've already put this much work into your skincare, don't let the sun undo all of it! No matter your skin tone, you want to make sure you protect your skin from the sun's harsh rays. If you hate the residue feeling most sunscreens leave behind, look for one that is lightweight and absorbs easily into your skin, like this Juice Beauty Stem Cellular CC Cream - SPF 30, that reviewers rave "melts into [their] skin for very natural coverage."
8. Face Masks
Face masks can be a wonderful, relaxing moment of self-care in anyone's routine. Unfortunately, not all face masks are created equal. You'll want to use clay masks that will clean and reduce the appearance of pores without drying or irritating skin, like this Kinship Mint Mud Deep Pore Detox Mask.
Now that you've got all the supplies you need, we can't wait to see how your skin glows!