Sponsored Article
Transform Your Hot Tub Into a Luxury Retreat With a Gazebo
Turn Your Hot Tub Into a Backyard Oasis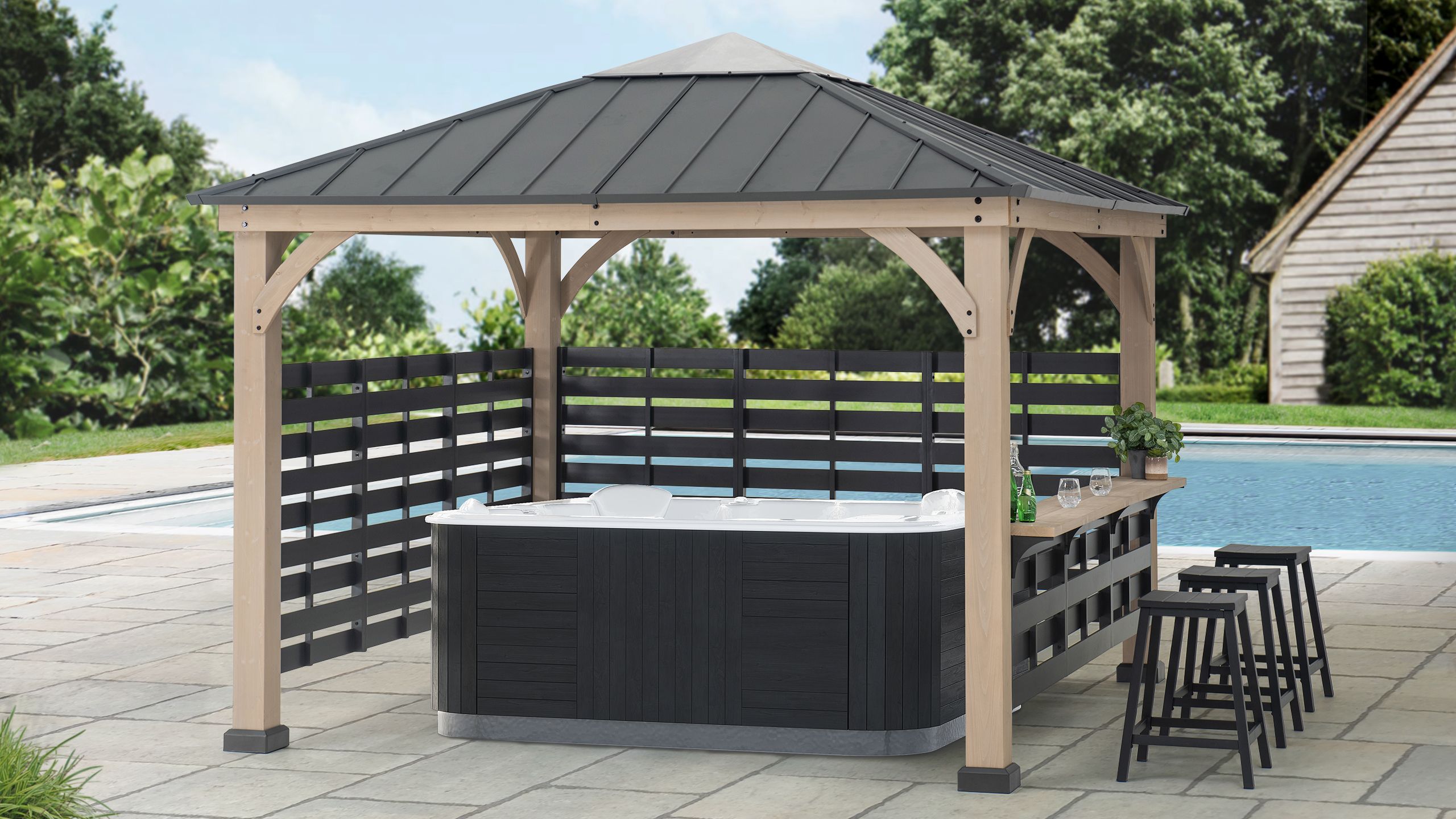 If you have a hot tub, or you've been thinking about getting one for a while now, you're aware there's no better place to unwind at the end of the day, whether to have a cocktail, enjoy some coffee or just relax with a book.
The last year has been tough for most people. According to the American Psychological Association, nearly eight in 10 adults say the coronavirus pandemic has been a huge source of stress in their life. Considering many spas and recreational spots are still closed, relaxing in your own backyard is a good alternative.
Transforming your backyard into your own personal luxury retreat is no small task. Once you get it all set up with a hot tub, patio furniture, LED lights to set the mood and maybe some outdoor speakers, you'll want to enjoy it as much as possible.
Depending on where you live, it might get too hot in the summer or too cold and windy during the winter. For many, the best way to enjoy a hot tub, is to purchase a gazebo from Sunjoy.
A gazebo elevates any outdoor area to a new level of luxury. It's more durable than a tent, yet cheaper and less permanent than building a covered patio. Gazebos are extremely versatile—use one for glamping in the backyard—or cover a hot tub.
All the gazebos suggested in this article come with easy-to-follow illustrated instructions. Plus, all the wood is predrilled and precut for fast assembly.
What to look for in a Gazebo?
There are several things you'll want to consider when choosing a gazebo for your space, especially if you're trying to cover something large like a hot tub. Gazebos come in many different sizes and materials. Some even have extras, like a built-in bar table for entertaining. You'll want a durable gazebo that's weather- and rust-resistant and with proper ventilation.
Sunjoy offers gazebos in many different styles. Here are a few gazebos perfect for covering a hot tub and completing your backyard experience.
SummerCove Cedar Wood Framed Gazebo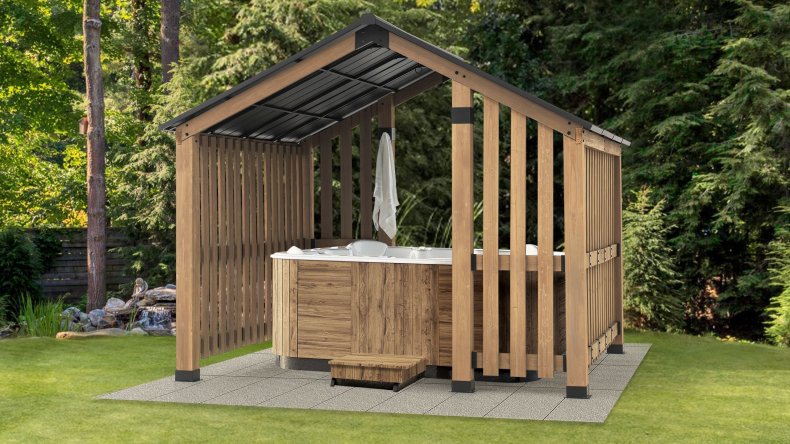 Sunjoy's first premium option is perfect for someone looking for an elegant wood design to match a wood-sided hot tub. This 11 foot by 11 foot model features predrilled, durable cedarwood frames with vertical wood beams. It also comes with a rust-resistant powder-coated steel roof.
This model features openings on two sides instead of just the front. Depending on the layout of your space, this might be more to your preference if you need to enter or exit your hot tub with ease.
Sunjoy Black Archwood Cedar Framed Gazebo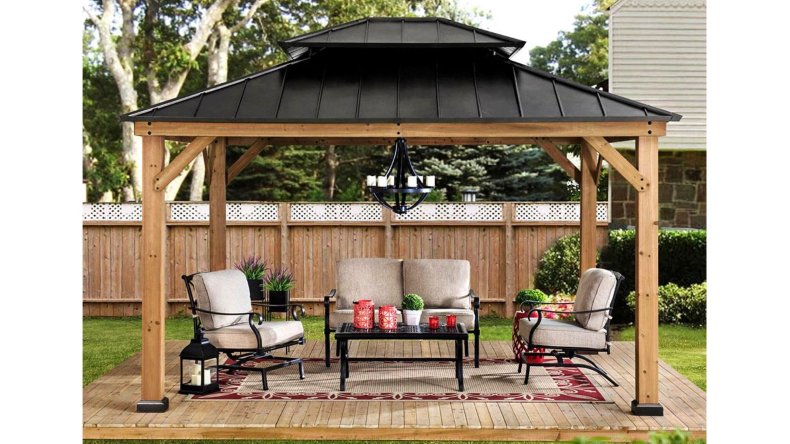 This next gazebo will compliment any outdoor space. It's not too big or small and is fairly affordable. Create your own backyard oasis with this beautiful 11 foot by 13 foot gazebo made from premium cedar wood frames. The top features a durable rust-resistant matte black roof made from steel, and the two-level top provides air circulation for hot tub steam.
As an added benefit, this model comes equipped with a ceiling hook perfect for suspending an outdoor lamp, LED lights or speakers to create the perfect outdoor vibe.
Each Sunjoy gazebo has a railing to install privacy curtains or mosquito netting to keep the bugs away. Keep in mind that those accessories are sold separately.
SummerCove Cedar Wood Framed Hot Tub Gazebo With Skylight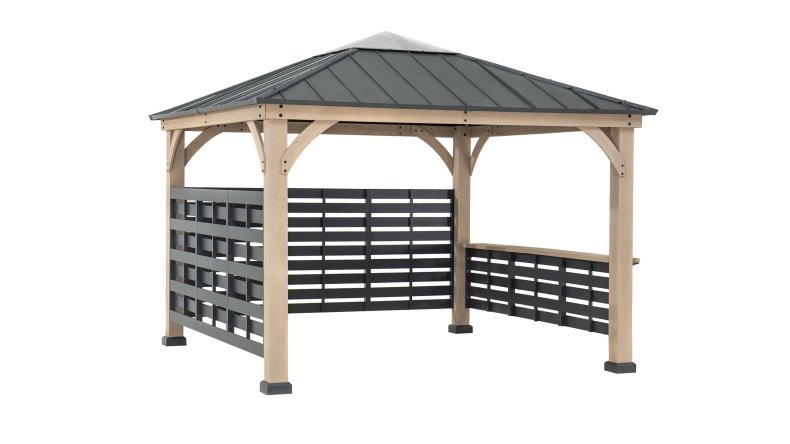 Large enough to accommodate your hot tub, this 11 foot by 11 foot model has a durable cedarwood frame. It also features a rust-resistant powder-coated steel and polycarbonate rooftop to handle whatever elements mother nature throws its way. The polycarbonate skylight provides shade on hot sunny days yet still lets in some natural light.
Additionally, there's a large serving shelf bar-top you can arrange in three different configurations for entertaining. You can even complete the setup with a wood-burning firepit. So pull up a barstool and enjoy it for years to come.
SummerCove Solar Powered Hardtop Gazebo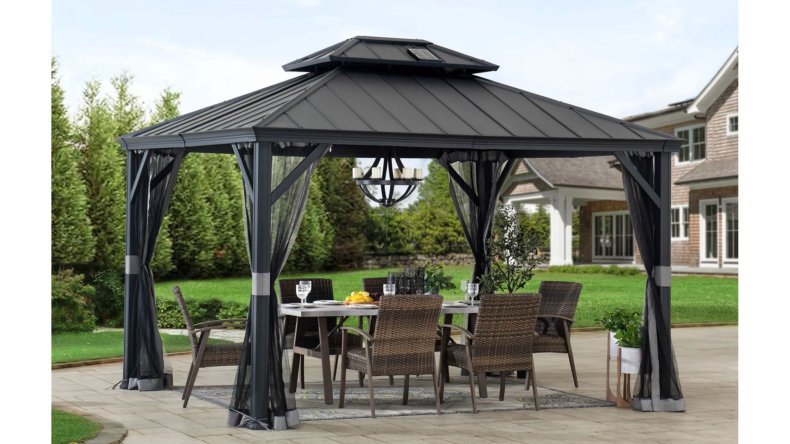 This is another excellent option. While this model doesn't come with the same beautiful cedarwood as the last recommendation, it includes privacy curtains, mosquito nets, a vented metal hardtop and a built-in solar power system.
This 10 foot by 12 foot gazebo is still large enough to take full advantage of your yard and features a rust-resistant black powder-coated steel roof and framing material.
Once you get it set up, the solar power system in this gazebo can power devices, including lights, phones or laptops, with the integrated 5-volt 6-watt solar panel. You can also set the mood by suspending a chandelier from the ceiling hook and enjoy an evening in the backyard reading your favorite book.
Sunjoy Drum Outdoor LED Light With Bluetooth Speaker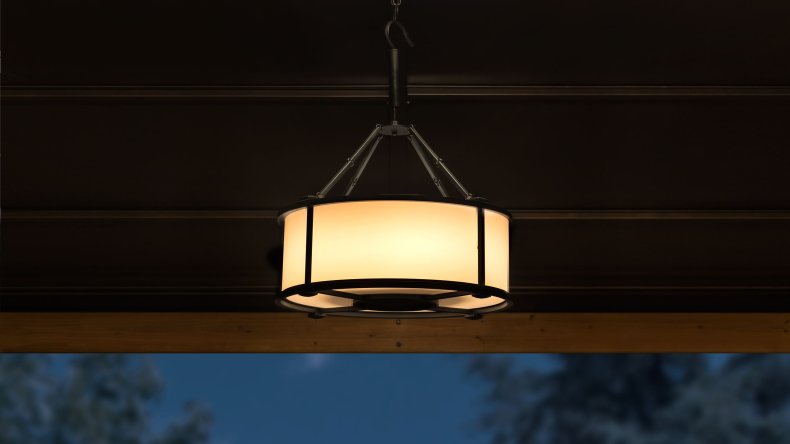 Once you get your gazebo built, a great way to add ambiance in an instant is with the Sunjoy Drum rechargeable LED light and speaker combo. It's made of weather-resistant materials and even comes with a hook for easy hanging in your yard or gazebo.
Use this to complete the look and feel of your patio quickly, light up your new favorite outdoor room and enjoy some music.
So, cover your hot tub space, dim the lights and put on some tunes for a quick way to relax. Sunjoy Group is having a Labor Day sale until September 6, with many items marked as 15 percent off.