Sponsored Article
Trendy Barndominiums: Why Millennials Are Raving About These Barn-Style Homes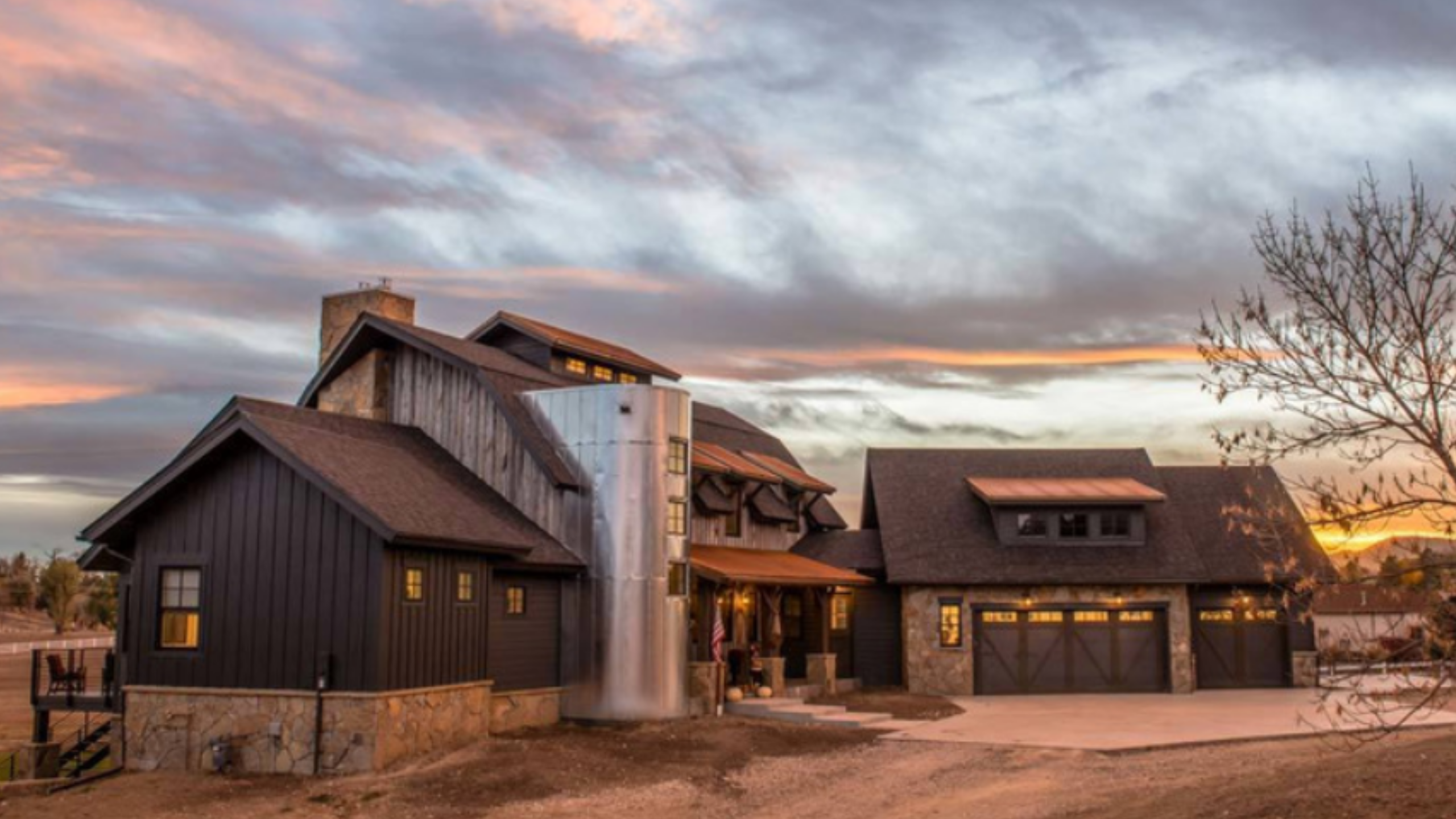 It's a play on words—"barn" and "condominium"! They cool dwellings were initially intended as living quarters for horses and animal caretakers on farms and ranches. In recent years, the barndominium home style has become a trend among millennials after the famous HGTV show, Fixer Upper, featured it in one of its episodes.
Ever since the term was coined by Connecticut developer Karl Nilsen in 1989, more and more people are becoming drawn into this unique and alternative building structure.
Barndominiums have also become easier to build and can be constructed using ready-to-build house plans. Architectural Designs, which specializes in highly curated home plans for homeowners and builders, offers barndominium house plans that can be built as-is or modified according to client specifications.
What Are Barndominiums?
A barndominium is typically a steel building originally intended as a barn building for horses and their owners. Because of the aesthetic appeal of this barn-like structure, the style has evolved over the years and has been used as regular homes, usually with a large great room and an open floor concept.
Some barndominiums are converted old barns, with layouts ranging from simple plans to intricate designs. Today, they are even constructed as appealing vacation homes in the mountains or as luxury homes in high-end rural areas.
Style and Versatility
Style-wise, the barndominium offers a rustic look and is often depicted with a gambrel roof, which is a two-sided roof with two slopes on each side.
This barn-like garage plan from Architectural Designs depicts the typical barndominium exterior with its gambrel roof and rustic finish.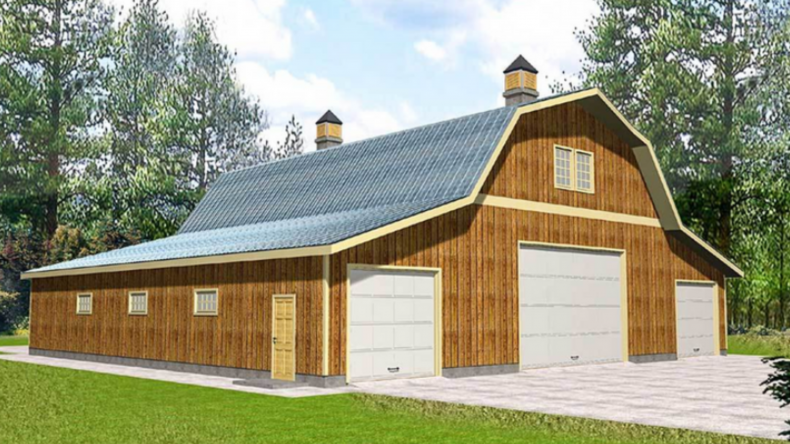 Homeowners who like the barn style also choose to build a barndominium because of its versatility. Since it is open and customizable, it can be transformed for different purposes.
The barndominium can be used as a large workshop space, a garage, an industrial space, a coffee shop, or even a retail store. In some plans, the main level is used for work and the loft is for the living space and bedrooms. The possibilities are endless when it comes to customization, but the trend right now is using the rustic barn-style finish on the exterior and incorporating modern home living elements in the interior.
Take this contemporary country barn dream house which features a good blend of traditional and modern styles. The country wood and brick give a strong contrast to the curved metal-clad structure that holds the stairs inside.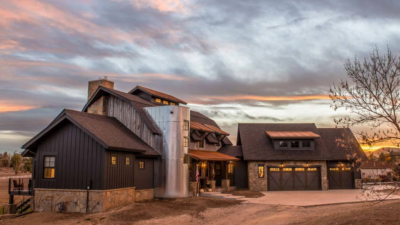 This barndominium-inspired house plan also features a sweet mix of barn style exterior and modern aesthetics inside. The craftsman detailing and the interior with a huge great room and dining floor plan turn this plan into a charming and comfortable home.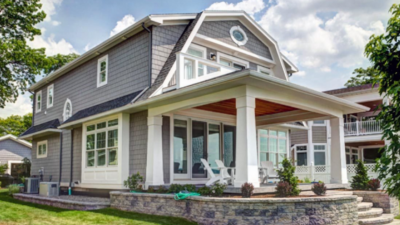 Space Is King
The versatile barndominium is also attractive to people looking to build their own homes because of the typical use of floor space on the main level.
The barndominium style is what you should go for if you want to utilize the main level of the house as a workshop.
This Architectural Designs house plan for a barn-like garage apartment is one perfect example of how to make the most out of a barndominium home plan.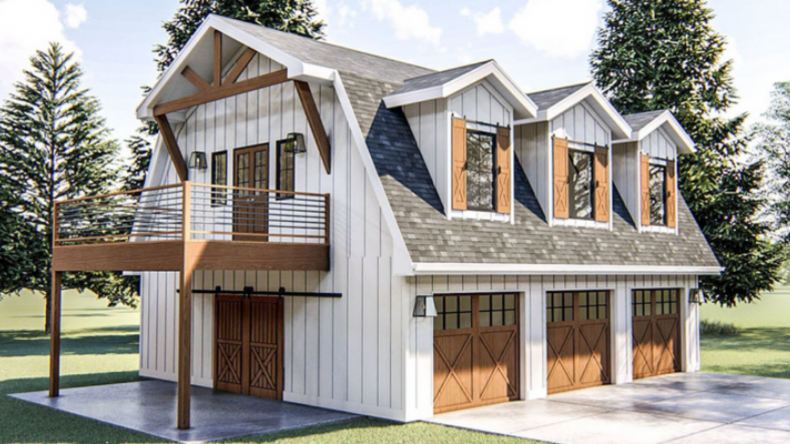 With a total of 774 heated square feet, the ground floor is allotted for a two-car garage and a workshop. The living and dining area, as well as the master bedroom, are all on the second floor.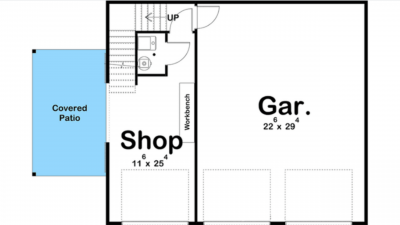 This barndominium-inspired country house gives residents all the space they want, with 4,072 heated square feet, a modern layout featuring high ceilings, an open floor concept, and two balconies to provide maximum space for gathering family and friends.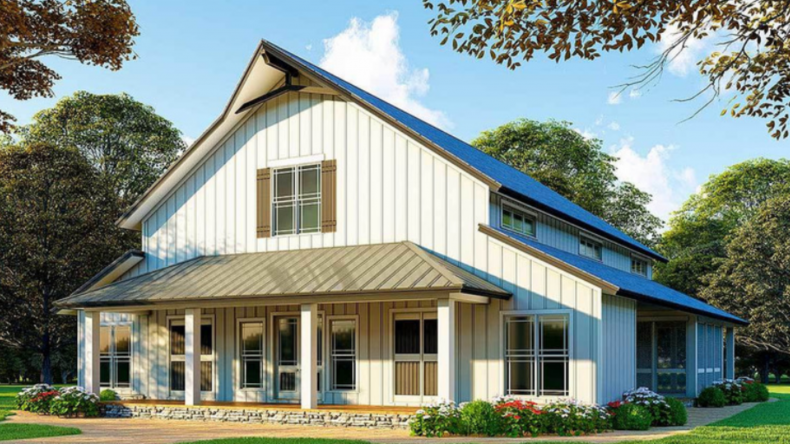 Since barndominiums are excellent for maximizing space, it is an ideal concept for building a tiny house.
This tiny-meets-rustic home, for instance, does not feel tiny at all. With just 1,000 heated square feet, it provides a very spacious living and dining space and up to two bedrooms and a full bath on the second floor.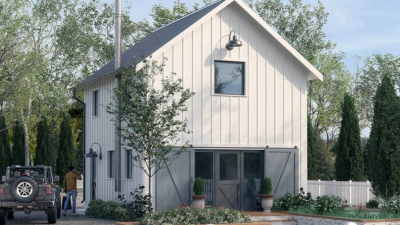 Once designed for horses, the barndominium with its attractive rustic and country feel has become the trend among millennials looking to blend the old barn style with a comfortable contemporary architectural design to create their own unique dream home.
The aesthetic appeal is the main reason that people love this style, but add the versatility and the design options available and it becomes a very popular choice for young individuals who are going for practicality and uniqueness in their dream home.