Sponsored Article
UK Health Agency Says OTC Treatments for Chronic Pain Can Do More Harm Than Good but Doesn't Even Mention CBD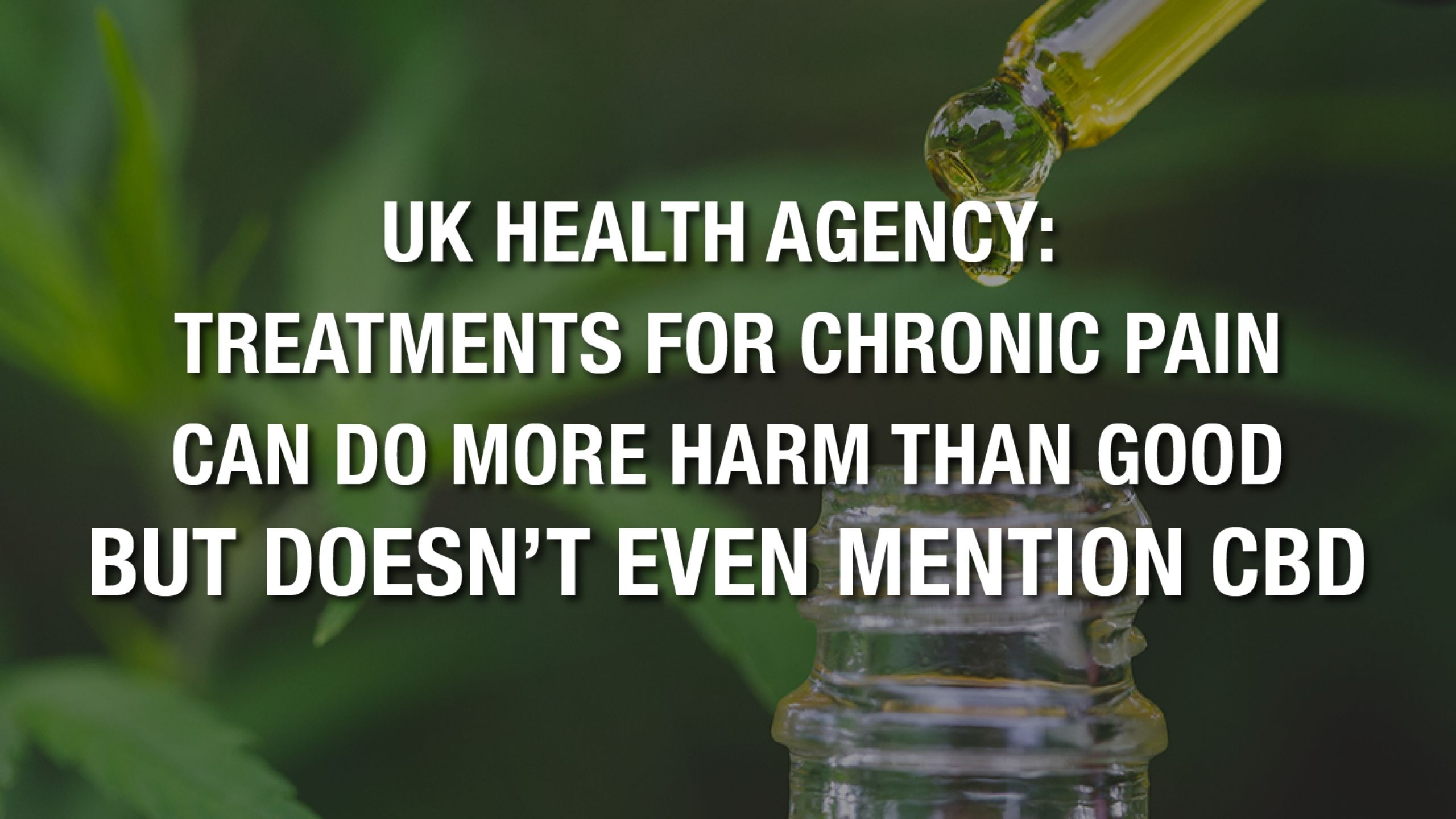 "The National Institute for Health and Care Excellence (NICE) is a part of the Department of Health in England, which publishes guidelines on the use of health technologies... such as the use of new and existing medicines, treatments and procedures, as well as clinical practice on the appropriate treatment and care of people with specific diseases and conditions."
It has published a draft guideline which says that people with "chronic primary pain" should be offered supervised group exercise programmes, some types of psychological therapy, or acupuncture, rather than OTC pain relievers.
Chronic primary pain represents chronic pain as a condition in itself and can't be accounted for by another diagnosis. In other words, they can't figure out why you hurt.
The NICE draft guideline says that paracetamol (Tylenol in the U.S.,) "non-steroidal anti-inflammatory drugs (these include aspirin and ibuprofen), benzodiazepines or opioids should not be offered. This is because, while there was little or no evidence that they made any difference to people's quality of life, pain or psychological distress, there was evidence that they can cause harm, including possible addiction."
In 2017, Prof. Peter Rothwell led another study at the University of Oxford, which said aspirin was causing around 20,000 cases of internal bleeding annually — and causing at least 3,000 deaths per year in the UK.
In the U.S., Acetaminophen (Tylenol) overdose is the leading cause for calls to Poison Control Centers (>100,000/year) and accounts for more than 56,000 emergency room visits, 2,600 hospitalizations, and an estimated 458 deaths due to acute liver failure each year. Data from the U.S. Acute Liver Failure Study Group registry of more than 700 patients with acute liver failure across the United States implicates acetaminophen poisoning in nearly 50% of all acute liver failure in this country.
NICE says, "Estimates suggest that chronic pain may affect between one-third and one-half of the UK population, although it is not known what proportion of people meeting the criteria for chronic pain either need or wish to have treatment. Almost half of the people with chronic pain have a diagnosis of depression and two-thirds of people are unable to work because of it."
And they certainly have every right to be depressed when one considers that this "draft guideline" doesn't even mention cannabis, either whole cannabis or CBD.
Meanwhile, "Chronic pain is currently and historically the most common qualifying condition reported by medical cannabis patients (64.5 percent in 2016). Of all patient-reported qualifying conditions in 2016, 84.6 percent had either substantial or conclusive evidence of therapeutic efficacy. As medical cannabis use continues to increase, creating a nationwide patient registry would facilitate better understanding of trends in use and of its potential effectiveness."
A University of Michigan publication reports, "While there aren't any published clinical trials on CBD in pain... ongoing preclinical studies in animals have demonstrated that CBD reduces pain and inflammation, and studies of CBD in humans show that it is well-tolerated and has few negative side effects. "There are also observational studies that ask why people use CBD and if it's effective, and results tend to be quite positive. People report using CBD for anxiety, pain, sleep — all things that go hand-in-hand with chronic pain."
Inasmuch as CBD is completely legal in the UK and is available "over the counter" it is odd that NICE (which has approved Epidiolex) doesn't even mention it. But there is certainly a need.
According to a report published by The Priory Group:
"Last year alone in the UK, 50 million prescriptions for opioids were written. That is a 35% increase over 10 years... Deaths have increased by 41%, to 2,000 each year."
According to the UK's Office of National Statistics (ONS):
"There were 4,359 deaths from drug poisoning in 2018. This is up 16% from the previous year and is the highest annual increase since records began in 1993.
"Opioids, such as heroin and morphine, continue to be the most frequently mentioned substances on death certificates."
CBD is almost certainly the least frequently mentioned on death certificates, but it also seems to be the least frequently mentioned in UK agency studies.
Richard Cowan is a former NORML National Director and founder of

SafeCBDForMe.com

.