Sponsored Article
Unbreakable Performance GNC Protein Powders to Try In 2021
Ready to Get Fit? Here Are Our Top Picks for Pre- and Post-Workout Formulas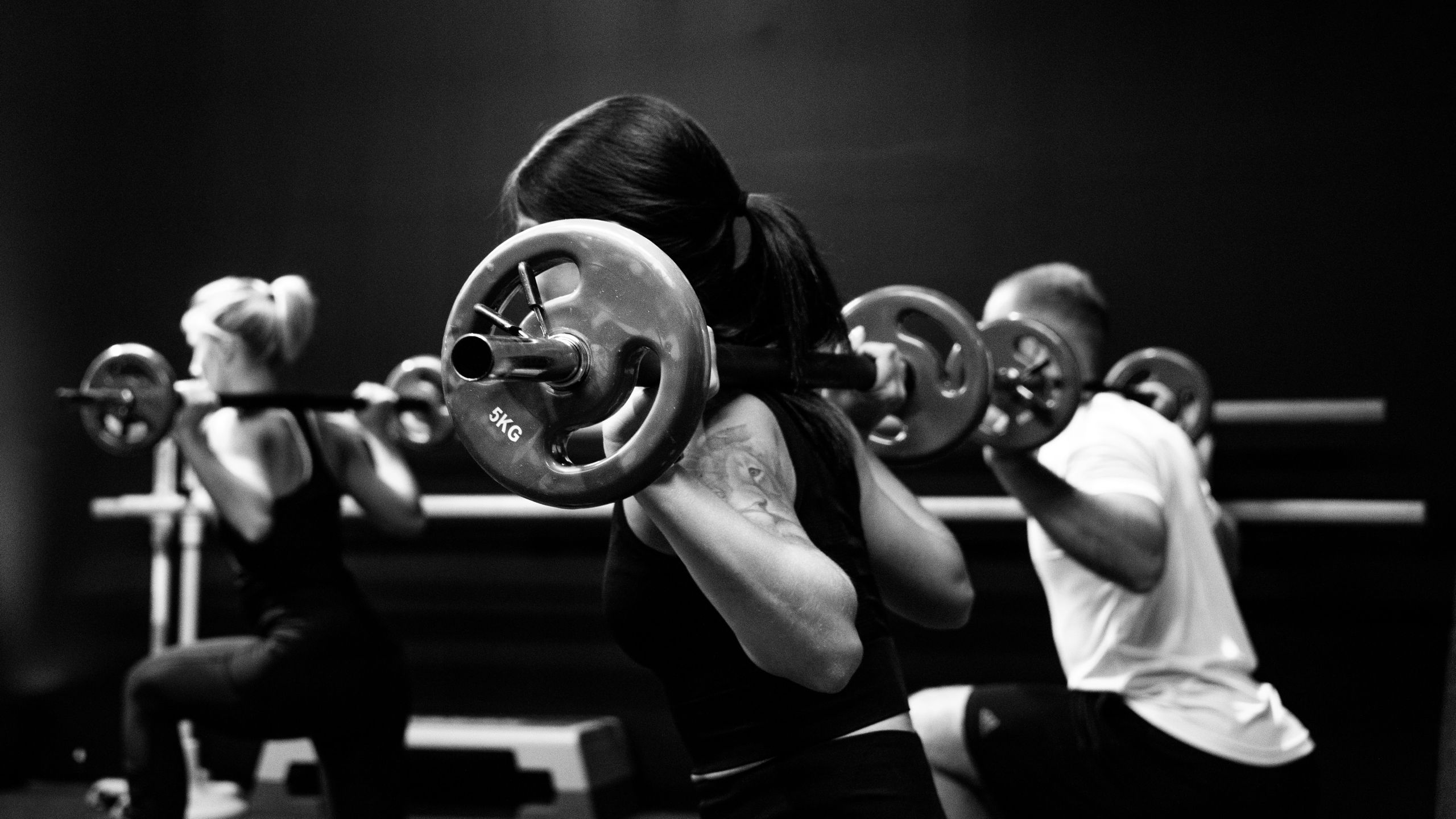 It's important to consult your doctors with any medical concerns, and before making any changes or adding supplements to your health plan.
Whether you're trying to get in better shape after being stuck indoors for the last year due to the pandemic, or you just want to look fitter for summer, it might be time to take stock of your diet and physical habits. If you're looking for improved performance as you hit the workout, consider Unbreakable Performance from GNC, as well as a few of GNC's other preworkout formulas, amino acids and whey protein powders.
For many consumers, it might be tempting to try pills, drugs or questionable "supplements" to try to get a competitive edge when it comes to weight loss. But being healthy isn't about taking shortcuts. It's about consistent effort and being resilient in the face of low motivation.
If you're starting a new workout plan or trying to resume your fitness regime after quarantine, get safe and science-backed supplements from a trusted source like GNC.
About GNC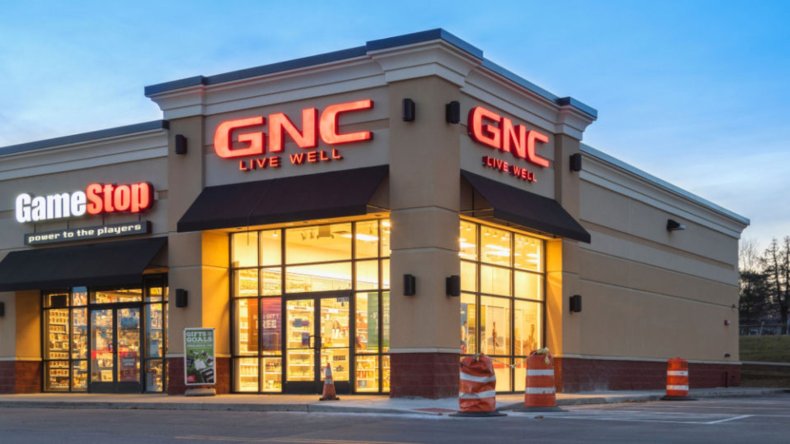 GNC is known for its health supplements and huge retail presence of 4,800 stores throughout the United States. It also offers a wide selection of health, wellness and fitness products online. With over 85 proven years in the industry, the company claims its products are science-backed with proven results.
GNC, in partnership with Jay Glazer, the NFL Insider for Fox NFL Sunday, released a new product line called Unbreakable Performance. Glazer is also the owner of a celebrity gym called the Unbreakable Performance Center. It's is a popular spot with visitors, including Dwayne "the Rock" Johnson, Aaron Rodgers, Nick Jonas and Sylvester Stallone, to name a few.
The partnership includes Pre-Workout, Amino, and Protein formulas specifically designed for performance. They're formulated without the banned substances included in some other supplements.
Every purchase of a product from the Unbreakable line contributes to a nonprofit organization dedicated to helping veterans and former professional athletes, called Merging Vets and Players.
Take a look at some of the products from Unbreakable Performance and GNC below.
Pre-Workout by Unbreakable Performance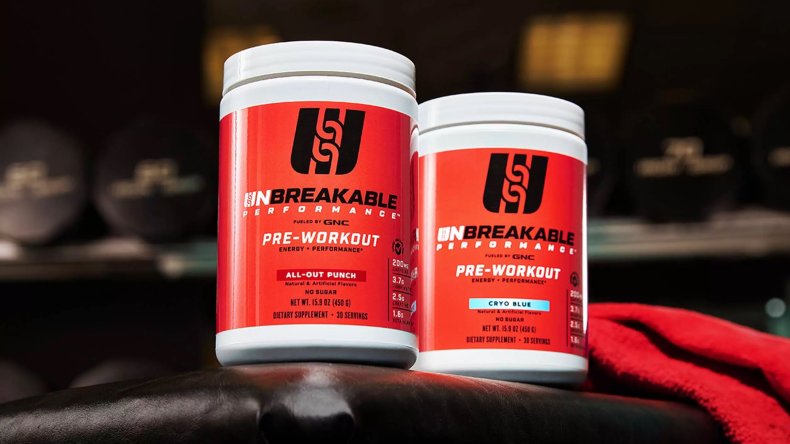 Pre-Workout is a supplement taken to increase endurance, energy and focus during a workout session. Here's what you need to know about the new Pre-Workout supplement from the Unbreakable range*:
It contains 200 milligrams of caffeine per serving to help fuel focus, energy and endurance during your workouts
As with all Unbreakable products, Pre-Workout is certified free of banned substances. GNC states, "Products were tested for over 220 banned substances on the 2020 World Anti-Doping Agency (WADA) prohibited list via LGC skip lot testing protocol."
Order Unbreakable Pre-Workout here.
Amino by Unbreakable Performance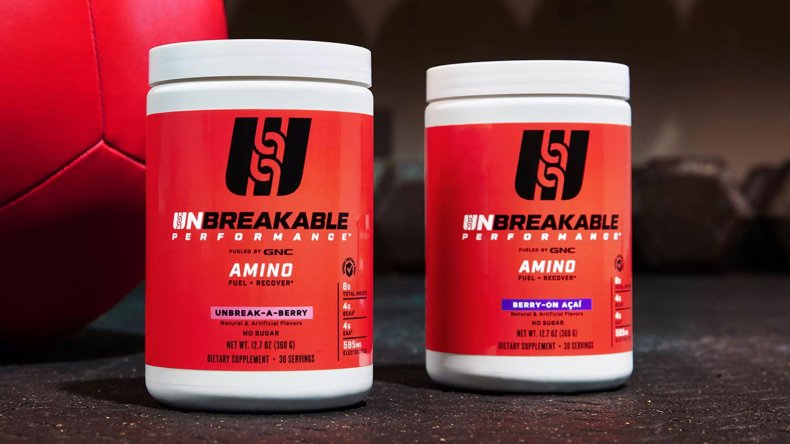 Amino-acid supplements are designed to rehydrate the body as you go and aid in muscle recovery post-workout.
We lose important electrolytes during tough workouts through sweat. Amino acids like Unbreakable's three-part blend could help refuel your body
Amino acids can help prime your muscles for recovery during and after your workout session, thanks to a blend of essential and branched-chain amino acids (essential amino acids [EAA] and branched-chain amino acids [BCAA])
As with all Unbreakable products, these amino acids are certified free of banned substances. GNC state, "Products were tested for over 220 banned substances on the 2020 World Anti-Doping Agency (WADA) prohibited list via LGC skip lot testing protocol."
Unbreakable offers several sizes for your budget, multiple flavors including Unbreak-a-Berry or Berry-On Açaí, and mixes easily with water.
Buy Unbreakable Amino Blends here.
Whey Isolate by Unbreakable Performance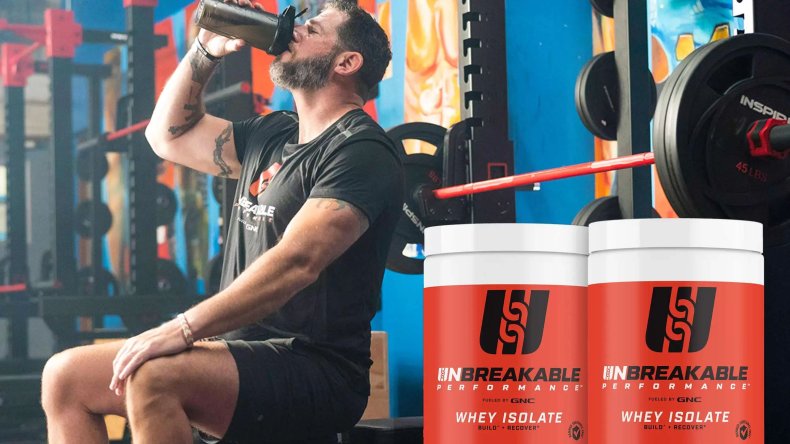 Unbreakable's Whey Isolate protein powder is a great option, as well, with 25 grams of high-quality, low-calorie protein per serving. What you should know about this product:
There are only 110 calories per serving with zero added sugar
You could take it before or post-workout or on off days.
Buy Unbreakable Whey Isolate here.
Protein Shake by Unbreakable Performance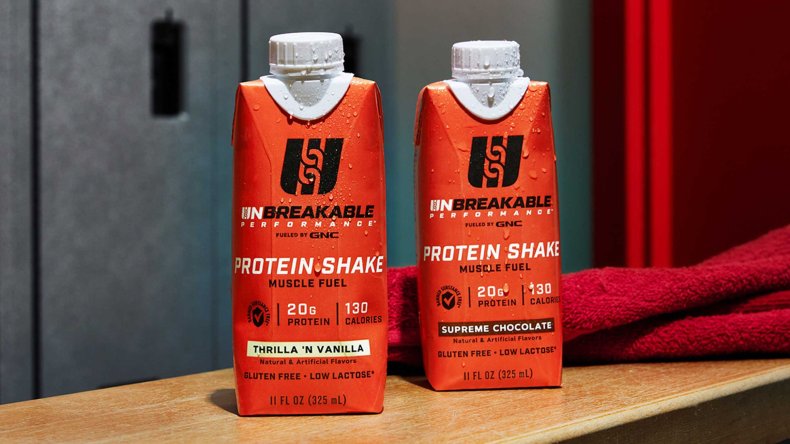 Unbreakable also offers quick and easy protein shakes that deliver the fuel your muscles need after an intense workout. Each shake contains 20 grams of protein, 130 calories, and comes in tasty vanilla and chocolate flavors. What you should know about this product:
GNC claims this high-quality protein can help your muscles build and recover after your workouts.
These shakes could be great on the go or after a quick session before work.
Buy Unbreakable Protein Shakes here.
GNC's science-backed products and supplements could help you work out harder, longer, and faster to achieve your goals. All Unbreakable products are currently buy one, get one at 50 percent off, so check out the full Unbreakable range here.
*These statements have not been evaluated by the FDA. These ingredients are not intended to treat, cure, diagnose, or prevent any disease.