Sponsored Article
Upgrade Your Patio with These Top Picks from Amazon
You Could Be Inspired To Transform Your Patio With These Pieces.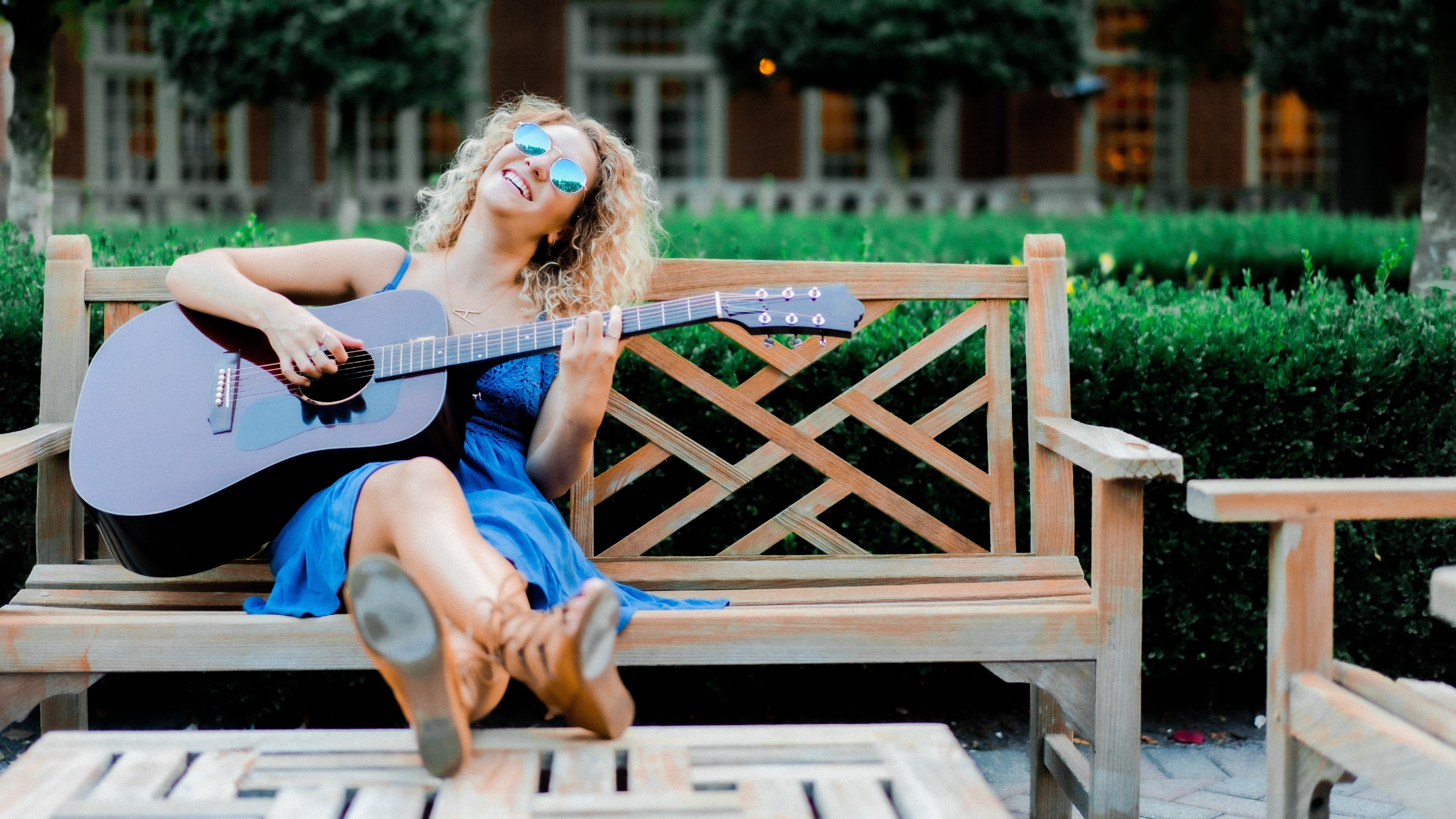 In 2020, patios and balconies became the new destination for Americans. As we stayed at home to avoid catching COVID-19, our outdoor spaces became our refuge for fresh air and a feeling of freedom. Some grew plants in their patios or got into backyard yoga, while others fielded work calls while perched on their garden benches. Perhaps you did one or all of these things.
After over a year of turning your patio into an extension of your living room or kitchen, it could be starting to show signs of constant use. The cushions could be looking a little lumpy, the floorboards might have stains, and your accent table might now give a little creak every time you pull it towards you. Or maybe you're just in the mood for some spring decorating and you're looking for new items to add a fresh touch to your space.
Whatever your reason is, we've got you covered. You could breathe new life into your patio just in time for the warmer weather with these unique and functional pieces from Amazon.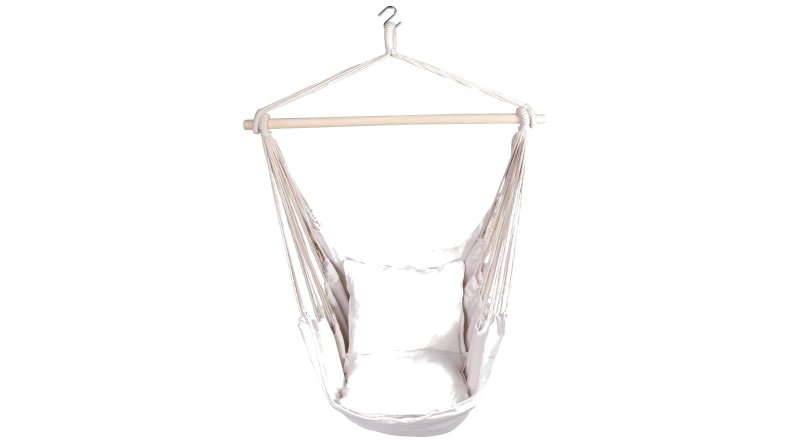 Y-STOP Hammock Chair
You can swap your accent chair with this hammock that could be compact enough to fit into small patios and balconies. It's made of soft polyester and cotton, so it could be easy to wash and keep clean. It has a sturdy wooden bar that helps maintain its balance, which might make it a comfortable spot not only for grown-ups but for kids and even pets. You might love that it's got side pockets, which could be ideal for stashing mobile phones, books, and snacks.
Best Choice Products Outdoor Hanging Curved Steel Chaise Lounge Chair Swing with Built-In Pillow and Removable Canopy
Love basking in the sun but hate it when actual sun rays hit your face? This chaise lounge could have your back. It features a curved seat that comes with a set of ergonomic foam-filled cushions, a removable headrest, and a removable polyester canopy that's UV-resistant. It might be your new favorite spot for lounging in all day.
Order it now starting at $219.99.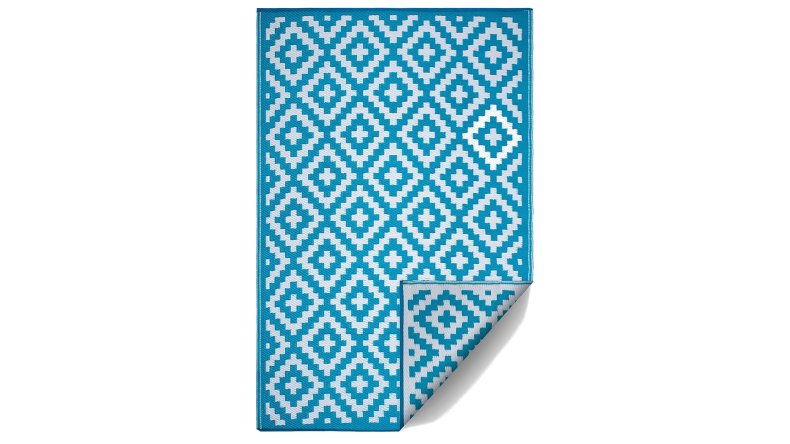 FH Home Reversible Outdoor Rug
Rugs help keep your patio floorboards clean and they could also add color and structure to your outdoor area. Update your space with this sturdy version from FH Home—it's stain- and water-resistant, UV-resistant, and reversible. Changing your patio's look could be as simple as flipping the rug over.
Order the 6 feet x 9 feet rug here at $69.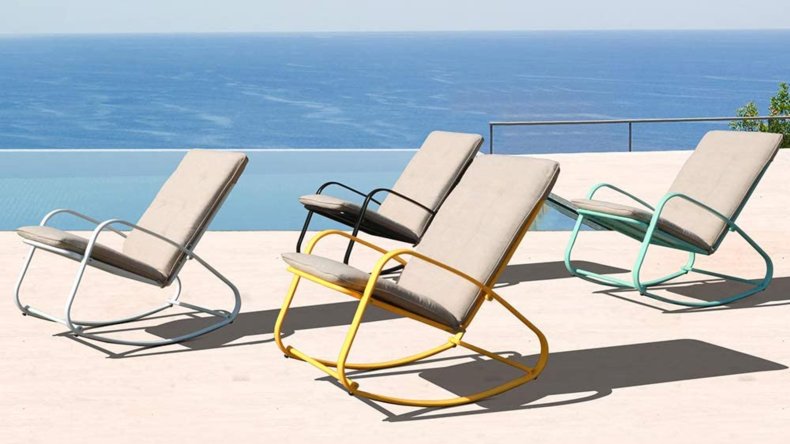 Orange-Casual Patio Rocking Chair
This fresh take on a patio rocker could be ideal for smaller spaces due to its streamlined, compact design. For $109.99, this chair features a high back and a triangular-symmetric structure that could make the rocking experience more stable. It comes in a variety of colors, such as teal, yellow, and powder blue. The foam seat and back cushions are removable and easy to clean.
Order it now in black at $105.99 or in turquoise, white, or yellow at $109.99.
H Potter Side Table
You could bring a touch of sophistication to your outdoor space with this side table from H Potter. Its curved metal legs are foldable, and the tabletop is removable, so it could also serve as a tray. The antique copper finish might make it a good-looking surface for your books, some tiny potted plants, or afternoon tea.
Order it now in black nickel or antique copper (pictured) at $69.95.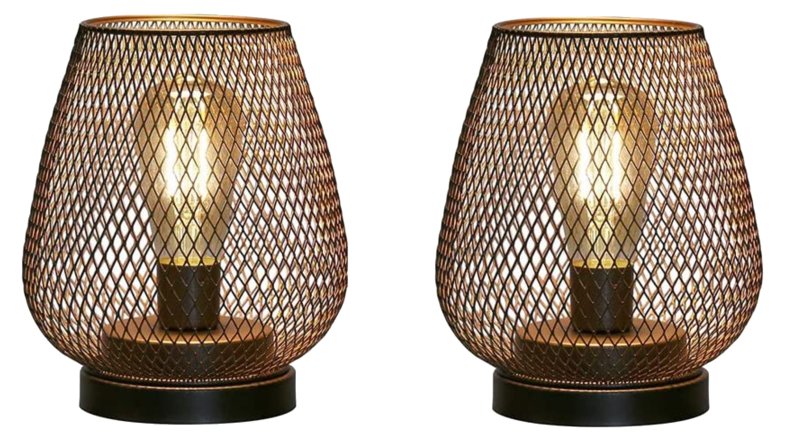 JHY Design Metal Cage LED Lanterns (Set Of 2)
Have you thought of upgrading your patio lights? You could with a pair of these vintage-inspired desk lights. They produce a soft, warm light that could bring a cozy feel to your outdoor space. These pretty lamps also double as decor during the day. You could place them on a side table, on the floor, or on an outdoor shelf to bring that retro-chic vibe to your nook.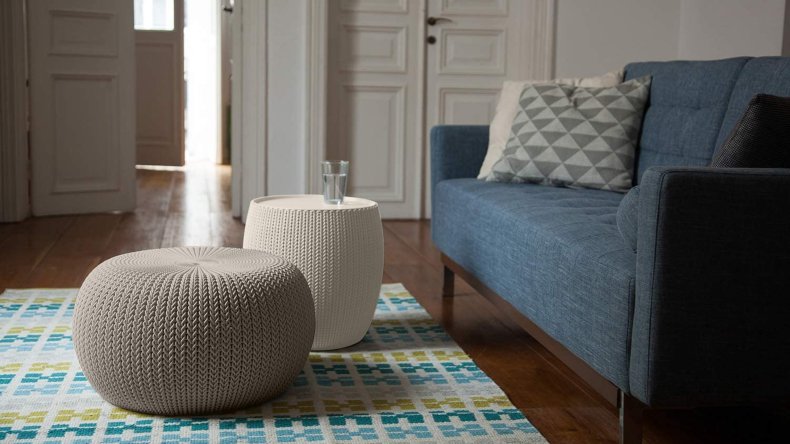 Keter Urban Knit Pouf Ottoman With Storage Table
This neutral-hued set from Keter could fit in well with any patio theme. The ottomans and tables are made of durable resin, so they might be ideal for use no matter the season. What you might like most about this set is the hidden storage—the table could hold up to ten gallons of storage, so you could use it to keep blankets, magazines, or any other patio essentials neatly tucked away. They're also pretty easy to store if needed: just stack the table inside the two chairs, and you could be all set.
Order it now in dune and misty blue at $168.70.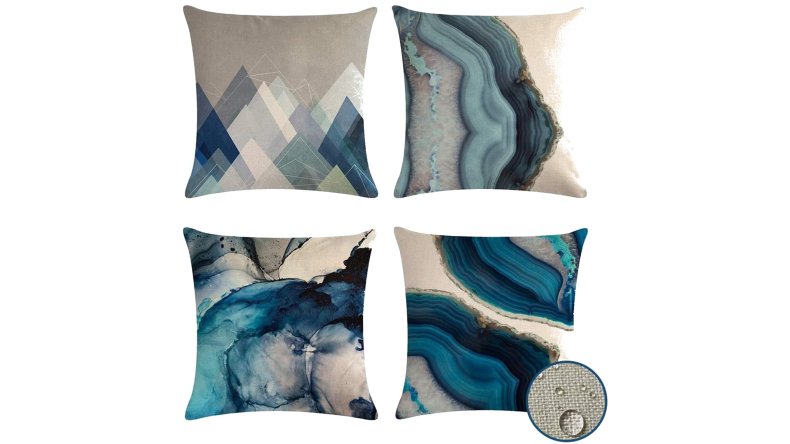 VIGVOG Waterproof Throw Pillow Covers
Pillow covers could provide an easy, affordable way to change up your patio's look, and they might also keep your cushions protected from light rain and other outdoor elements. You could add a splash of color to your deck with these bright-hued covers from VIGVOG. A set of four costs as low as $16.99—depending on the design—so you could get more than a couple to swap.
Order this set of four (pictured) now at $17.99.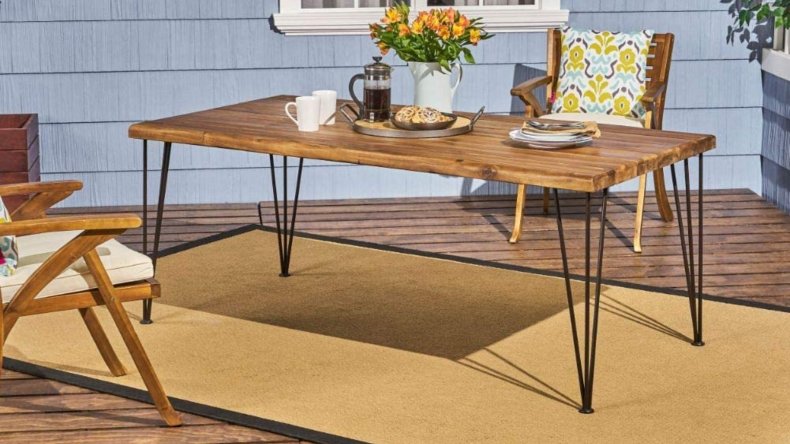 Christopher Knight Home Kama Patio Dining Table
If you don't have a home office, you might have found yourself working in odd corners around the house. You could make the patio your official spot by bringing in this sprawling Acacia wood table where you could place your laptop, paperwork, and other work-from-home essentials. It measures 72 inches in length and is said to be suitable for indoor and outdoor use. It might also be the ideal size for hosting intimate dining parties that you could throw once those warm summer nights start rolling in.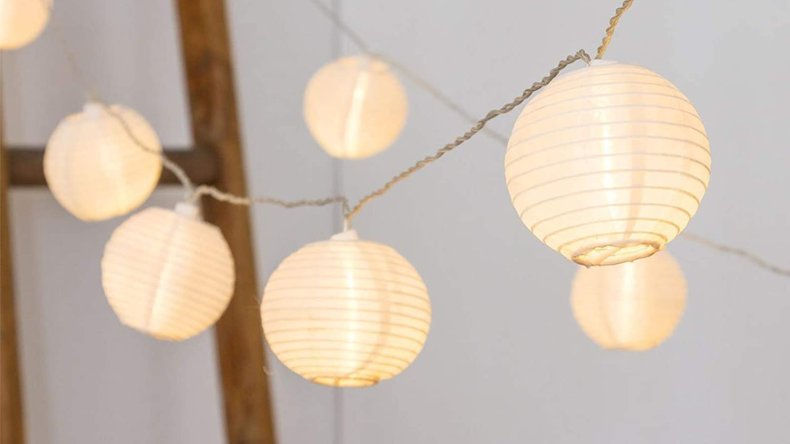 Vigdur Fairy Lights
These might make you want to hang out on your patio even after the sun goes down. For $19.99, you get a set of lights that runs up to almost ten feet. If that's not enough, these lights are connectable, so you could order additional pieces to string around your deck. What's more, they're waterproof, so they might stay up all year long.
Order the multi lantern set now at $19.99.
When it comes to upgrading your patio, you might not need to worry too much about sticking to a particular theme. Click here to look for more options from Amazon.