Sponsored Article
Valentine's Strawberries, Chocolates, Fruit Bouquets - From $40 And Up!
Get Your Special Someone A Unique Valentine's Gift From Edible Arrangements For As Low As $40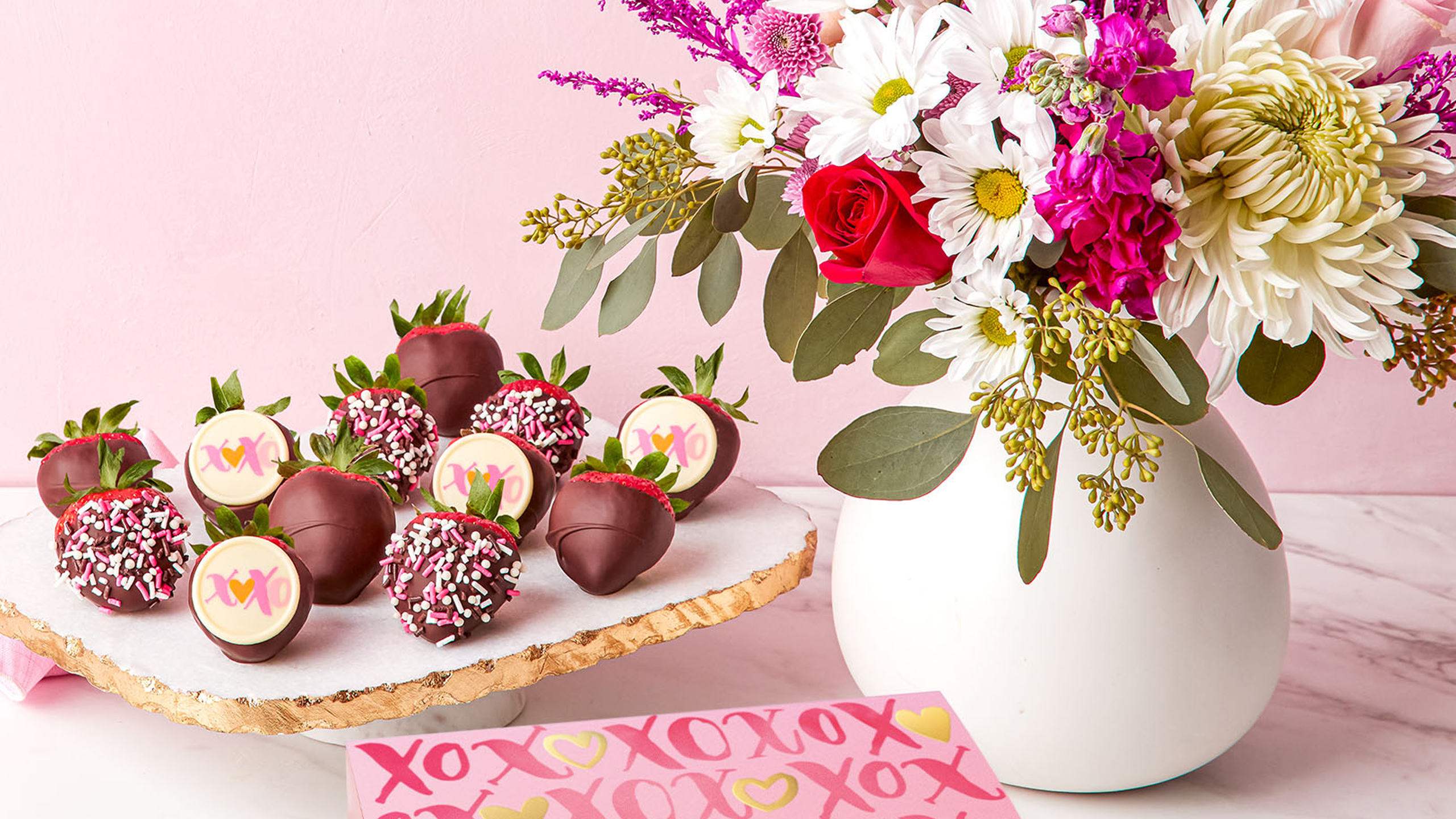 What the world really needs now is love and there is no better time to show it than Valentine's Day - the holiday made for love. With the sweetest day of the year upon us, everyone in a relationship is in a race against time, to get a memorable gift for that special someone. While some will stick to the tried-and-true gifts, others may hit a roadblock as they find themselves running out of gift ideas.
This Valentine's Day, why not love big and indulge bigger? Edible Arrangements®' fresh, handcrafted gifts are irresistibly delicious and made from the heart, for their heart. Now more than ever, we all crave love and with Edible®, and there is no sweeter way to share it. Their gourmet gifts aren't just festive and unique indulgences, but they're also sure to have date night done right. So shop for the following Cupid-approved gifts this Valentine's Day.
Price: $39.99
You can never go wrong with strawberries dipped in chocolate! At Edible, they make sure that their strawberries are perfectly ripe, and then they're hand-dipped in delectable chocolate, which makes this an excellent gift for any loved one with a sweet tooth!
Click here to order a box of 12 Chocolate Dipped Strawberries for your special someone now!
Price: $49.99
If your better half loves their chocolate as much as they love you, then this could make your Valentine's Day even sweeter! Picture this: you've got chocolate cream-filled cookies, graham crackers, and Bavarian pretzels; all covered with Rocky Mountain Chocolate Factory chocolatey goodness. You're also getting Edible's signature chocolate-dipped strawberries with colorful sprinkles, along with Xs and Os in white chocolate. And to top it all off, the two of you get to share three creamy cheesecakes, each adorned by a ripe and decadent chocolate-dipped strawberry!
Indulge in your own Valentine's Day Cheesecake Platter here for $49.99!
Price: $49.99-$59.99
You can make this Valentine's Day one to remember with one of Edible's signature fruit bouquets! The Fresh Cut Bouquet features a luscious mix of strawberries and daisy-shaped pineapples artfully presented in a vase that you can keep as a souvenir! It also comes in two sizes, with the Petite Fresh Cut Bouquet coming in at $49.99, and the Regular Fresh Cut Bouquet being sold at $59.99.
Get your own Fresh Cut Bouquet here starting at $49.99!
Price: $49.99
The Blooming Hearts™ is another take on Edible's trademark fruit bouquet arrangements, which features juicy strawberries, complemented with heart-shaped pineapples! You'll be treating your significant other to a classy presentation that comes in a petite Valentine's Day mug!
Order a Blooming Hearts™ fruit bouquet from Edible Arrangements® now at $49.99!
Price: $56.98
Who knew that chocolate, strawberries, and popcorn would make for an adorable combination? This limited Valentine's bundle features Edible's signature chocolate-dipped strawberries - topped with the cheeriest sprinkles - alongside a bag of all-natural Maddy & Maize popcorn in its special Berries and Rosé flavor! Imagine fresh kettle corn glazed with raspberries, and then dipped in light rosé wine and berry-flavored coating. The best part is nothing in this bundle that uses artificial ingredients! You can't go wrong with that!
Send your Valentine a Chocolate Berries and Rosé Bundle now at $56.98!
Price: $59.99
This Valentine's Day special includes twelve strawberries dipped in chocolate and covered in Valentine's sprinkles, topped off with an XOXO design on top of a layer of white chocolate! It's just right for a little extra sweetness during the season of love!
Order a Chocolate Strawberry Sweetheart Box now at $59.99!
Price: $62.99
This is the gift for the chocolate lover in your life. This bundle has chocolate cream-filled cookies, graham crackers, and Bavarian pretzels; all covered in Rocky Mountain Chocolate Factory chocolate! It also includes chocolate-dipped strawberries in the signature Edible Arrangements® design featuring the sprinkles and the XOXO on top of white chocolate. And as if that wasn't enough, it also comes with three cheesecakes with chocolate-dipped strawberries on top! The Cupid's Cheesecake Bundle also comes with three Valentine's Day balloons to completely set the mood.
Get a Cupid's Cheesecake Bundle here at $62.99!
Price: $66.98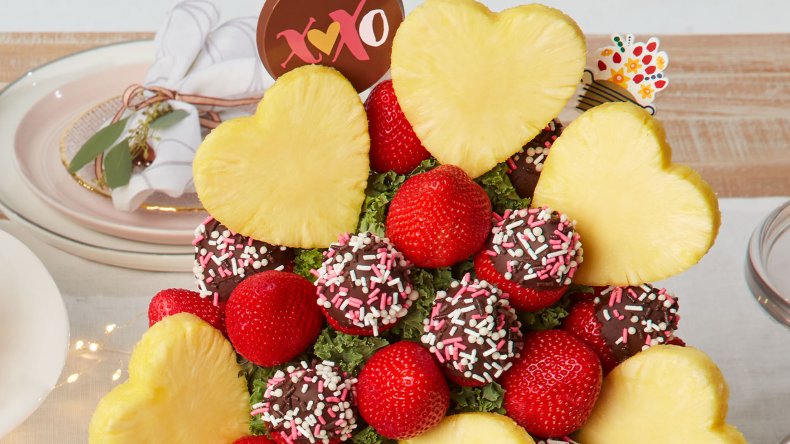 If you can't say it in your words, then maybe a song - or an entire album of them - could capture the emotions for you! You're getting Edible's chocolate-dipped strawberries in a beautiful Valentine's Day mug alongside a download link to Edible Music's limited edition Valentine's Day 2021 album! This compilation features fresh pop, folk, and R&B songs from both established and up-and-coming artists that you and your plus-one can enjoy together!
Click here to get the For The Love Of Music Berry Bouquet now at $66.98!
Price: $69.99
Sure, fruits aren't the first gift ideas you think of when you're planning to shower your significant other with affection on Valentine's Day. But you might change your mind after you see this unique fruit platter, featuring fresh strawberries, grapes, and our signature pineapple heart right in the middle. Some of them will be bathed in our gourmet chocolate and topped with sprinkles, too! This platter is carefully handcrafted with love and will definitely make for a gift to remember.
Send your special someone a Valentine's Day Sweetheart Platter now at $69.99!
Price: $74.98
Have you met Edi Bear? Your sweetheart is bound to fall head over heels over this cute and cuddly cub that's accompanying a box filled with a dozen chocolate-dipped strawberries covered in our signature Valentine's Day toppings. If you can't drive over to hug your special someone on Valentine's, maybe Edi Bear can do the job for now.
Get her a Strawberry Sweetheart Bundle here at $74.98!
Price: $74.99
This specially-curated gift box features a dozen of Edible's chocolate-dipped strawberries, with sprinkles and an XOXO design on top of a layer of white chocolate. The bag of Maddy & Maize Berries and Rosé popcorn adds a touch of class, and then you have the Belgian chocolate pop and the four handcrafted gourmet Rocky Mountain Chocolate Factory treats to round out the sweet indulgence of it all.
Treat your Valentine to a Valentine's Day Deluxe Gift Box now at $74.99!
Price: $82.99
The Valentine's Day Celebration Bundle goes big right off the bat with three loud and proud Valentine's balloons. But where it really hits the sweet spot is the Sweetheart Platter, a ripe selection of fresh strawberries, grapes, and the signature Edible pineapple heart right in the middle. Some of the strawberries are also dipped in Edible's gourmet semisweet chocolate, adding an extra tinge of delectability with every bite!
Order a Valentine's Day Celebration Bundle here at $82.99!
Price: $109.98
Who says the season of love has to end after the 14th? This bundle features an adorable Valentine's Day mug as a souvenir that your sweetheart can keep even after the treats are gone! Speaking of the treats, the mug comes filled with chocolate-dipped strawberries topped with sprinkles. And if that isn't enough, it includes a second dozen of the chocolate-dipped strawberries covered in Edible's signature Valentine's Day toppings. The entire package is in a nice little box wrapped in a Valentine's Day sleeve, perfectly setting the tone!
Click here to send Cupid's Berries & Chocolate to your special someone in time for Valentine's!
Price: $116.98
Instead of the traditional flower bouquet, this one starts with a fruit arrangement featuring pineapple hearts and chocolate-dipped strawberries with Valentine's Day sprinkles, all put together in a unique keepsake tin decorated with X's and O's. Speaking of X's and O's, you'll also find a luscious Belgian chocolate lollipop decorated with the same design to top it off! On to more of the sweet stuff, this bundle comes with a Rocky Mountain Chocolate Factory Assorted Chocolate Box, which includes 27 - that's right, 27! - handcrafted caramels, nutty clusters, buttercreams, and more! They also come in milk and dark chocolate varieties, making it a chocolate lover's dream-come-true!
Click here to order a Valentine's Day Bouquet & Chocolates package now at $116.98!
Price: $129.99-$142.99
The Be Mine Bouquet boasts an elegant, hand-crafted arrangement featuring Edible's much-loved heart-shaped pineapple slices, strawberries, and chocolate-dipped strawberries! Add two hugs and kisses Belgian chocolate pops for an extra side of sweetness and you've got yourself a memorable alternative to the traditional Valentine's bouquet!
If you want to be a little more bombastic, you can add three Valentine's Day balloons to the bouquet through the Be Mine Bundle for an extra $13!
Order the Be Mine Bouquet here at $129.99 or add Valentine's Day balloons to complete the Be Mine Bundle at $142.99!
With all these options to choose from, there's no reason why you should still be stumped for a Valentine's Day gift idea! It's so easy to stick with the tried-and-tested floral bouquets and stuffed animals, but where's the fun in that? You can add a bit of color - and a lot of sweetness - to your Valentine's Day gift through Edible Arrangements®' bouquets and bundles! It could just make this Valentine's your most memorable one yet.
Check out the Edible Arrangements® Valentine's Day collection here, starting at $39.99!