Sponsored Article
What Does Rowing Do for Your Body?
You Don't Have to Head to a Group Class or to a Nearby Body of Water to Get a Rowing Workout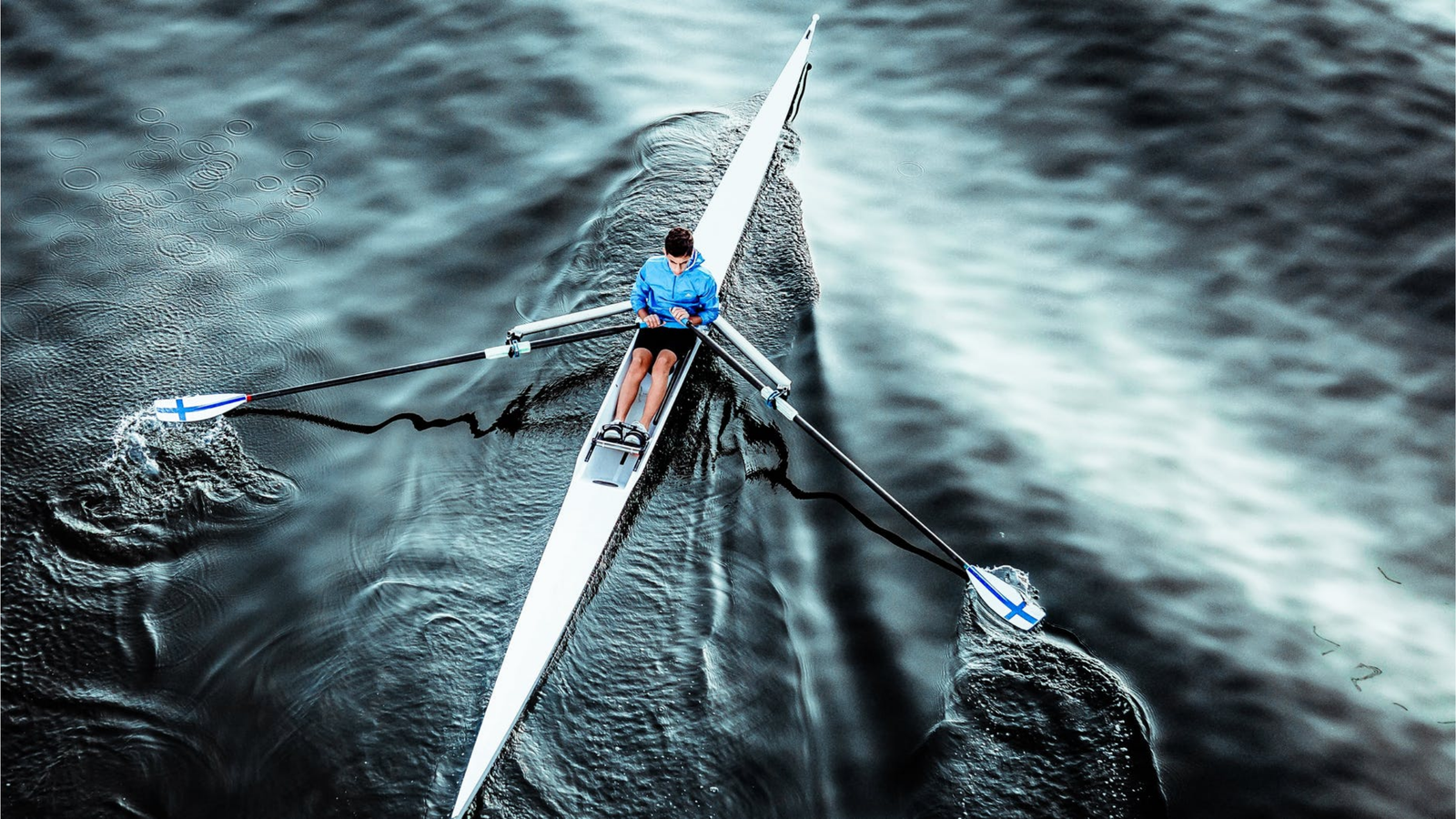 It's important to consult your doctors with any medical concerns, and before making any changes or adding supplements to your health plan.
If your familiarity with rowing is limited to that one scene in The Social Network, you might be surprised to know that it's not a sport reserved for the Ivy League elite. In fact, you don't even need access to water in order to get a rowing workout, thanks to rowing machines.
Rowing machines are a common practice tool for competitive rowers, but you might have also seen one or two of them at your local gym. That's because rowing machines could be a highly effective full-body workout for anyone. Are you tired of your usual routine and ready to mix it up? Are you interested in learning new skills while also toning your muscles? Then you might want to consider incorporating a rowing machine into your exercise regimen. Keep reading to learn more about how your body could benefit from a rowing workout.
Row, Row, Row Your Machine, and You Could Reap the Benefits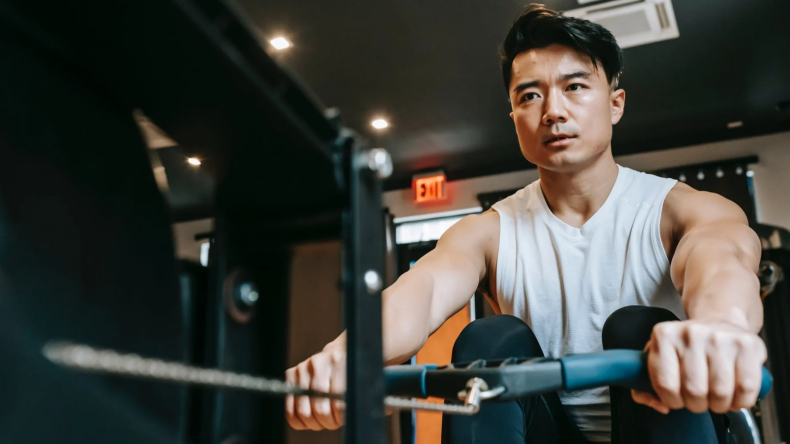 A rowing workout could combine your desired cardiovascular exercise with strength and conditioning training. That's right; You could say goodbye to the days of sweating on the treadmill before struggling through planks.
"Rowing has both an aerobic aspect to it and also a strength aspect," exercise physiologist Chris Dempers told the Cleveland Clinic. "You can adjust the tension of the machine for a heavier pull, and you're still driving through your legs."
The American Fitness Professionals Association (AFPA) indicates that a rowing stroke comprises 65 to 75 percent of leg activity and 25 to 35 percent of upper-body activity.
"Historically, I don't know why people haven't used [rowing machines]. It's a great exercise," Todd Miller, director of George Washington University's Weight Management and Human Performance Lab, said in an interview with The Washington Post. "The vast majority of aerobic exercise that people do—treadmills, cycling, steppers—all that stuff is primarily lower-body exercises. It doesn't really engage the upper-body musculature, so rowing does that. I think that's the best thing about it."
Rowing is such an effective workout, even astronauts are doing it. Because of their conditioning and cardiovascular benefits, rowing machines have been recommended to astronauts who might lose muscle mass while in zero gravity on missions. Miller also explained that rowing is a low-impact workout, which could be ideal for those dealing with a previous injury (or are trying to prevent one) and seeking cardiovascular exercises that are gentle on your joints.
"Because it's a resistance exercise done in a seated position, you're not putting as much wear and tear on your back and knees," Dempers explained to the Cleveland Clinic.
"People think it's all upper body and that you have to be this super strong person to do it, but rowing is really low-impact on the body, so you can be 90 pounds and a fast rower," Toni Kerns, vice president of membership for Capital Rowing Club, explained to The Washington Post. "You don't have to be this big, bulky, strong dude."
Rowing could also be a good way for runners or athletes to improve their cardio without increasing the impact on their joints with extra runs. "If you're strictly looking at it as an aerobic exercise to replace something like running, then you can do the rowing machine for half an hour and get a great cardio workout," Dempers said to the Cleveland Clinic.
Additionally, it can be easy to personalize your rowing. Like a stationary bike or treadmill, you can adjust the settings on your rowing machine to reflect the type of workout you want. You could row for steady-state cardio, or mix it in with other strength training exercises.
"You can do it as one longer workout or incorporate it into a larger routine, hopping on and off for short bursts," Dempers told the Cleveland Clinic. "After you do a quick hit, you can easily switch to doing something else, like push-ups or kettlebell swings, then come right back."
But contrary to a bike, you can't just coast on a rowing machine. If you stop rowing, the machine stops moving, unlike a bike where you can lower the resistance and allow yourself to slack off. Speaking of slacking, if you find your upper back muscles tend to give up halfway through your workday, you might be interested in some of the posture-improving perks of rowing. With many people working from home, sitting on sofas or on their beds, proper posture could quickly go out the window as you hunch over your laptop.
"There's a postural aspect, working on the strength in your upper back," Dempers told the Cleveland Clinic. "That's a big thing as we see so many people staring down at computers or phones all day. Improving that upper spine posture is important."
Where Can You Get a Rowing Workout?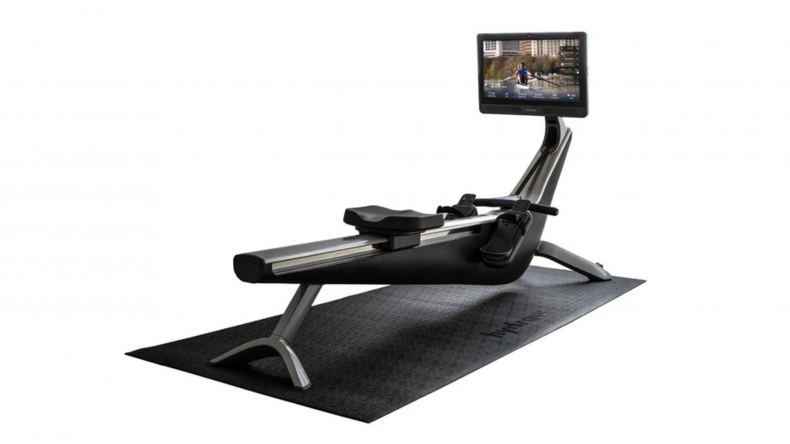 You don't have to head to a group class or a nearby body of water to get a rowing workout. With the Hydrow rowing machine, you could get an effective workout right from your home.
Even if your home is low on space, the Hydrow rowing machine measures just 86 inches long by 25 inches wide and is 47 inches tall. This could present a better space-saving option than bulkier equipment such as treadmills, elliptical machines, or stationary bikes. In fact, with Hydrow's upright storage conversion kit, you can even store the Hydrow vertically.
You can purchase the Hydrow through any of the three packages at the Hydrow Shop. The basic Hydrow rowing machine package comes with the innovative Hydrow rower, a one-year home warranty, free shipping, and an exclusive 30-day risk-free trial. Click here to buy the Hydrow rowing machine for $2,245, or click here to view all of your options through the Hydrow Shop.
Additionally, you'll spend $38 per month for the Hydrow membership, which delivers the workouts to your machine or the mobile app. It comes with an unlimited number of member profiles, so you and everyone in your family can access the workouts and track your own progress individually. You'll be able to stream their motivational and instructional content on their 22-inch touchscreen monitor, which comes with the Hydrow rowing machine.
The front-facing speakers could immerse you in the sounds of a scenic river while the screen illuminates the sights. Row your way through London, Scotland, Miami, Boston, and other beautiful scenes around the globe. The Hydrow rowing machine also has unique drag technology that could help recreate the feeling of rowing through the water.
The classes are led by elite athletes and trainers, and you can access live classes or row on-demand whenever it's convenient for you. The class instructors are there to motivate and encourage you, and some even get you off the rower and down on the mat for full-body workouts that incorporate yoga, strength training, and Pilates. With a Hydrow membership, you can access an inspiring community without physically stepping foot in an exercise class. Say goodbye to working out in a sweaty room while wearing a mask, and hello to a full-body workout from the comfort and convenience of your home.
Get Fully Equipped for Your Full-Body Workout
For a limited time only, you can get the Hydrow package that works for you. It's got everything you need for the best full-body workout experience. Save up to $150 when you shop the Basic, Starter, and Pro Packages.
If you order from June 28 to July 12, you can get $50 off the Basic Package, $100 off the Starter Package, and $150 off the Pro Package.