Sponsored Article
What Is an Immersion Blender, and Which Is the Best for You?
Time to Whip Your Kitchen Skills Into Shape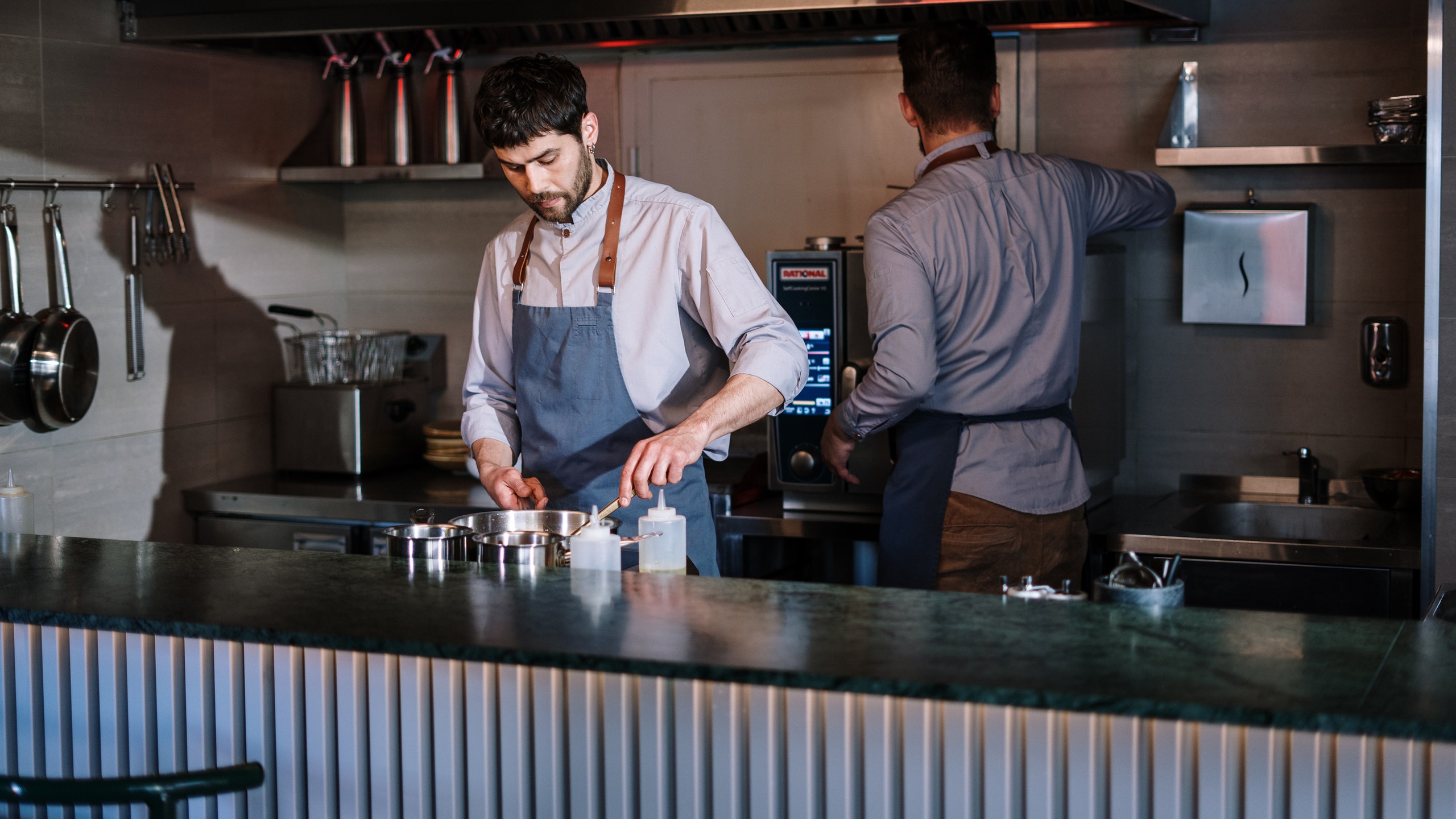 There are two kinds of people in the kitchen: those who can cook and those who...are better at other things. But what if you could blur the line between the two and make yourself look like someone who knows their way around a recipe?
One of the most helpful tools you can find in the kitchen is a blender, but you should know that some may be better than others. You might be familiar with the stationary blender, food processor, or stand mixer, and you might even have at least one of these kitchen appliances at home.
One standout is a handheld blender called an immersion blender. Also known as a stick blender or hand blender, an immersion blender lets you puree straight from the container, whether a pot or bowl. To combine ingredients properly, you have to swirl the immersion blender in the container, as well. There's no limit to what you can whip up with an immersion blender, like the newest model from NutriBullet.
NutriBullet Immersion Blender: The Latest Kitchen Must-Have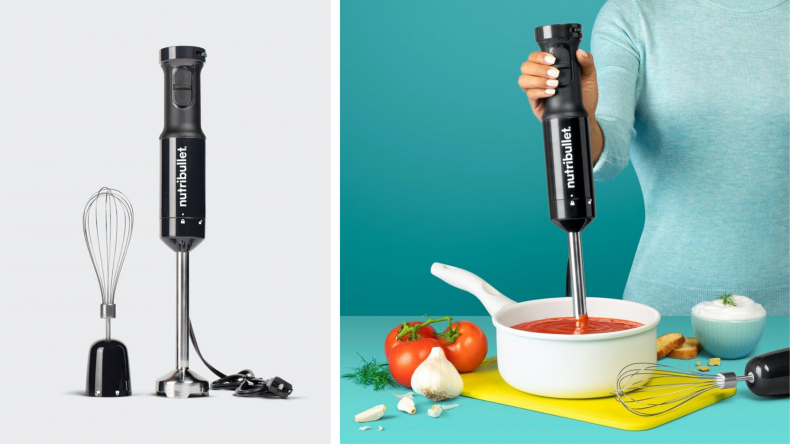 Kitchen work will never be boring when you're equipped with a powerful blending tool like the NutriBullet Immersion Blender. It has an 8-inch blending arm that lets you process ingredients straight from deep pots and bowls, so you don't have to worry about transferring your mixes into different containers. An ergonomic, soft grip makes the immersion blender easy to handle and control, and comfortable to maneuver while blending. Compact and slim, the NutriBullet Immersion Blender is designed to take up minimal space on your kitchen counter and fits in your silverware drawer comfortably. It features two speeds, and a variable speed dial to give you better control of your blending and prevent splatters.
The handheld blender includes two attachments: one with the 8-inch blending arm with an S-shaped blade tip to emulsify mixtures like sauces, dressings, soups, and milkshakes into a smooth consistency; and a whisk attachment to help you aerate mixes or achieve stiff peaks for frostings and creams. With 350 watts of power, the NutriBullet Immersion Blender elevates your meals with smooth blends and transforms you into a sophisticated kitchen whiz in no time.
Immersive Creations: What You Can Make With an Immersion Blender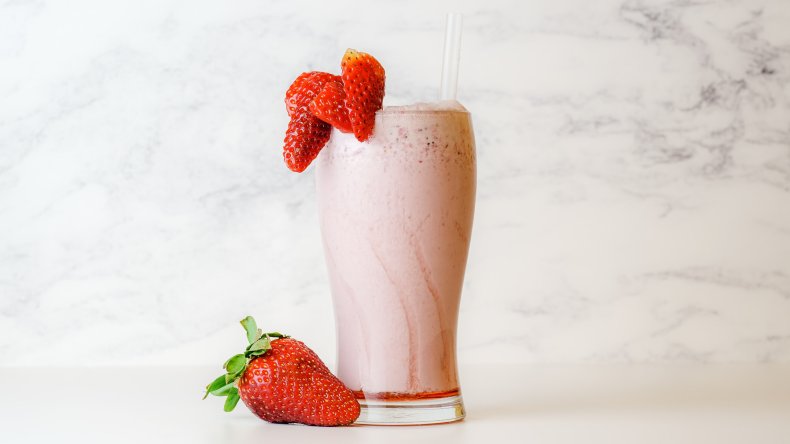 In case you don't know precisely what you can create with the NutriBullet Immersion Blender, here are some ideas to get you started:
Smoothies and Milkshakes
If you've ever been to a diner or ice cream shop that sells milkshakes, then you might have seen a small machine attached to the wall with thin metal rods that help turn ice cream into thick milkshakes. Think of that machine as a miniaturized version of an immersion blender. With NutriBullet's new immersion blender, you can come up with all sorts of delicious smoothies and milkshakes in large quantities to share with the rest of the family.
Soup
Have you ever wondered how soups at hotels or fancy restaurants manage to make their soups rich and creamy all the time? It's more than likely that they pureed the soup's ingredients with an immersion blender. Whether you want to make yourself a soup made from pumpkin, mushroom, or asparagus from scratch, it's easy to make with a handy immersion blender to turn it into a five-star consistency.
Whipped Cream
The hand or stand mixer is usually the traditional method of making whipped cream—well, all sorts of whipped frostings, really. It thoroughly aerates the mixture to give it the needed lift and form to decorate desserts and pastries. Since the NutriBullet Immersion Blender has a whisk attachment, you can also use it to whip up creams and frostings for all the desserts you bake in your kitchen.
Pancakes
There's no better way to wake up in the morning than to the smell of bacon and pancakes freshly made for breakfast. Whether it's fluffy buttermilk pancakes or a gigantic Dutch baby pancake, an immersion blender can help you make smooth, no-clump batter every time. Don't forget to get creative with your pancakes, too—add super grains for an energy boost, or indulge with chocolate chips and banana slices for a decadent way to start the day.
Pesto
Sure, you can buy pesto from a jar at the grocery store, but wouldn't it be impressive to learn how to make the herb pasta from scratch? You don't even need a stove to make pesto, like what usual red and white sauces require—you just need a food processor, or in this case, an immersion blender. All you'll need are fresh basil leaves, olive oil, salt, nuts, and Parmesan to blend the freshest pesto pasta you've ever made.
Eggs
A breakfast meal without eggs feels almost incomplete—they're one of the most versatile ingredients in the kitchen that you can transform into several different dishes. If you're looking to make scrambled eggs, omelets, or frittatas for your next morning meal, use NutriBullet's Immersion Blender to uniformly combine the egg yolks and whites and cook up fluffy eggs consistently.
Mayonnaise
With blending appliances, condiments like mayonnaise can be easily made fresh in the kitchen. It doesn't take much to make mayonnaise either—egg yolk, vinegar, oil, and salt are all you'll need for a basic mayonnaise recipe. With an immersion blender, you can emulsify all the ingredients together in no time and spread it on whatever you like.
Tomato Sauce
While a chunky tomato sauce adds texture to pasta, a smooth one can highlight the other textured and flavorful ingredients in it. If you're hankering for some marinara, arrabbiata, Bolognese, or pasta al telefono, an immersion blender can help you achieve a smooth sauce. Just dump in all the ingredients after cooking to combine all the flavors.
Hummus
Hummus from scratch? Yes, you can. Aside from being a high-protein snack, hummus can also be versatile with flavor add-ons, so you never get tired of it—and it's easy to make with an immersion blender. You'll need chickpeas (the main ingredient), tahini, lemon juice, garlic, olive oil, and salt to make traditional hummus. Place all the ingredients in one bowl and use the immersion blender until it reaches a smooth, slightly grainy consistency.
Salad Dressing
Looking to dress up your salad greens with something a little more sophisticated? Use NutriBullet's Immersion Blender to whip up homemade salad dressing. When making salad dressing from scratch, you have the freedom to get creative with the ingredients. Toss in fresh herbs or fruits with balsamic vinegar, sour cream, or mayonnaise in a bowl and combine them with an immersion blender before drizzling on your fresh greens.
Increase your kitchen skills when you get yourself the brand-new NutriBullet Immersion Blender and create a variety of smooth, savory, and sweet dishes for your next dinner with friends and family. Find out more about the NutriBullet Immersion Blender here.