Sponsored Article
Why Are My Feet Always Cold When My Body Is Warm? 5 Surprising Reasons
Heads up, It Might Be A Symptom Of A More Serious Condition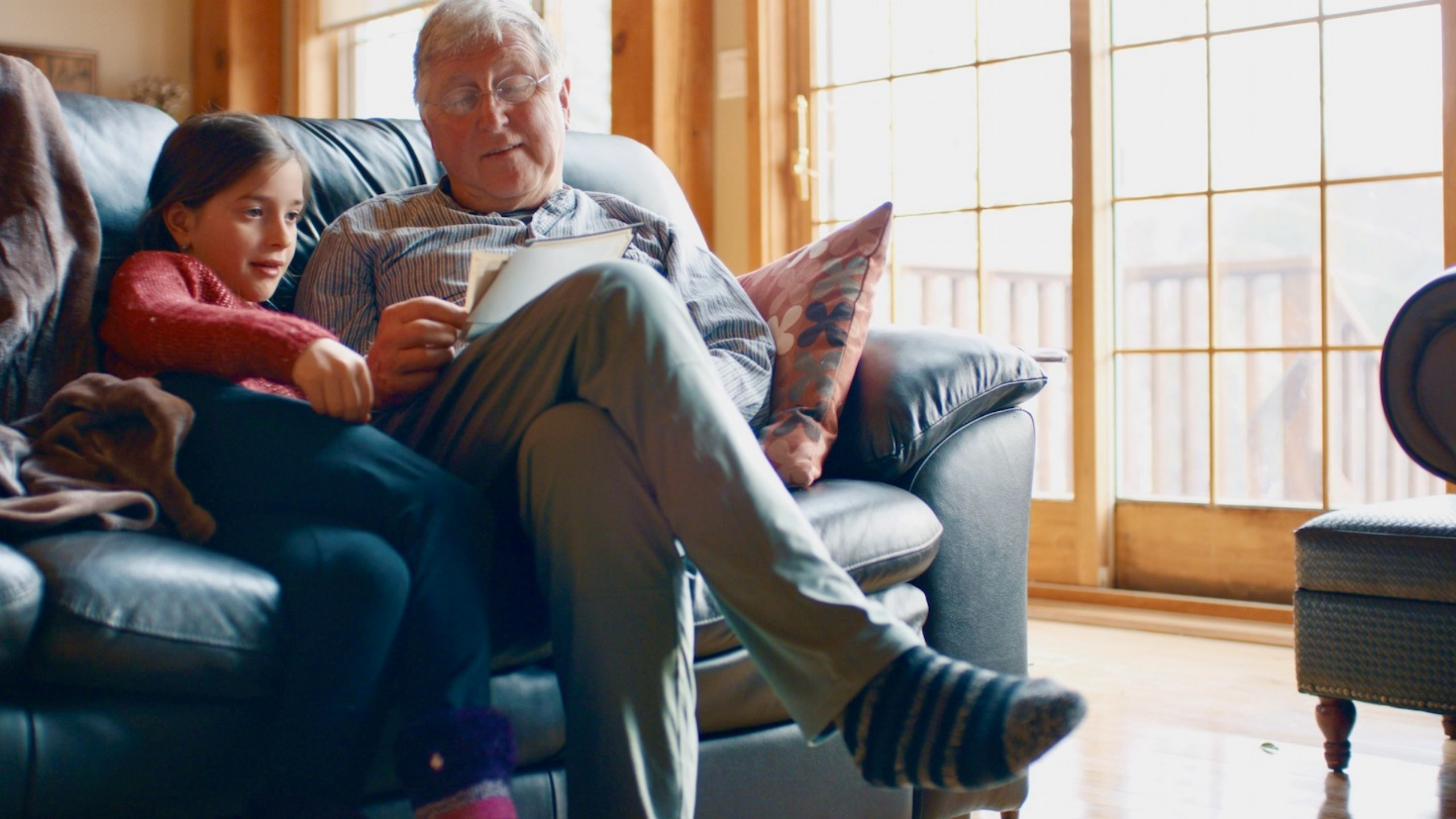 It's never a comfortable feeling when your feet are cold. Whether you're out in the winter cold or wrapped up in warm, cozy blankets, it never feels good when your feet feel like they're about to fall off.
As much as you'd like to blame the chilly weather, your nerves, or anxiety for your cold feet - it turns out there are several underlying medical conditions that may be causing and exacerbating your condition.
Conditions That Cause Cold Feet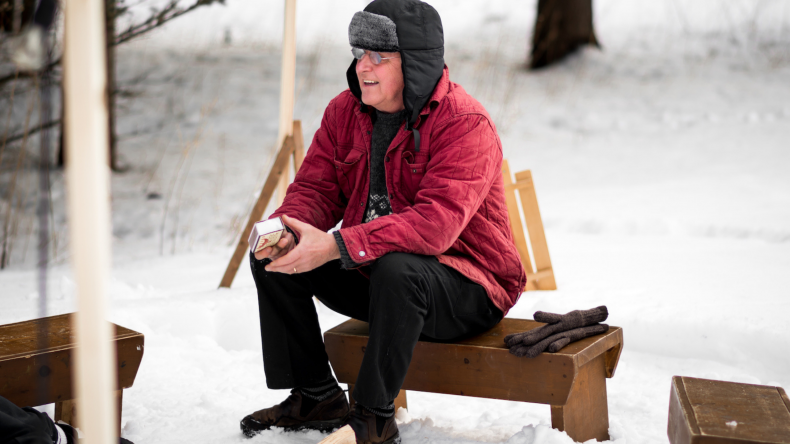 1. Weak Blood Flow
One of the factors that keep you warm and toasty is having warm blood circulated throughout your body. However, this can be disrupted when you have an underlying heart condition that prevents the heart from pumping blood fast enough to your extremities. Atherosclerosis is a condition where fatty deposits narrow arteries, inhibiting blood flow to your hands and feet. It's also a form of peripheral artery disease that involves narrowing your arteries, constricting blood flow to your vital organs and even your limbs.
2. Anemia
When you have an insufficient amount of red blood cells circulating in your body to carry oxygen to tissues and organs, you may have a condition called anemia. This condition can make you feel tired and weak faster than usual, and cold feet can be a possible symptom in severe cases. If you don't have enough red blood cells in your bloodstream, this may provide you less warmth in your outermost regions, like your hands and feet.
3. Diabetes
While it might seem unrelated at first, there are complications from diabetes that can affect blood flow or nerve sensitivity in your lower extremities. Peripheral neuropathy is when the nerves in your feet that detect temperature are damaged and give you the impression that your feet are cold when in reality, they're not at all freezing to the touch. Aside from feeling cold, you may also experience pins and needles or numbness in your feet.
4. Hypothyroidism
As the opposite of hyperthyroidism, this is an underactive thyroid condition where the thyroid gland doesn't produce enough thyroid hormones. This affects your metabolism, which is in charge of your body's energy and temperature. Hypothyroidism slows down the adjustment period your body requires when exposed to cold environments, decreasing energy and warmth from your cells and reducing blood circulation, which can cause cold feet.
5. Raynaud's Phenomenon
If you're a frequent smoker, have atherosclerosis, or use beta-blockers or prescribed amphetamines that constrict your arteries, it is more likely for you to develop Raynaud's phenomenon. In fact, Heat Holders are officially endorsed by the Raynauds Association for their benefits! When you're exposed to cold temperatures, small blood vessels overcompensate by constricting blood flow to your extremities to keep your internal organs warm. This condition's most common symptom is a visible discoloration of your ears, nose, hands, and feet, turning them white or bluish and feeling ice-cold.
Keep Your Feet Toasty No Matter What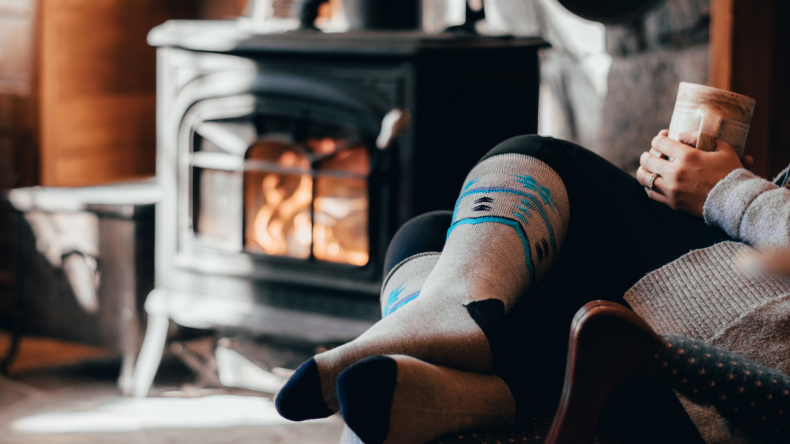 Now that you know the common causes of cold feet, the next step is to provide temporary relief to freezing extremities. While socks are the typical solution, even the thickest cotton socks are a poor substitute for more effective solutions. If this is a regular phenomenon for you, invest in something more cold-resistant, like thermal socks from Heat Holders®. Minus the lingering cold from regular socks and the bulk of battery-operated heated socks, Heat Holders® thermal socks are scientifically proven to be up to seven times warmer than regular cotton socks and almost three times warmer than any other thermal sock available.
Heat Holders® socks stay true to their name, so much so that Raynaud's Foundation, a non-profit organization that offers support and education for people diagnosed with Raynaud's phenomenon, endorses the use of these thermal socks to combat the condition against cold weather. Here's what customers with medical conditions had to say about the game-changing thermal socks:
"These socks are amazing, I have diabetes and my feet were always cold, with Heat Holders my feet are nice and warm. HIGHLY recommend this product, customer for life!!!" - Cara K.
"The Heat Holders socks were amazing.[My] husband loves them. He has diabetes and has neuropathy in his feet and legs so they are cold and purple all the time. Glad we made the purchase." - Janice W.
"As a Raynaud's sufferer, I struggle to keep my hands and feet warm enough in the cold Minnesota winters. These socks were amazing! They are big and thick, so[it's] not really anything you'd wear around the house, but[they're] super warm in my boots! Thanks so much for being Raynauds-friendly!!" - Amanda A.
"My husband bought me these as a surprise and I love them! I've had Raynauds for over ten years and I never found anything great for my feet. Can't wait to try more products and order more socks! Thanks." - Danielle L.
"As an individual with peripheral neuropathy my feet are always cold when I go to bed(even in the summer). Heat Holders is the only product that is both soft and warm up my feet. I am now on my third pair in as many years as I wear them almost constantly. I highly recommend them to anyone suffering from peripheral neuropathy." - Jeannine R.
How much warmth exactly does HeatHolders® retain in their socks? An independent lab test called the Thermal Overall Grade or TOG Rating was used to assess the fabric's heat-retaining capacity. When it came to Heat Holders® socks, the results showed that their thermal socks were 40% warmer than the warmest thermal sock they've tested, which were made from 80% wool.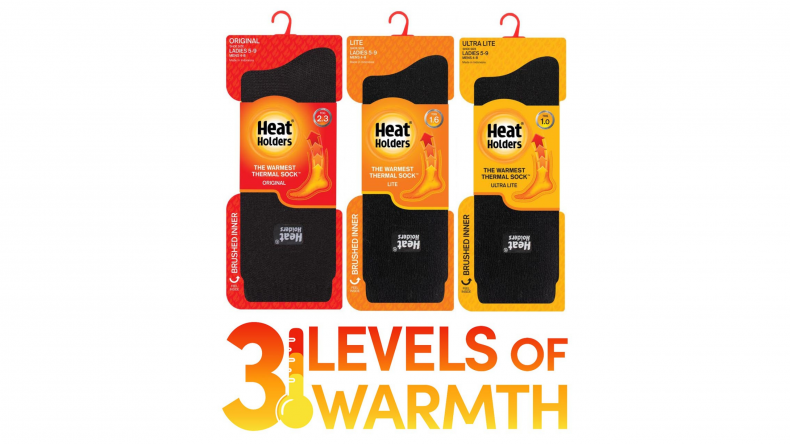 Heat Holders® socks come in three warmth types: Original, LITE, and ULTRA LITE:
Original
A pair of these Heat Holders® Original socks provide you the ultimate level of warmth for your feet. Designed with a heavy bulk yarn and long loop pile to retain maximum warmth, Heat Holders® Originals have been scientifically tested and proven to be more than seven times warmer than cotton socks.
LITE
With a medium-thick profile and a thinner weave than the Original, Heat Holders® LITE socks are ideal for wearing with casual shoes or boots. Get the best out of a less chunky sock but still get the benefits of Heat Holders® technology that has been scientifically tested and proven to be more than four times warmer than cotton socks.
ULTRA LITE
As the most lightweight profile of all the types, Heat Holders® ULTRA LITE socks are best worn with snug-fitting shoes in cooler temperatures. Keep your feet warm even in cool climates with Heat Holders® ULTRA LITE socks - scientifically proven and tested to be more than three times warmer than cotton socks.
There's no need for your feet to freeze in cold weather when you have Heat Holders® to keep your digits warm and toasty. But don't just take our word for it - Heat Holders® has over 10,000 five-star reviews across different platforms, raving about the warmest and most comfortable socks they've ever purchased!
Looking forward to the coziest and toastiest winter season? Get your pair (or pairs) of Heat Holders® socks here.