Sponsored Article
You Can Take This Flavored CBD Powder on the Go
If You Want an Efficient Treatment, You Might Want to Consider Caliper Swiftsticks
It's important to consult your doctors with any medical concerns, and before making any changes or adding supplements to your health plan.
Between school and work, self-care and childcare, household chores and social obligations, it might feel like your life is busier than ever before. You might be sensing the stress of having to juggle everything this summer as your friends and loved ones start to come out of their pandemic isolation wanting to make up for lost time.
If your pulse is already starting to increase just thinking about your daily to-do list, it might also feel impossible to fit self-care into your routine. But it's time to leave that self-sabotaging notion in the past and move forward with taking care of your own well-being on your own terms. If you've already incorporated cannabidiol (CBD) into your self-care routine—or if you're interested in trying it out—Caliper makes it easy to use CBD with your on-the-go lifestyle.
Everything You Wanted to Know About CBD, but Didn't Want to Ask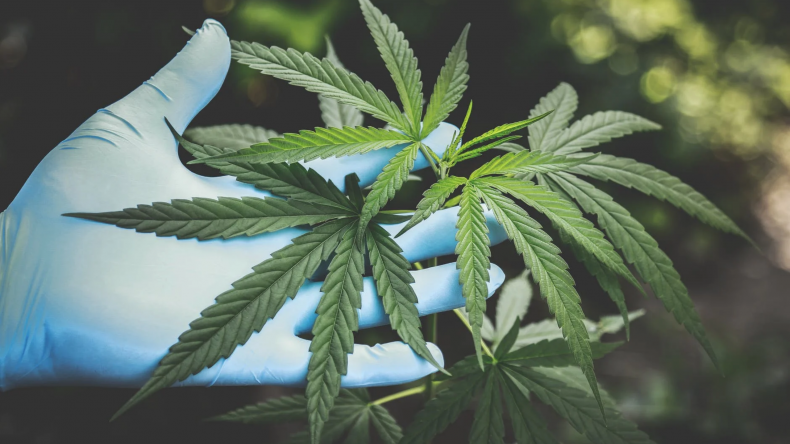 We get it: Reading scientific papers about CBD could be tedious, confusing, and time-consuming. Even worse, asking your hip CBD-toting friends about their experiences with it might be embarrassing for some. We're here to answer your burning CBD-related questions so you don't have to lose cool points with your crew.
1. Will CBD Make Me Feel High?
You don't have to worry about tripping or getting high with CBD; it's a nonpsychoactive substance. According to the 2017 Pre-Review Report on CBD by the World Health Organization (WHO), it doesn't exhibit any effects that could indicate any potential of abuse or dependence in humans. The report added, "To date, there is no evidence of public health-related problems associated with the use of pure CBD."
2. Where Does CBD Come From?
CBD is a component of the cannabis sativa plant. A report from the Mayo Clinic explains that there are two major strains of cannabis: marijuana and hemp. Marijuana is commonly known for its intoxicating effect due to the psychoactive component tetrahydrocannabinol (THC). Hemp, on the other hand, has historically been used in manufacturing products like paper and clothing. CBD can be derived from either strain of the cannabis plant.
3. How Does CBD Work?
CBD is classified as a cannabinoid because it interacts with our endocannabinoid system (ECS). The same Mayo Clinic report explains that the ECS "has been implicated in a variety of disease states and important regulatory functions, from chronic inflammatory conditions and regulation of immune homeostasis in the gut to anxiety and migraines."
The ECS is a system of receptors and nervous tissue that helps our bodies maintain homeostasis or balance. The report elaborates that humans create their own cannabinoids that interact with the ECS, but plant-derived ones—like CBD and THC—seem to create cannabinoids, as well. Scientists are still discovering how CBD interacts with these receptors. According to WHO, CBD might activate some receptors or block them from interacting with other cannabinoids. More research is needed to determine the exact mechanisms of CBD interactions.
4. Is It FDA-Approved?
To date, there is only one CBD medication approved by the Federal Drug Administration (FDA). It's called Epidiolex, and it's used to treat two severe forms of childhood epilepsy: Lennox-Gastaut syndrome and Dravet syndrome.
5. What About Other Studies on CBD?
Scientists are still in the early stages of research on CBD, but so far, there are some promising results. Some preliminary studies have shown that CBD could be a potential treatment for certain types of addiction, anxiety and chronic schizophrenia, inflammation, insomnia, stroke prevention, Alzheimer's disease, Parkinson's disease, cancer, and infertility. According to the U.S. National Library of Medicine, nearly 100 studies are currently recruiting participants for CBD clinical trials. These studies are investigating the use of CBD to treat a wide variety of ailments and illnesses, such as arthritis, dental pain, emotional issues due to COVID-19, and much more.
6. How Do I Take CBD?
By this point, you might have seen a fair number of advertisements for CBD products. If you're new to the world of CBD, it might be intimidating to figure out a convenient, effective, and easy way to consume it. Additionally, if you're concerned about the intoxicating effects of THC, you'll also want to ensure the CBD products you purchase are 100 percent THC-free. To ease your mind and make your search easier, we'd like to introduce you to Caliper, a company that is shaking up how you consume CBD.
Enjoy the Convenience of Caliper CBD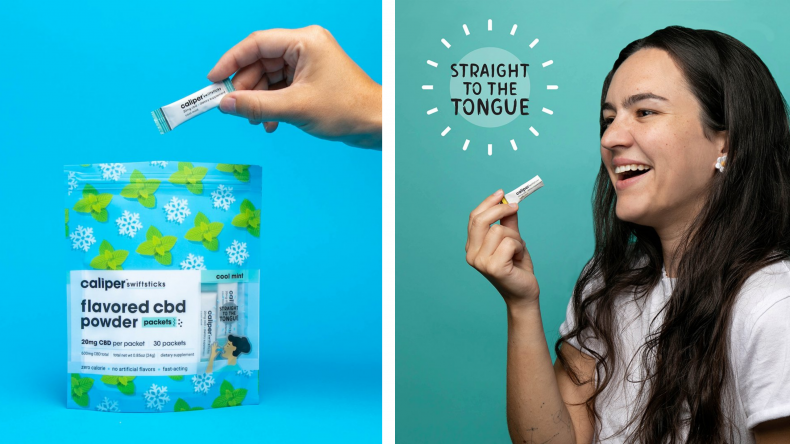 Do you want to calm down before that big presentation at work? Need help unwinding your mind before bed? Did you finally ask out your crush, and now you're suffering from predate jitters? Heading to your first post-pandemic party and don't remember what it's like to socialize with that many people at the same time? Whether you're on the go, in a rush, or just want an efficient treatment, you might want to consider Caliper Swiftsticks.
With Caliper Swiftsticks, there's no mess, no fuss, and no dosing. Just tear and pour and go about your day. These delicious packets are filled with 20 milligrams of powdered CBD that you can sprinkle directly on your tongue. The powder dissolves quickly for an easy CBD pick-me-up that should not interrupt your routine. Its tasty flavors include refreshing Cool Mint, Lemon Lime, and Mixed Berry.
Click here to buy a 30-pack for $44.99 per month or a 60-pack for $75.60 per month.