Amputee Assaulted, Stabbed by Two Men Who Attempted to Steal His Dog
A British amputee was attacked by two men attempting to steal his dog, leaving the 39-year-old with a stab wound, broken nose and concussion, according to a report.
Andy Garside and his wife, Stacey, were walking their French bulldog, Lilo, on Tuesday night in Hattersley in Greater Manchester. Stacey, 41, told the Manchester Evening News that they noticed two men following them, but the men moved out of view and they didn't "think anything of it at first."
However, when they rounded a corner, the two men were there waiting, Stacey said.
"They came up to him and one of the lads was saying, 'That's a sick dog—can we pick it up?'" Stacey told the newspaper.
Andy then pulled Lilo away as one of the men attempted to pick up the dog despite their refusal, and both men began punching him in the face. One of the men proceeded to stab him in the stomach, Stacey said.
"They didn't expect him to fight them off. They scuffled for a bit before one said, 'Just leave it now'—and they ran off towards the new-builds on the estate," Stacey said.
Stacey said that Andy, who was bleeding heavily, then picked up a "traumatized" Lilo and knocked on the door of a nearby residence for help.
"Andy has a broken nose that is going to need surgery. His septum has completely come away. He has got [a] concussion and his face is a bit of a mess," Stacey said.
Andy, who has functional neurological disorder triggered by stress, experienced a seizure after the attack, according to the report.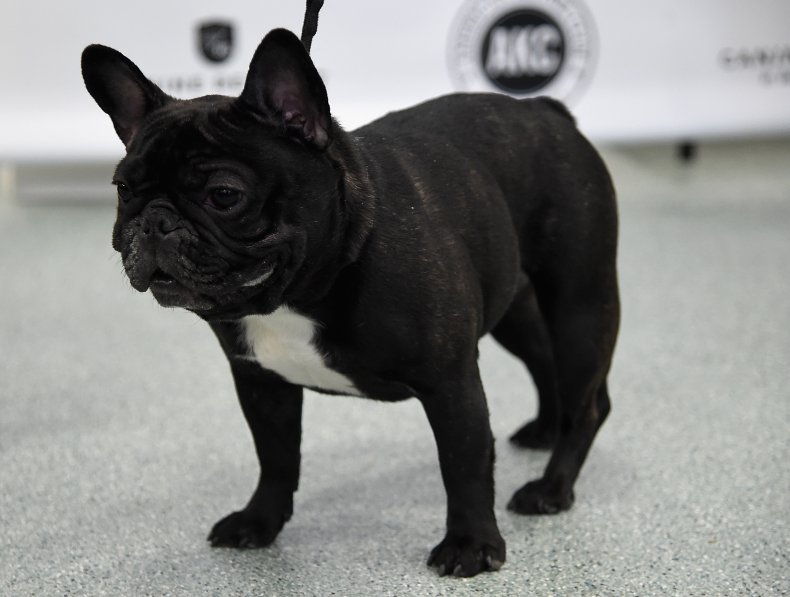 Stacey said that Andy was wearing shorts at the time of the attack, exposing his prosthetic leg. She told the Manchester Evening News that she believes he was targeted by the men because they thought it would be "an easy steal to take a high-value dog."
French bulldogs, which were ranked the second-most popular dog breed in the world by the American Kennel Club in 2020, have become common victims of theft for their popularity and high value. In one of the most high-profile cases of stolen French bulldogs, Lady Gaga's dog walker was shot in the chest and her dogs stolen in February.
Brandi Hunter, vice president of public relations and communications at the AKC, told Newsweek that the rise of popularity in French bulldogs over the past few years has caused demand to surpass supply.
"Responsible breeders are not breeding for supply," Hunter said. "They are breeding for health. Lack of supply and greed leads people to more nefarious ways of attempting to acquire Frenchies."
Hunter said that while price is ultimately the decision of the breeder, people may pay as low as $3,000 to more than $10,000 for one French bulldog. Stolen French bulldogs may be sold, ransomed or even kept by the stealer.
"Since we don't know the exact motivation of the thieves, it is sad to say that anything can happen," Hunter said.
Aside from popularity and value, the small size of French bulldogs also plays a role in instances where they are stolen because they are easier to carry, Hunter said. Other small breeds like Yorkshire Terriers, Shih Tzus, and Maltese may also be targeted for this reason.
Hunter recommends that French bulldog owners, in order to keep themselves and their pet safe, should microchip their dogs, keep a close eye on them, refrain from leaving them outside by themselves, stay alert when going on walks and take caution when it comes to social media.
"Thieves have used it in the past to find dogs," Hunter said.
The Greater Manchester Police Department is investigating the incident. Newsweek attempted to reach the department, but it was unavailable for comment by publication time.