Footage of a three-legged dog trying to "shake" hands with his missing paw is making TikTok users emotional.
Jake was hit by a truck in September 2021 after he escaped his owner Amber Milton's (@ambermilton01) yard when his perimeter collar broke, losing his right front paw in the road collision.
Thanks to love and care from Amber, it wasn't long before Jake was back on his feet. Nevertheless, more than a year later, and Jake still tries to shake hands with his missing paw.
On October 23, Amber shared a clip of Jake trying to perform the command to TikTok. In just three days, the post has received almost 288,000 likes and 1.8 million views.
What is a 'phantom limb'?
Dr. Jeff Smith, Medical Director at Danville Family Vet, said it's not unusual for dogs to have a "phantom limb" after an amputation.
"The neurological 'wiring' to the brain is largely reflexive after a behavior is learned," he told Newsweek.
"A dog will continue to try and reflexively shake a paw in response to a human cue, even if he no longer has a leg."
RJ Peters, CFO at Galaxy Vets, has fostered multiple cats and kittens with special needs, and has a three-legged feline of his own.
"We adopted one that we ended up falling in love with," he told Newsweek.
"I'm always amazed at how they adapt to the situation. They are just as loving and playful as ever and manage to get around great with just a little extra effort."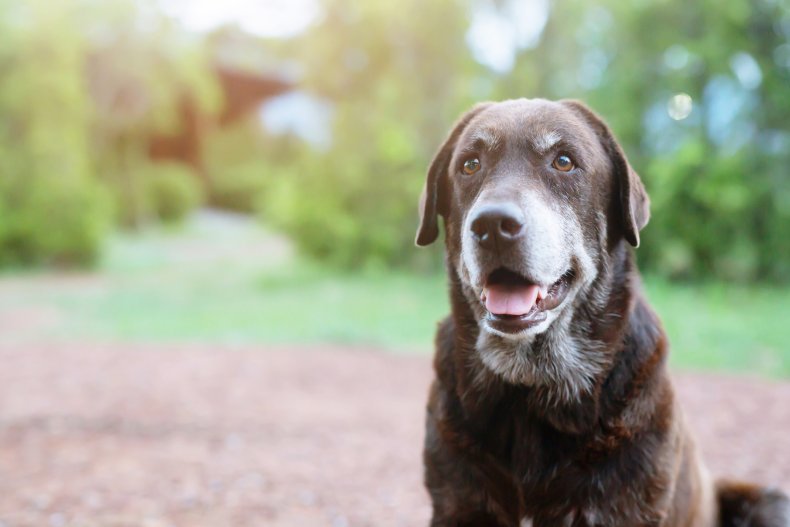 'Why am I crying?'
Since the accident, Amber has shared several videos of Jake's recovery. Although the leg couldn't be saved, his injuries meant he was too weak to have the limb amputated right away. Instead, he was sent home to rebuild his strength before proceeding with the surgery.
His leg was removed 16 days after the accident, and immediately Jake found it easier to move around without his damaged limb weighing him down.
A year later, and Jake is playing fetch and happily running around the yard once again.
In the most recent video Amber shared, she holds her hand out to Jake so they can "shake paws." In response, Jake wiggles his stump, showing he still understands the command, even if he can't act on it.
Captioned "he still gives his paw, every time," the cute clip broke TikTok users' hearts.
"Who's a good boy?" commented user Thormaster. "And why am I crying?"
"What an absolute sweet boy. I'm in love!!" wrote Jason D.
"Where's his treat?" asked Amanda. "He did the trick now he gets the treat."
"MY HEART IS EXPLODING" said hikingintheam. "The goodest boy."
Newsweek has reached out to Amber Milton (@ambermilton01) for comment.
Do you have funny and adorable videos or pictures of your pet you want to share? Send them to life@newsweek.com with some details about your best friend and they could appear in our Pet of the Week lineup.