Amtrak Crash Update: Multiple People Dead, NTSB Begins Investigation
An Amtrak train traveling from Los Angeles to Chicago derailed in Mendon, Missouri, on Monday afternoon, with authorities reporting at least three fatalities.
The train, which was carrying 207 passengers, hit a dump truck that was in the middle of the tracks. Seven of the train's cars derailed.
Fifty people were injured, with dozens taken to the closest hospitals possible in the remote area.
The Missouri State Highway Patrol called the derailment a "large-scale event."
Live updates for this blog have ended.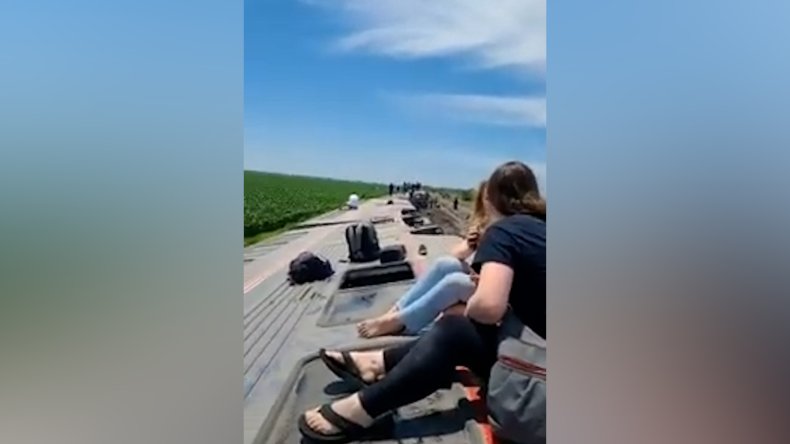 Pelosi and Other Elected Officials React to Missouri Train Crash
Elected officials reacted to Monday's deadly train derailment with empathy for the victims, and with at least one keeping a close eye on the investigation.
"My heart goes out to all those affected by today's horrific train derailment in Missouri," House Speaker Nancy Pelosi said in a tweet Monday evening. "While there are no words that can console those grieving lost loved ones, may it bring them comfort that so many Americans pray for them on this tragic day."
The Amtrak train was traveling from Los Angeles to Chicago when it struck a dump truck in rural Missouri. The train derailed, killing three. At least 50 more people were injured, reports Fox affiliate WDAF-TV.
Representative Chuy García, who represents part of Chicago, tweeted that his thoughts were "with the families of the passengers who lost their lives, and those injured." He said he was also closely following the National Transportation Safety Board's investigation into the crash.
Missouri Governor Mike Parson said in a tweet he was saddened to hear of the derailment.
"We ask Missourians to join us in praying for all those impacted," he said.
American Red Cross On Its Way to Help Missouri Crash Victims
A local chapter of the American Red Cross says it has dispatched a team to rural Missouri to help victims of Monday's train derailment find food, shelter and any other pressing needs.
The American Red Cross of Missouri and Arkansas said in a tweet Monday evening that a response team is on the way to Mendon, Missouri to lend a hand to those stuck after the Amtrak train crashed into a dump truck.
"We are in coordination with county emergency management, city and state officials to determine what is needed," the humanitarian agency said in a tweet. "Our priority is to ensure passengers and crew have a place to stay, food and other immediate needs in collaboration with community partners."
The Red Cross chapter added that it hasn't received requests for blood products, "but we are standing by to support any needs that may arise."
Buttigieg Saddened by Train Crashes, Sending Help with Investigation in Missouri
U.S. Secretary of Transportation Pete Buttigieg said in a tweet he was "saddened by the tragic loss of life and injuries" by Monday's train crash in Missouri and another on Sunday in California.
On Monday, an Amtrak train crashed into a dump truck at a crossing in rural Missouri, killing three and leaving an unspecified number injured. The collision came a day after a sedan carrying five people was struck by an Amtrak train in rural California, leaving three dead and two injured.
"I have been kept updated & my team is in touch with Amtrak & relevant authorities," Buttigieg said in his tweet.
He added that staff with the Federal Railroad Administration are en route to support the investigation underway in Missouri.
Amtrak Confronted With Multiple Deaths After Two Days of Crashes
The deadly Amtrak train collision in Missouri comes a day after a similar crash at a crossing in rural California killed three and left two others injured.
The crash occurred Sunday afternoon in Brentwood, a community on the outskirts of East Bay, when an Amtrak train ran into a car that had five people in it, reports CBS affiliate KPIX-TV. Three of the car's occupants were killed in the crash and an adult and child were hospitalized with "major injuries," according to the station.
Authorities in Missouri said Monday that an Amtrak passenger train hit a dump truck at a crossing with no lights or electronic controls. Similarly, the crash in California happened at a crossing with no gates, reports KPIX-TV.
Residents who live near the dirt road crossing leading into private land told ABC affiliate KABC-TV the location has seen many previous collisions.
"This farmland you listen for the horn and you can clearly see when a train is coming for probably a quarter-mile away. So it's hard to believe you can't hear a train or see a train," said Cindy Caprio told the station.
NTSB to Request Amtrak Cameras for Investigation
Jennifer Homendy, chair of the National Transportation Safety Board, says her agency has asked Amtrak about cameras that could provide answers on what caused a deadly train crash in rural Missouri Monday.
Speaking during a media briefing, Homendy said she along with a 15-member team would be in Mendon 8:30 a.m. Tuesday morning to begin investigating the Amtrak passenger train crash that left three dead and a currently unspecified number of people injured.
Homendy said the NTSB, which is leading the investigation, has requested from Amtrak the route's speed and if there are forward-facing or internal-facing cameras, as well as information from the train's manifest.
"And of course, there is a recorder on board that will provide some information for our investigators," she said.
She said the investigative team will include a drone operator and staff from the NTSB Office of Transportation Disaster Assistance who will work with survivors and families of those involved in the derailments.
Currently, Homendy said the cause of the crash is unknown.
Crash Occurred at 'Uncontrolled' Intersection, Required Medical Helicopters: Police
Medical helicopters transported the victims of a deadly crash that occurred in rural Missouri when a dump truck collided with the Amtrak passenger train, according to authorities.
Corporal Justin Dunn, spokesman for the Missouri State Highway Patrol, said the collision happened at an "uncontrolled" intersection.
"So no lights, no electronic control devices things such as that," he said.
Of the three fatalities, Dunn confirmed that two fatalities included were people on the train.
During the short press conference, Dunn said little information was currently available and the incident is under investigation. He said the train is believed to have had eight cars, including a baggage car, and had approximately 207 passengers as well as crew members.
Boy Scouts Troops Were Onboard
There were reportedly a total of 24 people representing two Boys Scout troops from Wisconsin onboard the derailed train Monday.
"#BREAKING Two different Boy Scout troops from Appleton were onboard derailed Amtrak train in Missouri. They were coming home from a trip in New Mexico. Included 8 adults and 16 youth. Early reports indicate at least two adults were hurt," was the tweet from Barrett Tryon of Green Bay's WFRV.
Three fatalities reported from crash
Corporal Justin Dunn of the Missouri State Highway Patrol said at least three people were killed in Monday's derailment. Two of those people were on board the train while the other was in the dump truck that was struck.
Dunn added that at least a dozen people were taken to the hospital.
The crash is still under investigation.