Photos of Amtrak Derailment Show Train Flipped After Dump Truck Collision
Photos posted across social media showed an Amtrak train in Missouri that flipped over after it was derailed because of a collision with a dump truck, causing at least three fatalities.
A spokesperson for Amtrak told Newsweek, "On June 27, several cars derailed on train 4 traveling from Los Angeles to Chicago after striking a dump truck at a public crossing in Mendon, Missouri at 1:42 pm."
The statement continued, "There are approximately 243 passengers onboard with early reports of injuries. Local authorities are currently assisting customers and we have deployed Amtrak resources to assist. Additional details will be provided as available."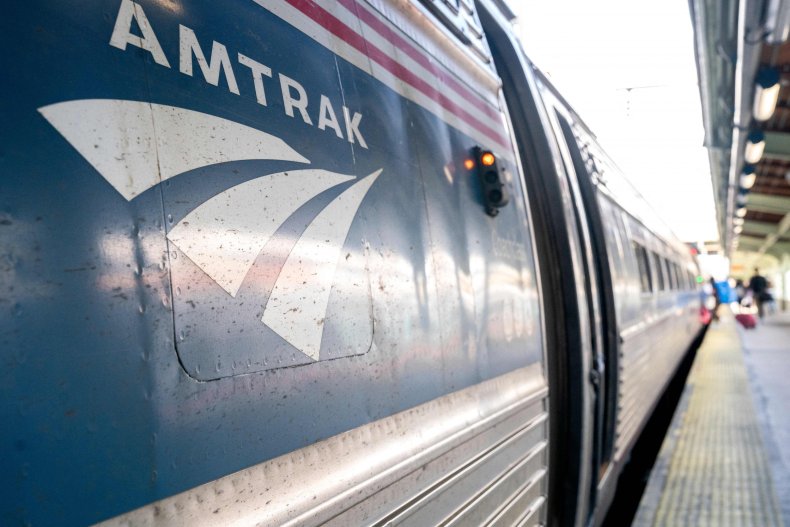 On Monday night, Amtrak confirmed in a statement that at least three people died in the incident: two train passengers and the driver of the truck that collided with the train.
The derailment prompted several travelers to post pictures of the train after the incident and comes shortly after a similar crash occurred in California on Sunday.
"The train I was traveling on derailed on the way to Iowa near Mendon Missouri," Twitter user Dax McDonald wrote in a tweet showing the train flipped over on its side.
Twitter user @Kadingis also appeared to post similar pictures following the incident. "Oh no...#Amtrak derailment somewhere in #Missouri," the tweet said.
In a statement sent to Newsweek, Amtrak said that the derailed train struck a truck "that was obstructing a public crossing."
"Our Incident Response Team has been activated, and we are deploying emergency personnel to the scene to help support our passengers, our employees and their families with their needs. Individuals with questions about their friends and family who were traveling aboard this train should call 800-523-9101. Additional details will be provided as available," the updated Amtrak statement said.
BNO News Twitter account also shared a video after the incident which appeared to be taken from one of the derailed train's passengers.
KAKE News also shared a similar video, with a caption that said, "An #Amtrak train has derailed after hitting a dump truck near Mendon in central Missouri. Amtrak says there were around 243 passengers onboard with 'early reports of injuries.' Video from Rob Nightingale."
While speaking with KCTV News in Missouri, Governor Mike Parsons said, "We do believe there could be some fatalities but again, it's way early on.… It's very unfortunate any time you have a derailment of a train and multiple cars. It's not a good day."
The governor made similar comments in a tweet on Monday, where he wrote, "We are saddened to hear of the Amtrak train derailment in Chariton County this afternoon. @MoPublicSafety, @MSHP troopers and other emergency management personnel are responding. We ask Missourians to join us in praying for all those impacted."
A somewhat similar incident occurred just a day earlier in California, when an Amtrak train collided with a vehicle. According to CNN, at least three individuals died after the Amtrak train crashed into a vehicle, that was attempting to cross the train's path.
"There are no crossing arms, there are no signals at that crossover, and it's not the first accident that we've been to at that same spot. Trains are allowed to go up to 80 miles-per-hour along that stretch so it doesn't take long for a train to catch up right at that crossing there," East Contra Costa County Fire Protection District Marshal Steve Aubert told CNN following the incident on Sunday.
Update 6/28/22, 9:02 a.m. ET: This story was updated with the number of deaths in the train's derailment.