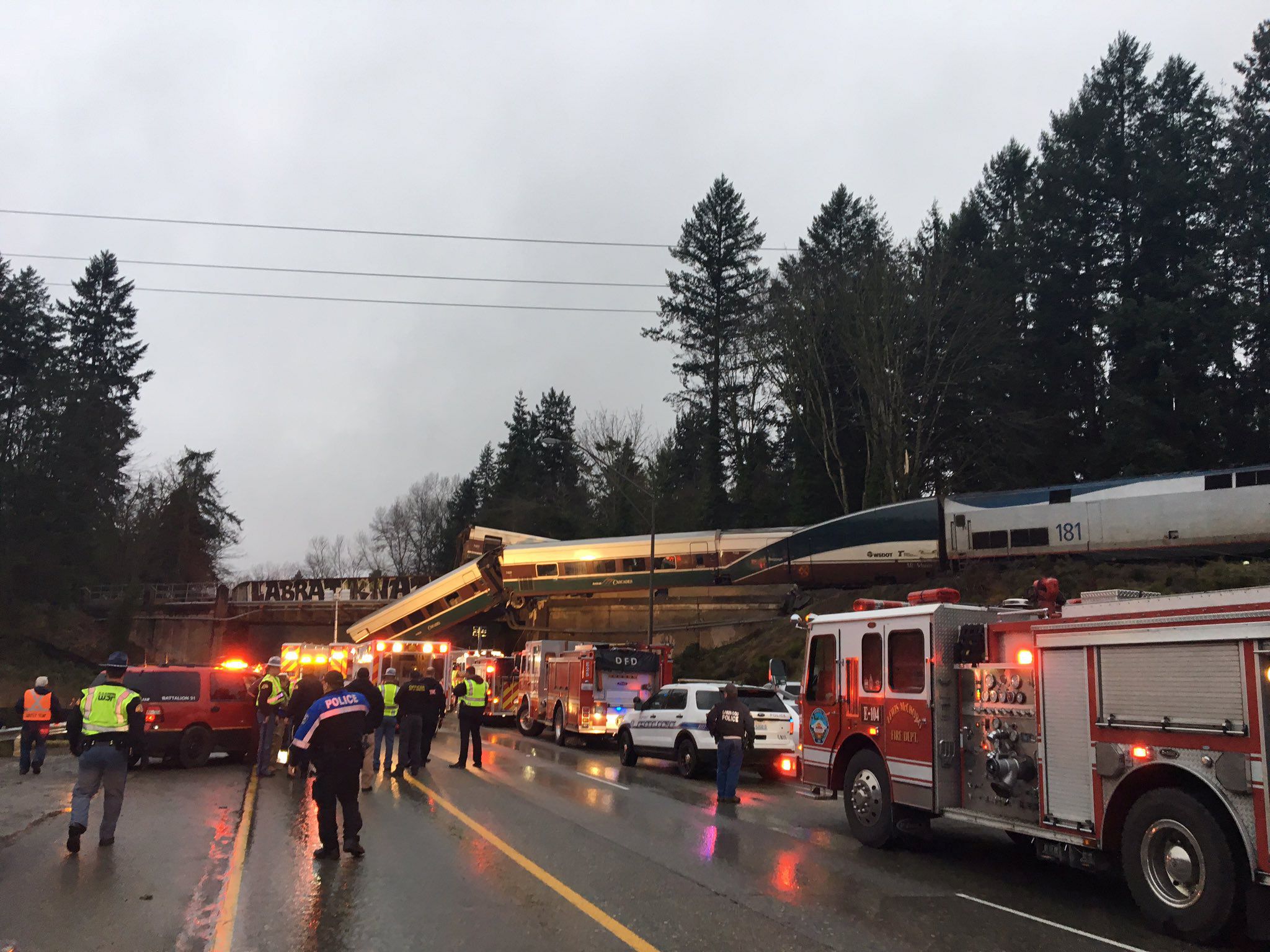 President Donald Trump claims his infrastructure bill could have prevented Monday's deadly Amtrak incident, but his own administration sought to cut funding to the nation's rail system earlier this year.
In May, President Trump released his transportation budget, which dramatically slashed federal aid to Amtrak by 13 percent. The budget, which reflects White House priorities and serves as a guide for Congress, proposed deep cuts in funding for long-distance service, expanding transit lines and construction grants.
"I'm just looking at the smoking wreckage," Sean Jeans-Gail, the vice president of the National Association of Railroad Passengers, said in an eerily predictive comment this May.
In 2017, 31.7 million passengers took trips with Amtrak, which operates a 21,356-mile railroad network in more than 500 communities. Yet the U.S. invests a much smaller amount in passenger rail than many countries in Europe and Asia do, according to the American Society of Civil Engineers. Amtrak covered 94 percent of its costs in 2016 with ticket sales but relies on government funding for capital investment and repairs. It currently operates on an annual budget of $18.6 billion.
Trump's budget referred to long-distance Amtrak service as "a vestige of when train service was the only viable transcontinental transportation option." He urged Amtrak to focus on its busy Northeast Corridor service, which connects New York, Washington and Boston.
The Northeast Corridor currently has a state-of-good-repair backlog of $28 billion. The average age of major backlog projects is 111 years, including 10 movable bridges, three sets of tunnels and one viaduct.
Office of Management and Budget Director Mick Mulvaney addressed the apparent hypocrisy during a call with the American Road and Transportation Builders Association in May. "People might say, Well, goodness gracious, that doesn't line up with what the president said about a commitment to infrastructure," he said. "That was done intentionally. What we've effectively done is try to move money out of existing, more inefficient programs and hold that money for what we expect to be more efficient infrastructure programs later on."
The builders association did not find the explanation sufficient.
"We do not support cutting current infrastructure investment as a down payment to some future infrastructure measure," the organization wrote. "While Director Mulvaney is suggesting the funds will be used later for the infrastructure package, we should be clear his proposed infrastructure spending reductions would be used now to supplement increases in defense and security spending."
Despite the backstory, Trump responded to Monday's fatal Amtrak derailment in Washington state by tweeting about his $1 trillion infrastructure bill, which is expected to be unveiled next month.
"The train accident that just occurred in DuPont, WA shows more than ever why our soon to be submitted infrastructure plan must be approved quickly. Seven trillion dollars spent in the Middle East while our roads, bridges, tunnels, railways (and more) crumble! Not for long!" he wrote.
Trump has previously expressed interest in high-speed trains, but Republicans typically don't support funding for railroad projects or Amtrak because their districts don't typically use it. Congress has not passed a long-term funding bill for Amtrak since 2008 and instead repeatedly authorizes short-term extensions at existing funding levels. It's unclear if the infrastructure bill, which is expected to be submitted to Congress in early January, will include any funding for Amtrak or other rail programs.
Democrats say they have been left out of all infrastructure discussion, even though House and Senate Minority Leaders Nancy Pelosi and Chuck Schumer indicated they would like to work with the White House on a bipartisan plan.
On Sunday morning, Senator Bill Nelson, ranking member on the Commerce, Science and Transportation Committee, said there have been no bipartisan efforts from the White House. "Few outside of the administration actually know what's going to be in the president's plan, whether they will include highly controversial provisions or how it will be paid for," he said.
In his tweet, Trump said that the U.S. has spent between $6 trillion and $7 trillion on wars in the Middle East, which is nearly correct, according to some estimates. The claim, however, came just minutes after the White House released its National Security Strategy, which called for sustained levels of military presence in the Middle East and an increased military budget in general.
There is no indication that the White House would cut military funding to pay for its infrastructure plan.