Amtrak Train Derailment Live Updates: Deaths, Injuries Reported in Washington After Horrific Interstate Crash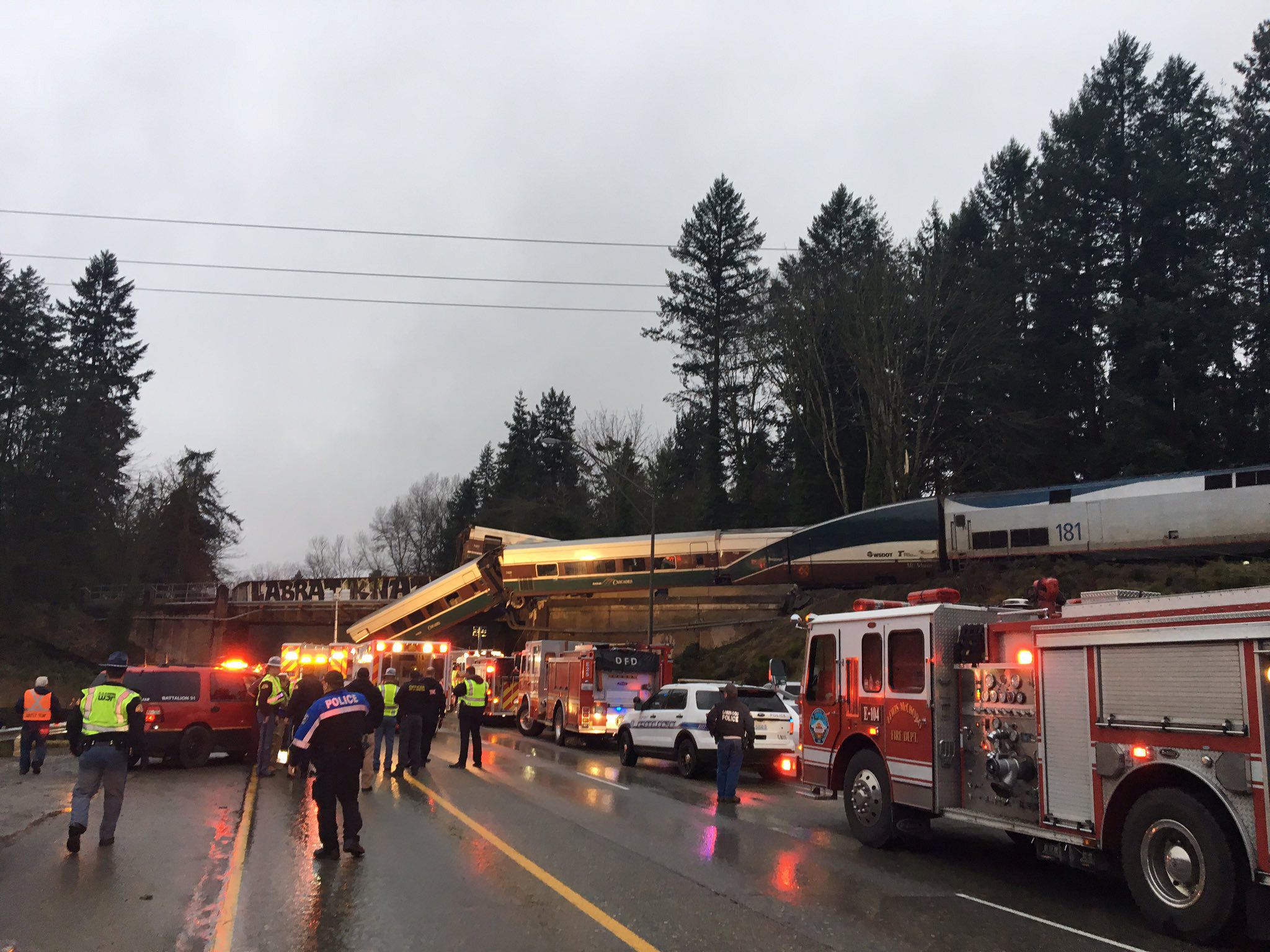 Update | 2:44 p.m. ET – Amtrak 501 was reportedly making its very first run on a "faster new route" when it may have struck something on the track before it derailed and killed at least six people, according to the Associated Press.
The National Transportation Safety Board wrote a report roughly a year ago that came to the conclusion that Amtrak "has a safety culture problem," a former NTSB chair told CBS News Monday.
Mark Rosenker's comments came hours after the derailed in DuPont, Washington and train cars fell off an overpass onto Interstate-5, resulting in multiple deaths and injuries.
Update | 1:56 p.m. ET – President Donald said Monday's Amtrak train derailment was an example of why his administration's infrastructure plan needed to be "approved quickly."
The president also offered his "thoughts and prayers to everyone involved," and said the White House is "monitoring" the situation.
"The train accident that just occurred in DuPont, WA shows more than ever why our soon to be submitted infrastructure plan must be approved quickly. Seven trillion dollars spent in the Middle East while our roads, bridges, tunnels, railways (and more) crumble! Not for long! ," Trump said.
Trump also praised the first responders at the scene of the derailment that authorities said claimed multiple lives and many injuries.
Update | 1:34 p.m. ET – Amtrak 501, the passenger train that derailed in Washington state early Monday morning local time, was last recorded traveling 81.1 miles-per-hour before its accident.
Washington Governor Jay Inslee declared a state of emergency.
The train was traveling southbound from Seattle to Portland, Oregon, and seven cars derailed in the city of DuPont.
However, according to the Washington State Department of Transportation, the tracks where the train derailed were only supposed to support a maximum speed of 79 mph.
Local and state officials have reported multiple fatalities and injuries but have not announced exact numbers.
Update | 1:15 p.m. ET – President Donald Trump has been briefed about the derailment, according to White House Press Secretary Sarah Huckabee Sanders. Trump and the White House had no immediate comment.
Update | 1 p.m. ET – The National Transportation Safety Board announced it is sending a team to investigate after an Amtrak derailed in Washington State, resulting in multiple fatalities. The train came off the tracks while making an inaugural journey on a new bypass.
Update | 12:52 p.m. ET – Amtrak has released an updated statement after one of its trains derailed in Washington State. There were 78 passengers and five crew members onboard Train 501 when it derailed on a new stretch of track between Tacoma and Olympia during the morning rush hour. Those with friends and families on the train are encoaged to call (800) 523-9101 for more information.
Update | 12:40 p.m. ET – The Amtrak train which derailed outside of Olympia was making its inaugural journey on a new bypass between Olympia and Tacoma in Washington State.
Three people have been killed in the derailment, according to The Seattle Times. A spokesman for Providence St. Peter Hospital in Olympia said that the facility had received about 12 patients as of 9:25 a.m. local time.
"We've had three critical patients out of about a dozen that we've received so far," Chris Thomas said.
Update | 12:30 p.m. ET – Multiple fatalities have been reported after an Amtrak train derailed outside of Olympia on Monday morning. An official said that there were "some fatalities and lots of injuries" as a result of the incident in Washington State. None of the people in cars struck by the train are said to have been killed.
Original Story
Local and state authorities expect fatalities and injuries after an Amtrak train derailed Monday morning over a major interstate outside of Olympia, Washington, at the peak of rush hour.
The derailment occurred in the city of DuPont, located about 20 miles east of Olympia.
At least one of Amtrak train 501's cars appeared smashed and upside down on the interstate while another was hanging off an overpass above the highway, pictures posted by the Washington State Patrol showed.
The Pierce County Sheriff's Department stated its preliminary findings indicated "injuries and casualties."
Cars also were hit and motorists were hurt but not killed, according to the sheriff's department.
"We are aware of an incident involving Amtrak train 501. We will update with additional details as they become available," Amtrak first announced on Twitter.
Amtrak also said in a statement that the train was running from Seattle to Portland, Oregon, and that service south of Seattle had been temporarily suspended.
"Amtrak is aware of an incident with train 501, Cascades service from Seattle to Portland. Emergency services are on the scene, and Amtrak management is responding. Some injuries are reported," the statement read. "Amtrak service south of Seattle is temporarily suspended. Service from Seattle to points north and east is continuing to operate."