Amtrak Map Proposes New Routes to Las Vegas, Phoenix, Nashville and More
President Joe Biden's American Jobs Plan, unveiled on Wednesday, includes $80 billion for rail. Now Amtrak has released a map that shows how the money could be spent on new train routes across the U.S.
The map shows the major cities that would be served by new routes, including Las Vegas, Phoenix, Cheyenne, Baton Rouge, Nashville, Louisville, Atlanta, Columbus, Detroit, Wilmington and Scranton.
Amtrak plans to add routes to up to 160 communities and improve existing services over the next 15 years. By 2035, it aims to carry 20 million more passengers than the 32 million recorded in 2019.
The rail company said on Wednesday that if Congress provides the funding in President Biden's plan, it would be able to "bring the Northeast Corridor to a state of good repair and improve trip times, and would also expand Amtrak to underserved communities across the nation," and "create jobs, improve the quality of life, reduce carbon emissions and generate economic growth."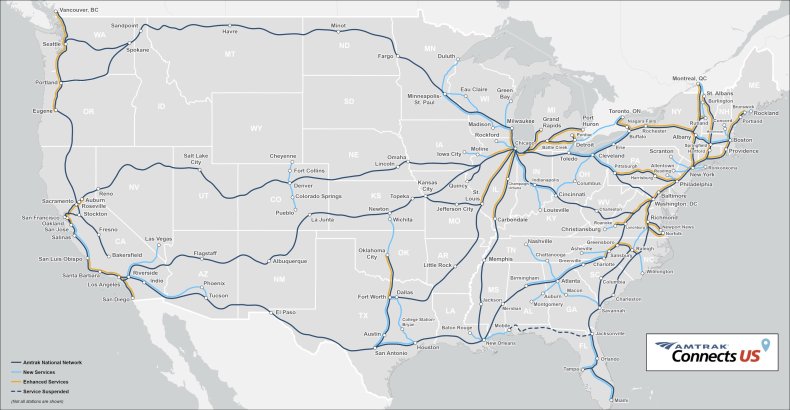 Amtrak CEO Bill Flynn said Biden's infrastructure plan was "what this nation has been waiting for," adding that the rail company needed to rebuild and improve the Northeast Corridor and the National Network.
Flynn went on: "In addition, Amtrak has a bold vision to bring energy-efficient, world-class intercity rail service to up to 160 new communities across the nation, as we also invest in our fleet and stations across the U.S. With this federal investment, Amtrak will create jobs and improve equity across cities, regions, and the entire country—and we are ready to deliver.
"America needs a rail network that offers frequent, reliable, sustainable, and equitable train service. Now is our time, let's make rail the solution."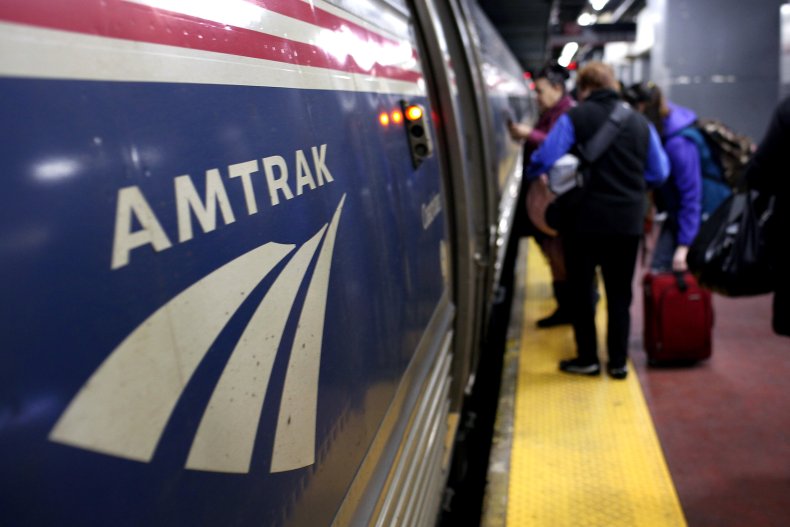 An Amtrak factsheet released with the map said: "Many of the country's biggest and fastest-growing metropolitan areas, with diverse populations, don't have the rail service they deserve.
"Major cities like Houston, Atlanta, and Cincinnati have service that is simply inadequate, with trains that only stop once a day and often in the middle of the night. Other cities like Las Vegas, Nashville, Columbus, and Phoenix don't have Amtrak service at all."
Biden posted on Twitter on Thursday: "Far too many Americans lack access to affordable public transit—and those who do have access are often met with delays and disruptions. We have the power to change that, modernize public transit, and expand access for people across the country."
The infrastructure plan, which could cost more than $2 trillion, also includes projects for clean drinking water, a renewed electric grid and high-speed broadband, and proposals to build, preserve and retrofit more than 2 million homes and commercial buildings, as well as schools, veterans' hospitals and federal buildings.