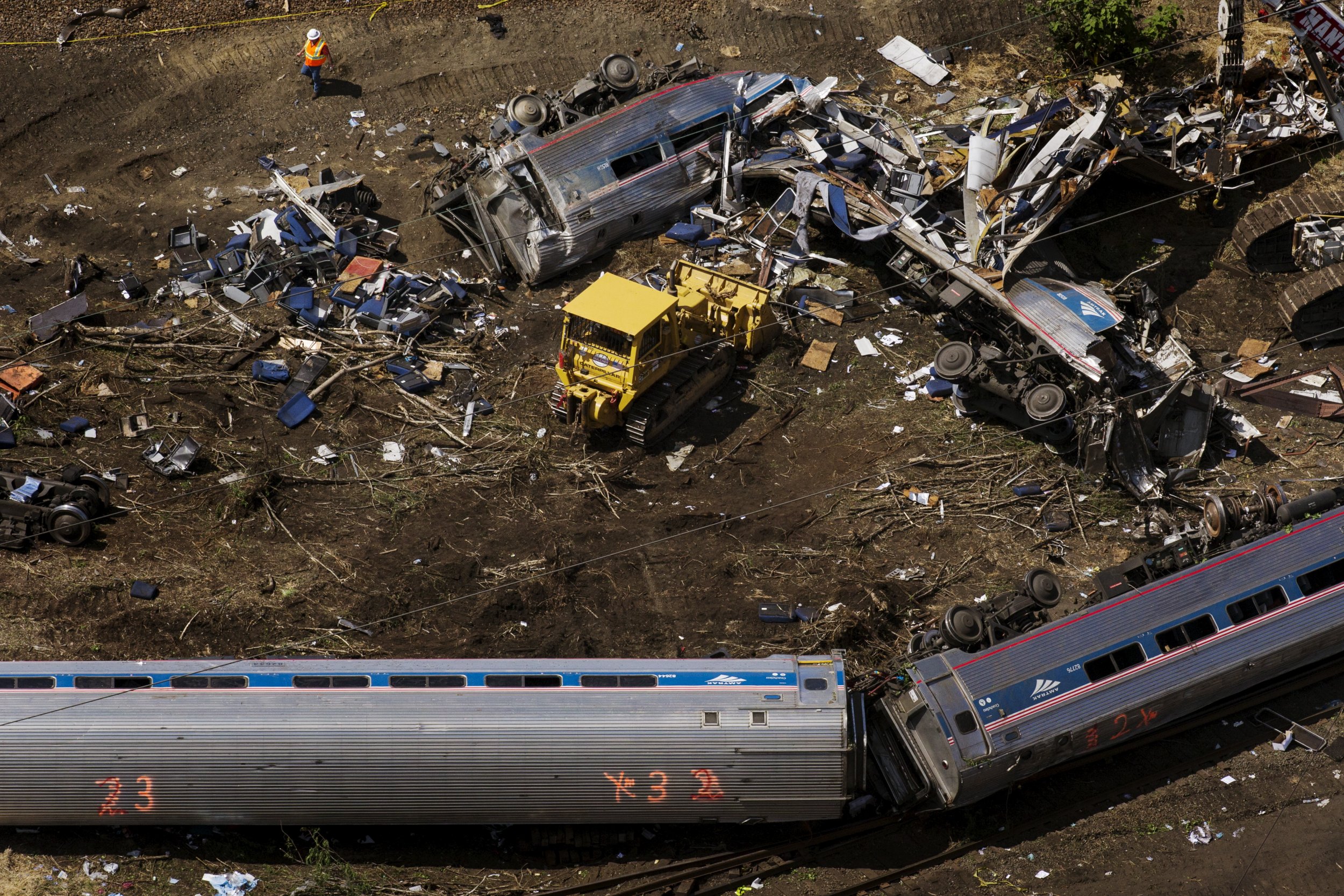 Amid shattered glass, blood, discombobulation and his own injuries, 24-year-old passenger Zach Feldman managed to help those around him aboard the Amtrak train that derailed Tuesday night.
The Brooklyn resident tells Newsweek he remembers working on his laptop and drinking a beer in the cafe car when suddenly the train swerved off the track. Seconds later, he says, his car was "flying" into the air.
"Really suddenly there comes this loud explosion, like really loud sound, and then another loud bump," says Feldman, who was returning to New York City on the train after a two-day trip to Philadelphia. "The lights of the car turned off and, we were flying basically."
Feldman said the cafe car turned over on its side and he woke up next to the window, on the side of the car farthest from the ground. The conductor was next to him, along with two passengers who both appeared to have head injuries and were bleeding. He said he didn't think he lost consciousness for more than a few seconds.
"I was kind of freaked out. I was like, What the hell happened?" he says. Feldman said he did a self-check, realized he wasn't bleeding and started to move. Feldman was lucky, he only suffered from a sprained finger, cuts and bruising along the left side of his body.
The train, which was traveling from Washington, D.C., to New York City, was approaching a turn when its cars derailed at around 9:30 p.m. About 238 passengers and five crew members were on board, according to Amtrak.
The conductor near him used her walkie-talkie to call for help, while Feldman dialed 911 on his cellphone. Then he attended to people near him and offered his phone for others to call their loved ones.
About 20 minutes later, firemen entered the car through the door and windows. They asked anyone who was able to walk to evacuate the train, and for those who couldn't, to stay in place until help arrived.
Once outside the train, "everyone was just looking back and seeing it in completely the wrong position in relation to the tracks, perpendicular really," Feldman says.
Hundreds of personnel greeted the evacuees and directed them to different triage areas depending on the extent of their injuries. Officials then drove them to emergency rooms across the city.
More than 200 people were treated at local hospitals, Samantha Phillips, director of emergency management for the city of Philadelphia, told reporters. Feldman was released from the hospital around 6 a.m. on Wednesday.
Several media outlets have reported that speeds of up to 100 miles per hour might have been a factor in the crash. Feldman says he wasn't paying attention to the speed of the train.
Feldman, who is the chief academic officer and cofounder of the New York Code + Design Academy, rides the Amtrak 188 train about every three weeks for business in Philadelphia.
After his release from the hospital, Feldman says he called a few of his fellow passengers, just to check on them.
"I have a feeling that everyone in the cafe car was mostly OK," he says.