Amusement Park Riders Hang Upside Down in 'Terrifying' Video
An amusement park ride got stuck recently and unsettled a few attendees.
An unidentified number of riders were stuck in mid air Sunday on the Electro-Spin at Carowinds in Charlotte, North Carolina. The ride is described as "a shock of fun for families and thrill-seekers alike, definitely a County Fair favorite."
Riders are seated on floorless gondolas, according to the Carowinds website, where they are sent "through a freely rotating orbit, as its arms flip them upside down and all around." The ride spins on a 360-degree axis and goes as high as 64 feet.
The video was posted on Facebook by Alexcia Powell and has been shared over 7,500 times on the platform. It has also been viewed over 9,000 times on Twitter.
"Ride stuck at Carowinds," she wrote. "Poor people. I would've been so upset."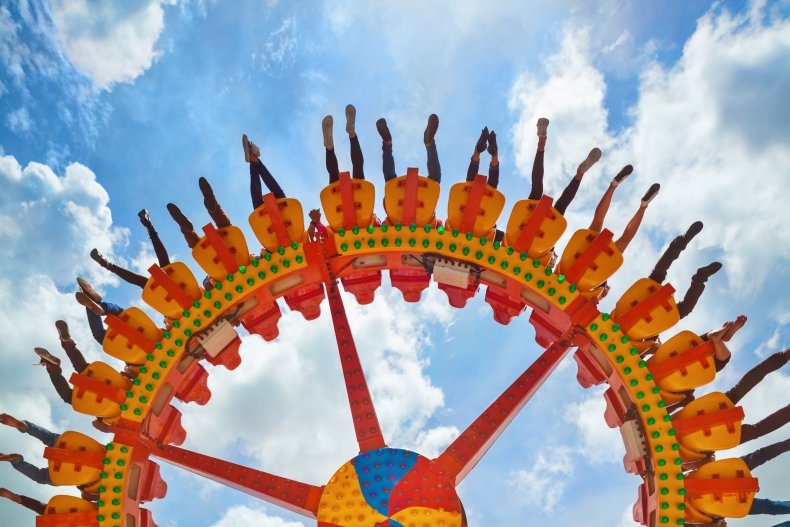 Queen City News reported that Powell was at the fair Sunday with her friend Brittany Gilliard and other family members. Powell said her group was getting off a boat ride directly across from the Electro-Spin when they heard people screaming.
She called the scene "quite horrifying to watch because that could have been anyone on there."
She never specified how long riders were suspended in the air, but a photo she took that accompanies her short video shows the ride suspended in a side position with some riders hanging upside down.
Gilliard called the ride malfunction "terrifying," saying she felt for those who were stuck.
Newsweek reached out to Powell for comment.
A Carowinds spokesperson told Newsweek: "On Sunday, April 10, the Electro-Spin attraction in the County Fair area of Carowinds had an unexpected ride stoppage. The park's maintenance team responded quickly and worked to restart the ride. Within minutes, all guests were returned safely to the ground. The safety and security of our guests and associates is Carowinds' top priority."
Regarding how the ride malfunction occurred and how many passengers were aboard at that time, no response was provided.
The Charlotte Observer reported in 2015 that the fair's WindSeeker ride malfunctioned, stranding passengers as high as 150 feet in the air for a period of fewer than 15 minutes.
In 2019, a park employee reportedly severed his hand while inspecting that same ride, eventually leading to a $42,000 fine handed down by the Occupational Safety and Health Administration (OSHA) to Cedar Fair, the parent company of Carowinds. WBTV reported that OSHA handed down six violations costing $7,000 each.
In March, a teenage boy in Orlando fell to his death off a 430-foot-tall ride.
According to a report by the International Association of Amusement Parks and Attractions, there were 1,299 attendance-based injuries and 1,294 ridership-based injuries in the country in 2019.