Amy Chua Denied Grooming Female Students to Clerk for Brett Kavanaugh. Now Her Daughter Will Work for Him
Last year, prominent Yale law professor Amy Chua denied accusations that she groomed female students to work for Judge Brett Kavanaugh. Now, her daughter has been hired to clerk for the Supreme Court justice this fall.
Sophia Chua-Rubenfeld, a 2018 graduate of Yale University Law School, will be one of Kavanaugh's clerks for the October 2019 term. She joins Kavanaugh's all-female law clerk crew, which was praised by Justice Ruth Bader Ginsburg last week as historic: "Thanks to his selections, the court has this term, for the first time ever, more women than men serving as law clerks."
Chua-Rubenfeld's appointment comes less than a year after her mother defended Kavanaugh in a Wall Street Journal op-ed that portrayed him as an "incredible" mentor. At that point Chua-Rubenfeld was scheduled to be an appellate clerk for Kavanaugh, and critics said that if he were confirmed to the high court, she would likely be chosen to clerk for him there—a hugely prestigious appointment.
Sophia Chua-Rubenfeld denied that speculation, tweeting that she planned to join the military after law school. "Won't be applying to SCOTUS anytime soon bc will be in the Army," she wrote.
The news that she would indeed be clerking for Kavanaugh on the Supreme Court prompted told-you-so responses on social media.
After Kavanaugh was nominated last year, Amy Chua was reported to have advised female law students to look and dress a certain way when interviewing for coveted clerkships with Kavanaugh.
It was alleged that Chua told a group of students that it was "not an accident" that Kavanaugh's female clerks all looked "like models," according to a report by The Guardian. The Huffington Post also reported that Chua told female students to dress "outgoing" when going on interviews.
Chua denied the allegations and defended her endorsement of Kavanaugh, who she called a "mentor to women." In an email to Yale's law community, Chua said that she always tells "students to prep insanely hard" for clerkship interviews and that "substance is the most important thing."
"I advise them to read every opinion, including dissents, the judge has ever written as well as important recent cases from the circuit and Supreme Court," Chua wrote in the message. She added that she tells both male and female students to "dress professionally—not too casually—and to avoid inappropriate clothing" when interviewing with a judge.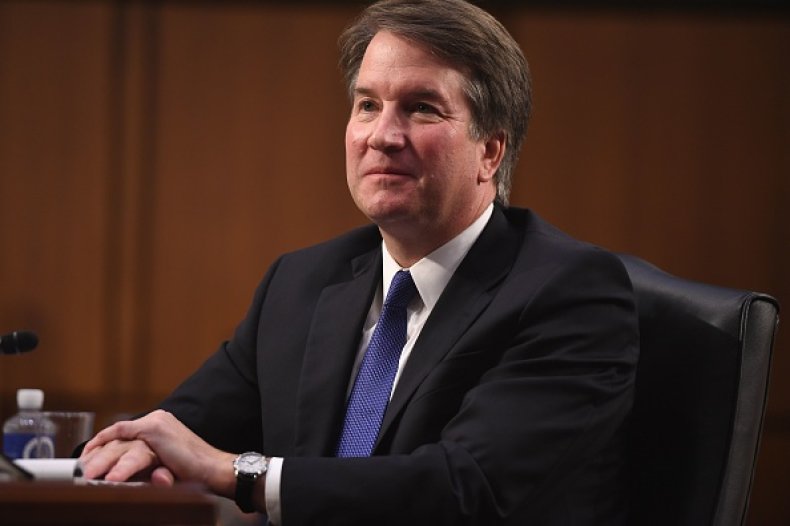 Yale students told several news outlets that Chua was lying in her defense. "I personally heard her state that it's not an accident that all his clerks look like models. So I personally know that for her to say the allegations are 100 percent false is a lie, because at least that one is definitely true," one student said at the time.
The reports about Chua's comments were published amid Kavanaugh's contentious Supreme Court confirmation, during which he was accused by multiple women of sexual assault and misconduct.
Yale University, Kavanaugh's alma mater, was repeatedly in the national spotlight throughout the justice's ascension to the high court. One of his accusers, Deborah Ramirez, was a former classmate of Kavanaugh's at Yale during their undergraduate years. Ramirez told The New Yorker the judge exposed himself to her and forced her to touch him during a "drunken dormitory" party their freshman year.
Many administrators and professors at the school originally stood by Kavanaugh despite the allegations, causing students to protest the Ivy League institution. Over 400 Yale community members traveled to Washington, D.C. to protest the confirmation of Kavanaugh, resulting in several arrests. Along with the demonstration in the Capitol, students held a sit-in at the school's campus in New Haven, Connecticut, calling for the university's administration to condemn Kavanaugh's nomination to the high court.
As a result of the demonstrations, the university eventually called for an investigation into the allegations against Kavanaugh before his confirmation. Kavanaugh was narrowly confirmed to the Supreme Court in October 2018 by a 50 to 48 vote—one of the slimmest margins in U.S. history.