Amy Coney Barrett on Abortion, Roe v. Wade and Judicial Precedent in Her own Words
Federal Judge Amy Coney Barrett is one of two prominent women thought to be contenders for Ruth Bader Ginsburg's vacant Supreme Court seat. With Ginsburg's death reigniting concerns about Roe v. Wade and abortion access, the U.S. 7th Circuit Court of Appeals judge's record on both has become a topic of particular interest, alongside her position regarding judicial precedent.
While Barrett has not explicitly ruled on abortion cases, she cast votes in Indiana cases related to abortion rights as a member of the full appeals court. After several judges determined an Indiana law, which required fetal remains to be buried or cremated following an abortion, was unconstitutional, Barrett voted to rehear the case. She also dissented when appeals court judges attempted to block an Indiana law mandating parental consent in order for a minor to have an abortion.
"Preventing a state statute from taking effect is a judicial act of extraordinary gravity in our federal structure," the dissent read.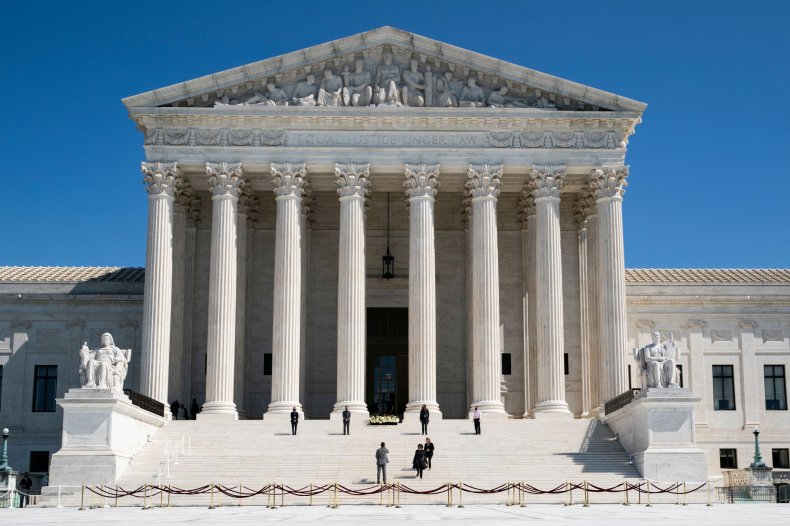 Questions about the future of Roe v. Wade, a landmark 1973 Supreme Court decision that established women's constitutional right to choose to have an abortion, are circulating in the aftermath of Ginsburg's death. President Donald Trump pledged to appoint Supreme Court justices who would overturn the decision during his 2016 presidential campaign, and many fear that filling Ginsburg's seat with another conservative justice could turn his claim into a real possibility.
After almost three decades as an associate justice, Ginsburg passed away on Friday from complications of metastatic pancreatic cancer. She was a distinguished voice on the Supreme Court bench and strong advocate for women's reproductive rights.
Barrett discussed the potential for changes to Roe v. Wade during a discussion at Jacksonville University in 2016.
"I don't think that abortion, or the right to abortion would change. I think some of the restrictions would change," Barrett said. "States have imposed regulations on abortion clinics, and I think the question is, 'How much freedom the court is willing to let states have in regulating abortion?'"
"I don't think the core case, Roe's core holding that, you know, women have a right to an abortion, I don't think would change," she continued. "But I think the question of whether people can get very late-term abortions, how many restrictions can be put on clinics, I think that would change."
In 2013, Barrett delivered a speech at University of Notre Dame, her alma mater, that described hypothetical implications of overturning Roe v. Wade. She similarly referenced states' rights to individual regulations.
"The day after Roe fell, of course, abortion would be neither legal nor illegal throughout the United States," she said. "Instead, the states and Congress would be free to ban, protect or regulate abortion as they saw fit."
Barrett answered a number of questions regarding her Catholic faith, and how it influenced her judicial perspective about abortion rights, during her 2017 confirmation hearing.
"It was designed to explain to a primarily undergraduate audience what the legal
landscape would look like if Roe were overruled," Barrett said of her statement at Notre Dame. "Many non-lawyers assume that overturning Roe would settle the question of abortion's legality, and my statement sought to correct that misimpression."
"Never having studied the existing protections for abortion outside of the Supreme Court precedents, I am not equipped to offer an opinion on the practical effects of
overturning Roe, beyond recognizing the reliance interests identified by the Supreme Court in Planned Parenthood v. Casey," she finished.
Barrett also addressed a 1998 Marquette Law Review article in which she, alongside law professor John Garvey, frequently cited Catholic ideologies condemning abortion during the confirmation proceedings. She said she did not believe it was "lawful for a judge to impose personal opinions, from whatever source they derive, upon the law." At the time, Barrett also said her personal views regarding abortion and other issues would "have no bearing on the discharge of [her] duties as a judge."
Barrett examined the weight of Roe's judicial precedence in an article published by the Texas Law Review earlier that year. It discussed the implications of stare decisis, the judicial principal through which courts formulate decisions based on precedents set by past cases. "Stare decisis is a self-imposed constraint upon the Court's ability to overrule a precedent," Barrett wrote.
The judge cited other opinions that argue Roe does not constitute a superprecedent—a term used to describe a decision whose implications are so fundamental to the law that overturning it is especially difficult—and referenced public opposition to the case in her own discourse.
"If anything, the public response to controversial cases like Roe reflects public rejection of the proposition that stare decisis can declare a permanent victor in a divisive constitutional struggle rather than desire that precedent remain forever unchanging," Barrett suggested. Roe is often cited as an example in articles related to judicial precedent, and whether it should be considered a super precedent has been subject to discussion for years.
Multiple senators inquired about why Barrett did not reference Roe's decision as a judicial superprecedent in the Texas Law Review article during her 2017 confirmation.
"I have neither offered my own definition of superprecedent nor undertaken an independent analysis of whether any particular case qualifies as a superprecedent under the definition employed by the scholars whose work I cited," Barrett said. "If I am confirmed as a circuit judge, all Supreme Court precedent will be equally binding."
Newsweek reached out to Barrett's chambers for comments but did not receive a reply in time for publication.
This article was updated on Wednesday, September 23, to include additional remarks from Barrett about Roe v. Wade, abortion and judicial precedence.