Amy Coney Barrett Confirmation Hearing Time, Schedule and Where to Watch
Today Amy Coney Barrett will attend a nomination hearing to be an Associate Justice of the Supreme Court of the U.S. It will be the first of a series of hearings over four days.
According to the Committee on the Judiciary, Coney Barrett will speak at 9:00 a.m. local time in Washington, D.C. She can be watched live on the Judiciary's website at this time. Also at the hearing is the Senator Todd Young and Senator Michael Braun from Indiana and Patricia O'Hara, professor emerita of law at Notre Dame Law School.
The department's website describes the Supreme Court as the United States' highest court, with eight Associate Justices and one Chief Justice. These judges serve lifetime appointments on the Court in accordance with Article III of the U.S.' Constitution.
According to the Committee on the Judiciary, in 211 years there have been just 17 Chief Justices and a total of 112 Justices that have served on the Supreme Court.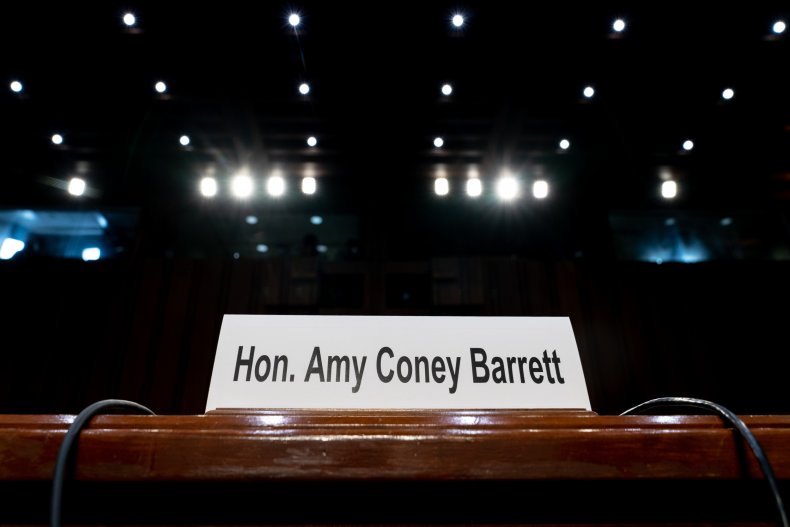 In the current presidency, President Donald Trump has nominated two associate judges to the Supreme Court. Neil M. Gorsuch was confirmed on April 7, 2017, replacing Judge Antonin Scalia, and Brett Kavanaugh was confirmed on October 6, 2018, to replace Judge Anthony Kennedy.
Coney Barrett has been nominated to replace Judge Ruth Bader Ginsburg, who passed away on September 18, 2020.
However, there has been controversy around this nomination, especially as the 2020 U.S.presidential election approaches.Over the previous weekend, multiple watchdog groups questioned why Barrett's records—such as ties to anti-abortion and anti-LGBTQ groups—were not released.
"There has never been a Supreme Court nominee about whom we knew so little and yet the Senate is ramming through a confirmation hearing," says Kyle Herrig, president of government watchdog Accountable.US. "The public has a right to know what Amy Coney Barrett is hiding before she is considered for a lifetime appointment to the high court.
"Confirmation hearings should be postponed until we can examine all of Coney Barrett's professional history."
Democrats on the Senate Judiciary Committee sent a letter to the Department of Justice yesterday asking why there was a convenient "omission" of materials about Barrett's ties to a bankrupt hospital system and her ardent anti-abortion stances at Notre Dame.
The rush to secure Coney Barrett's admission to the Supreme Court has also faced criticism. Ahead of the 2016 U.S. presidential election, Barack Obama nominated Merrick Garland to replace the former Associate Judge Scalia in March 2016, but Mitch McConnell, the Senate Majority Leader, announced a refusal to consider nominees to the Supreme Court until the next presidential inauguration.
To follow the nomination hearing, you can watch them on the Committee of Judiciary website live. They are at the following times: