Chief Justice John G. Roberts Jr. is smart, shrewd and funny. His mastery as a D.C. appellate lawyer—the best of his time, arguing 39 times before the Court—led admirers to say his middle initial stood for God. (Alas, it's "Glover.") His rulings in controversial cases—including when he was the decisive vote in 2012 to uphold Obamacare—play the long game, planting the seeds for larger conservative triumphs his opponents now don't realize. Only weeks after he was confirmed in 2005, when a light bulb exploded in the courtroom during argument, he quipped, "It's a trick they play on new chief justices all the time!" But for all his talents, few at the Court profess to really know him. Although he'll chat with colleagues at lunch about last night's game, that's about all anybody learns about what's inside.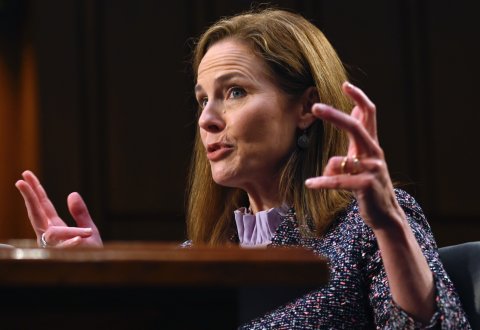 So it was astonishing several years ago that Roberts let his guard down. Law clerks were taking him to lunch a few blocks from the building. On the walk there, to make small talk, one asked, "How do you like the job?" Instead of pablum like, "It's the privilege of a lifetime," he showed his real self. Roberts reminded the clerks there had been only 16 chiefs before him. Of course he was thrilled to be No. 17. But Roberts understood the history of the Court. Even among the chiefs, he said, there had been only one John Marshall, who served for 34 years at the beginning of the 19th century. Marshall wrote the seminal Marbury v. Madison which established the Court's authority over the other branches—a role that the actual text of the Constitution hardly manifested. In the conference room of the Court, where appeals are decided and where only the justices are allowed, Marshall's portrait hung above the fireplace, gazing directly at Roberts, who presided over meetings. Marshall "had the opportunity to decide the great questions because the Constitution was undeveloped," Roberts told the clerks.
"It's not like that anymore," he said. "I was born in the wrong era."
Roberts got lucky. Justice Anthony M. Kennedy retired in 2018, and with the swearing-in of Brett M. Kavanaugh, Roberts became the median justice. Not exactly a true "swing justice," which might suggest flaming moderation. He remained a die-hard conservative who came of age during Reagan days. On the Court, though, on most contentious cases he just happened to have four liberal justices to one side and four conservative justices on the other. He would be the most powerful chief justice since FDR's term. And he was still in his early 60s, the third-youngest member of the Court. If he served until he was 87—the age at which Justice Ruth Bader Ginsburg died in September—he wouldn't reach the halfway point of his tenure until 2022. While Supreme Court eras get named by whomever sits in the center seat, the Roberts Court really would be. And it was that way for two years, as he cast pivotal votes in such key areas as gerrymandering, abortion and religion.
But Roberts' luck may have run out. With Ginsburg's death and Amy Coney Barrett's ascension, the chief justice no longer is the midpoint. Barrett likely will be the Newtonian equal-and-opposite of Ginsburg. With Kavanaugh, and Justices Samuel A. Alito Jr., Neil M. Gorsuch and Clarence Thomas, she will be part of a rock-solid five-vote conservative bloc. Yes, yes, you never know how a justice will vote, but, no, no, you should have little doubt. That alliance could issue rulings that overturn Roe v. Wade, invalidate the Affordable Care Act, broaden the rights of gun holders, allow claims of religious freedom to prevail over claims of discrimination, reconsider the right of same-sex couples to marry—and perhaps most significantly, declare unconstitutional the entire federal regulatory regime. The justices have already made little-noticed inroads on the last one. And someday, maybe, Medicare will be in jeopardy. Asked at her confirmation hearings about the constitutionality of the 54-year-old federal program, Barrett declined to say. Too "abstract," she protested. You never know if the Court would ever face the question, she said, which is true of any question, which is why she gave virtually no substantive answers—her strategy from the outset.
Barrett, along with Gorsuch and Kavanaugh, are surely credentialed and competent, but that's not why any of them were anointed by the conservative legal establishment and appointed by President Donald Trump. All three were put on the Court to vote a certain way in critical cases—and in a way that renders the chief justice superfluous.
Remember that the president harbors particular animus toward Roberts. During the 2016 campaign, Trump regularly trashed the chief, whom he called an "absolute disaster." "He gave us Obamacare! It might as well be called RobertsCare!" Trump hollered during one of the debates. (Roberts hated it. After hearing his name booed on TV during the GOP convention that year, he confided his indignation to a friend. "I've been a reliable conservative," he complained. "Don't they realize?")
As president, Trump kept up the attacks, which widened to criticism of federal judges generally. Roberts finally responded in a highly unusual statement to an AP reporter. "We do not have Obama judges or Trump judges, Bush judges or Clinton judges," Roberts wrote. "What we have is an extraordinary group of dedicated judges doing their level best to do equal right to those appearing before them." (Never mind that on an increasing number of issues we do have Trump judges and Obama judges: look at who appointed a judge and you've got a reliable gauge how they'll vote on a legal question about, say, immigration.)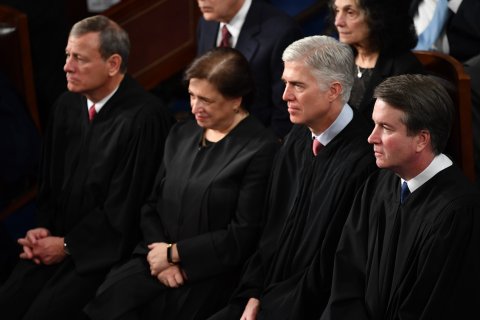 With Barrett aboard, the new median justice in all likelihood will be Kavanaugh. Even more than the fact of Roberts' two years occupying the position, the change reflects just how far rightward the Court will shift with Barrett on it—and just how quickly chance can transform the slowest, steadiest branch of government. When Roberts in June voted to protect the status of Dreamers under the Deferred Action for Childhood Arrivals (DACA) immigration program, Kavanaugh was on the other side. Same thing three days later when Roberts aligned with the four liberals to strike down a Louisiana statute requiring physicians performing abortions to have admitting privileges at a nearby hospital. Two weeks after, as a momentous term for the Court neared an end, Roberts and Kavanaugh diverged on whether the Civil Rights Act of 1964, which prohibits sex discrimination, applied to gay and transgender workers. Roberts said it did. And then in mid-October, Roberts voted with the three remaining liberals to permit election officials in Pennsylvania to count some mailed ballots received after Election Day. (His vote resulted in a 4-to-4 deadlock, which let stand a ruling by the Pennsylvania Supreme Court.)
For Democrats and liberals, the Barrett-for-Ginsburg swap and the rush job that made it happen—in turn producing Kavanaugh-for-Roberts—adds injury to the insult of the events of 2016. Back then, Republicans obstructed President Barack Obama's nomination of Merrick B. Garland for the seat that Gorsuch eventually took. All of that is why expanding the size of the Court became a talking point for so many Democrats.
Being on the Supreme Court is a great gig—easy workload, best marble workplace in Washington, ultimate job security, the whole summer off. Being the chief is better, and being the chief is best when your vote rules. What's John Roberts to do now? The best guess is he'll wind up shifting rightward. For starters, he's less constrained from following his conservative political instincts. It was one thing to play the roles of incrementalist and institutionalist when he could control outcomes in cases and save the Court from the triumphalist instincts that Thomas and Alito display without shame. There's no point in that, all the more when it means consorting with the liberal wing with whom he shares little by way of ideology.
Moreover, the way of continued importance lies in joining with the other five conservatives, not with the remnants of the left. It's not merely to be part of an ascendant majority. By tradition, the chief, though he gets but one of nine votes and may not have served the longest, is deemed the member of the Court with the most seniority. So, anytime he's in the majority on a case he gets to decide who writes the opinion. That privilege of assignment is rarely appreciated by casual observers of the Court. But the justice who writes the main opinion can influence the direction of constitutional law for years, with a subtle signal to future litigants here or a seemingly innocuous aside there. Language matters. Much of the power of William J. Brennan Jr., the liberal lion of the Court from 1956 to 1990, derived from his matchless ability to form unexpected coalitions. Though it helped he had a lot of liberal leaners with him during many of those years, not everyone was always willing. Brennan did his cajoling not with the Irish charm often ascribed to him—but with words.
There's nobody on the current Court who's better at words than Roberts. It was that facility he demonstrated in his straddle in the 5-to-4 Obamacare ruling. Conservatives still rail about him being a turncoat—but that says more about their obtuseness than his treachery. In that ruling, Roberts was able to insert language about reining in congressional powers generally (though not in that case) that a future conservative Court will thank him for. During the many months that produce opinions, coalitions form, dissolve and re-form. In the Obamacare case, Roberts himself shifted from one camp to the other, finally siding with the liberals. To the extent Roberts is now part of a group of six conservatives—keep in mind it only takes five to command a majority—he'll realize there's only so much he can do by assigning majority opinions to himself. The others may balk if he refuses to topple certain liberal precedents or tries to play the institutionalist card. The others will be able to do so because they don't need his vote. But only fools would underestimate Roberts' ability to recalibrate.
Other justices might not care. Antonin Scalia, for one, showed little interest in winning allies. It was more satisfying—and easier—to write archly, be witty, take shots. Everybody loves a character. On the left, William O. Douglas, from 1939 to 1975, was the same way—the darling of acolytes, with little sway beyond. And there are a few justices in American history who acquired influence as "great dissenters." What influence that John Marshall Harlan (1877 to 1911) or Oliver Wendell Holmes Jr. (1902 to 1932) failed to earn by championing civil liberties in their own time they earned in posterity. (Ginsburg has been called the Great Dissenter of her time, but she had plenty of majority opinions and her instincts favored consensus; if the Court has a strident voice in the minority, it's Sonia Sotomayor.)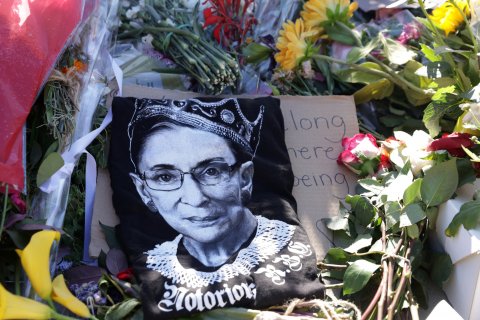 Anybody who knows Roberts knows he has little interest in being a lone wolf or just part of the pack. He's renowned as an institutionalist because he loves the Court—its history, its purpose in constitutional design, its mystery and majesty. Those are as crucial to him as his twin policy agendas, the deregulation of political campaigns and the eradication of racial preferences. But his institutionalism is also rooted in love for the role of the chief. In his wily way, he doesn't let anybody forget it.
Consider Elena Kagan's investiture in 2010. That's the ceremony in the courtroom in which a new justice is formally installed. It's takes under 10 minutes, but with dignitaries and family there, it's a big deal. The new justice, seated at ground level in a chair used by Marshall, hears some nice words and then takes the bench. Roberts recognized Kagan as "the 101st associate justice of the Supreme Court of the United States." That was true enough, but it wasn't how it had been done before. The prior year, Sotomayor was the "111th justice," without the "associate." Kagan should've been 112th. Roberts changed the script by subtracting the chiefs who hadn't previously served as an associate justice. (Five had.) Now, there would be one tally for associate and another for chief. Kagan noticed. So did the other justices. They each knew their number in the way every president knows his. Why would a chief who revered Court traditions mess with my number?
Because it made his rank more exclusive. Silly? Sure. Vain? A bit. But it tells you something about Roberts, who has two bobbleheads in his chamber, one of Abraham Lincoln and one of himself. The current chief, with a long reign still ahead but his Court taking a hard turn rightward, will not likely tolerate irrelevance.
David A. Kaplan, former legal affairs editor of Newsweek, is the author of The Most Dangerous Branch: Inside the Supreme Court in the Age of Trump (Crown, 2018), from which some of this material is adapted. His other books include The Accidental President (William Morrow, 2001). He teaches journalism and law at NYU and CUNY.