Amy Coney Barrett Is a Court Nominee for Middle America | Opinion
A devout and hard-working mother, as well as a sharp legal mind and an accomplished jurist, Amy Coney Barrett embodies much of what makes America great. Her faith, career and beautiful family are all qualities we should celebrate in a nominee to the Supreme Court, and ought to be sources of inspiration for Americans of every ideological stripe.
And for most Americans, they are. But sadly, for a number of prominent figures on the Left, these virtues are targets of attacks—reasons for vicious ridicule and scorn.
She has too many children, they say. Vanessa Grigoriadis, a contributing writer at The New York Times Magazine and Vanity Fair, tweeted: "I guess one of the things I don't understand about Amy Comey [sic] Barrett is how a potential Supreme Court justice can also be a loving, present mom to seven kids? Is this like the Kardashians stuffing nannies in the closet and pretending they've drawn their own baths for their kids[?]" She went on to imply that Barrett was a liar for "portray[ing] herself as a home-centered Catholic who puts family over career."
Incredibly, they also have begun to attack her for her adoption of two children from Haiti. John Lee Brougher, a Democratic political operative and the managing director of NextGen America, questioned the circumstances of her children's adoptions and "the treatment of them since," stating that "everything I see here is deeply concerning."
Bestselling author and liberal icon Ibram Kendi insinuated that Barrett was part of a broader trend of "White colonizers" adopting black children in order to "[use] them as props in their lifelong pictures of denial, while cutting the biological parents out of the picture of humanity." Various elites quickly jumped in to echo and defend Kendi's disgusting charge.
And, of course, Barrett has already been attacked numerous times for her faith, most famously by Senator Dianne Feinstein, who during Barrett's 2017 confirmation hearings expressed her "concern" that the "dogma lives loudly" in her.
For a certain kind of leftist, faith and family are causes for alarm. Where most Americans would see a beautiful and loving family, these "progressives" can only think in terms of racial conflict. Where most would see a woman of admirable faith, they see a deranged cultist. The liberal intelligentsia can't stand the thought of a Catholic working mom from outside their bubble having a seat on the highest court in the land, and they'll do everything in their power to try to keep her from getting one.
But the truth is that the perspective Barrett would bring to the Court is needed there now more than ever.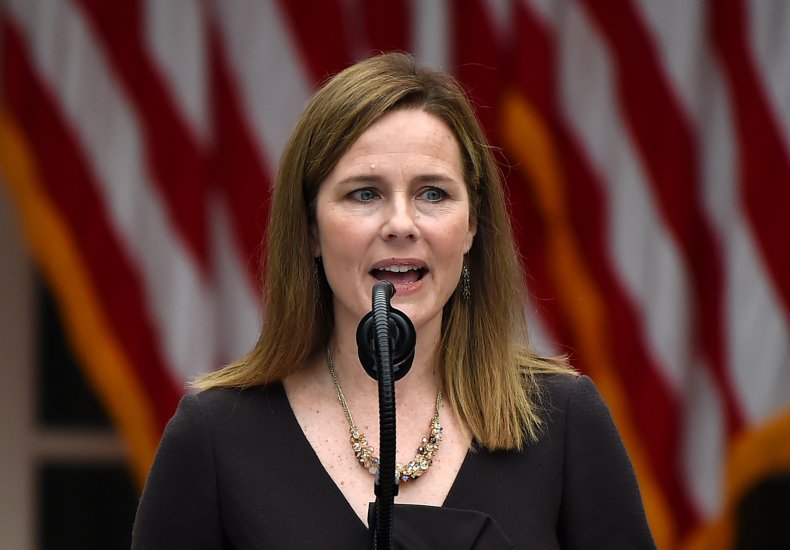 During her later years, Justice Ruth Bader Ginsburg often reflected on her life as a mother, and the important perspective that came with it. "When I started law school," she told The Atlantic in 2017, "my daughter Jane was 14 months, and I attribute my success in law school largely to Jane." Being a mother, she said, gave her "a better sense of what life is," and, she wrote in The New York Times, "a sense of proportion that classmates trained only on law studies lacked." Now, following her death, the Supreme Court has been left motherless.
Confirming Amy Coney Barrett would ensure that this important perspective is not lost on the Court. Barrett would take Justice Ginsburg's place as the Court's only mother, a distinction which Ginsburg had held for the past 14 years. In addition, Barrett would be the first Supreme Court justice in history to be the mother of school-age children—Barrett's seven children are all between the ages of eight and 19.
And beyond being a voice for working moms on the Court, Barrett would also be a fitting representative for all those in Middle America. Strikingly, Barrett would be the only sitting justice not to graduate from either Harvard Law School or Yale Law School, and only the second in 34 years to be confirmed to the Court from outside of those schools (Ginsburg graduated from Columbia Law School). That this is the case ought to be a sign of just how badly outside perspective is needed in an institution that has become far too insular.
Indeed, it may just be Barrett's unique personal life and background, so atypical for a recent Supreme Court nominee, that especially enrages the elitist Left. But unfortunately for them, there are more decent and devout people in America than there are contributing writers at The New York Times Magazine. There are more brilliant minds in America than could fit in the halls of either Harvard or Yale. And there are far more hard-working mothers in America than there are politicians and pundits combined.
We should all be glad that these underrepresented Americans will finally be able to look to the highest court of the land and see there someone like them.
Terry Schilling is the executive director at American Principles Project. Follow him on Twitter: @Schilling1776.
The views expressed in this article are the writer's own.